Strawberry & Rhubarb Crisp
Strawberry & Rhubarb Crisp recipe is warm, vibrant red fruit beneath a crunchy oat & brown sugar streusel topping. This strawberry & rhubarb crisp is one of the easiest summer desserts!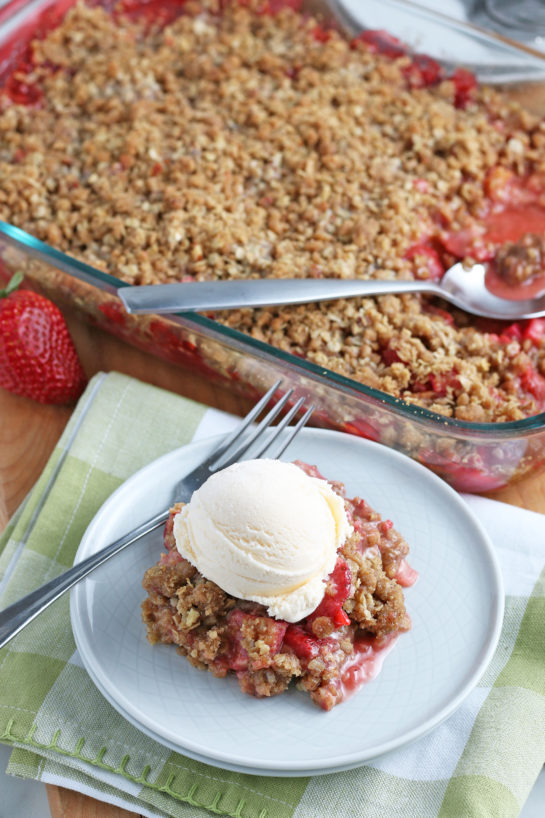 If you have ever desperately wanted to fall face first into a pile of dessert…this would be the day you should do it. Strawberry & Rhubarb Crisp is all you need to be doing with your life right now.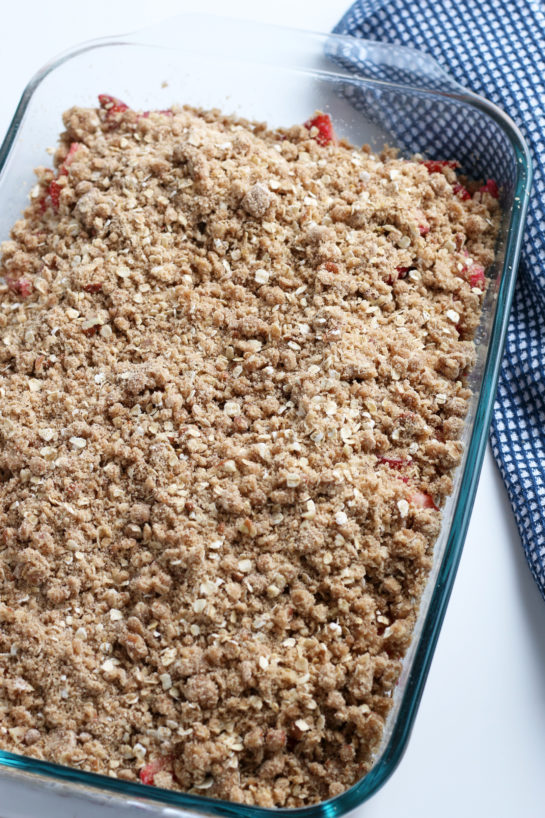 Happy week after 4th of July week! What did you do to celebrate the 4th? Since there were no fireworks to attend, we drove down by the lake and watched all of the fireworks people were setting off on the beach.
Eliza loved looking at them! She didn't love the noise quite as much.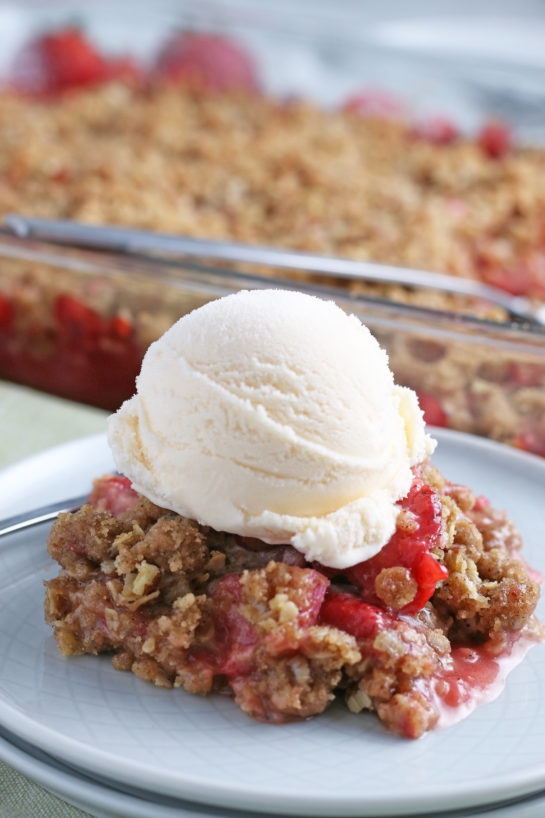 I have a special treat for you today. Remember my blackberry cobbler that you all loved so much? While this Strawberry and Rhubarb Crisp may not be as easy as opening up a boxed mix and making a dessert for your summer parties you are attending, they aren't too difficult and they taste like heaven. I mean, straight up heaven, people!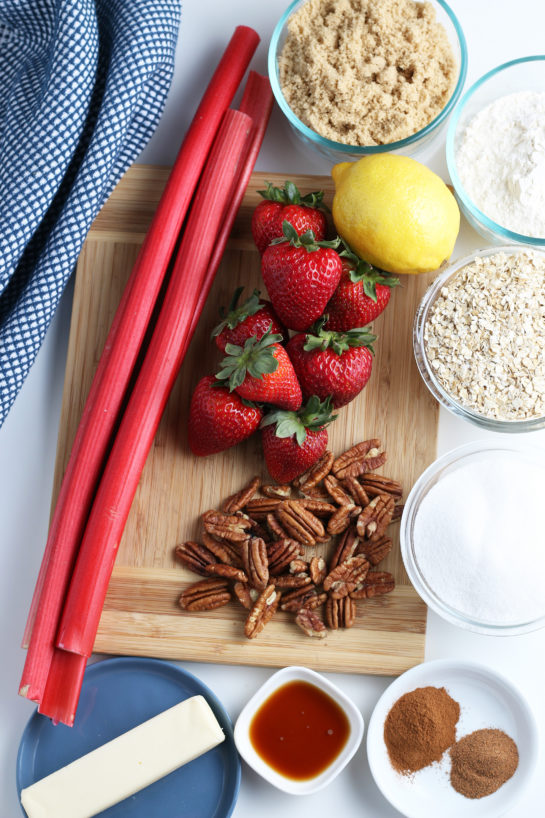 If you've never baked with rhubarb before, now is the time to start! This was actually my first rhubarb dessert. As a food blogger, I'm embarrassed to admit that. I'm officially the worst.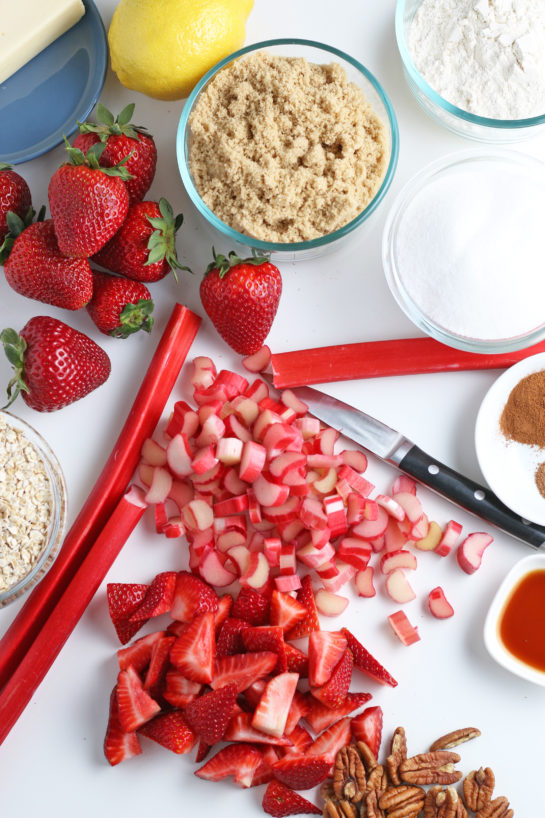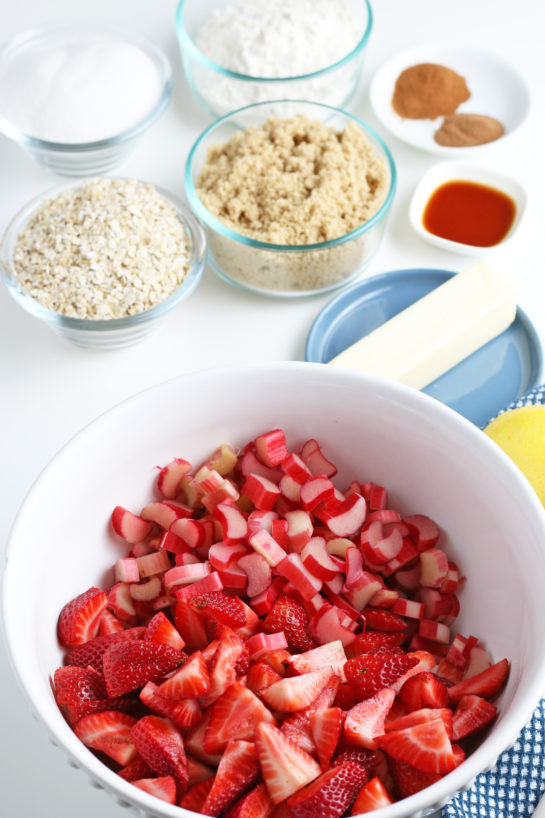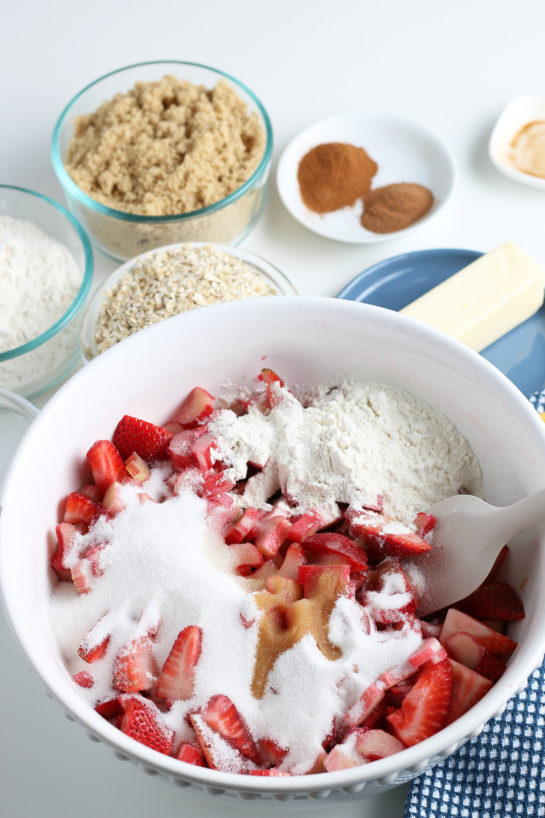 Truth be told if I'm being completely honest in our circle of trust here? Rhubarb thoroughly freaks me out. It just kind of does.
Someone told me a year back that the leaves are poisonous and ever since then I just kind of stayed away from it. After doing my own research just recently, I realized it would take eating several pounds of rhubarb leaves to reach toxic levels. I guess rhubarb and I can be friends again.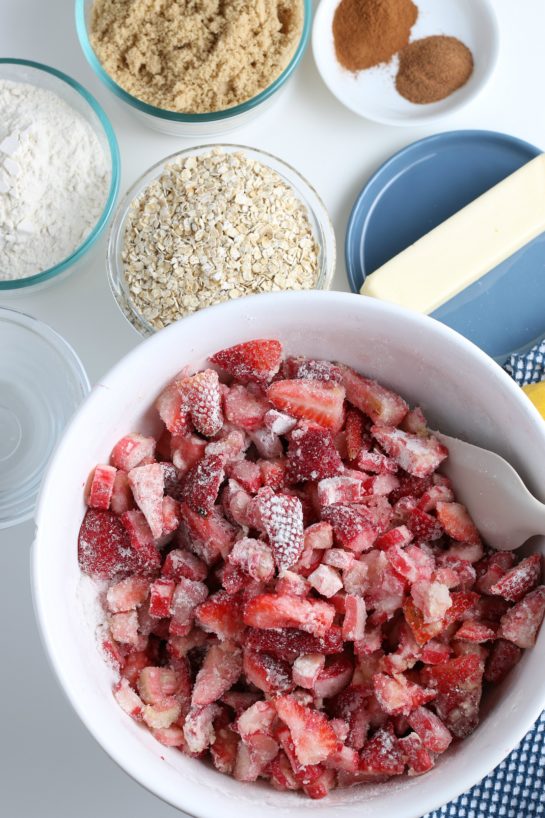 Did you know that technically rhubarb is a vegetable? Rhubarb is always treated like fruit for some reason. It is sweet, so I'm sure that is why!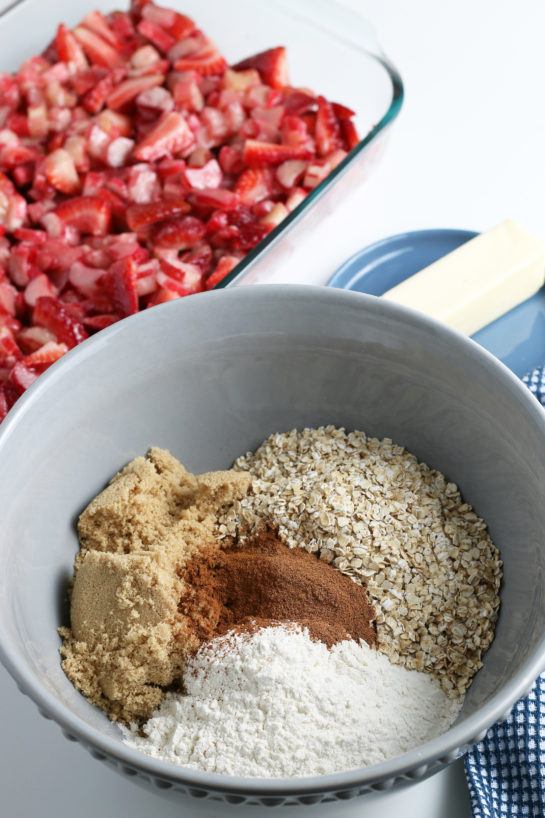 Not sure which part I love more about this Strawberry and Rhubarb Crisp – the bubbling, warm fruit on the bottom or the crumbly topping. Ugh! Delicious city. I think I have a new favorite crisp. Sorry, Spiced Pear Cobbler.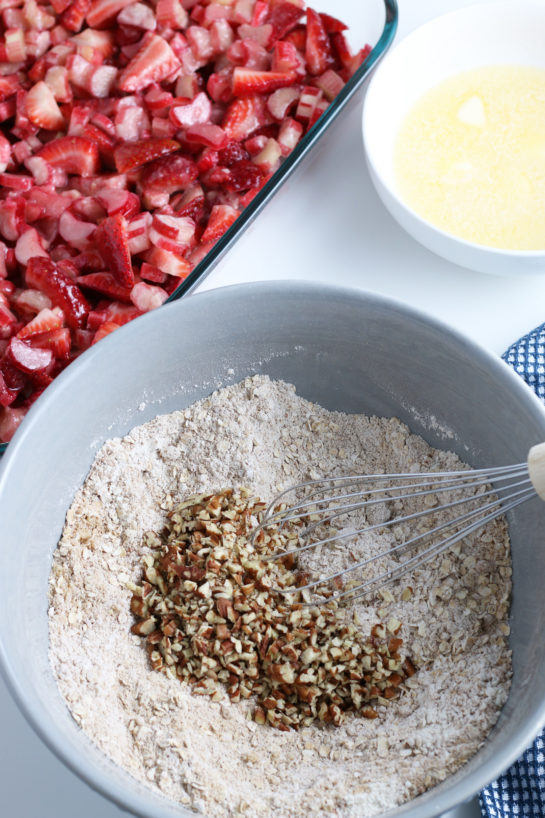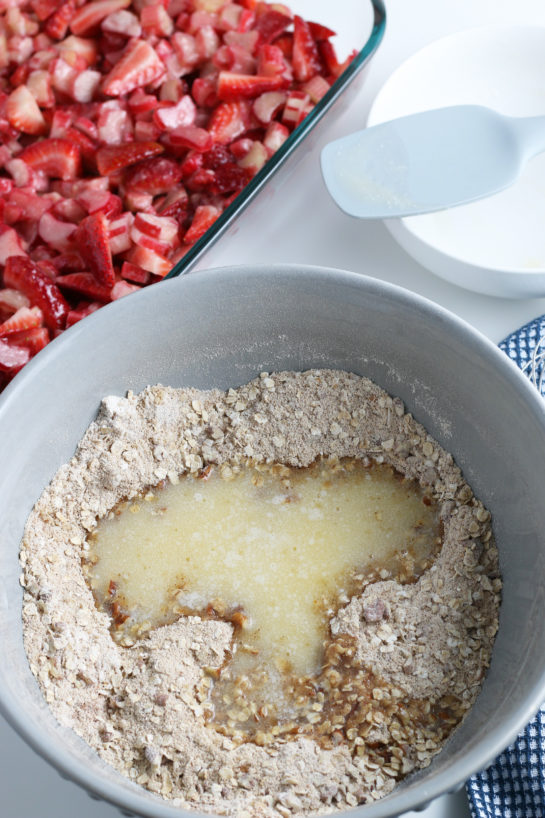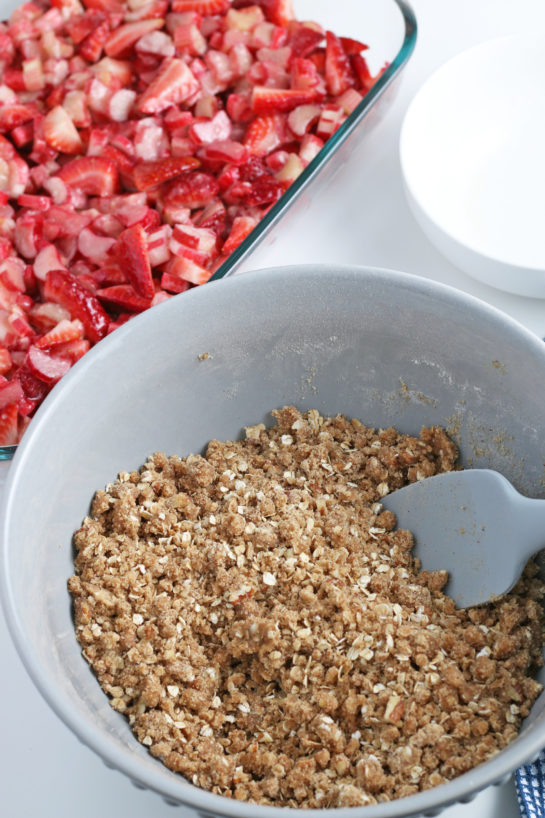 This Strawberry and Rhubarb Crisp is perfect for a summer or spring night, served warm out of the oven with a big scoop of vanilla ice cream. Leftovers are also delicious and completely acceptable for breakfast. Because, fruit.
I may or may not have had my Crock Pot Peach Cobbler for breakfast on several occasions.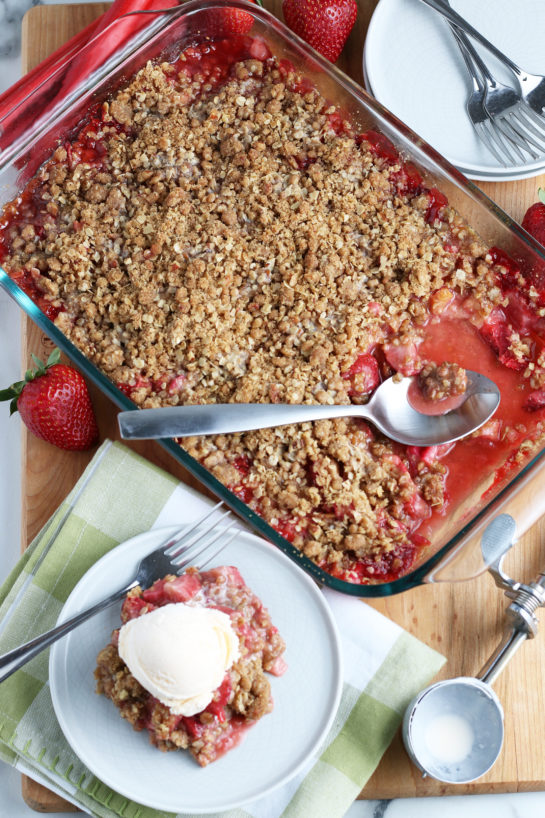 This is is a dreamy, easy baked crisp that is lovely this time of year. I also have an apple crisp recipe that is to DIE for.
Make this crisp soon and see why I love it so much! All the exclamation points and fireworks for this recipe.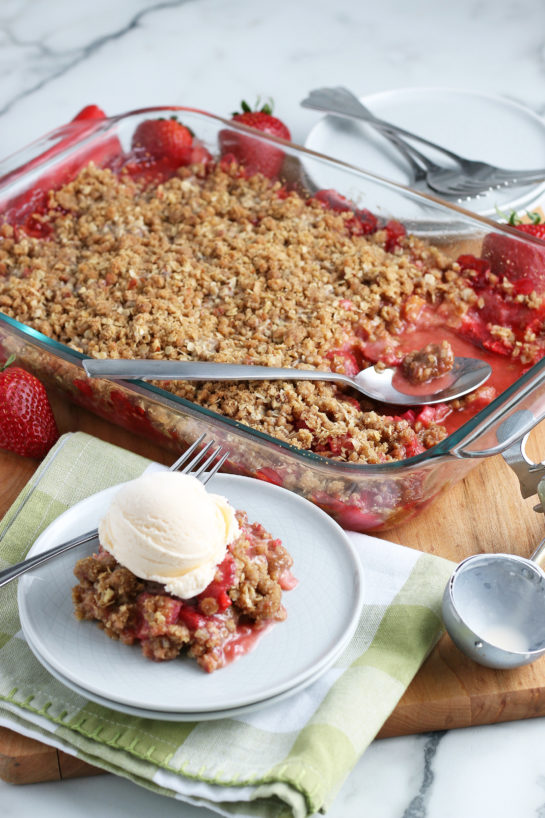 Strawberry and Rhubarb Crisp
Prep time:
Cook time:
Total time:
Strawberry & Rhubarb Crisp recipe is warm, vibrant red fruit beneath a crunchy oat & brown sugar streusel topping. This strawberry & rhubarb crisp is one of the easiest summer desserts I know!
Ingredients
1 pound (about 4 cups) rhubarb, cleaned, trimmed and cut into ½ inch pieces
1 pound (about 4 cups) strawberries, hulled and quartered
1 cup granulated sugar
⅓ cup all-purpose flour
3 teaspoons lemon juice
1.5 teaspoons vanilla extract
Topping:
1 ½ cups packed light brown sugar
1 cup all-purpose flour
1 cup quick-cooking oats (don't use old-fashioned, rolled)
2 teaspoons cinnamon
1 teaspoon nutmeg
½ cup walnuts or pecans, chopped (optional)
½ cup unsalted butter, melted
Vanilla ice cream for serving (optional)
Instructions
Preheat oven to 350 degrees F
Spray13x9 baking dish with non-stick cooking spray; set aside
In a large mixing bowl, add chopped rhubarb and strawberries; mix to combine
Add sugar, flour, lemon juice, and vanilla extract and mix to fully combine
Pour all into your greased baking dish.
In a medium mixing bowl, mix together brown sugar, flour, oats, cinnamon, nutmeg, and nuts of your choice (if using)
Melt the butter in a microwave-safe bowl and stir into the rest of the topping ingredients until well-combined and crumbly
Sprinkle topping on top of the fruit that is already in the pan
Bake for 35-40 minutes or until golden brown and fruit is bubbly
Cool for 5-10 minutes before serving. Serve with vanilla ice cream (optional, but a great idea!). Enjoy!