Heart Linzer Cookies
Love is in the air! It's time for heart shaped cookies to share with our Valentines! These Linzer cookies are perfect for sharing with someone special. This special recipe for Linzer cookies also includes some history on the Linzer tart. 
You can make Linzer cookies any time of year, many people make them for Christmas. I like to make them for Valentine's Day because their natural red filling and simple heart shape just scream 'love'.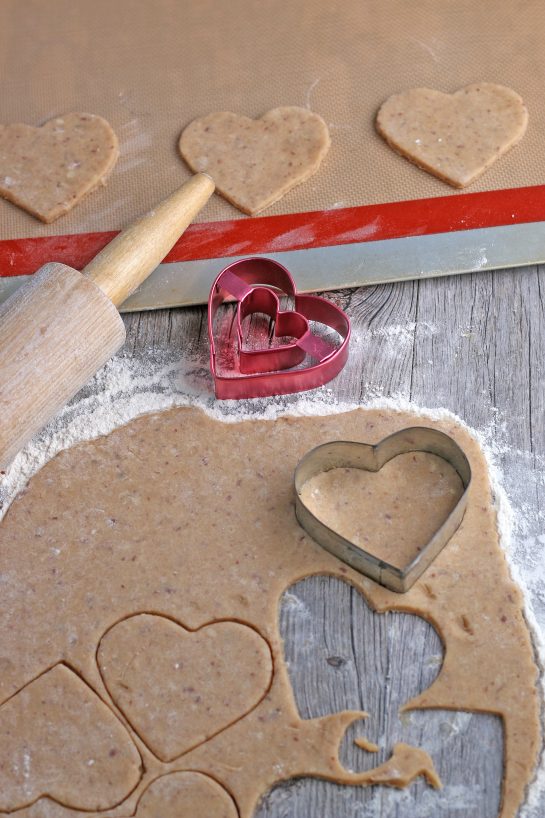 If you are searching for a great recipe that can be shared with friends, family, and loved ones for Valentine's Day these Linzer cookies are a great choice. A Valentine's Day dessert table along with my Conversation Heart Valentines Cookies would be perfect!
Once you have tried them they'll become a part of your yearly tradition. The flavor is buttery and crisp and the tart jam adds a pop of color and flavor that sets it all apart from any other cookie you've tried.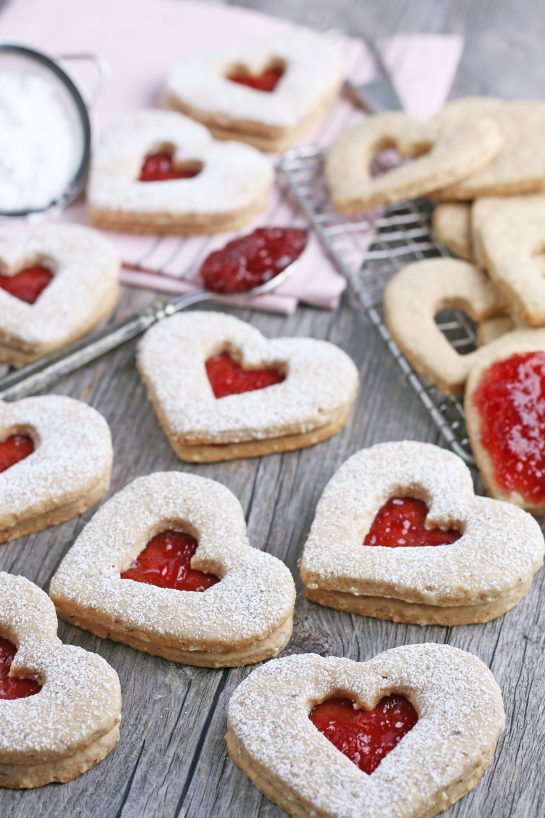 What is a Linzer tart?
Linzer tart or Linzertorte was the name originally given to the torte recipe that originated in Austria in the 1700's. It was a kind of torte that was filled with black currant preserves though today any kind of jam can be used to sandwich the cookies together.
The Linzertorte was traditionally presented with a lattice crust on the top and the cookies use the same ingredients but present the classic dish in another way.
Making heart shaped cookies for Valentine's Day:
If you are looking for a heart shaped cookie that is unique and perfect for Valentine's Day, this recipe for Linzer cookies is the one. These heart shaped cookies look beautiful when they're assembled. The two layers of cookies and jam filling give the cookies a three dimensional effect that everyone instantly loves.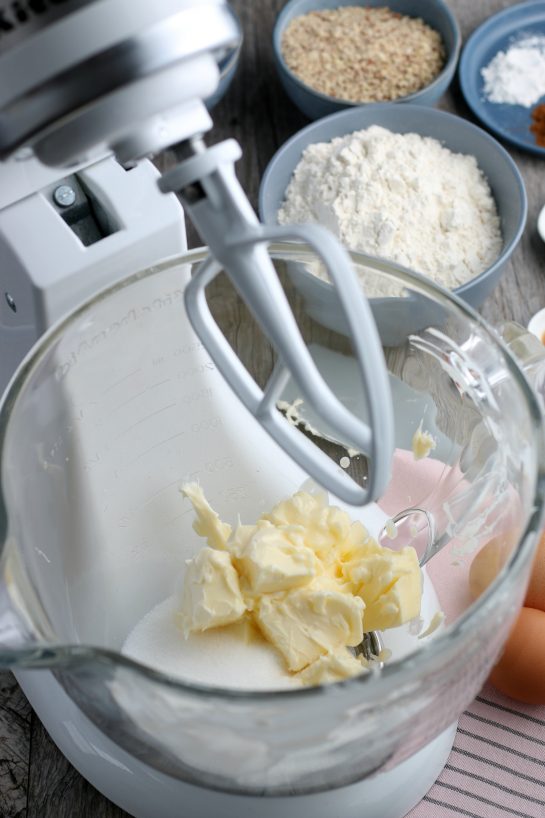 Heart shaped cookies are a great idea for Valentine's Day since they're on theme and can be made with any kind of jam, strawberry and raspberry give us the red center we know and love!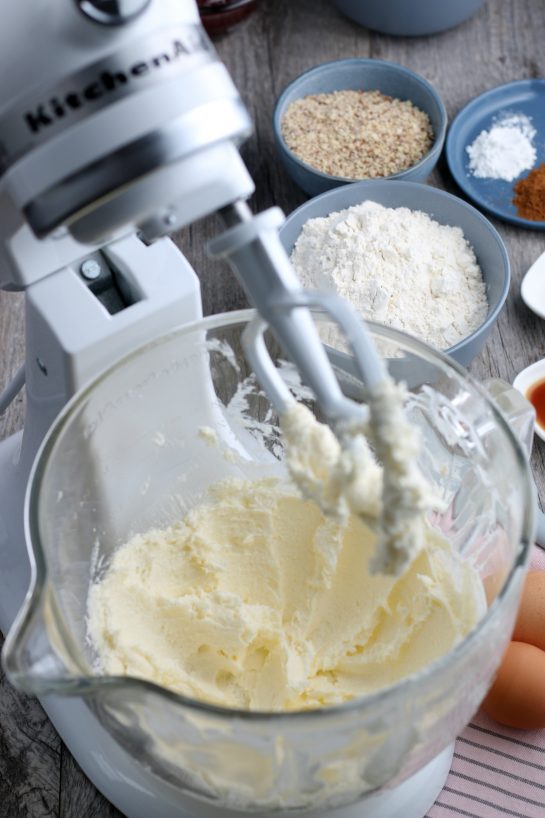 Ingredients needed for Linzer cookies:
Making Linzer cookies is fun! These heart shaped cookies are cute but they are also tasty and perfect for Valentine's Day! I love that these simple ingredients come together to make something so intricate and festive.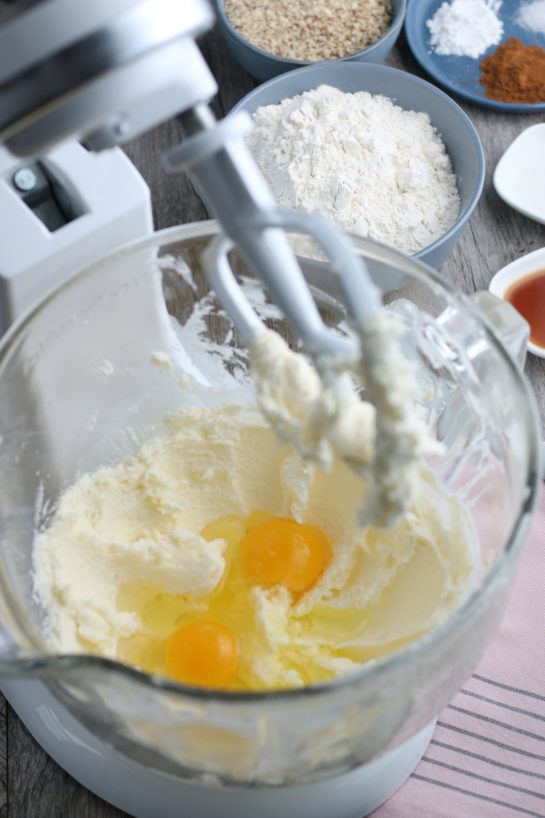 1 cup (2 sticks) unsalted  butter, softened
⅔ cup granulated sugar
2 large eggs, room temperature
1 teaspoon vanilla extract
½ teaspoon almond extract
2 cups all-purpose flour
1 teaspoon baking powder
¼ teaspoon salt
1 teaspoon ground cinnamon
¾ cup ground almonds
1 cup seedless jam – strawberry or raspberry
Powdered Sugar, if desired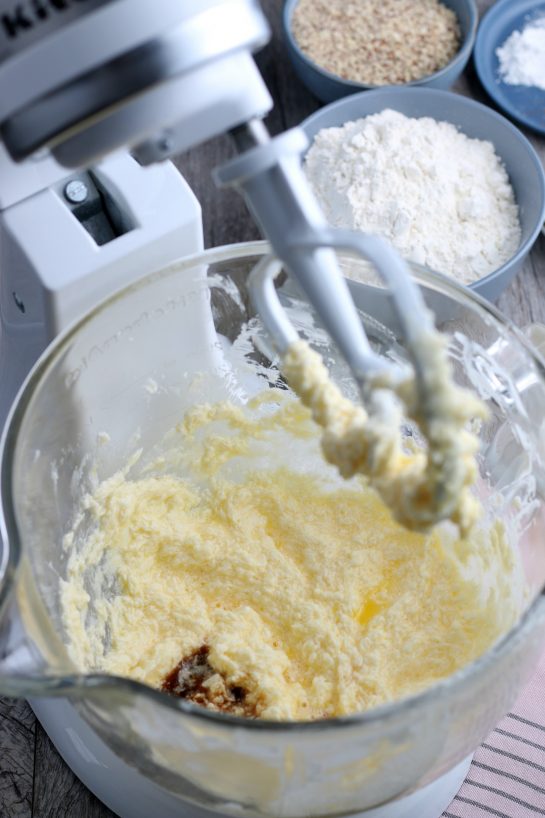 Recipe for Linzer cookies:
This is my recipe for Linzer cookies. These heart shaped beauties will make everyone smile, they're great for sharing! My step by step instructions will walk you through the process, no matter how great these cookies look, even new bakers can make them with ease!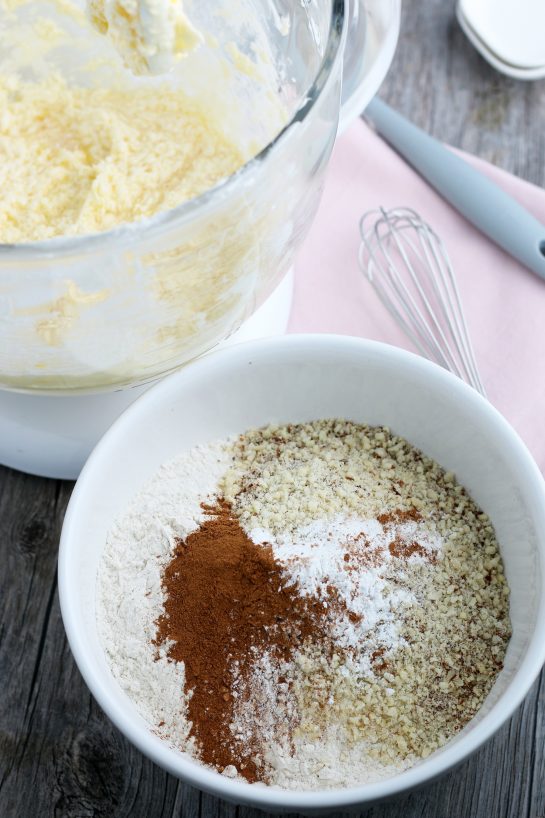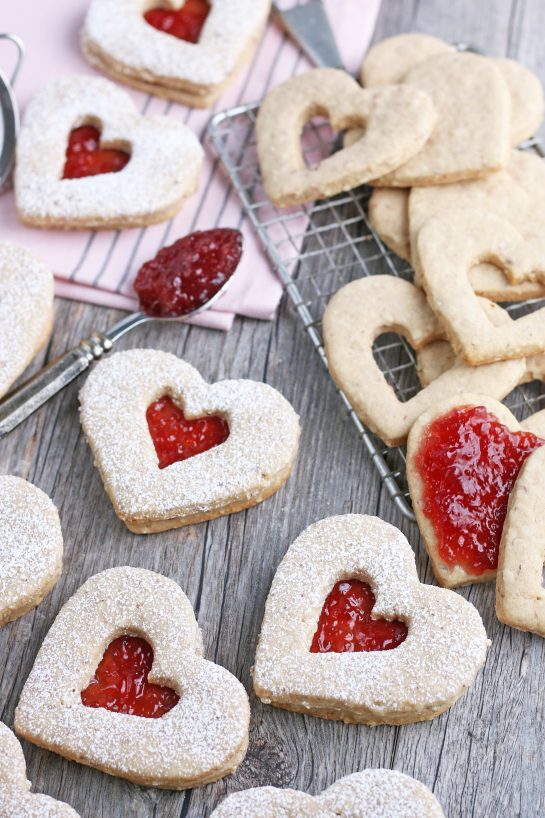 In a mixing bowl, beat together butter and granulated sugar until light and creamy, about 2 minutes
Add eggs and beat until smooth
Beat in vanilla and almond extract
In a large bowl, combine flour, baking powder, salt, cinnamon and ground almonds
Gradually add dry mixture to butter mixture, beating well after each addition, but don't over beat the dough
Place dough in plastic wrap and freeze until firm, at least 30 minutes
Preheat oven to 375 degrees
Line baking sheets with parchment paper or silicone mat
Dust clean surface with flour and roll dough out to ⅛ inch thick
Cut out with heart shaped cookie cutter
Cut another heart out of the center of half of the cookies
Place cookies on baking sheets
Bake 8-10 minutes or until golden brown
Cool completely
Spread a small amount of jam on each of the bottom halves of cookies, top with another cookie that has a smaller heart cut out of the center
Dust with powdered sugar if desired
Store in airtight container in single layer for up to 1 week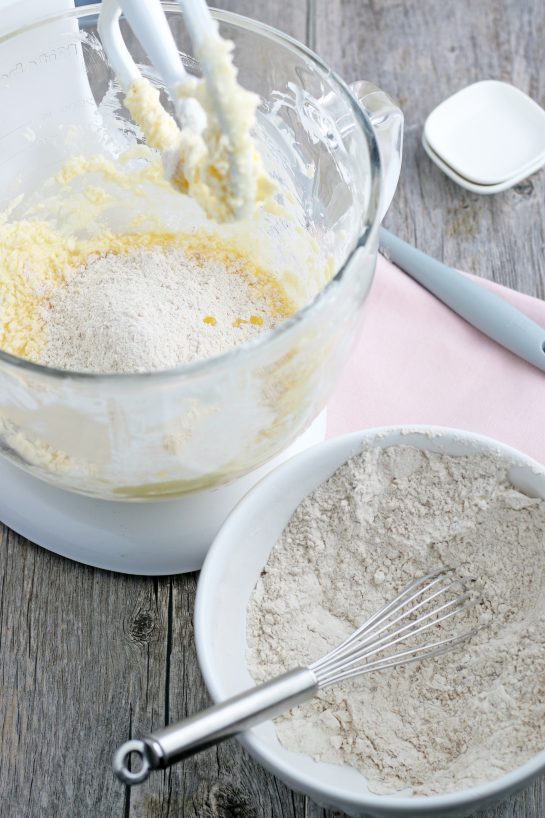 Can I make this recipe for Linzer cookies ahead of time?
This recipe will be crisp when it comes out of the oven, cools, and is assembled. The cookies have a bit of snap and I think they're delicious that way. After they are stored they have a tendency to soften up. To enjoy them crisp bake and assemble them the day you need them.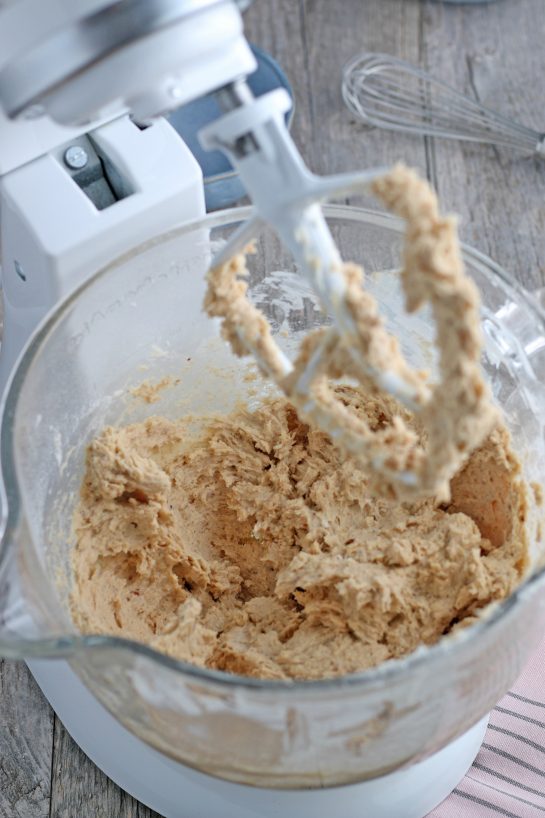 How many heart shaped cookies does this recipe make?
This recipe makes about 36 cookies so if you need to cut that in half or double it you can do so before beginning the baking process! Since they are so cute, delicious, and irresistable I like to make the full batch and then share them with friends, coworkers, and family…everyone will love you for sharing such a tasty treat!
Be sure to check out my whole collection of favorite of my Valentine's Day recipes when you get a chance!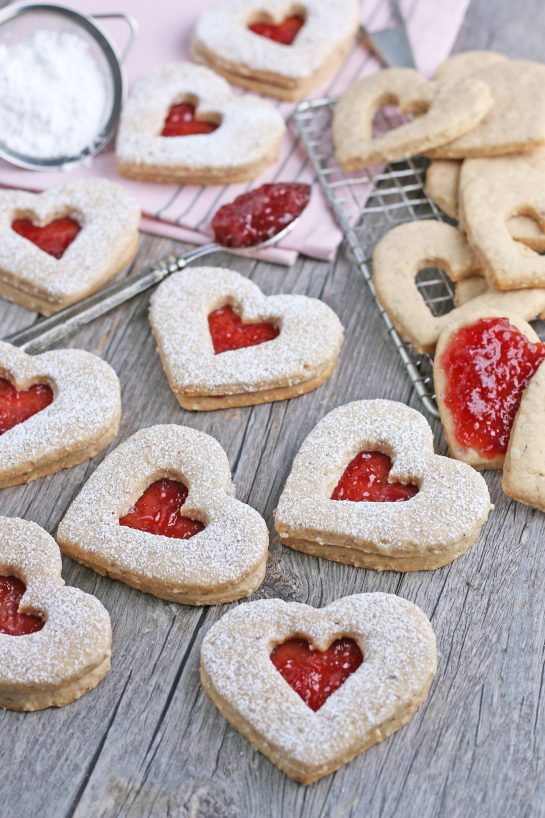 Here are a few more Valentine's Day desserts for you:
Conversation Heart Sugar Cookie Bark – this is an easy dessert for kids to help make!
Cupid's Crunch Chex Mix – This party mix is my absolutely favorite snack around this time of year.
Copycat Frosted Swig Sugar Cookies – these are so beautiful for any holiday or birthday!
Molten Chocolate Lava Cakes – for all of those chocolate-obsessed lovers out there!
Brown Sugar M&M Blondies – you will love how easy these blonde brownies are!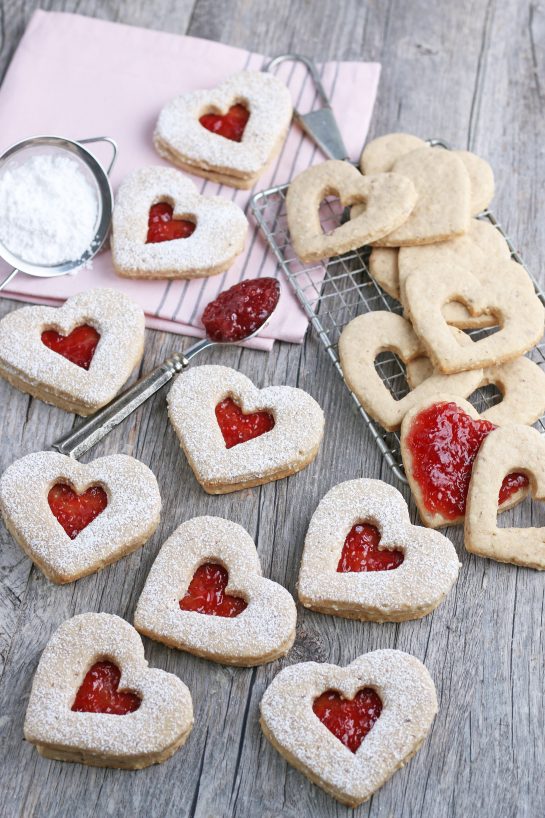 Linzer Heart Cookies
Prep time:
Cook time:
Total time:
Making heart shaped cookies is great for Valentine's day. This is a recipe for Linzer cookies which is similar to a Linzer tart recipe!
Ingredients
1 cup (2 sticks) unsalted butter, softened
⅔ cup granulated sugar
2 large eggs, room temperature
1 teaspoon vanilla extract
½ teaspoon almond extract
2 cups all-purpose flour
1 teaspoon baking powder
¼ teaspoon salt
1 teaspoon ground cinnamon
¾ cup ground almonds
1 cup seedless jam - strawberry OR raspberry
Powdered Sugar, if desired
Instructions
In a mixing bowl, beat together butter and granulated sugar until light and creamy, about 2 minutes
Add eggs and beat until smooth
Beat in vanilla and almond extract
In a large bowl, combine flour, baking powder, salt, cinnamon and ground almonds
Gradually add dry mixture to butter mixture, beating well after each addition, but don't over beat the dough
Place dough in plastic wrap and freeze until firm, at least 30 minutes
Preheat oven to 375 degrees
Line baking sheets with parchment paper or silicone mat
Dust clean surface with flour and roll dough out to ⅛ inch thick
Cut out with heart shaped cookie cutter
Cut another heart out of the center of half of the cookies
Place cookies on baking sheets
Bake 8-10 minutes or until golden brown
Cool completely
Spread a small amount of jam on each of the bottom halves of cookies, top with another cookie that has a smaller heart cut out of the center
Dust with powdered sugar if desired
Store in airtight container in single layer for up to 1 week