Holiday-Spiced Pear Cobbler
Holiday-Spiced Pear Cobbler recipe made with fresh pears has all of the fall/winter spices to make this the perfect, decadent holiday dessert idea!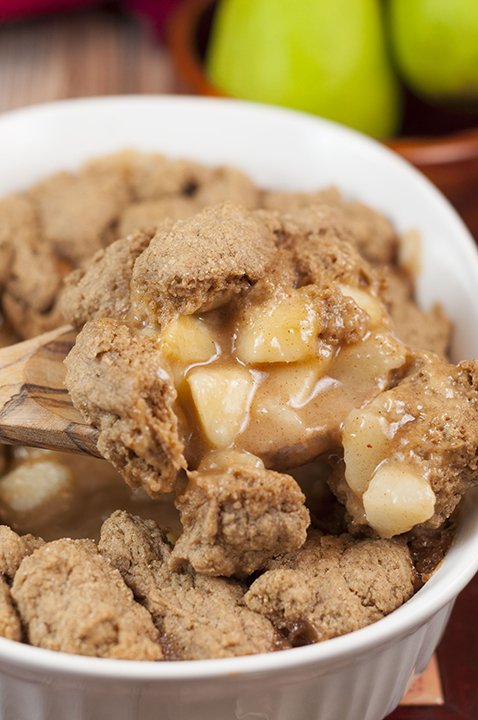 I have the warmest, coziest recipe for you that is perfect for special occasions or chilly fall/winter evenings! My hubby loves pears and I was so excited to make this for him. It's not often I think to make a pear cobbler as I normally use other fruits (like this Old-Fashioned Blackberry Cobbler or this Cherry Cobbler).
This Holiday-Spiced Pear Cobbler was a welcomed change of pace for my cobbler baking and everyone loved it! How can you not love juicy pears topped with a sweet crumb mixture? Scroll down for an amazing holiday giveaway I have going on right now!
What made this cobbler even better was the fact that I used the juiciest, sweetest, best-tasting Rainier Pears in the recipe. One bite and you'll never want to try another pear again! I loved to try their pears and learn about their history as a brand. They are a family-owned and operated farm that has been selling fruit for generations.
I love that a good number of their ranchers are being managed by the 4th, 5th, and 6th generation and they love to support each others' families and the community. Rainier has Asian pears, Bartlett, Bosc, Comice, Forelle, Green Anjou, Red Barlett, Seckel and Taylor's Gold pears!
They have more than just their nine varieties of pears – they also have cherries, apples, and organic blueberries! Their ranchers have a goal to grow, pack, and ship the juiciest, most flavorful fruit to their consumers. After trying their pears, I can say they have succeeded in this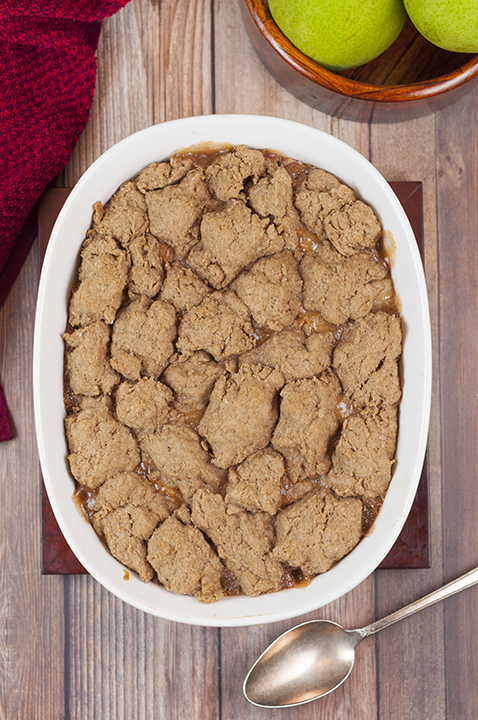 Rainier Fruit has a "wholesome to the core" mission for their company and that starts with growing healthy fruits rooted in great quality. These pears are great for cooking with, baking with, or just eating them plain! I even put a few in my morning smoothies and they were delicious. Did you know that pears are high in fiber, can help with weight loss, and help with digestion? They are also a great source of vitamin C as they are loaded with antioxidants
When I was a kid, I was the #1 pickiest eater in the entire world. There were approximately 54829295 different foods that I would not eat or that had to be altered for me before I would eat them (i.e. all of my spaghetti sauce was put through a strainer before being consumed).
If you don't believe me, just ask my mom about her cooking dinner for me woes. Even as an adult, I have to admit I'm not a lot better. I will try virtually anything now, but I have a small list of foods I really thoroughly enjoy eating.
One food I wouldn't touch for the longest time was any dessert with fruit in it. Isn't that insane? Trying this Holiday-Spiced Pear Cobbler makes me wonder how I ever went through life without a warm fruit cobbler.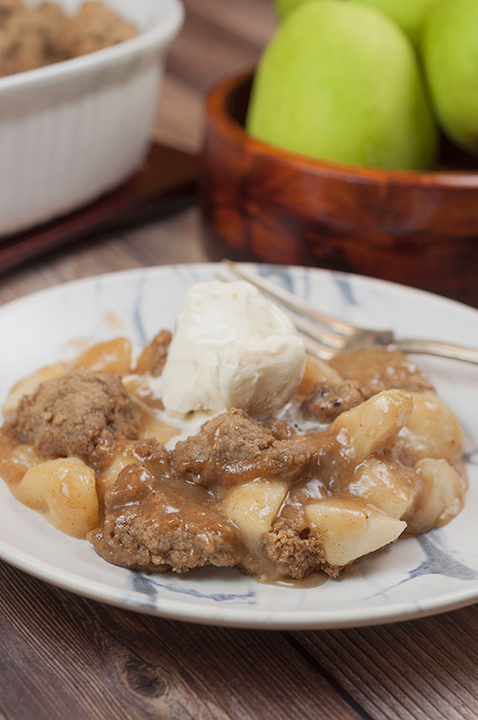 Rainier Fruit has launched it's Wholesome Heroes campaign which spotlights ordinary people making great impacts in their community through work, volunteering, or personal/family health and wellness initiatives. If you have anyone in mind you would like to nominate, go here and show them some love
The spices in this Holiday-Spiced Pear Cobbler are like all of the holidays rolled into one dessert. It's as if I'm eating Christmas. This is so simple to make and just delightful. It would be so enjoyable on a cold winter night or for dessert on Christmas day.
The crumbly, buttery topping is irresistible. Serve it with a scoop of vanilla ice cream on top if you're feeling a little crazy and looking for a little extra decadence!
Another holiday cobbler you will love is this Pumpkin Pecan Cobbler. Enjoy!
GIVEAWAY DETAILS
Myself, Jarlsberg Cheese, Envy Apples, NatureSweet Tomatoes, Rainier Fruit, and some amazing bloggers are giving away a holiday entertaining package for #MerryEats week! It includes Cook's Illustrated Holiday Cookbook and our very own Whitney Miller's Modern Hospitality along with a host of serving dishes and seasonal minis from artist Nora Fleming! This serving ware is perfect for every holiday and entertaining event and her ceramic mini's allow you to transform your serving dishes for every holiday. The value of this prize package is $500! 
Scroll down below the recipe to fill out the EASY form to enter!
Holiday-Spiced Pear Cobbler
Prep time:
Cook time:
Total time:
Holiday-Spiced Pear Cobbler recipe made with fresh pears has all of the fall/winter spices to make this the perfect, decadent holiday dessert idea!
Ingredients
Filling:
3 tablespoons unsalted butter
4 medium pears, peeled and chopped into about ½-inch pieces
¾ cup granulated sugar
¼ cup all-purpose flour
½ teaspoon ground cinnamon
¼ teaspoon salt
½ teaspoon vanilla extract
Topping:
1 & ½ cups all-purpose flour
½ cup firmly packed light brown sugar
1 teaspoon baking powder
1 teaspoon ground cinnamon
¼ teaspoon ground ginger
¼ teaspoon ground allspice
⅛ teaspoon ground nutmeg
pinch of salt
¼ cup unsalted butter, cold and cut into ½-inch cubes
¼ cup milk
Instructions
Filling:
Preheat oven to 350°F.
Melt the butter in a large skillet over medium heat.
Add the peeled/chopped pears, sugar, flour, cinnamon, and salt, and stir to combine.
Stir frequently and continue cooking until the sugar has dissolved and the mixture is bubbly (let it bubble for 2-3 minutes or until it has thickened). Try not to eat it all with a spoon.
Remove from heat.
Stir in the vanilla.
Transfer the filling to a 1 or 1.5 quart baking dish. Set it aside while you make the topping.
Topping:
Combine the flour, brown sugar, baking powder, cinnamon, ginger, allspice, nutmeg, and salt in a mixing bowl.
Add the cut up butter; mix with a pastry blender or a fork until the butter is about the size of peas.
Add about 3 tablespoons of the milk, and continue mixing the dough. Gradually add the remaining milk, a little at a time, and mix until the dough comes together.
Drop the dough by tablespoonfuls over the top of the filling.
Place the baking dish on a lined, rimmed baking sheet in case the cobbler bubbles over.
Bake 30 to 35 minutes, or until the topping is browned and the filling is bubbly. Mine was done at 30.
Serve warm with a scoop of vanilla ice cream (optional)!
Disclaimer: Thank you to Rainier Fruit for sponsoring this conversation. All opinions remain 100% my own, as always. Thank you for allowing me to share the brands and products I use regularly and love. 

Recipe source: adapted from bakeorbreak.com