Cinnamon Sugar Pumpkin Soft Pretzels
Delicious Cinnamon Sugar Pumpkin Soft Pretzels recipe coated in cinnamon sugar made from scratch and perfect for fall! Pumpkin season isn't complete without these.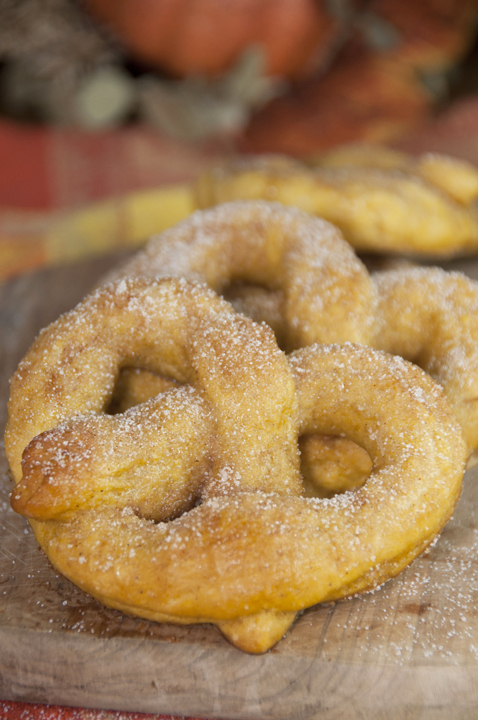 I hope you all are having a marvelous week so far.  I have a really fun Cinnamon Sugar Pumpkin Soft Pretzels recipe for you today. I know I've said it before, but I only like doing giveaways and/or product reviews on Wishes and Dishes for products that I actually use myself and feel strongly about.  I'm not going to tell you to go out and spend your money on something or waste your time entering a giveaway for something I don't think is really 100% worth it.  Silpat mats are something I have been using in my kitchen since I first began my blog three years ago.  Other blogs I followed sung their praises time and time again and I had to see what all the hype was about.  I bought two right off the bat and now have FOUR (yes, a little excessive) Silpat baking mats including my new Perfect Pretzel mat which is what I'm giving away today.  The average person (I'm not the average person) would not need that many, but numerous mats really do come in handy when I'm baking many batches of cookies all at once, such as Christmas time.  Go big or go home.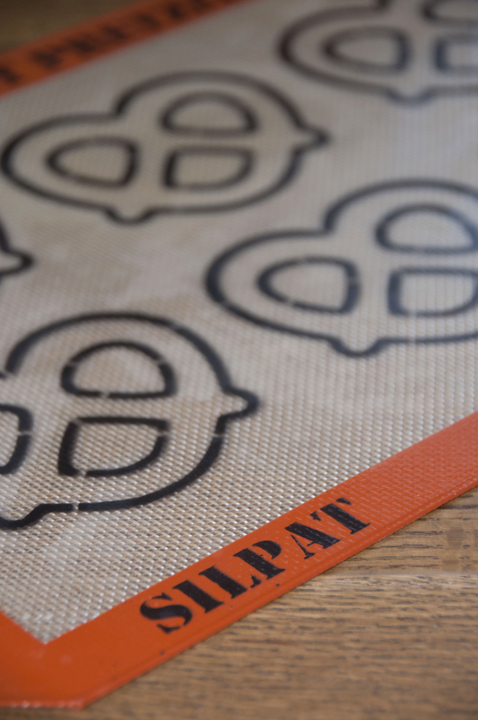 Silpat Non-Stick Baking Mats are made in France and are designed for every type of oven and are freezer safe, as well. From savory to pastry baking, nothing sticks to these mats….nothing. It is reusable for thousands of uses and provides even heat transfer to baked goods.  My cookies always pop right off and come out perfectly even on the bottom which never EVER happened prior to buying these mats.  They take the place of having to grease your pan/cookie sheets or use parchment paper – that alone is worth the price of the mats in the end.  They really are a kitchen lifesaver in so many ways, are easy to clean and I love that I can use them over and over!
The new Perfect Pretzel mat features pretzel-shaped guidelines to help home bakers lay out their dough in the classic pretzel shape, with consistent results.  The Cinnamon Sugar Pumpkin Soft Pretzels slid right off the mat after baking and you don't have to worry about destroying them – always a good thing for me as I'm prone to kitchen disasters!  Anyone else?
Whether it's Cinnamon Sugar Pumpkin Soft Pretzels, cookies, meatballs,….whatever…..this baby will make your baking endeavors a breeze.  The retail price of this mat I'm giving away is $24.99 – so you know it's good stuff!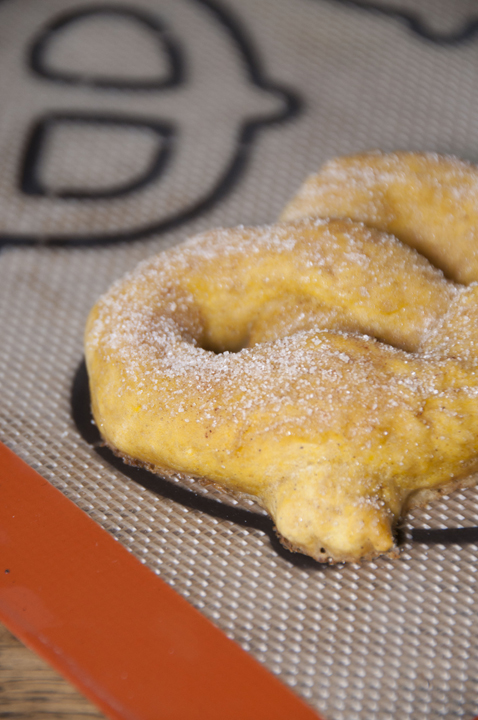 Another product I wanted to tell you about while I'm taking about my fave baking products is Welcome Home brand paper bakeware.  They have introduced a new and innovative way to cook in that paper bakeware eliminates the need for metal bakeware, as well as messy after baking clean-up (which is HUGE for me), making it easy for us all to "bake, serve, store, give, recycle".  They are pretty to look at and come in multiple sizes of paper baking cups and open up fun, creative new options for sweet or savory tarts, breads, cookie cups, brownies, mini cakes, quiches and more. They are oven safe, and just need to be placed on a cookie sheet when baking.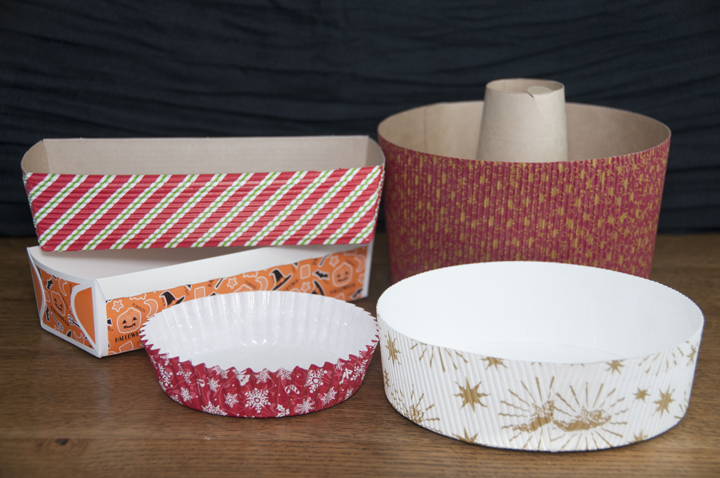 They are the easiest way to bake, in my opinion.  All you have to do them is put them on a cookie sheet and bake away!  Wrap your delicious treats in cellophane and tie with a pretty ribbon for adorable gifts, especially for the holidays.  I was thinking that they would be really cute to use at a kid's birthday party by letting each child decorate their own little cake.  They are the right size for just about anything you might want to bake when it comes to individual servings. I absolutely love them.  They have decorative bakeware for all the holidays!  Be sure to check them out.
Cinnamon Sugar Pumpkin Soft Pretzels and GIVEAWAY!
Prep time:
Cook time:
Total time:
Serves:
7-9, depending on size
Ingredients
½t sugar
½c warm water
1t olive oil
¼c sugar
½t salt
2-1/2c flour
For Baking Soda Wash:
2c hot water
¼c baking soda
For Topping:
2T butter, melted
4T white sugar
1T cinnamon
¼t salt
Instructions
In the bowl of a stand mixer, allow yeast, sugar, and warm water to stand until creamy, about 10 minutes. Add pumpkin puree and oil and mix gently, followed by sugar, pumpkin pie spice and salt.
Gradually add flour until dough comes together and forms a ball. Knead with the dough hook attachment 5-10 minutes.
Cover bowl with a kitchen towel and allow to rise in a warm place at least 1 hour.
Preheat oven to 425. Grease a large baking sheet.
Prepare your hot water. Pour into a shallow dish, add baking soda, and stir. Set aside.
Turn dough out onto lightly floured work surface and divide into 7-8 evenly sized balls. Roll balls into foot-long ropes. Twist each rope into a pretzel shape.
Dip each pretzel into the baking soda bath and place directly onto a greased baking sheet or Silpat mat. Bake 8-9 minutes, watching carefully. Pretzels should be golden brown on the outside and cooked through.
Melt butter and brush on top of each hot pretzel. Sprinkle with cinnamon sugar mixture. Serve warm.
GIVEAWAY DETAILS (Giveaway has ended)

Thanks to Silpat, one lucky Wishes and Dishes reader will win a Perfect Pretzel mat!  Many thanks to them for providing the review and giveaway product. Giveaway is open to U.S. readers only.
Deadline: Wednesday, October 14th at 11:59 (EST). I'll announce the winner on Thursday 10/15. Good luck! Winner: The winner will be chosen at random using Random.org and announced in this post. I will email the winner and if he/she does not respond within 48 hours, another winner will be selected.
Disclaimer: Silpat gave me a Perfect Pretzel mat for review purposes and is also mailing the prize to the winner of the giveaway. My opinions remain entirely my own.
Recipe source: adapted from alaskafromscratch.com