Eggnog Crumble Coffee Cake
Eggnog Crumble Coffee Cake recipe is a wonderful holiday dessert or breakfast cake full of eggnog flavor that is a nice change of pace from all of the cookies, fudge, and candy!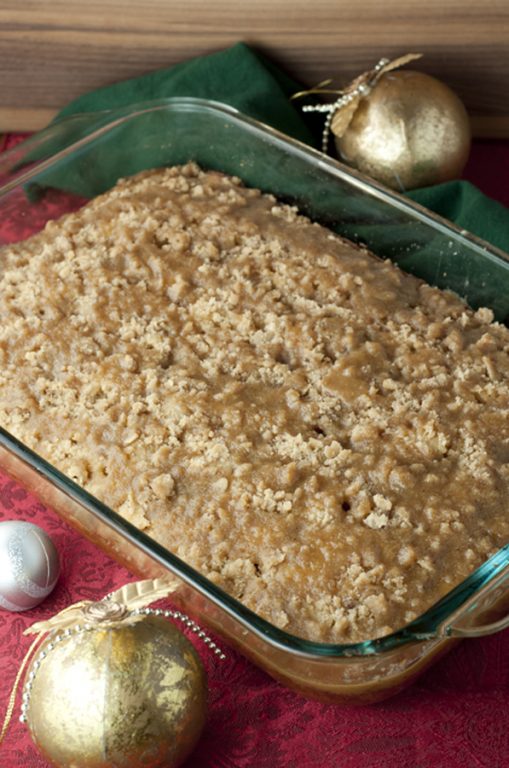 I know it may be true for a lot of people that you are still recovering from stuffing your faces over the long Thankgiving weekend.  Maybe I just speak for myself there, but here I am today sharing an amazing Eggnog Crumble Coffee Cake with you. Eggnog is not just for sipping anymore (this makes me think of the Griswold's, of course) but it is also to add to baked goods which adds flavor and a nice richness. Have you tried this Orange-Glazed Eggnog bread yet?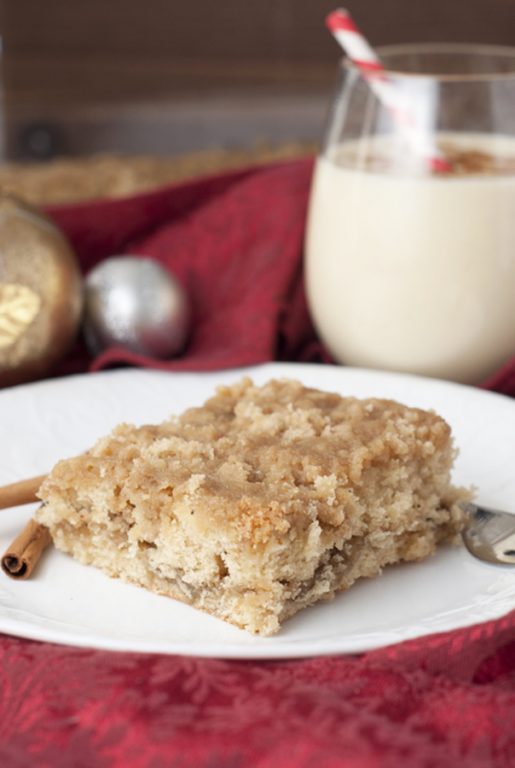 You can save SO many calories in your baked goods like this Eggnog Crumble Coffee Cake by simply swapping out regular sugar for SPLENDA (even if it's just a fraction of it)!  Every little bit helps when it comes to the holidays.  SPLENDA No Calorie Sweetener has the sweet taste of sugar, but with fewer calories, so you can continue to enjoy foods while making better choices all at the same time.  Did you know that Swapping one cup of regular granulated sugar with one cup of granulated SPLENDA No Calorie Sweetener can save more than 600 calories?  It's hard to deny the significance of saving that many calories!  I need to save all of the calories I can get this time of year (and all year 'round, really) and SPLENDA Sweetener products can be used almost anywhere that regular sugar is used while cooking and baking.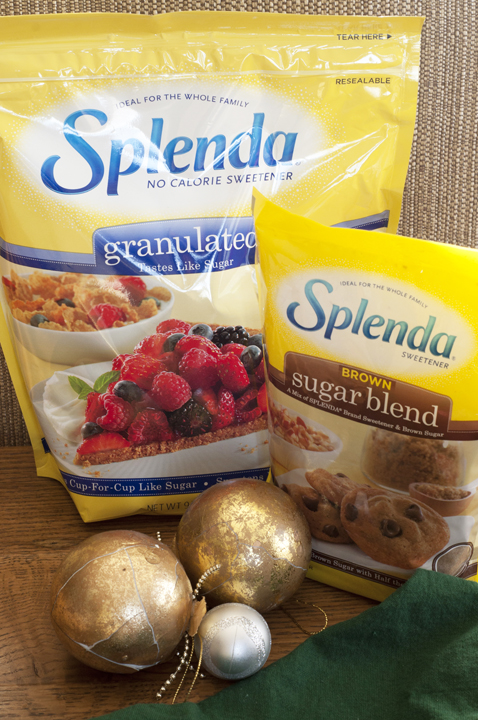 What I like most about the SPLENDA brown sugar is that if you use that in place of regular brown sugar, you use HALF the amount of the Splenda.  Keep that in mind if you substitute it in this recipe or any others.  With the granulated no calorie sweetener it is cup for cup so it's easy to remember!
This Eggnog Crumble Coffee Cake is what I like to call a "coffee cake" which means it's completely acceptable to eat it for breakfast along with your coffee. Cake for breakfast is always a good idea. This particular Eggnog Crumble Coffee Cake is crumbly and delicious! If you need an idea for a festive dessert or Christmas morning breakfast that has a bit of a kick (from the eggnog), this one is easy to put together and tastes awesome.  The eggnog flavor is not incredibly overpowering but you will be able to taste the distinct flavor enough to tell it's not just your ordinary vanilla cake recipe.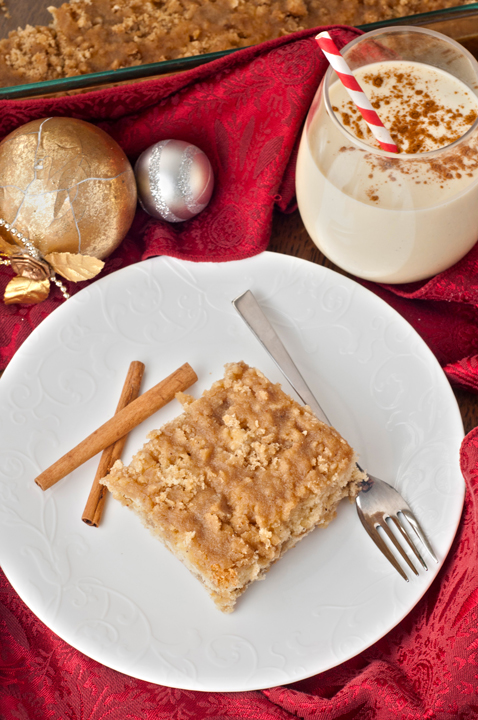 SPLENDA is dedicated to adding sweetness to life and inspires consumers to make smarter, balanced decisions with something called "SWEET SWAPS".  You can head on over to find recipes, helpful tips and tricks on ways to go about swapping out full sugar for SPLENDA Sweetener Products, and more at SweetSwaps.com.
So, you should definitely gather around the Christmas tree and dive head first into this cake with your friends and family, whether it be for breakfast or after-dinner dessert.  Enjoy!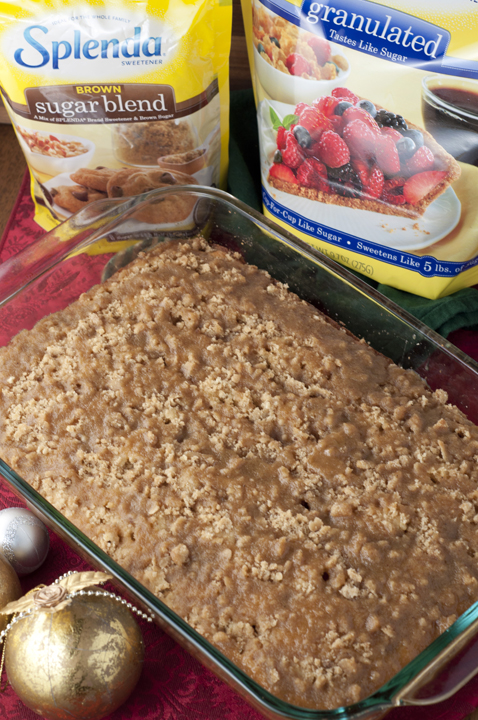 Eggnog Crumble Crunch Cake
Prep time:
Cook time:
Total time:
Eggnog Crumble Coffee Cake recipe is a wonderful holiday dessert or breakfast cake full of eggnog flavor that is a nice change of pace for Christmas!
Ingredients
Cake:
2 cups pastry flour
1 tablespoon baking powder
¼ teaspoon salt
½ teaspoon nutmeg
½ teaspoon cinnamon + an extra ¼ teaspoon
½ cup loosely packed brown sugar + and extra ⅓ cup
⅓ cup SPLENDA No Calorie Sweetener, granulated (or the same amount of regular sugar)
2 large eggs
2 teaspoons vanilla extract
6 tablespoons unsalted butter, melted and cooled
1 cup eggnog
Crumble topping:
⅓ cup pastry flour
⅓ cup brown sugar
½ teaspoon cinnamon
2 tablespoons unsalted butter, melted
Eggnog glaze:
⅓ cup eggnog
½ cup brown sugar
¼ cup SPLENDA No Calorie Sweetener, granulated (or the same amount of regular sugar)
1 teaspoon vanilla extract
⅛ teaspoon of nutmeg
Instructions
Cake:
Preheat oven to 350 degrees F.
Spray a 9×13 baking dish with nonstick spray. In a small mixing bowl, combine ⅓ cup brown sugar and ¼ teaspoon cinnamon. In another small mixing bowl, combine flour, baking powder, salt, nutmeg and cinnamon and whisk together to combine.
Add butter and sugars to a separate bowl and whisk until smooth.
Add eggs one a time, mixing until completely combined, then stir in vanilla extract.
Stir in dry ingredients (the flour mixture), mixing until a batter forms (it will be a cookie dough consistency), then mix in eggnog until smooth and no lumps remain.
Pour half of the batter in the greased baking dish, then sprinkle the brown sugar/cinnamon mixture over top.
Cover with remaining batter and use a spatula to very gently spread over sugar. It's OK if some of the sugar shows through in spots.
Top with the crumble topping (directions below).
Crumble: Combine all ingredients in a mixing bowl and mix until crumbly.
Sprinkle evenly over cake, then bake the cake for 28-32 minutes or until cake is set in the middle. use a knife to test and when it comes out clean, the cake is done.
While cake is baking, make glaze following directions below.
After removing cake from oven, immediately poke holes all throughout the cake using a toothpick, then drizzle glaze over top, making sure it gets into the holes.
Glaze: Whisk all ingredients together in a small saucepan over medium heat, and allow to come to a boil. Immediately reduce to a simmer and cook for about 2 minutes, then remove from heat and let sit until cake is finished. Drizzle glaze over cake once it is cooled. Enjoy!
Disclaimer: I was selected for this opportunity as a member of Clever Girls and the content and opinions expressed here are all my own.
Recipe source: heavily adapted from howsweeteats.com