Skinny Piña Colada
If you like Piña Coladas….getting caught in the rain….
Yeah,  if you have the Pina Colada song stuck in your head now, you eventually were going to have it there anyway so don't blame me.  Anyways, I really like Piña Coladas, but this Caribbean cocktail is a huge calorie bomb….often loaded with fat and calories and made with an artificial, sugar-laden mix.  Most places I checked, this fabulous drink clocks in right around 650 calories a drink!  That's almost half your daily caloric intake just in one drink.  This version I'm sharing with you today has no where near the fat and calories of a regular Piña Colada because I used coconut water in place of cream of coconut or coconut milk and added just a small amount of pineapple juice to cut down on the sugar.
This is a very simple and straight forward recipe.  It's not super sweet, yet still has the amazing smell and taste of coconut.  Because it's not overly sweet, you might not love the taste as much as you would a regular Piña Colada, but at least you are saving yourself tons of calories 🙂
This Skinny Piña Colada just might be making an appearance in my kitchen often in summers to come and is perfect to cool you off on a hot day.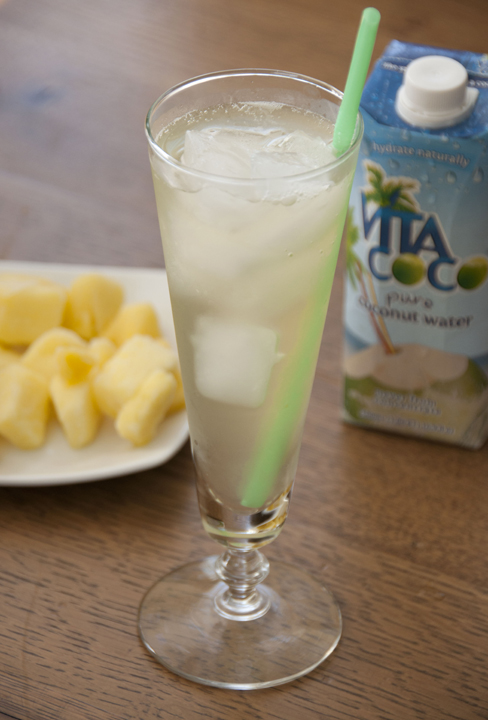 INGREDIENTS:
*Makes 1 large cocktail*
2 oz Coconut Rum (Bacardi Rock or Malibu work well)
5 oz coconut water
2 oz pineapple juice
DIRECTIONS:
Combine ingredients in a cocktail shaker with ice.
Shake and strain into a glass filled with ice.
Garnish with a slice of pineapple and/or a Maraschino cherry (optional).
Recipe source: adapted from carrotsncake.com