Chocolate Eclair Cake
This dessert recipe for Chocolate Eclair Cake, also called "Moon Cake", is your favorite oblong French pastry made into a delicious cake!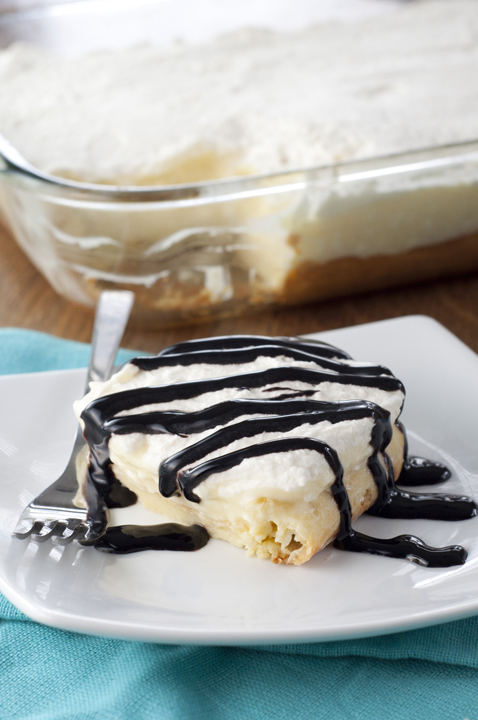 Happy a few days premature 4th of July, everyone!  I seriously have the best dessert for you today and it's this Chocolate Eclair cake.
You absolutely have to make for the festivities, picnics, BBQ's, whatever it may be that you are doing this weekend.  You can also just bake it up to eat all by yourself on a "special" occasion…that is perfectly acceptable (as long as you don't tell anyone).
Have you ever wished to have the great flavors of an éclair in perfect cake form?  Well, this Chocolate Eclair Cake has a cream puff crust for the base, vanilla cream cheese layer, homemade whipped cream, and a chocolate drizzle to top it all off.
I LOVED LOVED LOVED this dessert!  I served it to several dinner guests who also shared the same sentiment.  It's THAT good, people.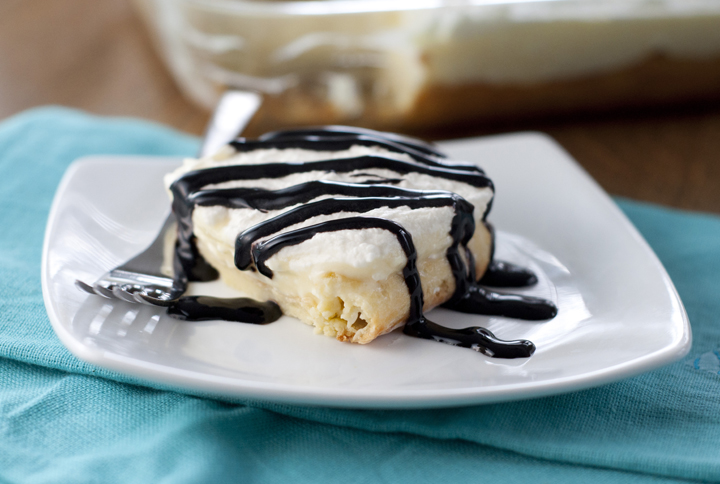 The crust is the same as any eclair base which is an eggy non-sweet crust – so don't expect it to be all sugary and sweet tasting.  The dough is wet before you bake it.
It also looks all cool and funky once you pull it out of the oven – this is normal and why it's also called "moon cake" by some people because of the bumpy surface.  It does "calm down" a little as it cools.  It's not supposed to be a flat crust like you may be used to.  It definitely has some texture to it!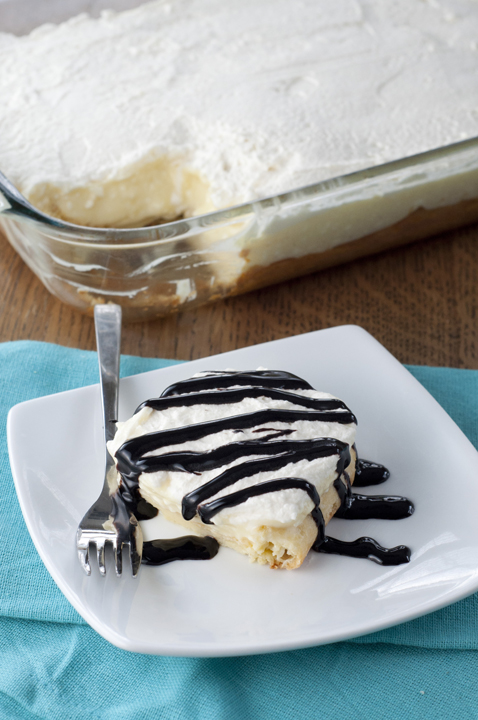 You can make this even easier with less steps if you use Cool Whip instead of homemade whipped cream (but I recommend the homemade) and Hershey's syrup instead of the chocolate sauce from scratch.  If you do choose one or the other I'd definitely recommend making the whipped cream from scratch!
So, plain and simple, you must make this chocolate eclair cake.  It tastes like an actual eclair from a bakery.  Try it and be amazed.  You can also visit my collection of
4th of July recipes
if you're looking for ideas.
Foodie lesson of the day:  The word comes from French éclair 'flash of lightning', so named because it is eaten quickly (in a flash).  Very fitting for this cake!
Chocolate Eclair Cake
Prep time:
Cook time:
Total time:
Ingredients
Crust:
1 cup water
½ cup butter
1 cup all-purpose flour
4 large eggs
Filling:
1 (8 ounce) package cream cheese, softened
1 large box (5.1 ounces) vanilla instant pudding
3 cups milk
Whipped topping:
1 cup heavy cream
3 Tablespoons confectioners' sugar
½ teaspoon pure vanilla extract
Topping:
chocolate syrup or homemade chocolate sauce
Homemade Chocolate Sauce (makes about 1 cup):
¼ cup cocoa
1cup granulated sugar
¼ cup evaporated milk
¼ cup butter
⅛ teaspoon salt
½ teaspoon vanilla
Instructions
Preheat oven to 400. Very lightly grease a 9 x 13 glass baking pan.
For the Eclair Crust: In a medium saucepan, place butter and water and bring to a boil. Remove from heat and whisk in flour. Immediately, mix in one egg at a time, mixing completely before adding another egg. Spread this very thick mixture into the pan, covering the bottom and sides evenly. Mixture will be very wet and gooey. I used my fingers for this. *If the sides of your pan are too greased you won't be able to get the mixture to stay up the sides so make sure to just lightly grease. No big deal it's nice if the crust to go up the sides a bit.
Bake for 25-30 minutes OR until golden brown and puffy (Mine only took 25 minutes.) You may want to check it occasionally-you don't want to overcook the crust, it will ruin the cake! Remove from oven and let cool (don't touch or push bubbles down - it is supposed to look a little funky - it will settle a little as it cools).
Whipped Topping: After the bottom layer is cool, whip the cream together with the confectioners sugar and vanilla with an electric mixer until soft peaks form.
For the Filling: Whip softened cream cheese in a medium bowl. In separate bowl make vanilla pudding by beating the pudding mix and the milk for 3 minutes and put in the fridge until set. Make sure pudding is thick before mixing in with cream cheese. Slowly add pudding to cream cheese, mixing until no lumps remain. Let cool in fridge. When the crust is completely cooled, pour filling in. Top with layer of whipped cream. Serve with a drizzle of chocolate syrup (homemade recipe below or just use Hershey's syrup).
Homemade chocolate topping: Stir cocoa and sugar together well. In a saucepan combine milk, butter, salt, and vanilla. Stir in dry mix. Heat, stirring until it reaches a boil and is thick. You want it to coat the back of a spoon. I boiled mine for two minutes whisking constantly. It will still be thin once you are done with this step. It will thicken as it cools.
Use to top cakes, ice cream, etc.!
 Recipe source:  adapted from thegirlwhoateeverything.com