Microwave Peanut Brittle
Golden brown Microwave Peanut Brittle recipe is the perfect sweet & salty treat for the holidays with the perfect crunch and sheen! A great edible gift for Christmas!
The Christmas candy obsession continues. I made this microwave peanut brittle and I totally feel like this thrusts me straight into grandma territory. Does it, guys?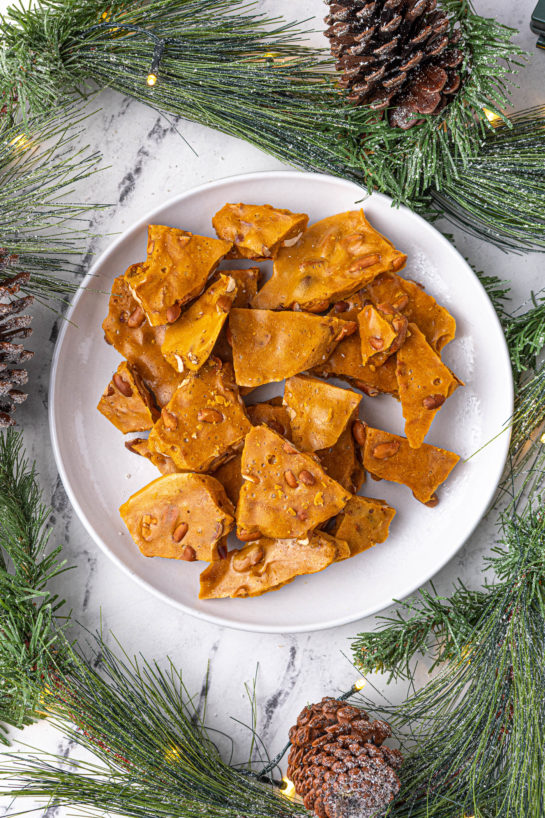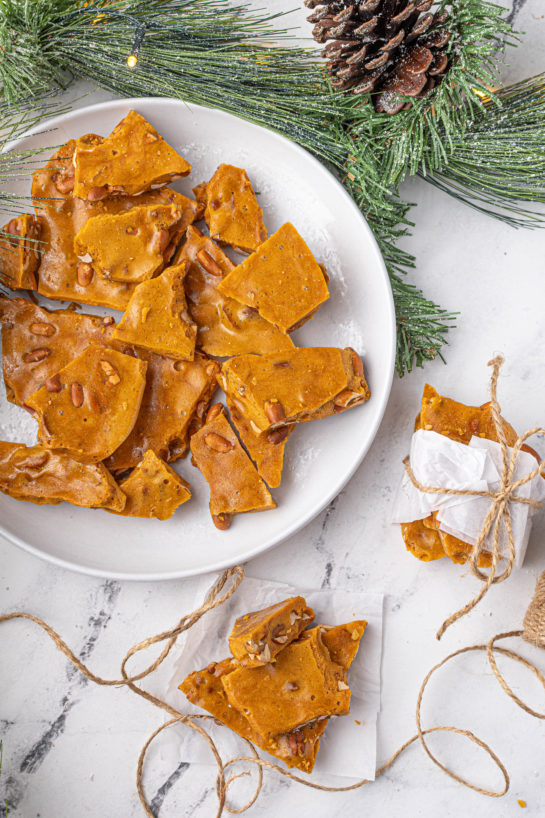 Like as if I moved straight on from being a mom into full-blown grandma mode. Not that there's anything wrong with that! Shout-out to all of you grandmothers out there for the inspiration behind this recipe.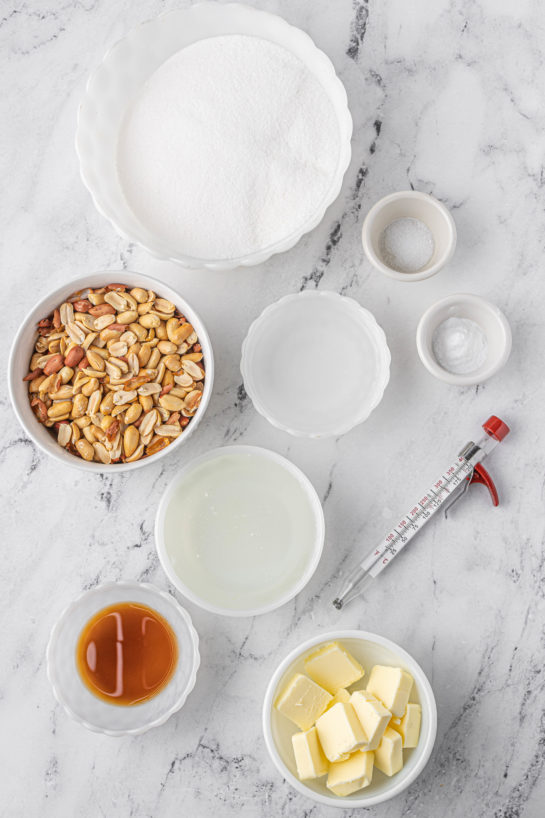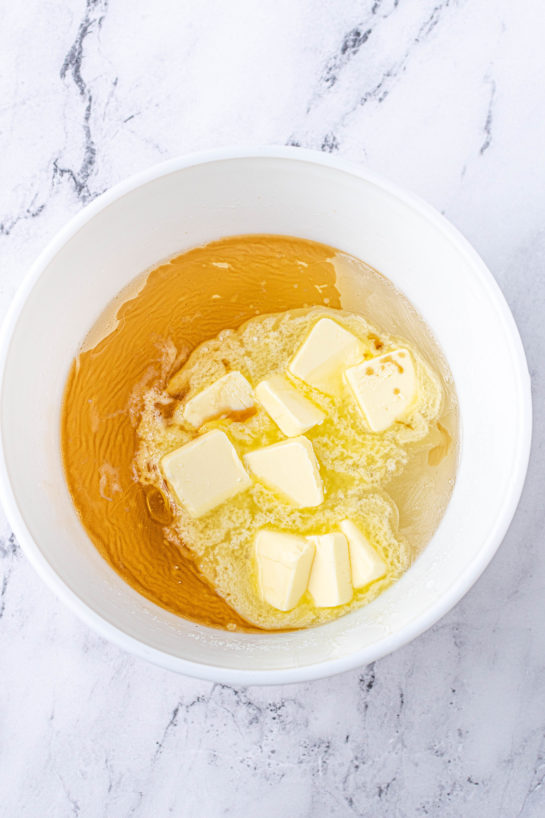 Not that my Grandmothers ever even MADE any sort of brittle for me that I can remember, but brittle and Graham Cracker Toffee just remind me of sweet grandmothers. Sort of like a bowl full of butterscotch candy would. If this is what being a grandma tastes like, where do I sign up!?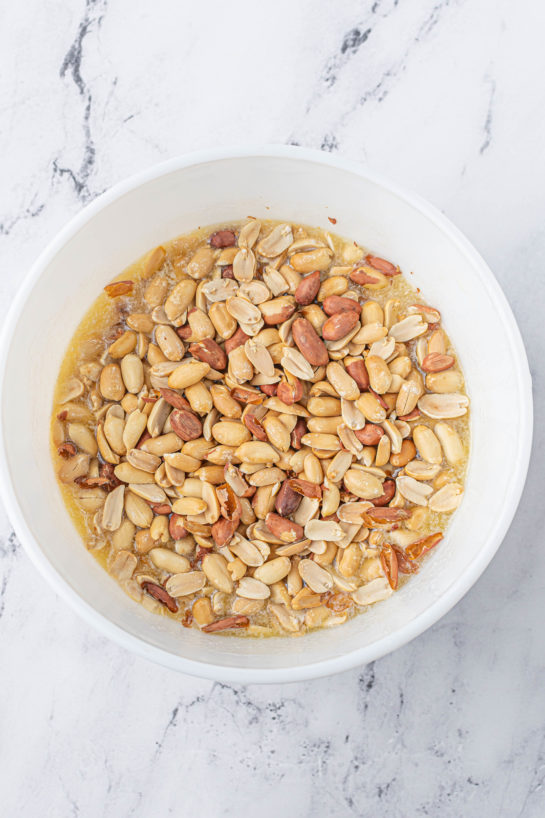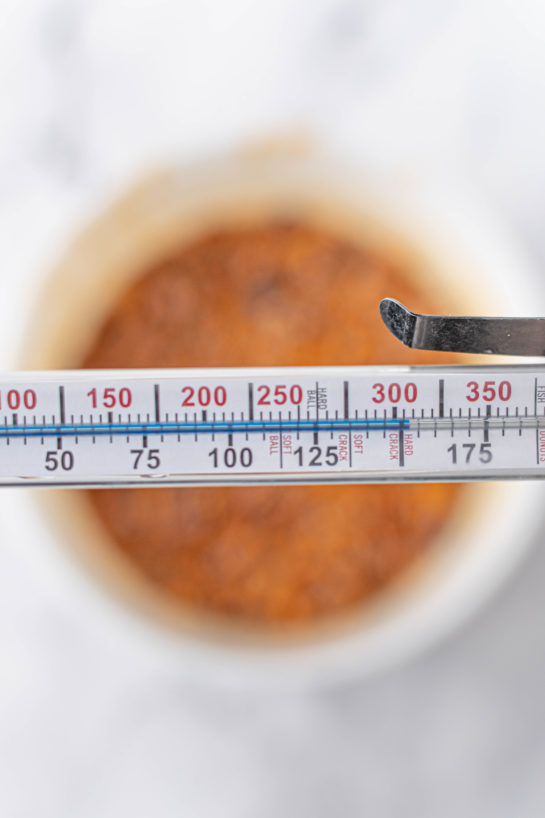 Peanut Brittle, or just brittle in general, is a type of confection consisting of flat broken pieces of hard sugar candy embedded with nuts such as pecans, almonds, or peanuts. The brittle itself is usually less than 1 cm thick. It has many variations around the world, but this peanut brittle is the most common!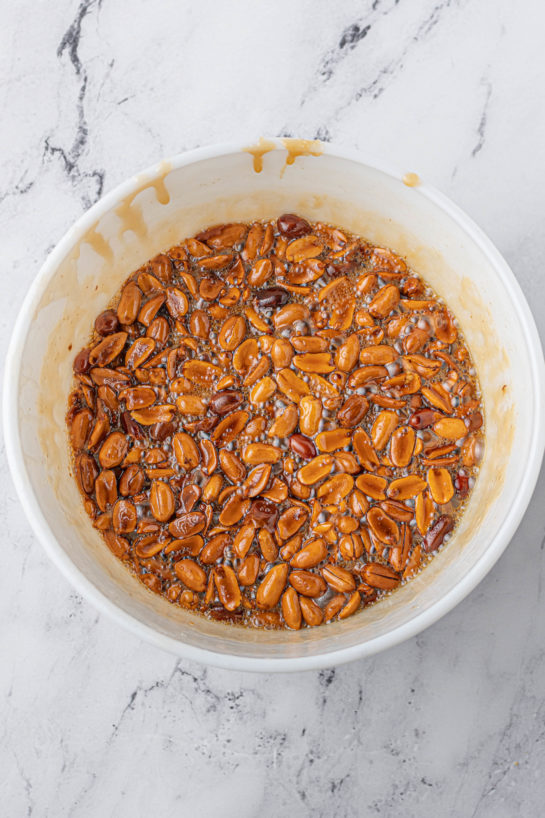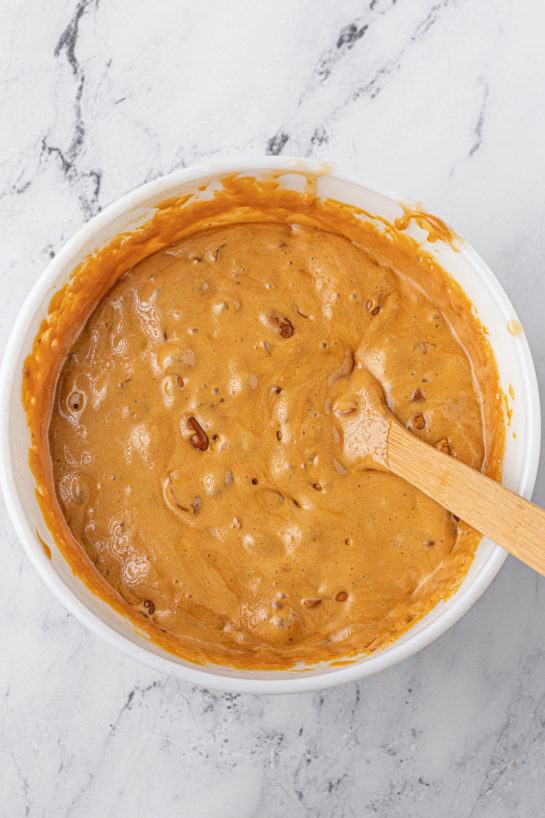 I kind of want to marry this crunchy deliciousness! The flavors in this are outstanding. I love making candy for Christmas. As you know, my Crock Pot Triple Chocolate Peanut Candy is my absolute favorite!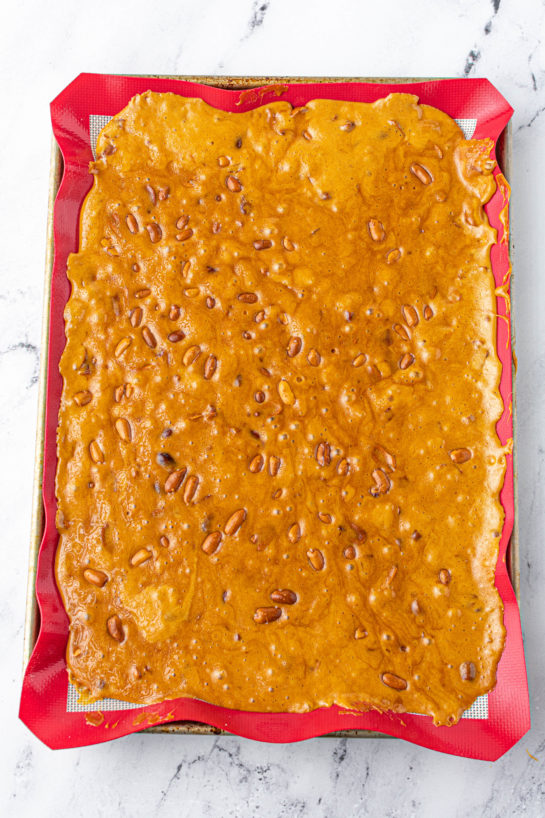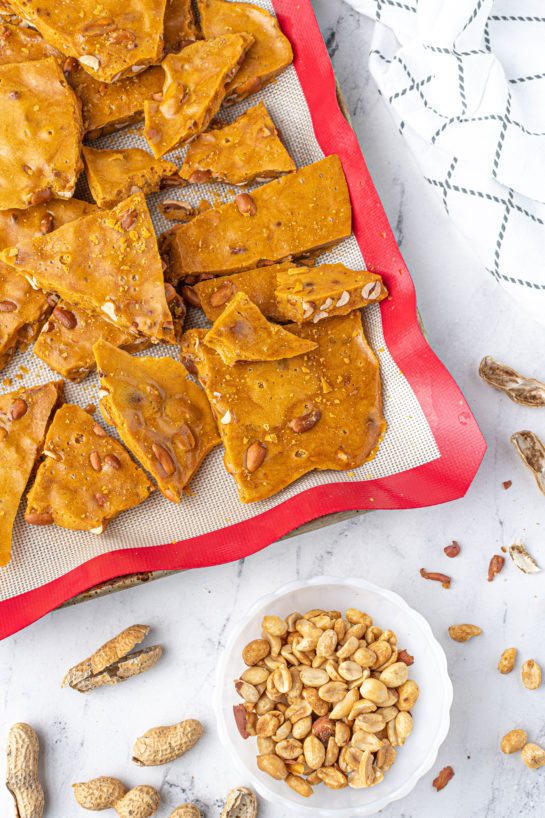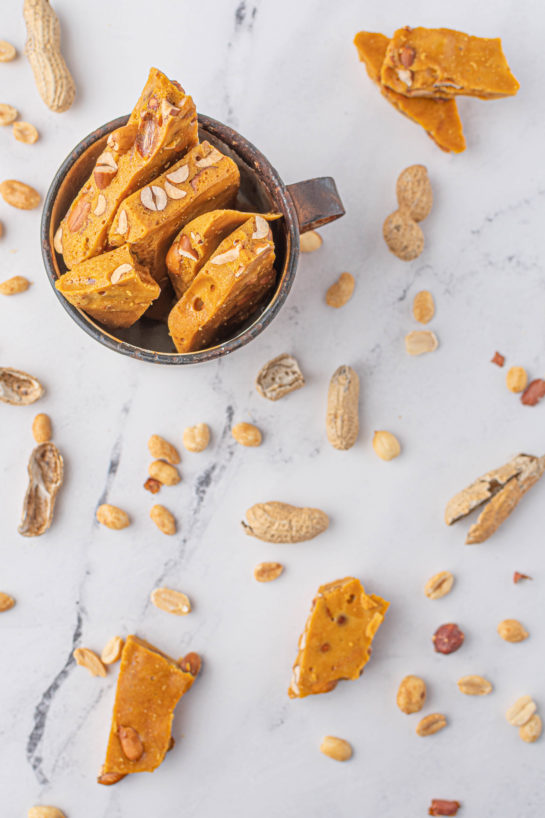 I have to admit that I never made my own gifts. NEVER. EVER. EVER. But this microwave peanut brittle would make an awesome edible gift for the holidays along with my creamy chocolate fudge!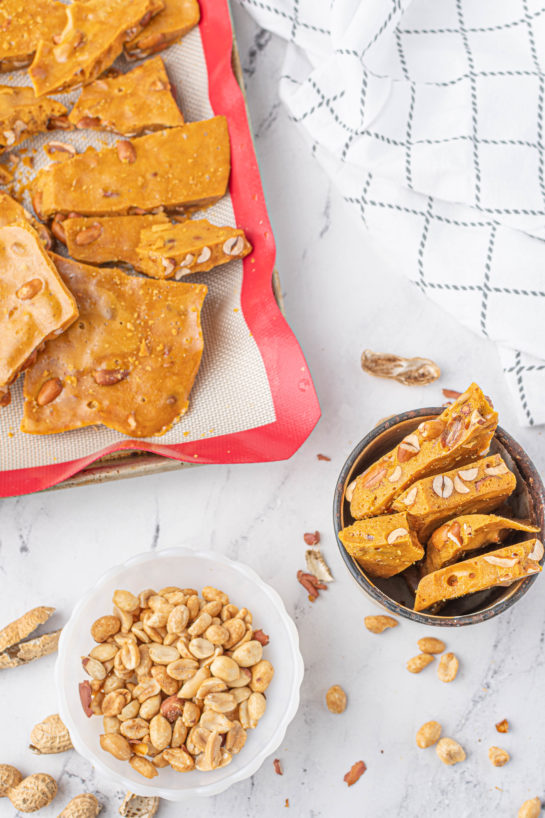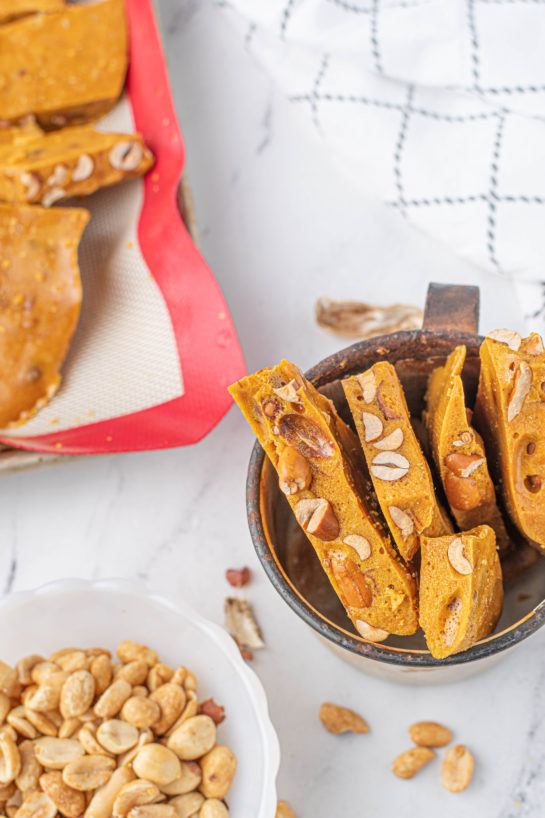 I think it's a great idea and I admire those who make their gifts for people and I adore being on the receiving end of them. Unfortunately, I can't make anything besides food to save my life. I just don't do crafts. I don't have a single creative bone in my body.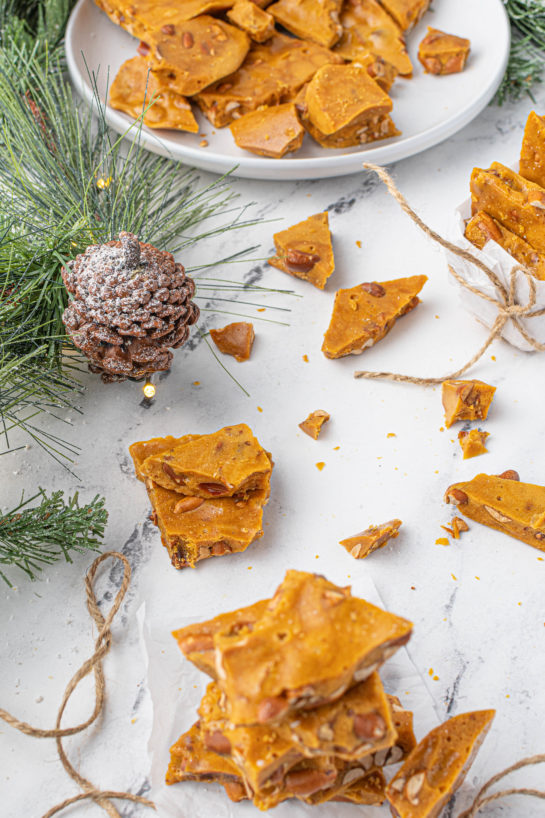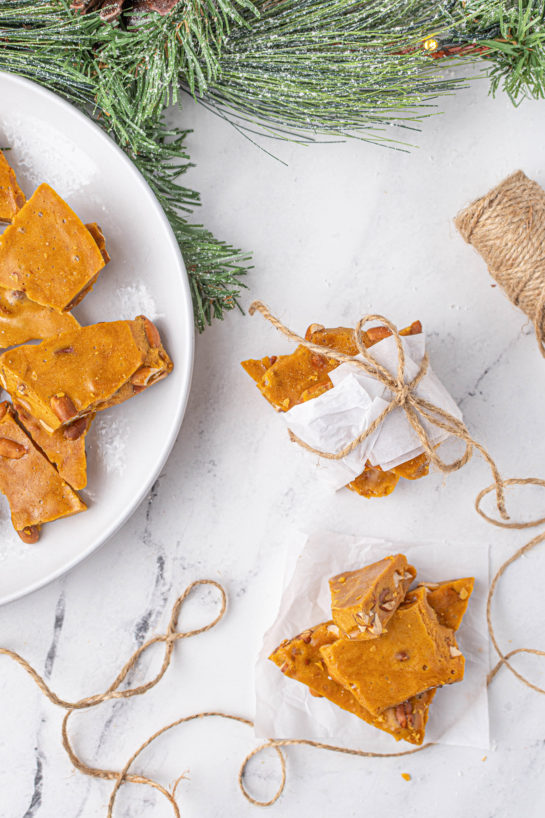 I hope you try it soon. I'm going to get a few pieces now and get it stuck in my teeth while I watch Home Alone for the 800th time this season.
Merry Christmas, ya filthy animals!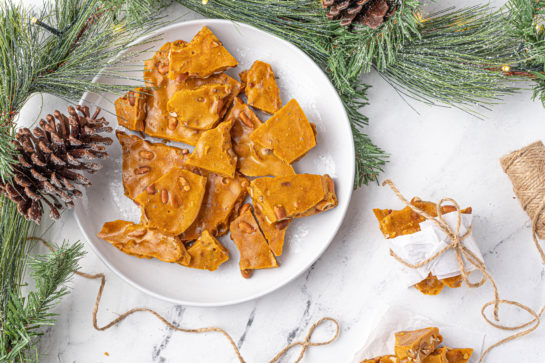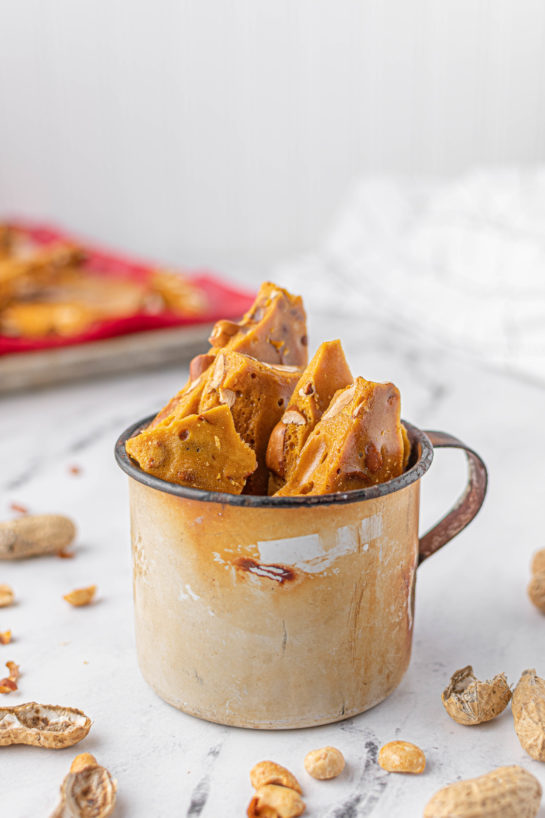 Microwave Peanut Brittle
Prep time:
Cook time:
Total time:
Golden brown Microwave Peanut Brittle recipe is the perfect sweet & salty treat for the holidays with the perfect crunch and sheen! A great edible gift for Christmas!
Ingredients
3 c sugar
1 ¼ c light corn syrup
½ water
¼ tsp salt
½ c unsalted butter, softened & cubed
2 tsp vanilla
2 ½ c unsalted, roasted peanuts
1 ½ tsp baking soda
Instructions
Prep baking sheet with non-stick cooking spray or lay a silicone baking mat in the bottom of the baking sheet and set aside.
In a large, microwave safe bowl, mix together the sugar, light corn syrup, water and salt. Microwave on high, stirring every two minutes until a candy thermometer inserted reaches 250 F. Be careful as once it starts getting hot it will bubble and burn if you stir too aggressively.
Once the mixture reaches 250 F, add the butter and vanilla and stir until incorporated. Be careful when you add the butter as the mixture is hot enough to cause it to bubble and splatter. Next, stir in the peanuts.
Microwave again on high, stirring every 2 minutes until it reaches 300 F.
Once the mixture reaches 300 F, using a spatula, stir in the baking soda until it is well incorporated. You will need to stir a lot to be sure the baking soda is mixed well throughout as this causes the bubbles that makes the brittle airy and crunchier.
Pour the brittle into the prepared baking sheet and spread evenly to the edges. Be sure to work quickly as once it starts to cool it gets harder to spread.
Let set for 20-30 minutes or until it is cooled.
Remove from the pan and break into pieces. Enjoy!
NOTE: Peanut Brittle can be stored in an airtight container for up to 2 weeks.
The larger the pan, the thinner your brittle will be and vice versa.