Slow Cooker Beef Tips and Gravy
Slow Cooker Beef Tips and Gravy is perfect to serve to dinner guests but simple enough for a weeknight dinner or appetizer recipe! Serve it over noodles, potatoes or rice!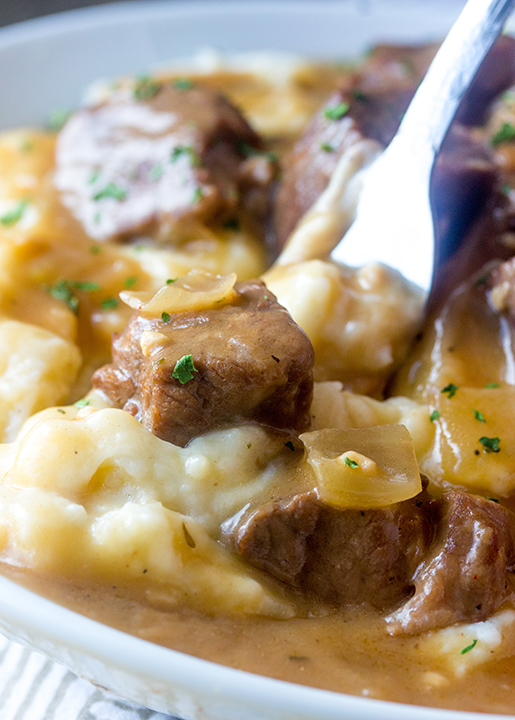 I really hope you had a great Christmas holiday! I can't believe it's over already and I'm definitely feeling the post-holiday blues. Luckily, we still have New Year's Eve and New Year's Day to look forward to enjoying some down time and great food like Slow Cooker Beef Tips and Gravy.
I won't be enjoying any adult beverages this year as I'm expecting a precious baby in late spring, but I plan to make up for all of those liquid calories with extra savory food and dessert!
I think this Slow Cooker Beef Tips and Gravy would be great choice for New Year's Eve dinner if you plan on staying in and making something quick and simple that feels fancy. The best thing about this recipe is you can keep it warm in the crock pot all night and you can also even enjoy this as an appetizer!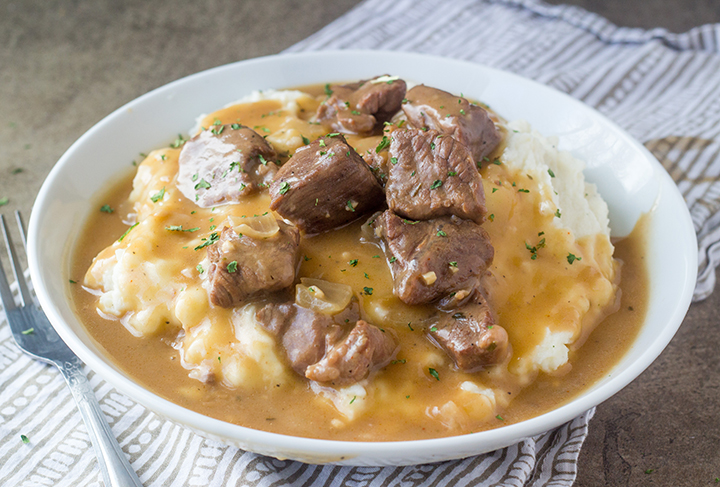 So, what are you plans for the evening on New Year's Eve? I made my BBQ Crock Pot Ribs every year.
My family and I just got back from an amazing 8 day cruise right before Christmas and I kind of feel like I'm still settling back in. I am just chilling out this week, making some good food, and enjoying the lights from my Christmas tree while I still can. This is my favorite month of the year and I never want it to end!
As you can see from the recipes I shared recently for my Cranberry BBQ Cocktail Meatballs (these would also be an excellent choice for a New Year's Eve appetizer) and my Slow Cooker Italian Pot Roast, I am really enjoying cooking with Moyer beef lately. I love supporting local brands and farmers and from the feedback I get from many of you readers, you feel the same way.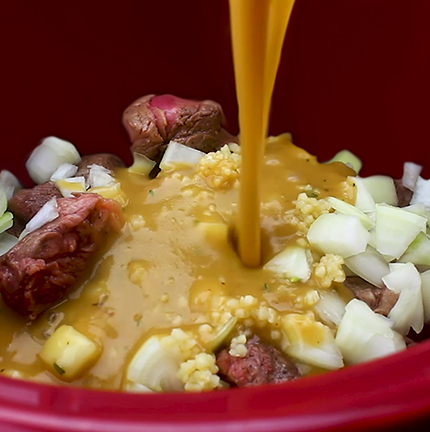 My local Tops Friendly Market grocery store always carries Moyer beef in a wide variety of cuts. I do see different cuts available depending on the Tops store I go to, so keep that in mind if you're looking for something specific as you can call ahead and see if they have that cut available.
Good quality beef is hard to come by and with Moyer I can rest assured that I can always count on the quality to meet my expectations when I purchase it. Moyer beef is available in both USDA Prime and Choice.
It gives me a good feeling that buying their beef is helping to support local communities and farmers! Their beef is produced and sourced locally by small family farmers in the Northeast, and shipped fresh to your grocery store.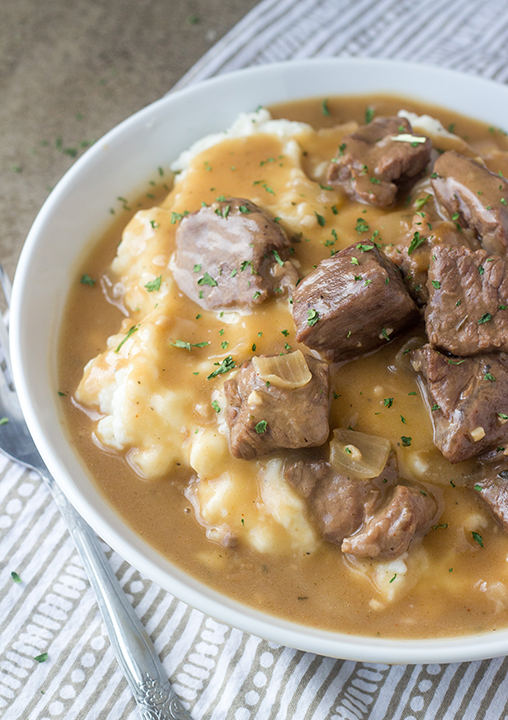 This easy Slow Cooker Beef Tips and Gravy takes such a short amount of time to prepare and then it cooks all by itself! The gravy is absolutely to DIE for. I sent this recipe to a friend a while back and her exact words to me were, "This was such a great recipe! My kids devoured it!"
The tender, juicy beef will have everyone coming back for seconds (or thirds) and this will become an instant family favorite. You will also LOVE my most popular slow cooker recipe – this Crock Pot Coca-Cola Roast. We make that roast frequently!
Serve this Slow Cooker Beef Tips and Gravy over egg noodles, mashed potatoes or rice. Add a side of roasted carrots or green beans and you have the perfect meal!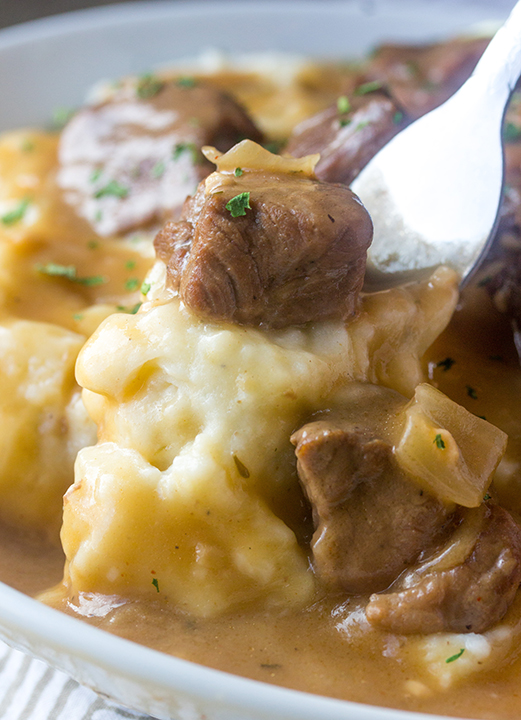 If you would like to find out where the nearest store is that you can purchase some fresh and local Moyer beef, be sure to check out their store locator for more information.
Here is my "how to" video with step-by-step instructions on how to make this Slow Cooker Beef Tips and Gravy!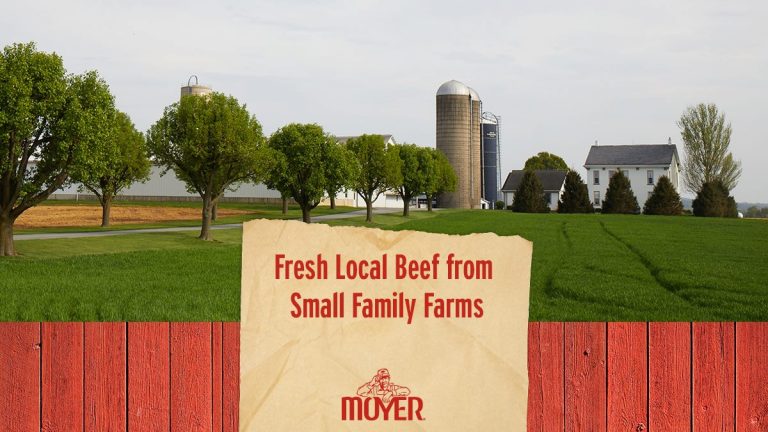 Recipe source: very slightly adapted from carlsbadcravings.com
Slow Cooker Beef Tips and Gravy
Prep time:
Cook time:
Total time:
Slow Cooker Beef Tips and Gravy is perfect to serve to dinner guests but simple enough for a weeknight dinner recipe! Serve it over noodles, potatoes or rice!
Ingredients
1 tablespoon olive oil
1 and ½ pounds beef chuck or sirloin, cut into large bite-size pieces
1 teaspoon salt
½ teaspoon pepper
1 medium onion, chopped
6 garlic cloves, minced
Gravy:
1 tablespoon unsalted butter
½ cup all-purpose flour
4 cups beef stock
1 tablespoon low sodium soy sauce
1 teaspoon Dijon mustard
1½ teaspoons beef bouillon
1½ teaspoons sugar
½ tsp dried parsley
½ tsp paprika
¼ tsp dried oregano
¼ tsp dried thyme
Fresh chopped parsley, for garnish
Instructions
After cutting meat and while it is still on the cutting board, toss it with 1 teaspoon salt and ½ teaspoon pepper.
Heat 1 tablespoon olive oil in a large skillet over medium-high heat.
Add beef in single layer (work in 2 batches if needed) to the hot skillet and let cook for approximately 2 minutes, without stirring. Let it cook until it has a nice sear/crust on one side (this will give it a lot of flavor), then continue to cook while stirring until beef is browned all over but not cooked all the way through.
Transfer beef to 6-quart slow cooker and top with chopped onions and minced garlic.
To the remaining juices left in the skillet, melt 1 tablespoon butter. Whisk in the flour until dissolved. Add in remaining gravy ingredients.
Bring this to a boil then reduce to a simmer until thickened to the consistency of thick gravy. Make sure you let it get thick enough because it will thin out a bit in the slow cooker. Add to slow cooker and stir to combine all ingredients.
Cook on HIGH for 3-4 hours or on LOW for 5-7 hours. Beef is ready when it is melt-in-your-mouth tender. Add additional salt and pepper, if needed.
Garnish with fresh, chopped parsley for color. Serve over OR with mashed potatoes, egg noodles or rice. Enjoy!
Disclaimer:
Thank you to Moyer Beef for sponsoring this conversation. All opinions remain 100% my own, as always. Thank you for allowing me to share the brands and products I use regularly and love.

Recipe source: very slightly adapted from carlsbadcravings.com