No-Bake Monster Cookie Dough Energy Bites
No-Bake Monster Cookie Dough Energy Bites are a gluten-free recipe suitable for a snack or dessert that will satisfy your sweet tooth without being loaded with sugar!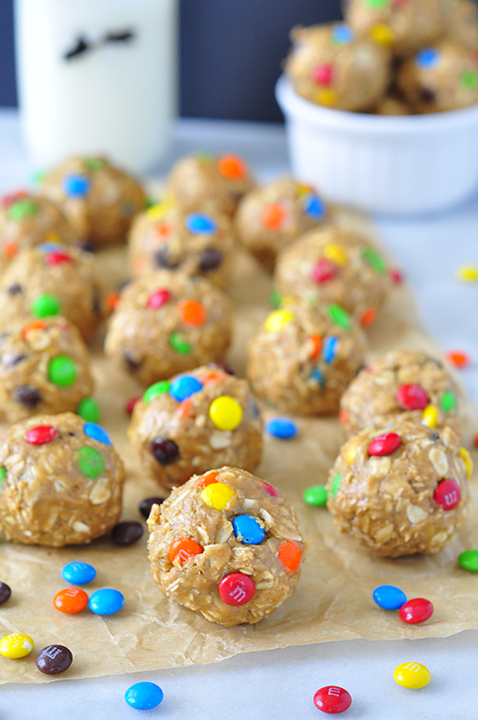 I had a major sweet tooth back in the day….like, major. It went away a few years ago where I mostly craved salty foods and could really take it or leave it when it came to desserts. I'm back at it with the sweet tooth during this pregnancy! I crave something sweet, mostly at night, every single day. I try to make healthier choices like dark chocolate covered almonds or healthy, sweet snacks like these No-Bake Monster Cookie Dough Energy Bites. You only need 5 ingredients to make these easy, delicious, egg-free cookie dough bites! The best part about these is that you can feel like you're eating raw cookie dough without worrying about consuming raw eggs.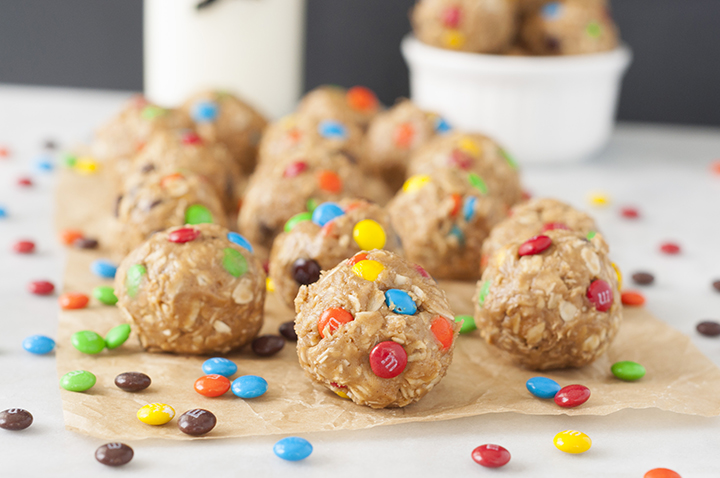 I consumed so many of these bites without much guilt at all. They really give me my chocolate fix, but at the same time I can feel like I'm giving my body something it can really use – protein! I'm more conscientious about what I eat ever since finding out I'm pregnant. I enjoy going back to some older recipes of mine and making them for breakfast or a quick snack. One of my favorites has been these 4 ingredient pumpkin spice peanut butter oat bars. You will all love how easy they are to whip up! I also am loving these peanut butter cup overnight oats for a healthy breakfast.
I was an absolute FREAK about eating healthy for the first few weeks and I was driving myself crazy. My doctor (and Google, haha) seem to say you should just worry about eating reasonably and not to obsess too much. My food aversions have been absolutely crazy, although I haven't been sick at all. I try to just eat whatever sounds good to me at the time. Mr. Wishes and I have been consuming so many avocados that I am surprised we haven't turned green yet! I also am loving everything peanut butter lately.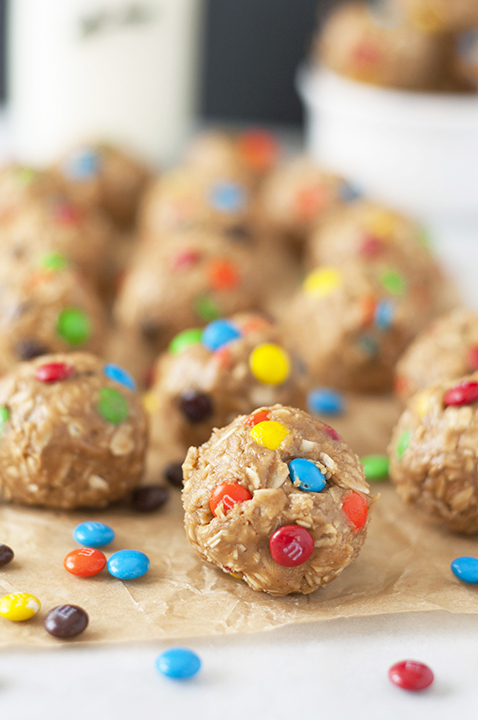 These No-Bake Monster Cookie Dough Energy bites give me my chocolate and peanut butter fix all in one. They also make for a great pre or post-workout snack! I brought them on a road trip once and they kept me from eating too many chips and candy.
If you're looking for more no-bake treats, I listed my favorites below:
No-Bake Avalanche Cookies – I normally make these for the holidays, but they are good any time of the year when you need a quick and easy dessert!
No-Bake Buckeye Pretzel Bars – I love the sweet and salty combination in these bars. Great for the summer when you don't want to turn on your oven!
No-Bake Stuffed Cookie Dough Bites – I am obsessed with these. You can stuff them with peanut butter, Nutella, or any mini size candy! Enjoy!
Edible Cookie Dough – this recipe from my friend Christi has me absolutely drooling!

No-Bake Monster Cookie Dough Energy Bites
Recipe type:
Snack, Dessert
No-Bake Monster Cookie Dough Energy Bites are a gluten free recipe for a snack or dessert to satisfy your sweet tooth without being loaded with sugar!
Instructions
In a mixing bowl, mix together the peanut butter and honey until well incorporated.
Add the oats and stir.
Add the M&M's and chocolate chips. Stir together until well incorporated.
Refrigerate dough for about 1 hour to chill.
Scoop out dough with a cookie scoop or Tablespoon measuring spoon and roll into balls. Roll into balls with hands. Place into resealable bags or containers and refrigerate or freeze. Enjoy!

Recipe source: adapted from onelittleproject.com