Lover's Chocolate Cupcakes
Lover's Chocolate Cupcakes recipe: Valentine's Day Chocolate Cupcakes that are elegant and gourmet treats made with no special skills and equipment. Show your Valentine how much you love them!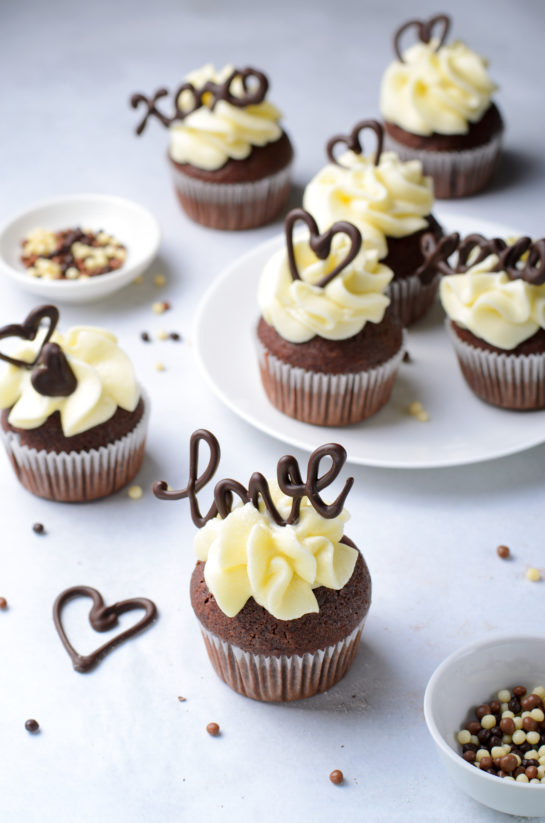 Current mood: wondering how I can spend my snowy Wednesday face down in one of these chocolate cupcakes. Of all the Valentine's Day dessert recipes, you guys….this is the one.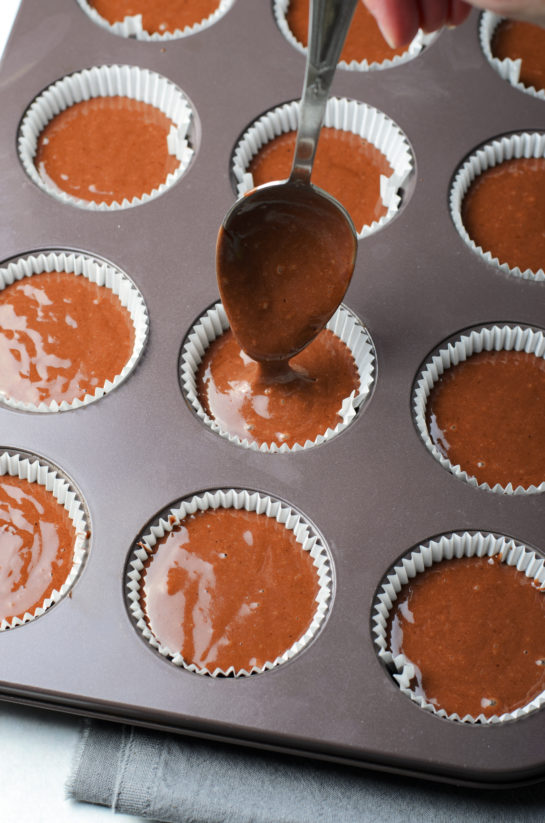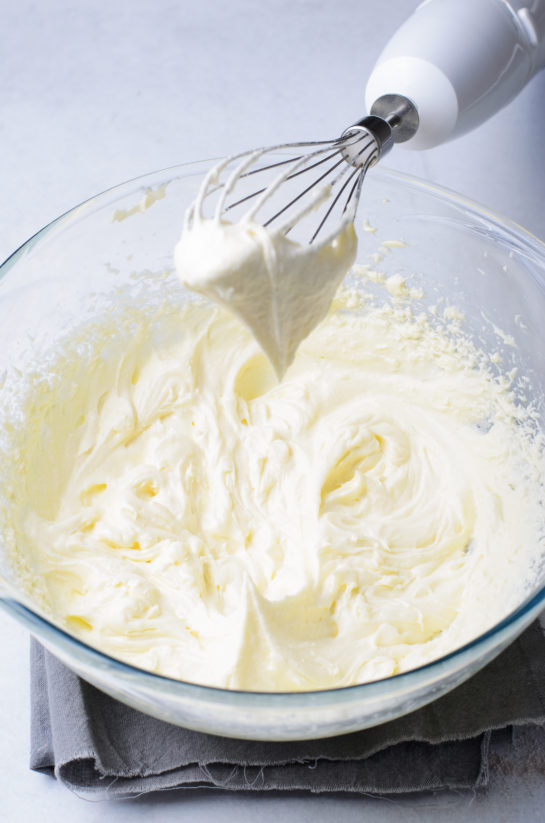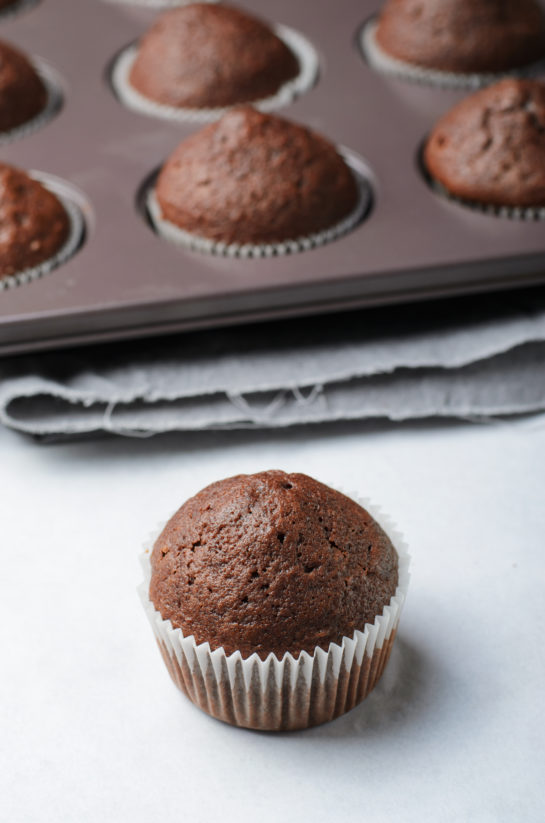 Sure, there's plain chocolate cupcakes and Molten Chocolate Lava Cakes and those are cool and all. Let's not stick to the basics just for today. We should get crazy with it and make some Valentine's Day Lover's Chocolate Cupcakes.
Behold! The fudgiest, prettiest, most attractive cupcakes in the entire universe. Okay so maybe they are not quite theeee fudgiest, but they are so super chocolately and soft and the frosting is blow your mind delicious. They are also still the prettiest and I stand by that.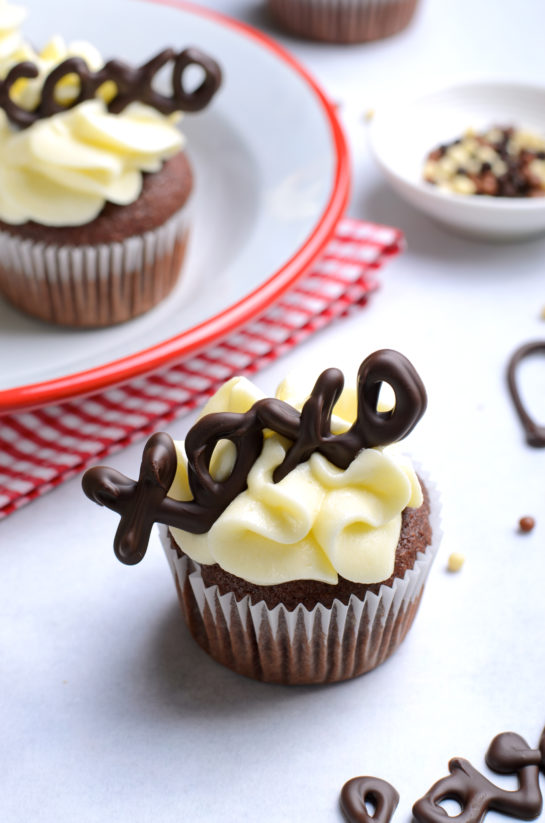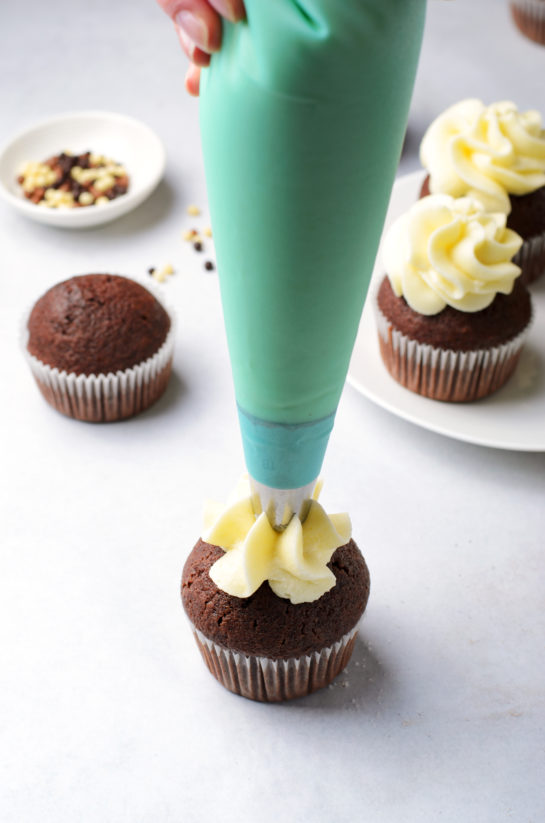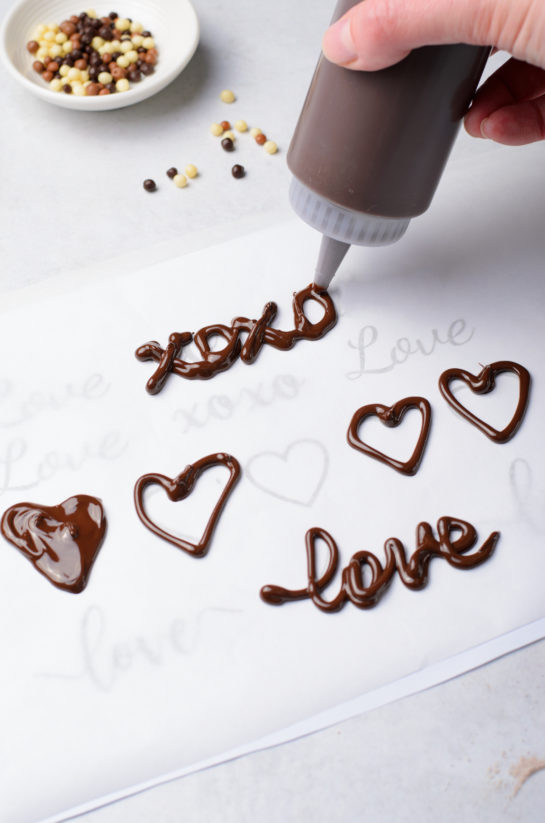 I would totally smash one of these cupcakes right in your face and promise you'd like it and not even complain that you had cupcake all over your face. I pinky swear you.
I literally would probably pay you to make these chocolate cupcakes for me today. Yes. You heard me correctly. I would pay YOU to make my cupcake recipe. The craziness of this week is causing me to absolutely lose my marbles.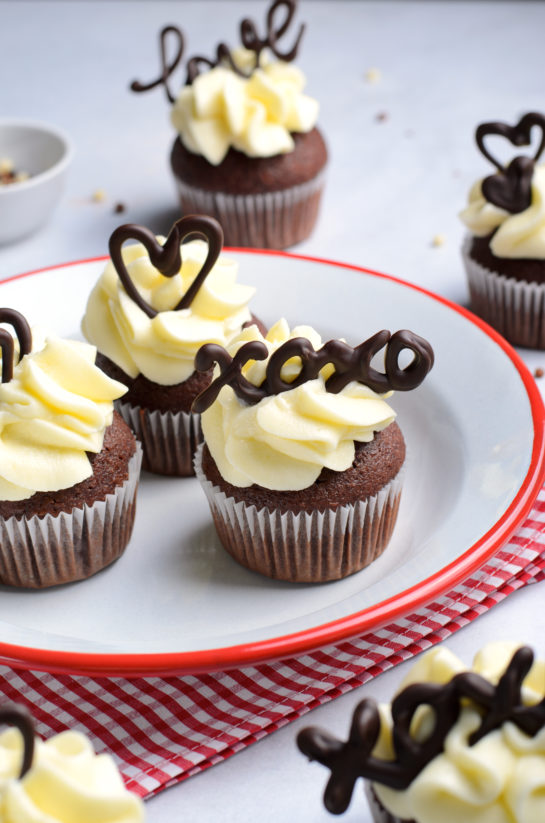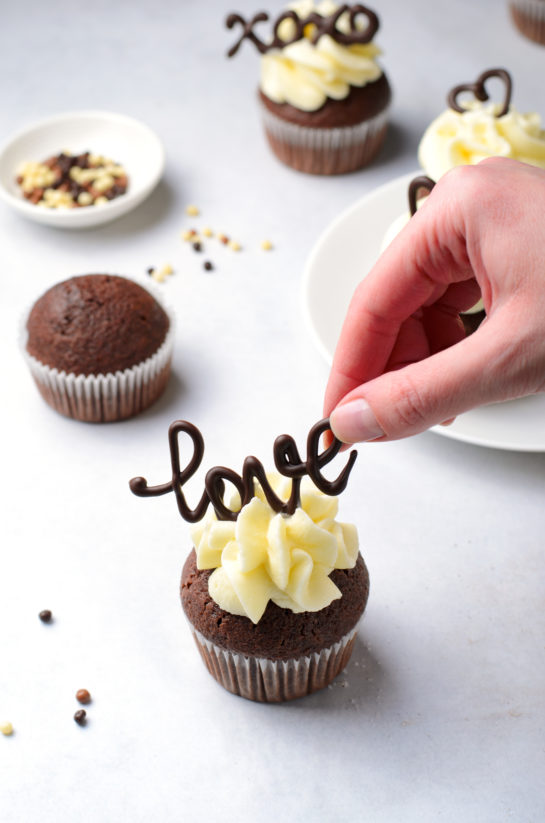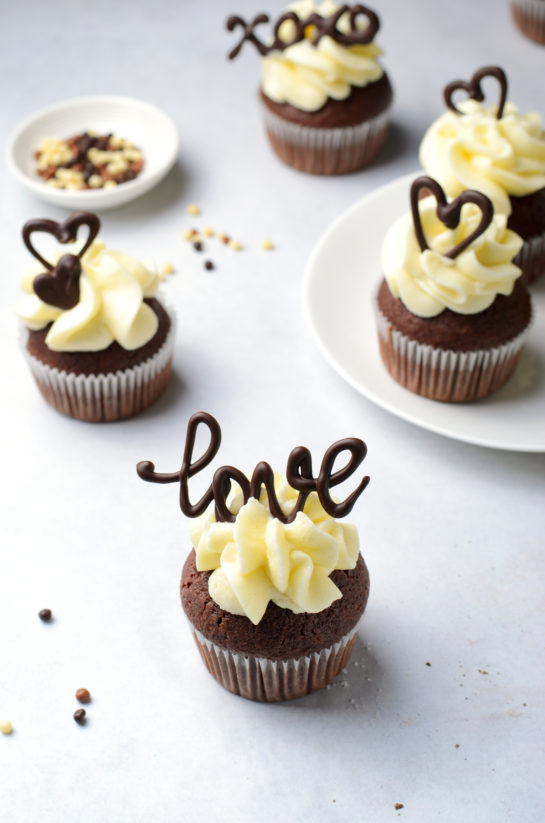 These cupcakes would be a beautiful centerpiece on your table for Valentine's Day! They would also be a lovely edible gift for your sweetheart.  These babies are downright DREAMY, my friends. Yeah, and putting the chocolate lettering as toppers for these chocolate cupcakes was probably the best decision of my life.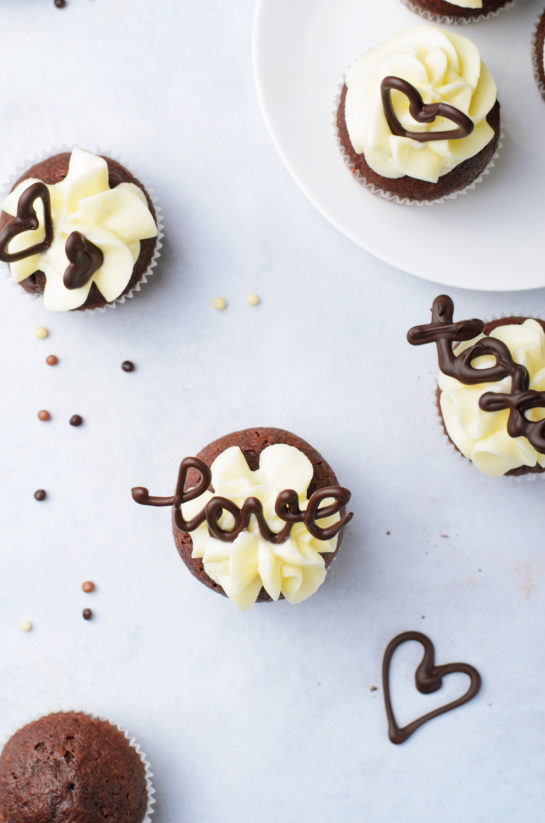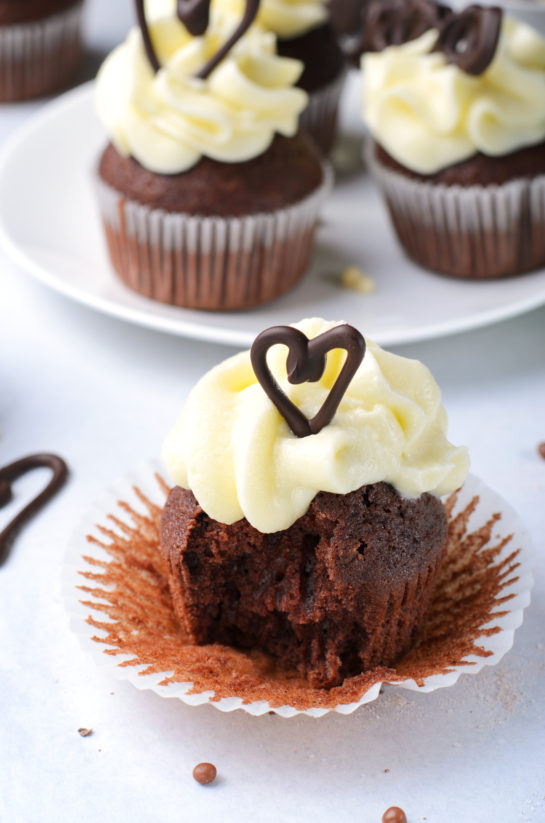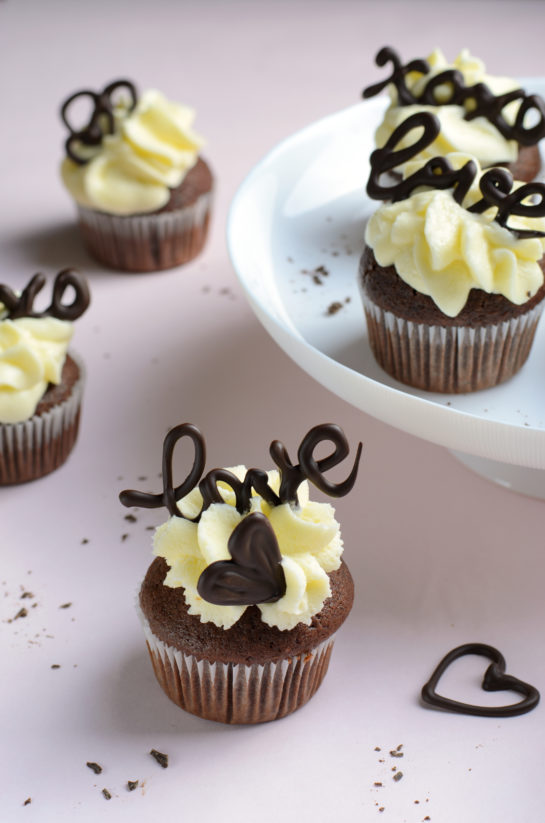 They cupcakes themselves are so super fluffy and airy. That's a thing, guys. The chocolate cake part isn't hurt-your-teeth type of sweet. I know I told you that with my Double Chocolate Truffle Cookies and I lied, but this time I am telling the truth.
I'm just gonna put it out there that these are probably the most decadent chocolate cupcakes I have ever tasted. I loved them and you will too.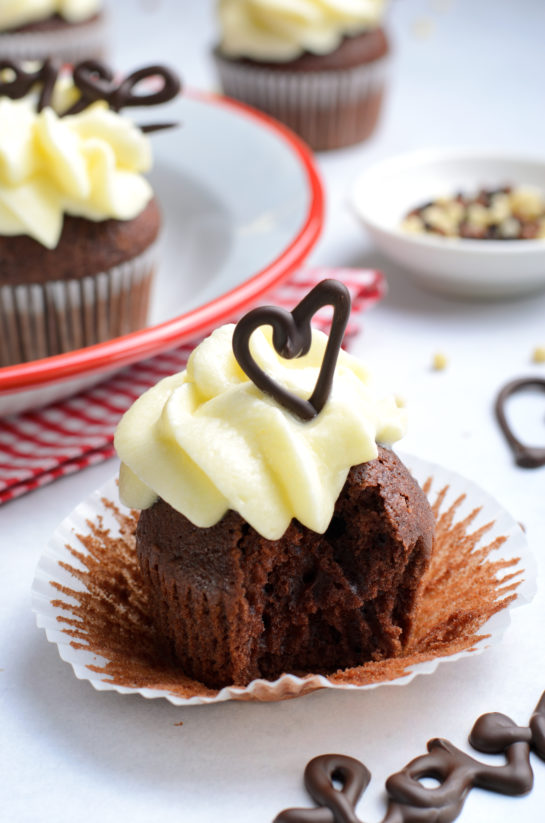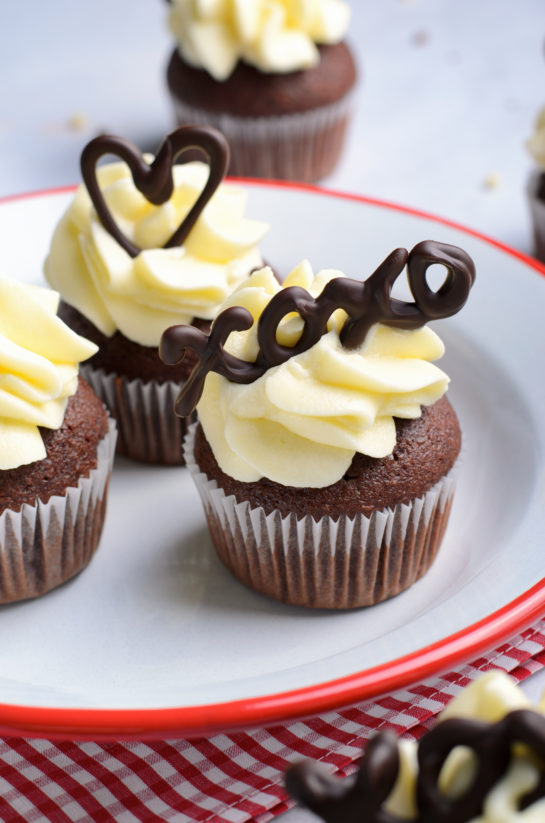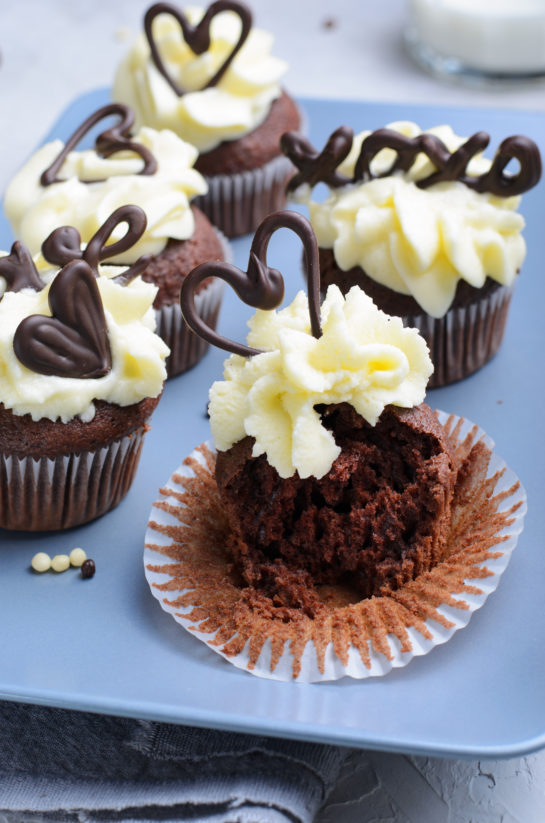 Here are a few other good Valentine's Day Cupcake recipes for you to check out: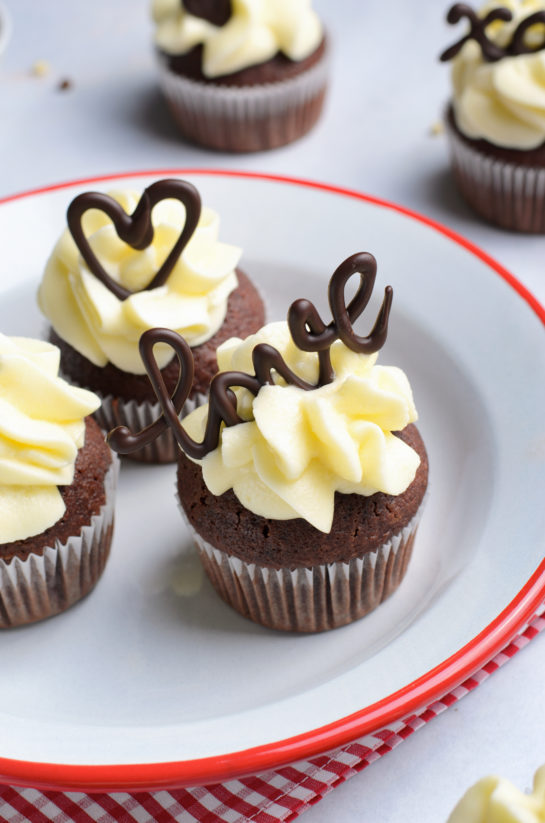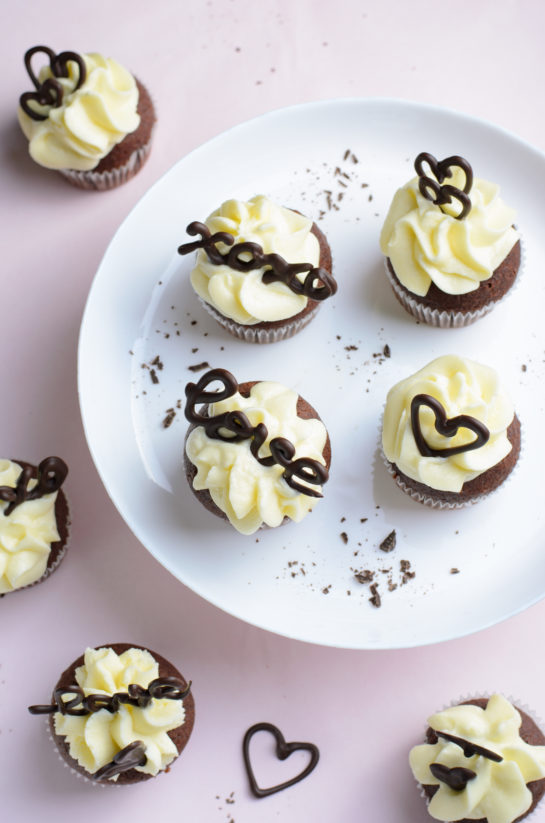 Lover's Chocolate Cupcakes
Prep time:
Cook time:
Total time:
Valentine's Day Chocolate Cupcakes are elegant and gourmet treats made with no special skills and equipment. Show your Valentine how much you love them!
Ingredients
Chocolate Cupcakes:
15 oz box chocolate cake mix (Devil's Food or Chocolate Fudge)
3 eggs
½ cup canola oil
½ cup coffee, room temperature
½ cup plain yogurt
Vanilla Frosting:
1 cup unsalted butter, softened
1½ cup confectioner's sugar
½ teaspoon vanilla extract
2 oz cream cheese
pinch of salt
3 oz chocolate
sugar sprinkles, if desired
Instructions
Preheat oven to 350°F. Line a muffin pan with 12 cupcake liners.
In a large mixing bowl, combine the cake mix, eggs, oil, yogurt, and coffee. Mix until smooth and well combined.
Fill liners ⅔ full with batter.
Bake for approximately 15-18 minutes or until a toothpick inserted into the center comes out clean. Cool completely on a wire rack before frosting.
For the vanilla frosting, place butter in a large mixing bowl. Give it a good beat until smooth. After that, add cream cheese and blend until mixture is fully combined and smooth. This takes about 30 seconds. Add confectioner's sugar, vanilla extract, and salt. Beat on low speed for around 30 seconds, then increase to medium-high speed and beat for 1 minute until fluffy.
Line a baking sheet with parchment paper. For better results, print the tracing template.
Put the chocolate in a microwave-safe bowl. Microwave for 30 seconds. Stir well and continue to microwave in 30-second intervals until the chocolate is completely melted.
Transfer the chocolate to a squeeze bottle/piping bagor ziptop bag with a small hole snipped in one corner. Hold bag about 1-inch above the sheet, then gently squeeze, tracing the designers.
Let the chocolate cool 20 minutes to harden up, or place in the fridge to speed up this process.
Frost the cupcakes and place the toppers. Top the frosting with sprinkles, if desired. Enjoy!