Molten Chocolate Lava Cakes
Molten Chocolate Lava Cakes are an easy dessert that looks like you spent all day.  They are rich and creamy in the center and perfect for Valentine's Day!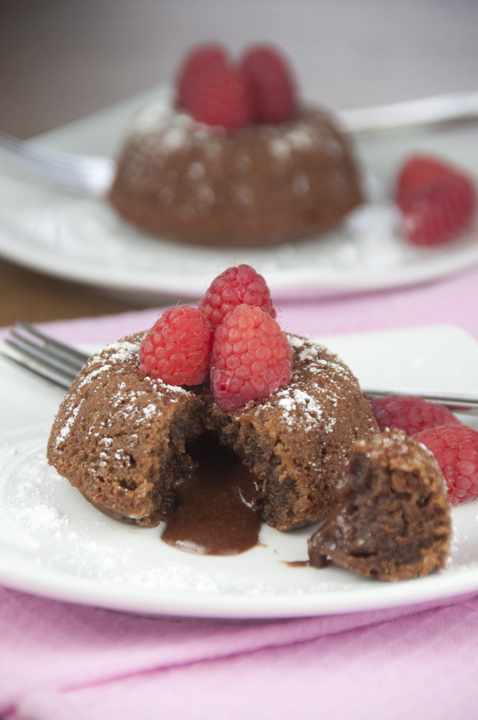 Happy Valentine's week!  While I make it known that I'm not huge on Valentine's day every year when it rolls around, I AM a fan of desserts like these Molten Chocolate Lava Cakes and any excuse to make them and eat them.
These Molten Chocolate Lava Cakes were delicious!  I like to order lava cakes at restaurants and these were just as good, if not better, than anything I've had while dining out.  I just had no idea how easy they were to make at home and how very few ingredients they required.
Digging into a rich chocolate cake like this one is always awesome, but add the ooey-gooey center of these molten chocolate lava cakes and it just cannot get any better.
The trick is that you bake them just long enough to set the outer layer of the cake and ensure the creamy, melted chocolate filling in middle. It really is genius.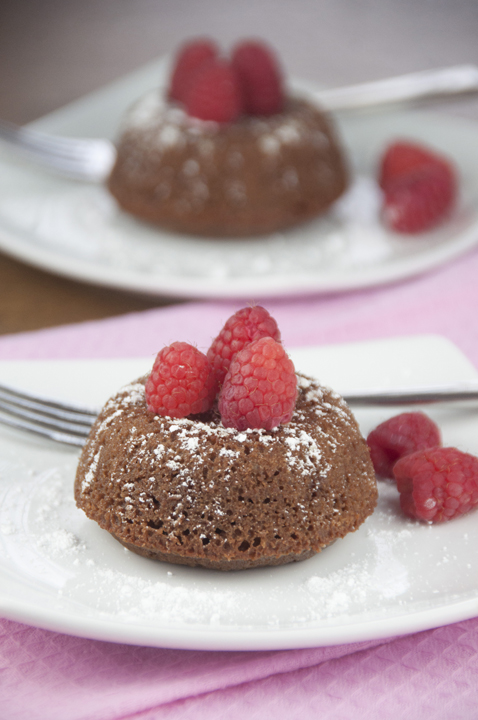 If there's only two of you enjoying these, cover up the extras and have them for dessert the next night.  It's the gift that keeps on giving and they are the perfect size dessert for one person.
This is nice for people who have portion control issues (me).  You can switch this up and mix in bittersweet chocolate to make sure the chocolate is even more rich, but semi-sweet chocolate alone does the job just fine.
You can even go the extra mile and make some homemade whipped cream for topping these babies off instead of just the powdered sugar and berries.  Vanilla ice cream would also be a good choice.  Just saying….
When you inevitably devour these in two seconds flat, be sure to have a tall glass of milk nearby.  A true chocolate lover's dream.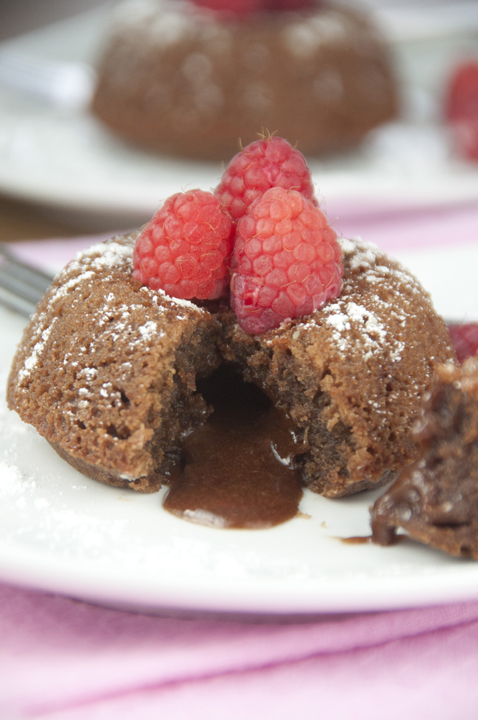 Here are a few more Valentine's Day treats for you:
Sugar Cookie Popcorn – this is awesome and great for treats to bring to school for kids!
Cupid's Crunch Chex Mix – This fun party mix is my absolutely favorite snack around this time of year.
Copycat Frosted Swig Sugar Cookies – these are so very pretty for any shower or holiday!
Conversation Heart Sugar Cookie Bark – this is the perfect Valentine's Day dessert for kids to help make!
Molten Chocolate Lava Cakes
Prep time:
Cook time:
Total time:
Molten Chocolate Lava Cakes are an easy dessert that looks like you spent all day. They are rich and creamy in the center and perfect for Valentine's Day!
Ingredients
½ cup unsalted butter
4 squares semi-sweet baking chocolate
1 cup + 2 Tablespoons powdered sugar, divided
2 whole large eggs
2 egg yolks
6 Tablespoons all purpose flour
Fresh raspberries, for topping
Instructions
Preheat oven to 425 degrees.
Place butter and baking chocolate into a large microwave-safe bowl then microwave for 1 minute, or until butter is melted, then stir until butter and chocolate are smooth.
Add 1 cup powdered sugar then stir until smooth.
Add eggs and egg yolks then stir until smooth. Add flour then stir until just combined.
Spray 4 custard cups very well with non-stick spray then place onto a baking sheet.
Pour chocolate batter evenly into cups then bake for 12-13 minutes, or until the sides are set but center is still soft (but not jiggly.) Middle will look not quite done, but sides should be set.
Let cool for 2 or 3 minutes, then invert cakes onto serving plates. They should come right out, but if needed, run a small knife around edges to loosen.
Dust with powdered sugar then serve with fresh berries on top and on the side and/or whipped cream.
 Recipe source:  adapted from tastykitchen.com