Hot Chocolate Coffee Rum Cake
Hot Chocolate Coffee Rum Cake recipe is made from scratch and has all the flavors of the holidays in one rich, moist bundt cake.  This dessert is rum-soaked perfection!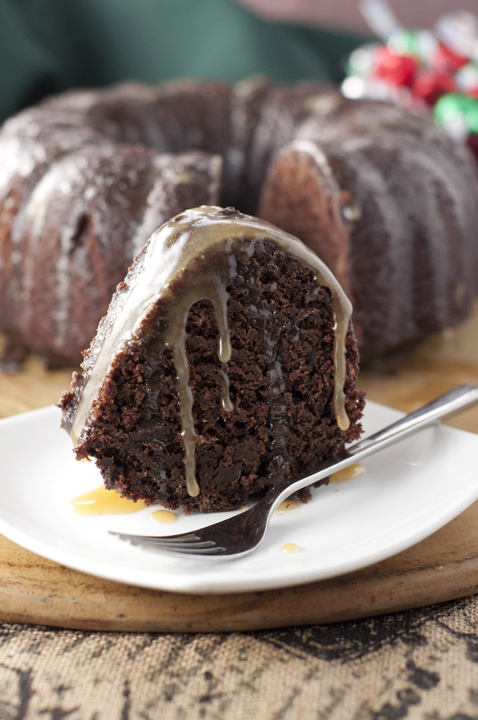 Did everyone have a great Christmas holiday? How about some Hot Chocolate Coffee Rum Cake? I'm having a dessert marathon over here and I'll be surprised if my pants still zip up once the New Year hits.
Speaking of being in holiday dessert mode, nothing gets me in the spirit of the holidays like a good, old-fashioned rum cake.  If you're having a party for New Year's Eve, this cake is sure to win everyone over.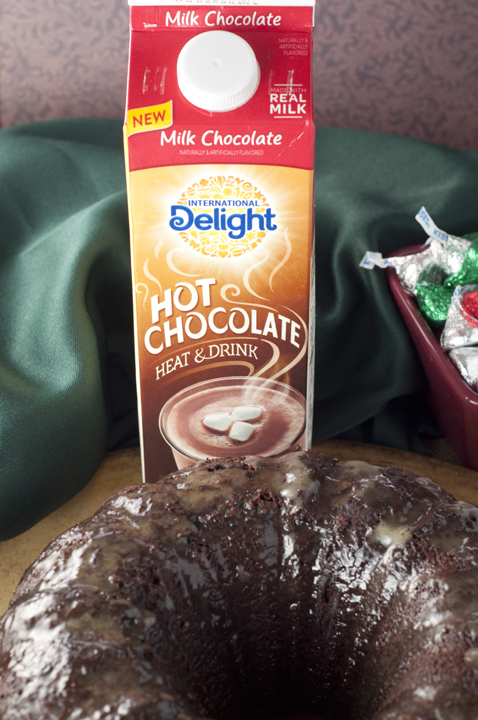 I had a blast creating this awesome Hot Chocolate Coffee Rum cake using International Delight's new Hot Chocolate.  The whole family went crazy for it! Using International Delight's hot chocolate made it easy for me by eliminating the step of having to prepare the hot chocolate for this recipe.
Their hot chocolate comes in milk or dark chocolate and, if not baking with it, you can just heat it right up in the microwave and serve.  That makes one less thing you have to worry about when you're hosting your friends and family!
It would also be a nice treat for your kids to have over winter break.  International Delight also makes a seasonal Eggnog (original and vanilla flavor)!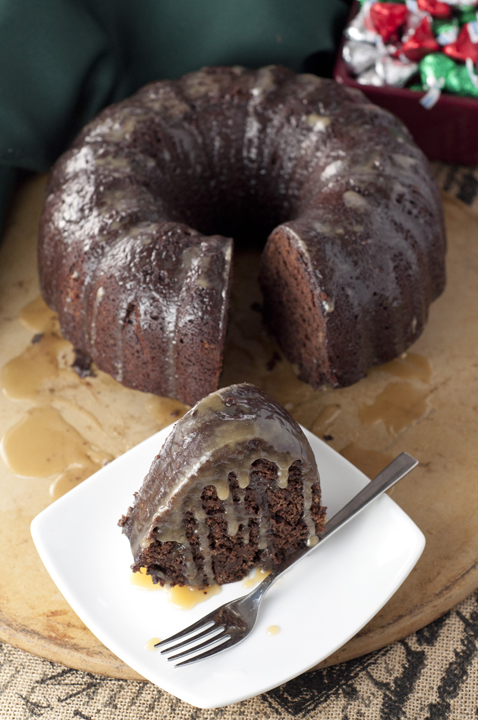 Rum cake is very nostalgic for me as it was one of my dad's all-time favorite desserts.  He made sure he got one for his birthday every year and every single holiday.  He would have just loved this chocolate version!
This was my first time experiencing a chocolate rum cake.  I loved all of the winter holiday flavors packed into this bad boy with the delicious spices, brewed coffee, rum, and loads of chocolate.
I adore rum-infused desserts as I feel it just takes them to the next level!  This particular cake is loaded with rum (so beware, although it's not over-powering at ALL), but it is rich, moist, easy to make, and tastes wonderful.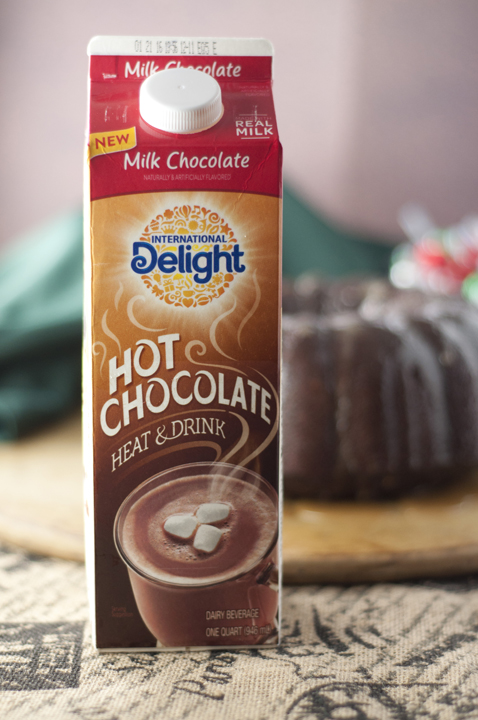 Make sure you head on over to InternationalDelight.com to share how ID helps you and  your family capture the spirit of the season.  By doing this, you'll have the chance to win a holiday brunch for friends and family hosted by International Delight!
Their new Hot Chocolate and Nogs are available at Kroger, Ahold, Meijer, and Harris Teeter.  You can also use the store locator to find the product near you.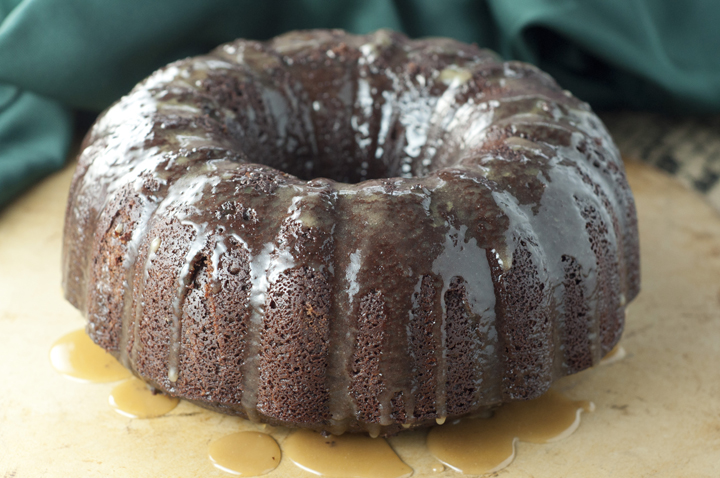 Note: Be sure to poke many holes all over the Hot Chocolate Coffee Rum Cake when it comes time for pouring on the rum glaze. More holes means that the cake will soak up the glaze more evenly, and ensure it won't pool on the bottom of the serving plate (you also want to pour it slowly so it gets in all of the holes).
Be sure to also try my Eggnog Crumble Coffee Cake. Enjoy!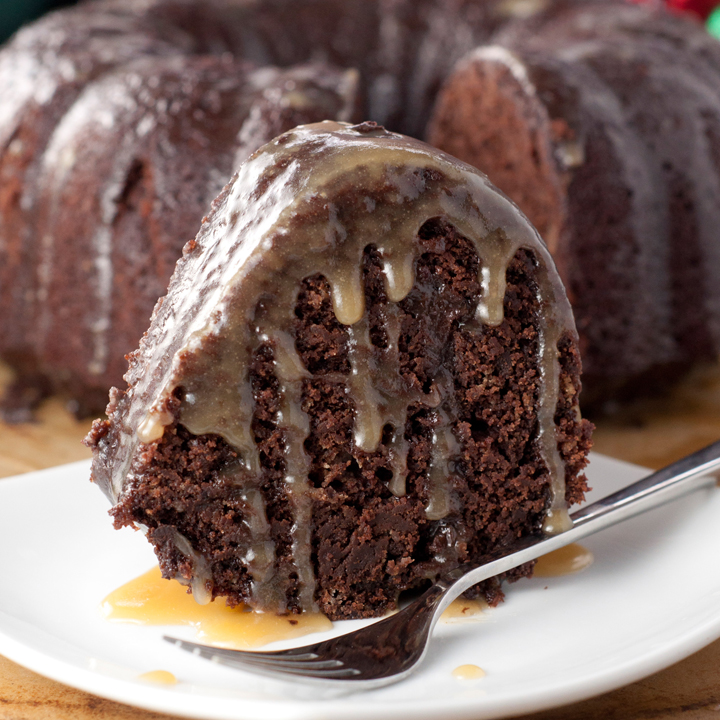 Hot Chocolate Coffee Rum Cake
Prep time:
Cook time:
Total time:
Hot Chocolate Coffee Rum Cake recipe has all the flavors of the holidays in one rich, moist bundt cake. This dessert is rum-soaked perfection!
Ingredients
Cake:
3 cups all-purpose flour, sifted
1 teaspoon baking powder
1 teaspoon baking soda
½ teaspoon cream of tartar
½ teaspoon salt
3 sticks unsalted butter
1½ cups prepared liquid hot chocolate (I used International Delight brand) (can substitute Buttermilk but leave out the cream of tartar)
1 cup strong-brewed coffee
½ cup dark rum
1½ cups plus 3 Tablespoons cocoa powder for dusting the pan
1 teaspoon cinnamon
½ teaspoon nutmeg
¼ teaspoon ground cloves
1¾ cups brown sugar
½ cup granulated sugar
3 eggs, room temperature
2 teaspoons vanilla extract
Rum Glaze:
½ cup brown sugar
½ cup heavy cream
½ cup dark rum
3 Tablespoons butter
Instructions
Cake:
Preheat oven to 325 degrees F. Grease a bundt cake pan very well with non-stick baking spray (such as Pam), then dust with the 3 Tablespoons cocoa powder and set aside
Whisk together the flour, baking soda, baking powder, cream of tartar and salt together in a separate bowl and set aside.
In a large saucepan over medium heat, combine butter, hot chocolate, coffee, rum, cocoa powder, and spices and stir until combined. Make sure the butter is melted and all ingredients come together, then whisk in sugars until they are dissolved. Cool mixture for about five minutes, then transfer to a large mixing bowl.
In another small bowl, whisk together eggs and vanilla extract, and add to cooled chocolate rum mixture, stirring until all are combined.
Add flour mixture and stir until just combined (the batter will have lumps, but that's OK).
Pour batter into prepared bundt pan, spread around until even on all sides. Bake for 50-60 minutes (mine was ready right at 55), or until a skewer inserted into the bottom of the cake comes out clean. Remove from oven, place on a wire rack (keep cake in the pan), and allow to cool for 20-30 minutes while you make the glaze.
Rum Glaze:
In a small saucepan, dissolve brown sugar into cream over medium-low heat. When combined, add rum and set heat to low. Allow to simmer until liquid is reduced and thickens. Add butter and stir to melt, then remove from heat.
Using a skewer, poke multiple holes over the cake (while it's still in the pan). Pour rum glaze on the cake, getting it into the holes, and allow to soak 5-10 minutes, then repeat with more glaze one more time. Let cake soak & cool 20-30 minutes.
When cake is completely cooled, turn it out on to a cake plate. You may need to run a knife along the edges to get it loose. Pour glaze over the top and sides of cake with remaining glaze.
Serve with whipped cream or vanilla ice cream if desired. Enjoy!
This is a sponsored conversation written by me on behalf of International Delight. The opinions and text are all mine.