Thick & Chewy Oatmeal Chocolate Chip Cookies
Well, we got back home to Rochester late Monday night and it's back to the grind.  We had a great time in Georgia and our friend Steve's wedding was a lot of fun.  We didn't really luck out in the weather department and had a lot of wind, cloudy skies, and some rain, but we still managed to have a great time!  I fell in love with Savannah and will have to tell you all about it soon.  Now we are back home for just less than a week and half until we take off once again and visit beautiful San Diego, California! I've never been to California before so I'm super excited to go as it has been on my bucket list of places to see.  We will be visiting some awesome friends that we met back in January when we were on our cruise.
I had this recipe written down in my recipe book for a long time and finally got around to trying it out.  I was a huge fan of the fact that these cookies had only brown sugar in them as opposed to white and brown.  It gave them a great taste and a chewy texture.  I can't say enough good things about this cookie, but it is definitely a keeper and they were even better the day AFTER I baked them.
Please note: baking buttery, sugary cookies and having a couple of them isn't a problem.  Eating an entire pan of them is.  You might have a problem after you bake these up 🙂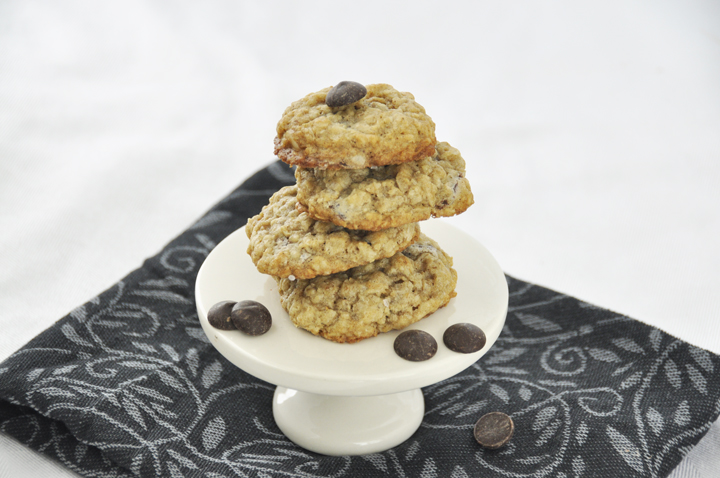 INGREDIENTS:
*This makes a couple dozen standard-size cookies.  If you're feeding a crowd you may want to double it*
1/2 cup (1 stick) butter, softened
2/3 cup light brown sugar, packed
1 large egg
1/2 teaspoon vanilla extract
3/4 cup all-purpose flour
1/2 teaspoon baking soda
1/2 teaspoon ground cinnamon
1/4 teaspoon table salt
1 1/2 cups rolled oats
3/4 cup chocolate chips
DIRECTIONS:
In a large bowl, cream together the butter, brown sugar, egg and vanilla until smooth. In a separate bowl, whisk the flour, baking soda, cinnamon and salt together. Stir this into the butter/sugar mixture. Stir in the oats and chocolate chips.
At this point you can either chill the dough for a bit in the fridge or overnight and then scoop onto baking sheet, or scoop the cookies onto a sheet and then chill the whole tray before baking them.  You could also bake them right away, but you will end up with flatter cookies. Preheat the oven to 350°F when you're ready to put them in.
The cookies should be two inches apart on a parchment paper or silicone-lined baking sheet.  Bake them for 10 to 12 minutes (your baking time will vary, depending on your oven and how cold the cookies were going in), taking them out when golden at the edges but still a little undercooked-looking on top. Let them sit on the hot baking sheet for five minutes before transferring them to a rack to cool completely.