Hot Chocolate Coffee Rum Cake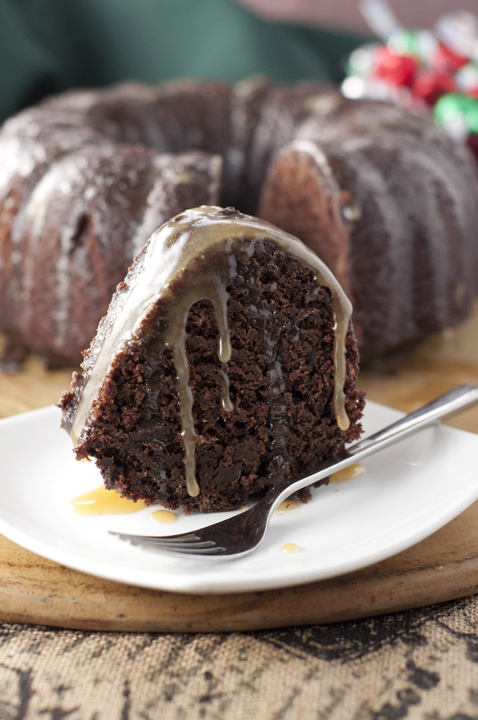 3 cups all-purpose flour, sifted
1 teaspoon baking powder
1 teaspoon baking soda
½ teaspoon cream of tartar
½ teaspoon salt
3 sticks unsalted butter
1½ cups prepared liquid hot chocolate (I used International Delight brand) (can substitute Buttermilk but leave out the cream of tartar)
1 cup strong-brewed coffee
½ cup dark rum
1½ cups plus 3 Tablespoons cocoa powder for dusting the pan
1 teaspoon cinnamon
½ teaspoon nutmeg
¼ teaspoon ground cloves
1¾ cups brown sugar
½ cup granulated sugar
3 eggs, room temperature
2 teaspoons vanilla extract
½ cup brown sugar
½ cup heavy cream
½ cup dark rum
3 Tablespoons butter
Preheat oven to 325 degrees F. Grease a bundt cake pan very well with non-stick baking spray (such as Pam), then dust with the 3 Tablespoons cocoa powder and set aside
Whisk together the flour, baking soda, baking powder, cream of tartar and salt together in a separate bowl and set aside.
In a large saucepan over medium heat, combine butter, hot chocolate, coffee, rum, cocoa powder, and spices and stir until combined. Make sure the butter is melted and all ingredients come together, then whisk in sugars until they are dissolved. Cool mixture for about five minutes, then transfer to a large mixing bowl.
In another small bowl, whisk together eggs and vanilla extract, and add to cooled chocolate rum mixture, stirring until all are combined.
Add flour mixture and stir until just combined (the batter will have lumps, but that's OK).
Pour batter into prepared bundt pan, spread around until even on all sides. Bake for 50-60 minutes (mine was ready right at 55), or until a skewer inserted into the bottom of the cake comes out clean. Remove from oven, place on a wire rack (keep cake in the pan), and allow to cool for 20-30 minutes while you make the glaze.
In a small saucepan, dissolve brown sugar into cream over medium-low heat. When combined, add rum and set heat to low. Allow to simmer until liquid is reduced and thickens. Add butter and stir to melt, then remove from heat.
Using a skewer, poke multiple holes over the cake (while it's still in the pan). Pour rum glaze on the cake, getting it into the holes, and allow to soak 5-10 minutes, then repeat with more glaze one more time. Let cake soak & cool 20-30 minutes.
When cake is completely cooled, turn it out on to a cake plate. You may need to run a knife along the edges to get it loose. Pour glaze over the top and sides of cake with remaining glaze.
Serve with whipped cream or vanilla ice cream if desired. Enjoy!
Recipe by
Wishes and Dishes
at https://wishesndishes.com/hot-chocolate-coffee-rum-cake/