Holiday Oreo Truffles
These truffles are the stuff that dreams are made of: crushed holiday Oreo Cookies blended with cream cheese and smothered in milk chocolate for my favorite Christmas dessert. Only 3 ingredients!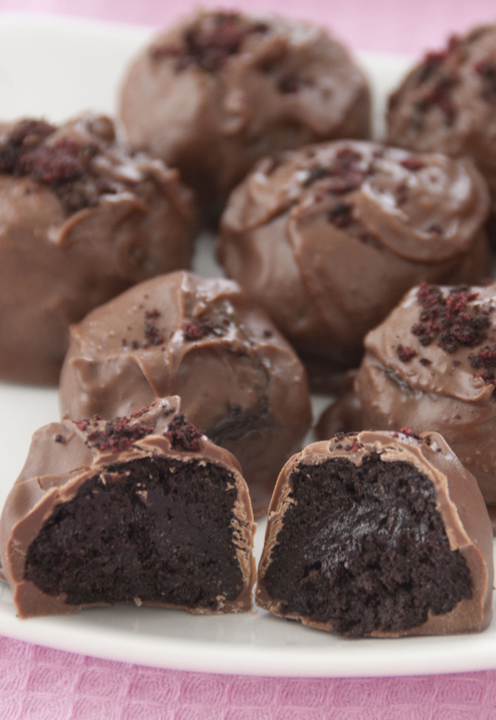 I simply can't believe how quickly we are coming up on Christmas!  Are you all prepared or are you a last-minute person like I am?  Does anything scream "Christmas" more than Holiday Oreo truffles?
I have made some fancy versions of them that I've shared on my blog over the years, but nothing beats a classic, non-jazzed-up Oreo ball.  If I had to pick just one Christmas goodie to have for the rest of my life it would be these holiday Oreo truffles – that's how much I love them.  Go figure that they are the easiest dessert to make, but I've found it's not always the most complicated recipes that taste the best.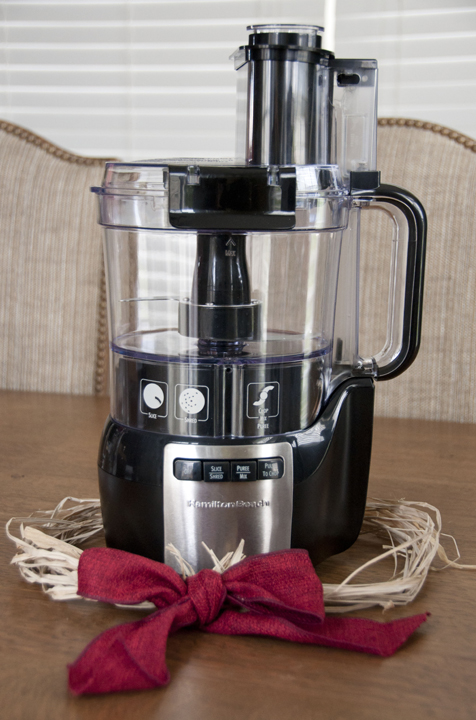 I have one last giveaway for you before Christmas and it's a good one.  I honestly don't know how I ever lived without a food processor until I had my first one many years ago.  They really make my life so much easier and perform tasks in a fraction of the time it would take without one.
Saving time is a great thing especially during the holiday season, am I right?  I received a shiny new Stack and Snap ™ 10 Cup Food Processor from Hamilton Beach just in time for holiday cooking and baking.  This ten cup processor is highly rated and affordable kitchen tool.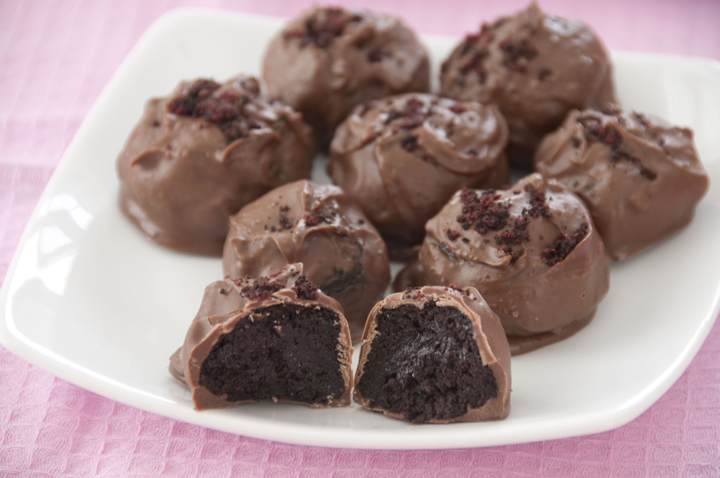 Making these holiday Oreo truffles was a cinch thanks to this bad boy.  I was pleasantly surprised at how easy it was to use as a result of the simple function guide that tells you exactly which blade to use and which button to use depending on what you're making.
It's also very easy to put together – totally fail proof!  The powerful 450 Watt motor helps it slice, shred, mix, chop, puree (whatever your little heart desires) in no time at all.  I really put it to the test by putting an entire bag of  Oreos in it at once instead of doing it in two batches like I originally thought I would do – it got the job done.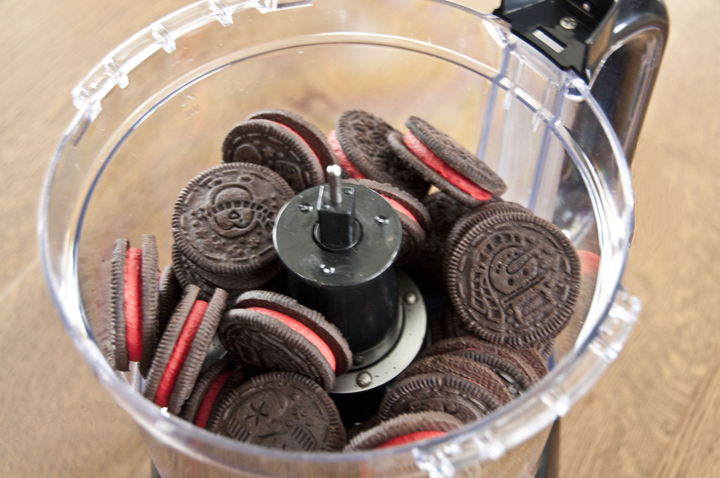 Today we're talking about the Stack and Snap ™ 10 Cup Food Processor by Hamilton Beach. Have you ever had problems getting your food processor to work because you can't get it put together right? I definitely have. The Stack and Snap is designed to be easy to put together and it is. You don't have to worry about twisting the lid to get it to work. It has a wide shoot for things to fit a bit easier which is great. I – See more at: http://www.thestayathomechef.com/2014/11/gingersnap-truffles.html#sthash.Rw7bexnr.dpuf
Thanks to the generous people over at Hamilton Beach, one lucky Wishes and Dishes reader is going to receive their own Stack and Snap 10 Cup Food Processor worth $60!  Make these Holiday Oreo Truffles and also scroll on down for your chance to win and to see how easy it is to enter.
 Hamilton Beach Stack and Snap 10 Cup Food Processor Features:
Easy stack & snap assembly
Unique, patent-pending design requires no difficult twisting & locking
Simple function guide shows you which blade to use & which button to press
Big Mouth® feed tube reduces pre-cutting
Sealed bowl prevents leaks
Powerful 450 watt motor
Reversible slice/shred disk
Chopping S-blade locks into bowl and stays put during pouring
Dishwasher safe blades, bowl, and lid
Cord storage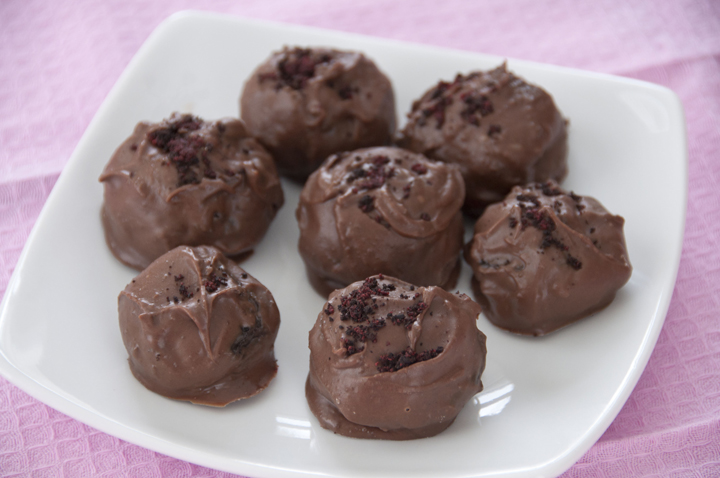 Holiday Oreo Truffles and a Giveaway!
Serves:
33, depending on size
These truffles are the stuff that dreams are made of: crushed holiday Oreo Cookies blended with cream cheese and smothered in milk chocolate for my favorite Christmas dessert. Only 3 ingredients!
Ingredients
1 package of Holiday Winter Oreos
1 (8 oz) pkg cream cheese, softened, cut into chunks
16 oz. chocolate candy melts
Instructions
Set a long sheet of wax paper over a cookie sheet, set aside. Place whole Oreos in a food processor and pulse until finely crushed (alternately if you don't own a food processor you can place Oreos in a large Ziploc bag, seal bag and crush with a rolling pin until finely crushed). Reserve a few crumbs for sprinkling on top of truffles at the end (optional).
Add chunks of cream cheese and pulse in food processor until evenly moistened and forms a "dough".
Scoop mixture out and form into 1 inch balls then align on prepared cookie sheet. They will be mess- that's OK.
Place truffles in freezer for 10 minutes.
Melt chocolate according to directions on package. Do not scorch. If microwaving, only do so in 20 second intervals, stirring each time.
Remove truffles from freezer and dip in melted chocolate, using two forks, a spoon, or a toothpick, and evenly coat them and allow excess chocolate to run off (you may need a little more chocolate - I didn't).
Return to baking sheet, immediately sprinkle tops with remaining crushed Oreos then allow chocolate to set.
Store covered in an airtight container in refrigerator.
Deadline: Monday, December 22nd at 11:59 (EST). I'll announce the winner on Tuesday 12/23. Good luck, everyone!
Winner:  Must be a U.S. resident to enter.  The winner will be chosen at random using Random.org and announced in this post. I will email the winner and if he/she does not respond within 48 hours, another winner will be selected.
Disclaimer: Hamilton Beach provided me with a food processor to facilitate this post and is providing the giveaway product. The words and opinions expressed in this review are strictly 100% my own.