Blueberry Banana Bread
Golden, moist Blueberry Banana Bread recipe is the perfect combination for a snack, brunch or breakfast! You'll never need another banana bread recipe ever again!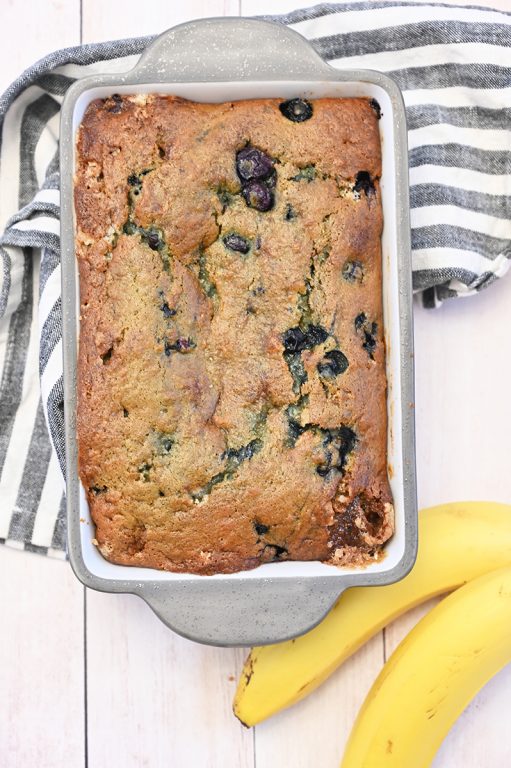 How have I never put blueberries in my banana bread before this? I mean, where has this been all my life? Blueberry banana bread is now my new favorite way to eat banana bread, along with my Peanut Butter Banana Bread, and I am never going back.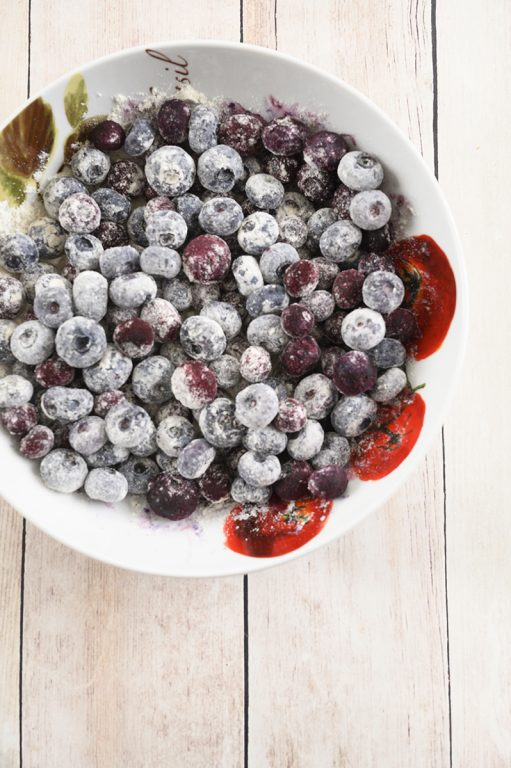 I have to tell you how much I love this blueberry banana bread as I sit here eating my Coconut Banana Bread, but first let me fill you in on life. Not too much is new but Eliza had her first real sickness last week.
She has had a cold in the past but it was very minor and only lasted a few days. I guess I thought she has some crazy strong immune system or something. Maybe it was the breastfeeding?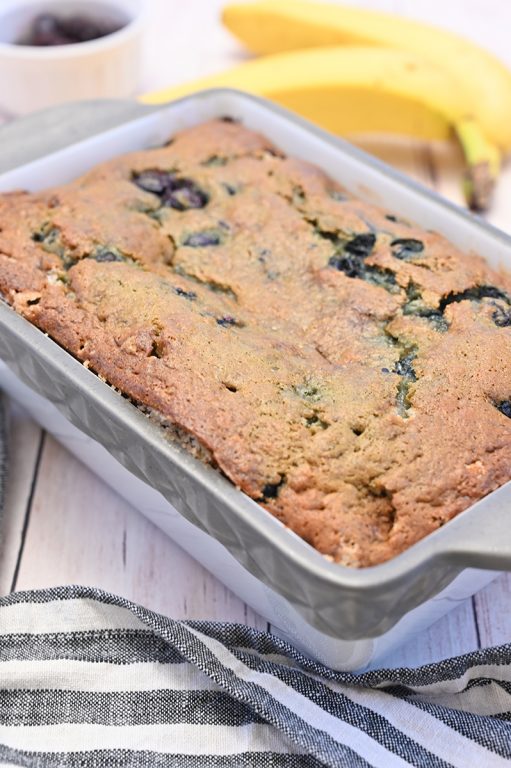 Last week she seemed to have another cold and I did not think a whole lot of it. The next morning she woke up and her breathing sounded terrible. She sounded like a seal when she coughed or cried and it sounded like the noise was maybe coming from her chest.
Eliza was being a little stinker and wouldn't let me take her temperature – I tried and got 99.7. No big deal, however, the noises she was making were scary.
I called the doctor and they could hear her crying through the phone and I was told to bring her in since I mentioned she was tugging at her left ear.
I brought her in (shout-out to my motherly instincts kicking in) and sure enough, she had an ear infection AND croup. My poor baby!
She had a few days of feeling pretty crappy but the antibiotics kicked in pretty quickly. She still slept like a champ! I was so proud of her.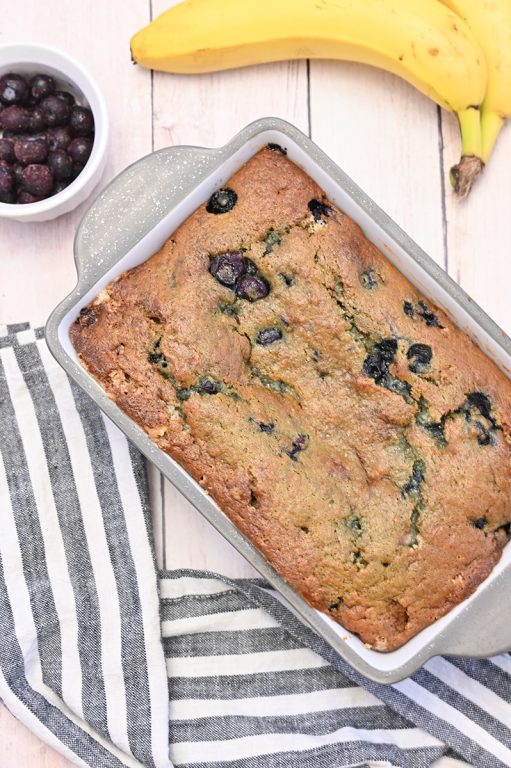 Ok, now back to the blueberry banana bread. I ate it proudly for breakfast, a midday snack, and a nighttime dessert. This is one sweet bread you will not need butter for!
I absolutely adore it toasted. I love it as much as I love my Cinnamon Crumb Banana Bread, and that is saying a lot.
The banana flavor does not overwhelm the blueberry flavor – they are perfectly balanced. I also love the hint of lemon in this bread mixed with the blueberry. Lemon and blueberry are one of my favorite combinations, like in these Lemon Blueberry Cheesecake Bars.
You will not be disappointed in the taste and neither will your guests! If you are in a blueberry breakfast type of mood, make sure to try my Overnight Blueberry French Toast Casserole.

Blueberry Banana Bread
Recipe type:
Dessert, Breakfast
Prep time:
Cook time:
Total time:
Golden, moist Blueberry Banana Bread recipe is the perfect combination for a snack, brunch or breakfast!
Ingredients
½ cup butter (1 stick), softened to room temperature
1 cup white sugar
2 eggs
1 tbsp vanilla extract
2 ripe bananas, mashed
2 cups all-purpose flour
1 teaspoon baking soda
1 teaspoon baking powder
½ teaspoon salt
1 teaspoon lemon zest
1¾ cups blueberries, fresh or frozen
Instructions
Preheat oven to 350 degrees. Grease loaf pan.
In the bowl of a stand mixer (or use hand-held mixer), cream together butter and sugar until light and fluffy.
Add eggs, one at a time, and mix until combined.
Beat in vanilla extract.
Stir in ripe bananas, mixing until combined.
In a large mixing bowl, combine flour, baking soda, baking powder, lemon zest and salt and stir until combined.
Slowly add flour mixture to banana mixture until just combined.
Toss blueberries in a coating of flour (to prevent them from sinking) and stir gently into the batter.
Pour batter into greased loaf pan.
Bake for about 60 minutes or until a toothpick/knife inserted comes out clean. Oven all vary - you may need 10 minutes more or less in the oven.
Let cool completely before removing from pan. Enjoy!