Caramel-Glazed Country Apple Fritter Bread
Caramel-Glazed Country Apple Fritter Bread recipe is a

moist, sweet, delicious cake-like bread loaded with apple chunks and swirled with cinnamon sugar.  This is the perfect fall breakfast or dessert!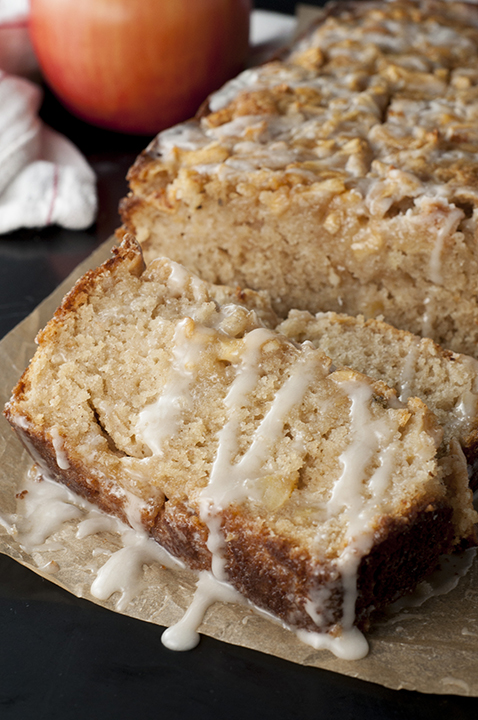 How is it already apple and pumpkin season?  Even though it was 93 degrees in September the other day, I decided to bake this amazing Caramel-Glazed Country Apple Fritter Bread.  I lit my "pumpkin patch" scented candle, pretended it wasn't the hottest day on record so far this summer here in Rochester, and got to baki
ng.  As I said before in the recipe I shared for my Salted Caramel Kentucky Butter Cake (which just happens to be my post popular recipe on my blog so far this year), I LOVE baking with International Delight creamers.  You all seemed to love that Kentucky Butter Cake so much that, due to popular demand, I decided make another dessert using the International Delight Simply Pure Caramel Creamer that I found at Target!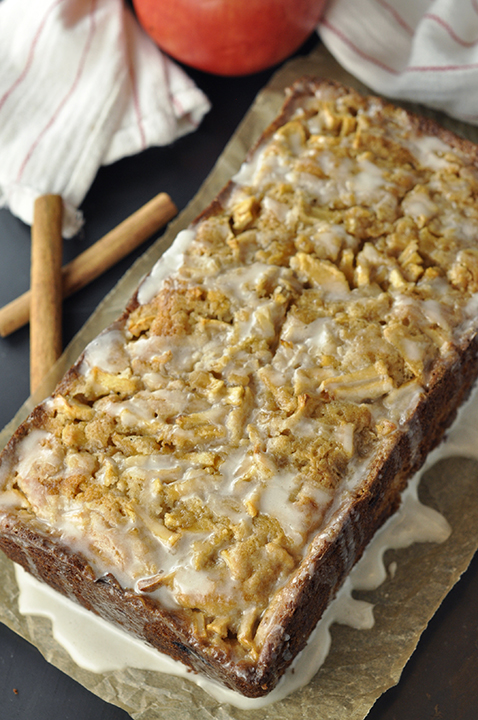 I'm so glad you're here! Follow along on Pinterest for more inspiration!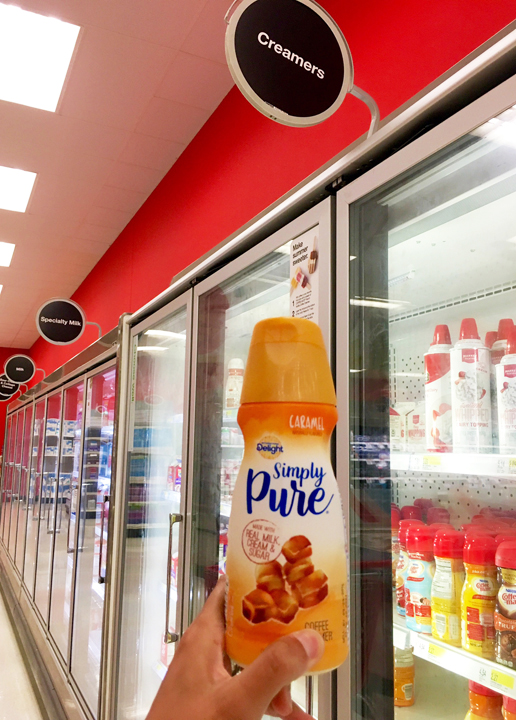 This apple fritter bread will make it really hard for you to stop eating. It is cake-like, loaded with chunks of apple, and has cinnamon and brown sugar swirled throughout.  Try to imagine right now what this smells like baking in the oven – totally irresistible!
My Cinnamon Apple Pie Bread was my favorite sweet bread up until now.  I could hardly wait for this baby to come out of the oven and I started making the glaze while it baked.
I was actually very afraid that I wouldn't have any glaze left for the actual bread because I took one taste and could not stop tasting.  The glaze really is the "icing on the cake" with this apple fritter bread so don't skip out on it!
Did you see what I did there with that pun?  Come on, you know you love me!

This Caramel-Glazed Country Apple Fritter Bread is completely acceptable for breakfast because…HELLO…it has coffee creamer in it!  Really, though, apple fritters are OK for breakfast and so is this to-die-for bread.
The best way to enjoy it, of course, is with your morning coffee that has been flavored deliciously with Simply Pure Caramel Creamer.  Squeezing double the caramel creamer into your morning routine can never be a bad thing!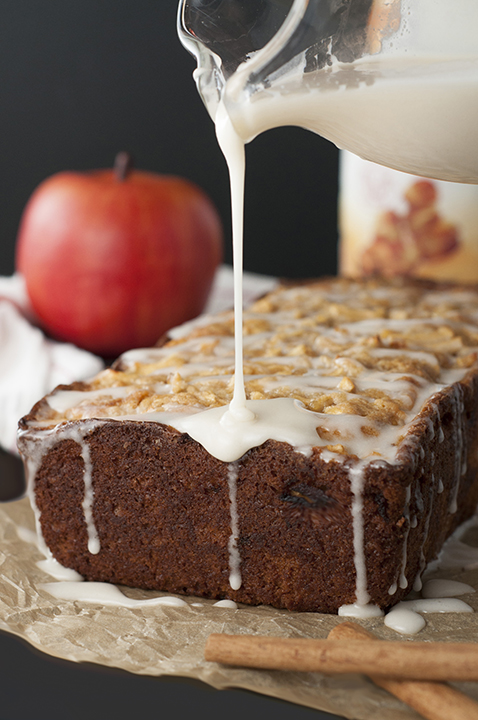 Can we just have a moment of silence please for my little cream jug you see in the above photo?  Shortly after this photo shoot, it fell to it's death. RIP, little glass jug.  It's amazing what a mess a small glass jug can make, that's all I can say!  I was finding pieces of it for days.
Anyway, mostly every person I know starts their day with a cup of coffee and some even have multiple cups per day.  It just makes sense to use a better-for-you creamer so you can feel good about what you're consuming.
Doesn't making your morning coffee better for you sound like a good idea?  I thought so!  This is why I'm really excited about their new line of clean label Simply Pure coffee creamers.  They are all made with merely FIVE ingredients which include real milk, cream, and cane sugar!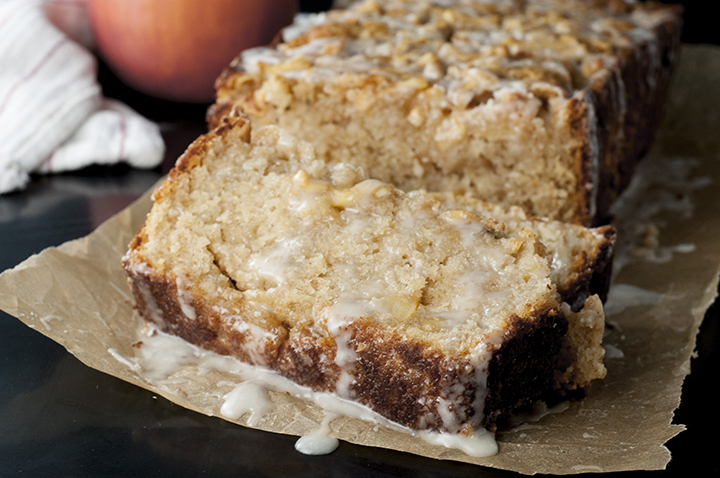 You can use these creamers in any recipe you are making that you want to give a delicious, unique flavor to – just swap out other liquids and replace it with your Simply Pure creamer of choice!
Besides the caramel flavor, Simply Pure is also available in Vanilla and Hazelnut. I have tried all 3 and love them all!
You can find them at Target, and there is even a 20% off Cartwheel promotion to help save you some money on your purchase.  Enjoy!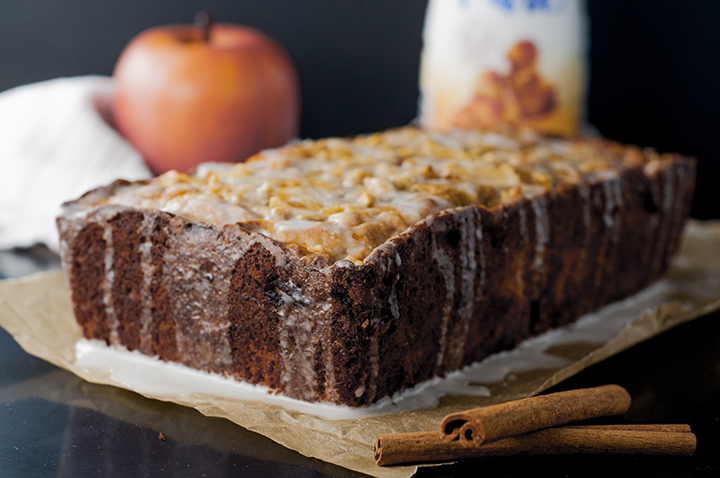 Caramel-Glazed Country Apple Fritter Bread
Prep time:
Cook time:
Total time:
Caramel-Glazed Country Apple Fritter Bread recipe is a cake-like bread loaded with apples & swirled with cinnamon sugar. Perfect fall breakfast or dessert!
Ingredients
Bread:
⅓ cup light brown sugar
1 teaspoon ground cinnamon
⅔ cup white sugar
½ cup butter, softened
2 eggs
1½ teaspoons vanilla extract
1½ cups all-purpose flour
1¾ teaspoons baking powder
½ cup International Delight Simply Pure Caramel Creamer (or use milk, almond milk, etc.)
2 apples, peeled and chopped (I used 1 gala and 1 Granny Smith)
Glaze
½ cup of powdered sugar
2-3 tablespoons of International Delight Simply Pure Caramel Creamer to get desired consistency (or use milk, almond milk, etc.)
Instructions
Preheat oven to 350 degrees. Spray your 9x5-inch loaf pan with non-stick spray.
Mix brown sugar and cinnamon together in a small bowl. Set aside.
In another medium-sized bowl, beat white sugar and butter together using an electric mixer or in the bowl of a stand mixer until smooth and creamy.
Beat in eggs, 1 at a time, until blended in then add in vanilla extract and stir.
Whisk flour and baking powder together in another small bowl then add into the creamed butter mixture and mix until just blended.
Mix creamer into batter until smooth.
Pour half the batter into the prepared loaf pan then add half the chopped apples on top.
Pour the remaining batter over apple layer and top with the remaining apples. Sprinkle the brown sugar/cinnamon mixture on top.
Lightly pat apples into batter and carefully swirl brown sugar mixture through apples using a knife.
Bake in the preheated oven until a toothpick inserted in the center of the loaf comes out clean, approximately 50-60 minutes (mine took closer to 60). Cover loosely with foil the last 15 minutes or so of baking to prevent browning on top.
To make glaze, mix powdered sugar and creamer together until well incorporated.
Let bread cool for about 15 minutes before turning out onto a wire rack to cool completely. Drizzle the glaze on top right before serving. Enjoy!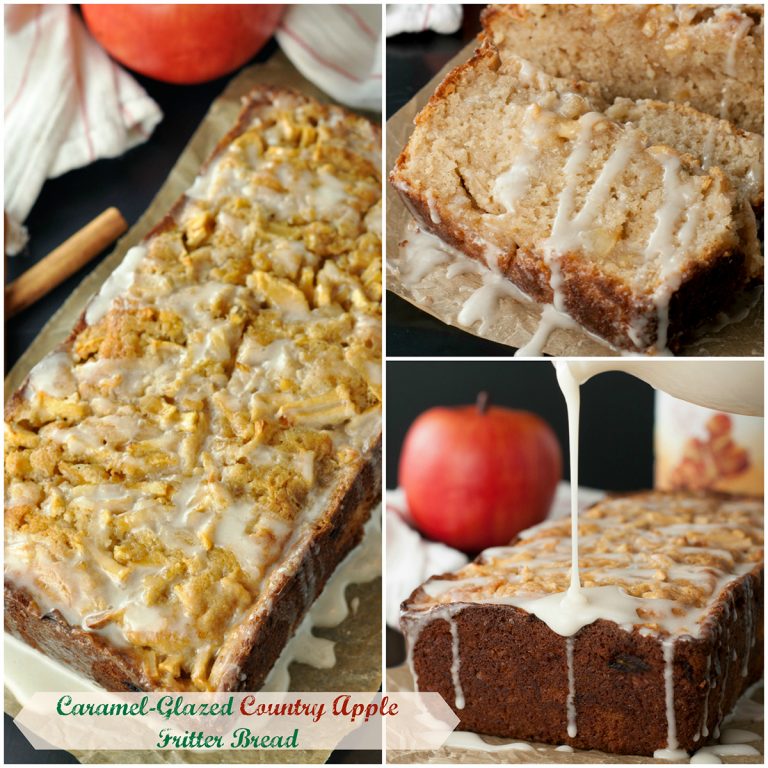 This is a sponsored conversation written by me on behalf of Whitewave Foods. The opinions and text are all mine.
Recipe source:  highly adapted from thebakingchocolatess.com