Firecracker Pop Rocks Cookies
Frosted Firecracker Pop Rocks Cookies are such a fun, festive dessert for kids for the 4th of July!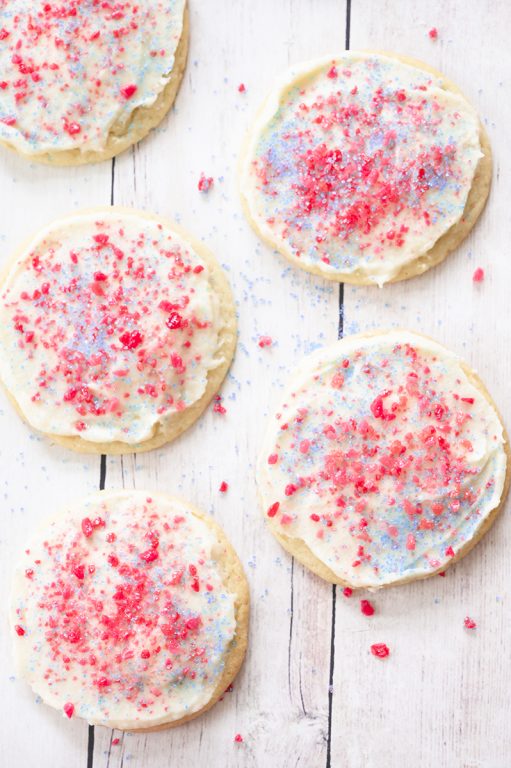 Firecracker Pop Rocks Cookies just in time for the 4th! These cookies are so cute and the pop rocks are like little firecrackers in every bite.
It's 4th of July week already and I can't wait for some fireworks and patriotic cupcakes! Things will be quite different this year with a baby and I am interested to see how Eliza handles the fireworks. I hope she loves them like her momma does!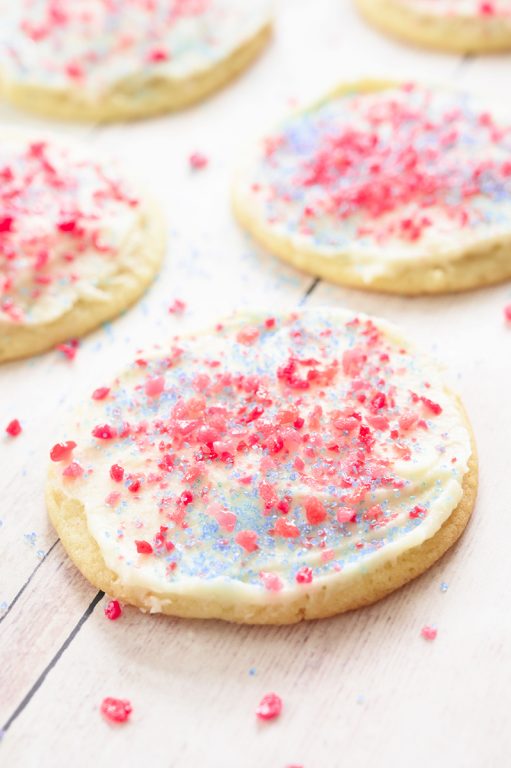 Pop rocks on cookies are just the coolest thing ever, am I right? Kids will love these more than you can imagine! I like not telling people there are pop rocks on these cookies and seeing their reaction as they bite into them.
What a fun way to add a little "pop" for your picnic guests. You can use any sugar cookie recipe and your favorite frosting recipe. I used my favorite cut-out sugar cookies recipe and just changed it up a bit. These cookies are very versatile!
If you are looking for more 4th of July goodies, check out this Patriotic Sugar Cookie Fruit Pizza or my entire blog collection of 4th of July recipes. One of my other favorite red, white, and blue desserts is my mini Patriotic Strawberry Trifles recipe.
Also, I was reading old 4th of July posts of mine and saw this advice from that old "graduation song" from like 20 years ago. I just can't help myself and wanted to share it again. Here it is!
"Dance, even if you have nowhere to do it but your living room.
Read the directions, even if you don't follow them.
Do not read beauty magazines. They will only make you feel ugly.
Get to know your parents. You never know when they will be gone for good.
Be nice to your siblings. They are your best link to your past and the people most likely to stick with you in the future.
Understand that friends come and go, but with a precious few you should hold on.
Work hard to bridge the gaps in geography and lifestyle, because the older you get, the more you need the people who knew you when you were young."
Happy Independence Day, fellow Americans!

Firecracker Pop Rocks Cookies
Prep time:
Cook time:
Total time:
Frosted Firecracker Pop Rocks Cookies are such a fun, festive dessert for kids for the 4th of July!
Ingredients
Cookies:
3 cups all-purpose flour
1 cup sugar
1 cup unsalted butter
1 large egg
11/2 teaspoons baking powder
1½ teaspoon vanilla extract
½ teaspoon sea salt
Buttercream Frosting:
2 cups powdered/confectioner sugar
½ cup unsalted butter, softened to room temperature
1 and ½ teaspoon vanilla extract
2 Tablespoon milk
Red and/or blue Pop Rocks
Instructions
In the bowl of a mixer, cream butter and sugar together until fluffy.
Mix in egg and then the vanilla extract, scraping the sides of the bowl.
Whisk together the flour, salt, and baking powder in a separate mixing bowl.
In small increments, add this to the butter/sugar mixture and mix on low until incorporated.
Chill the dough for at an hour or more.
When dough is chilled, preheat oven to 350ºF.
Roll out dough to your preferred thickness and cut out with a circular cookie cutter (or star-shaped would be super fun!).
Don't make them too thin or they will get hard when baking.
Place the cookies on a parchment-lined or silicone mat lined baking sheet.
Bake for 8-10 minutes until just golden around the edges. Check at 8 minutes.
Remove from oven. Let cool on the cookie sheet until firm enough to transfer to a wire cooling rack.
Buttercream Frosting:
In the bowl of a mixer, cream sugar, butter, vanilla together until light and fluffy.
Add milk a little at a time until frosting is spreadable.
Spread on cookies.
Decorate with red/blue pop rocks.
Enjoy!