Lemon Blueberry Cheesecake Bars
Creamy lemon blueberry cheesecake bars recipe swirled with fresh blueberries on a simple graham cracker crust. Perfect recipe for Mother's day, Easter, or spring and summer dessert idea!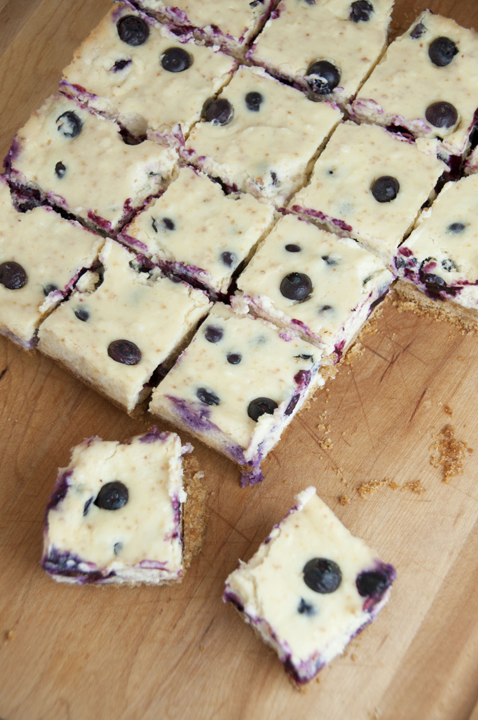 I am finally back from Hawaii and ready to share my lemon blueberry cheesecake bars with you! Now let's see if I stay put for the rest of the summer.  Summer is my favorite time of year here in Rochester, NY and as much as I enjoy traveling, I like to be here to enjoy the very few warm, sunny months that I have here at home.
I have to say, I never expected to love Hawaii as much as I did.  I always knew it was going to be beautiful, but it was far beyond my wildest dreams.  It truly is the most naturally beautiful place I have ever been, including anywhere in the Caribbean!  Everywhere I looked was such stunning, alluring scenery.  It's a tropical paradise that I hope everyone gets a chance to see someday!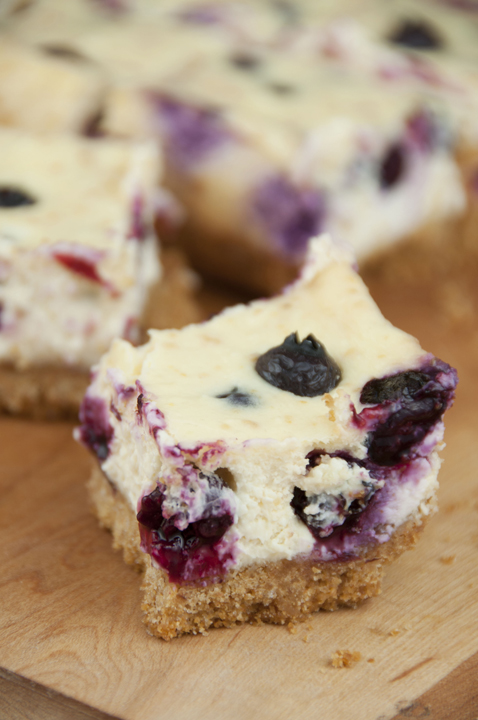 The combination of lemon and blueberry are always a hit in my house, especially on summer dessert plates.  Something about lemon flavors in the summer is just so refreshing and vibrant.  I make these Italian Lemon Drop Cookies all year long. Who doesn't love sweet and tart lemon blueberry bars?
This is a good, solid recipe with a great lemon flavor.  They are so gooey and delicious!  Lemon and blueberry flavors blend together so well in these cheesecake bars.  The sweetness really ties the tartness of their flavors together.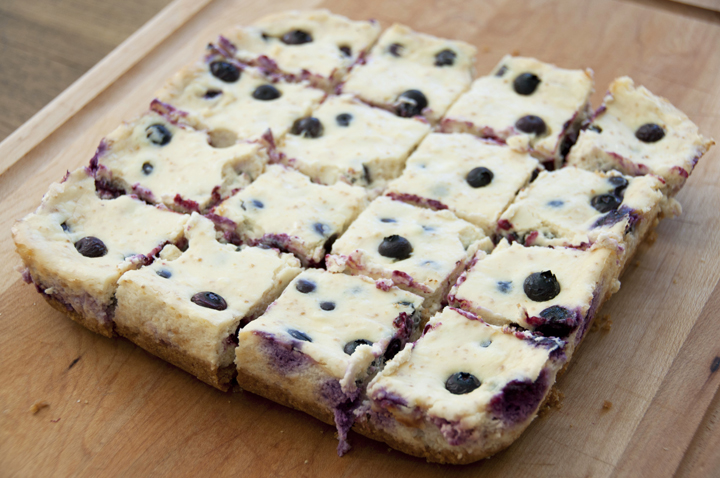 Did I mention that the colors in these Lemon Blueberry Cheesecake Bars are beautiful!?  You know your sweet tooth is screaming for you to put these on your to-bake list this summer!
Love lemon? Try my Sunshine Lemon Smoothie that is bright yellow with a burst of citrus! If you're loving the blueberries, definitely check out my New York Style Blueberry Cheesecake that is super easy to make or this Blueberry-Lemon icebox cake! I told you I'm in a lemon kind of mood. How about this Lemon Bar Dip from my friend Lisa? Yum!
Enjoy!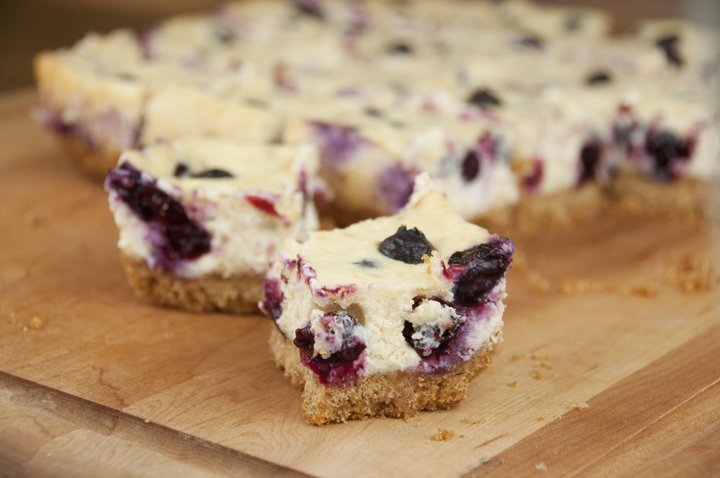 Lemon Blueberry Cheesecake Bars
Prep time:
Cook time:
Total time:
Creamy lemon cheesecake bars recipe swirled with blueberries on a simple graham cracker crust. Perfect spring or summer dessert!
Ingredients
Crust:
12 full-sheet graham crackers (or 1.5 cups graham cracker crumbs)
6 Tablespoons (90g) melted unsalted butter
⅓ cup (67g) granulated sugar
Filling:
16 ounces cream cheese (2 standard packages or 450g), softened to room temperature
1 large egg
⅓ cup (67g) granulated sugar
zest of 2 medium lemons*
juice of 1 medium lemon*
1 teaspoon vanilla extract
1 and ½ cups (225g) fresh or frozen (not thawed) blueberries
*1 medium-size lemon = approximately 1 tablespoon of lemon zest = 2 to 3 tablespoons of lemon juice
Instructions
Preheat oven to 350F degrees.
Line a 8x8 baking pan with aluminum foil with enough overhang on the sides to be able to lift out later. Set aside.
Crust:
Using a food processor or blender, pulverize the graham crackers into a fine crumb.
Pour into a medium bowl and mix with melted butter and sugar.
Press into the lined pan.
Bake for 5 minutes. Allow to cool as you prepare the filling.
Filling:
Using a handheld or stand mixer fitted with a paddle attachment, beat the cream cheese for 1 minute on medium speed until smooth.
On medium speed, beat in the egg, sugar, lemon zest, lemon juice, and vanilla extract together until smooth and creamy, about 3 minutes.
Gently fold in the blueberries with a spatula. Pour all of filling onto the baked crust.
Bake for 30-35 minutes, or until the cheesecake has set up and the edges are lightly browned. The bars will puff up, but will sink down a little as they cool.
Allow to cool for 30 minutes at room temperature on a wire rack and then chill in the refrigerator for at least three hours before cutting into.
Lift the foil out of the pan and cut into squares.
Store bars in a covered container for up to 5 days in the refrigerator.
Recipe source: first seen on sallysbakingaddiction.com
Originally published on July 7, 2016, Republished/edited on May 10, 2018.