Beefy Baked Beans
Beefy Baked Beans are my favorite side dish recipe! Beans get mixed with ground beef, onion and bell pepper, brown sugar, ketchup, mustard and Worcestershire before getting topped with a peppered brown sugar bacon.  These bake in the oven until they get thick and rich but you can also toss everything into a slow cooker and set it and forget it until cookout time!  These will be the star of any cookout!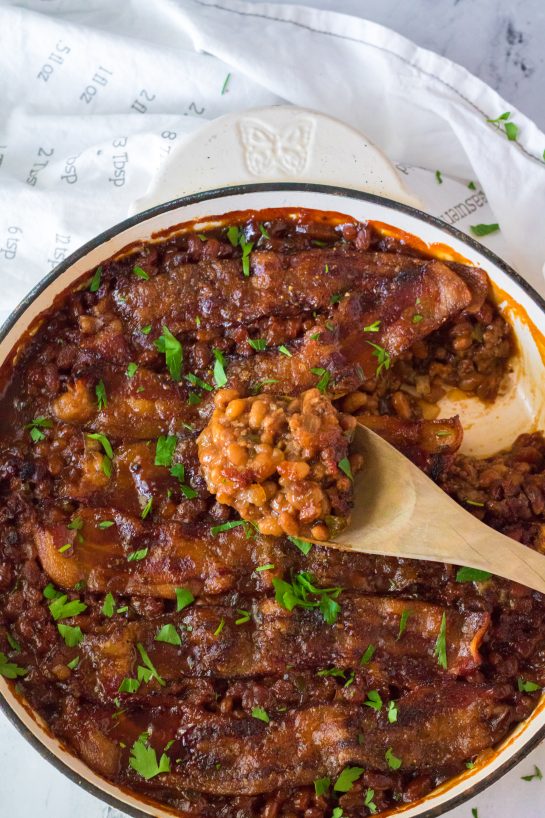 Oh hey! It's basically officially summer (almost there) so let's just start doing the whole baked beans thing. These Beefy Baked Beans take store-bought canned beans and dress them up with bacon and other flavorings for that "from scratch" taste! This is thick and rich side dish perfect for all your summer barbeques and picnics.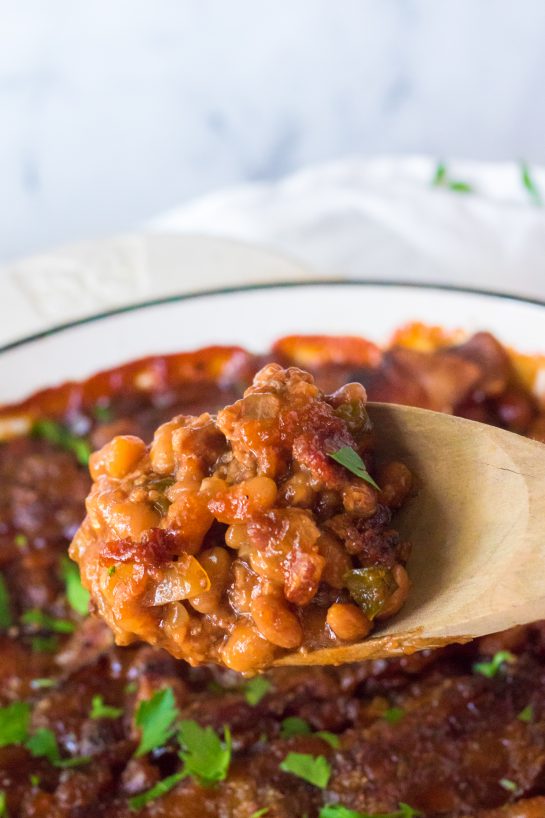 These beefy baked beans turned me into a baked bean lover and they'll do the same for you. I am now convinced that no outdoor cookout, barbecue or summer meal is complete without a side of beefy baked beans. This recipe makes a good amount of beans. Like, a lot of beans. If you are just making them for your family, you will have enough to save for leftovers. They do freeze well!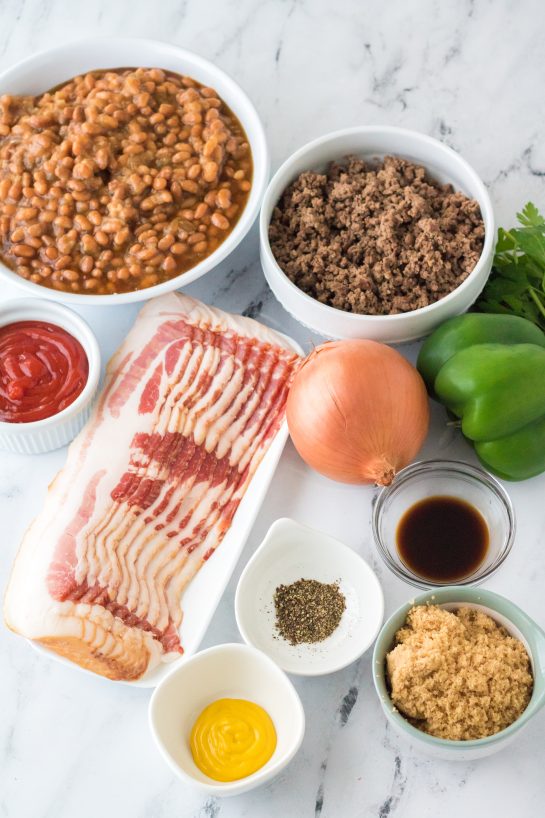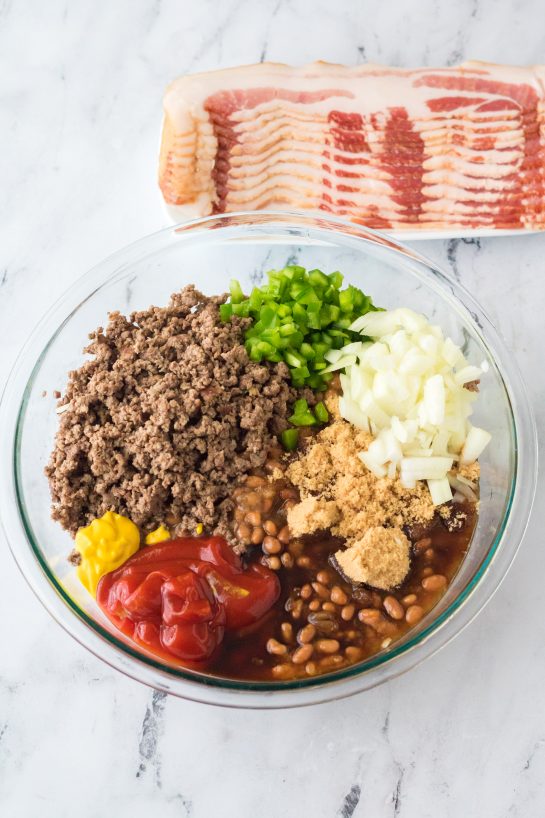 While I have nothing against making from-scratch baked beans from dry beans, it can be rather tricky to get the beans just the right texture and time-consuming. Doctoring up canned beans is incredibly and infinitely better!
These baked beans go perfectly with so many of my favorite dishes like my BBQ Crock Pot Ribs, Slow Cooker Beef Tips and Gravy, Grilled Ribeye Steak, grilled honey chicken kabobs, or this Bacon, Onion and Cheese Stuffed Burger and everything in between. They are a regular side dish around here and it is definitely a recipe you want to keep in your arsenal.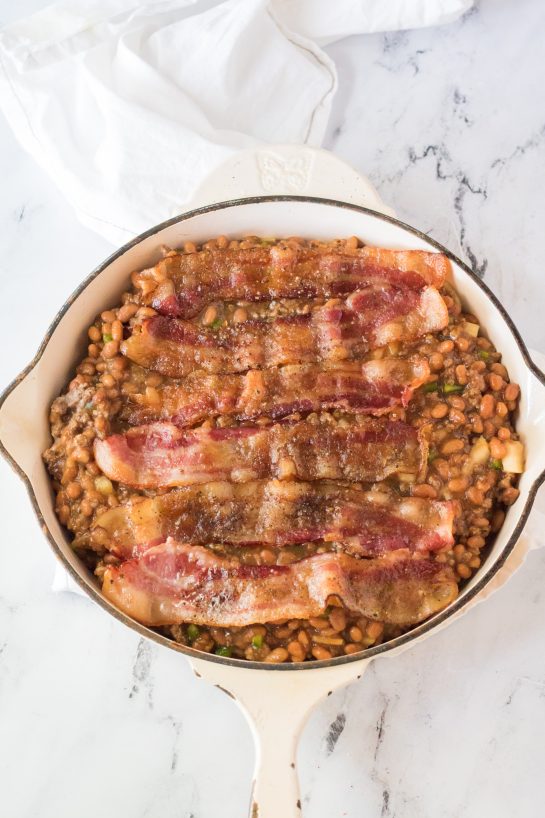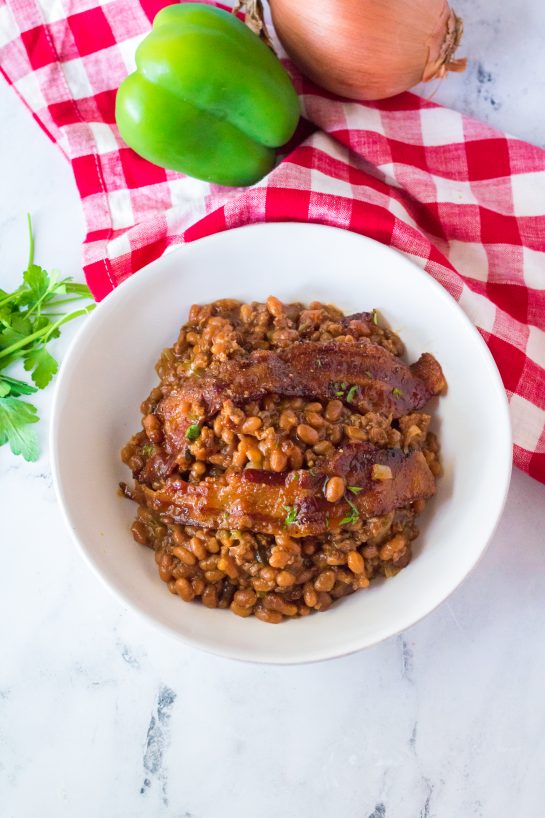 Are you in need of ideas for leftover baked beans? Serve these bad boys on top of pulled pork and slaw on a bun, stir in leftover chicken, ground beef, or sausage and reheat, or add to a pot of stew for extra taste and texture.
You really can't go wrong with using up the leftovers, but I doubt you will even have any at all. As a reward for your small time investment, you'll have a big pan of beans that will have everyone going back for seconds.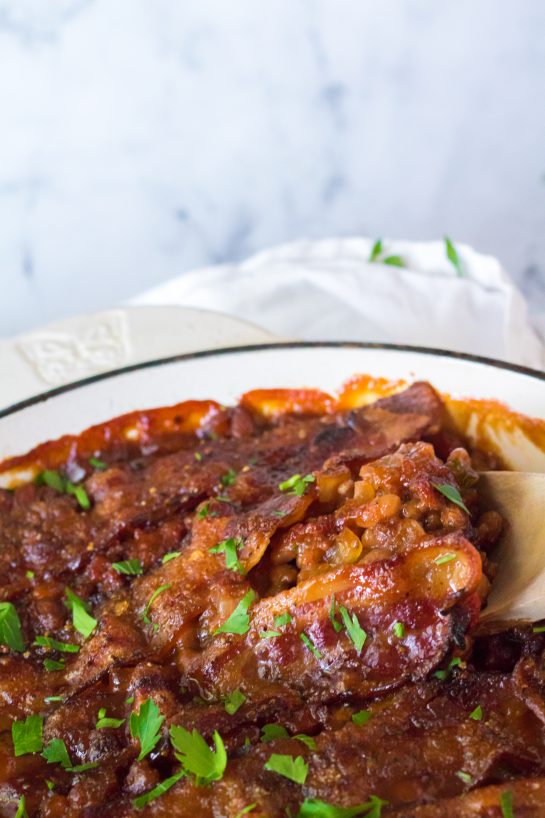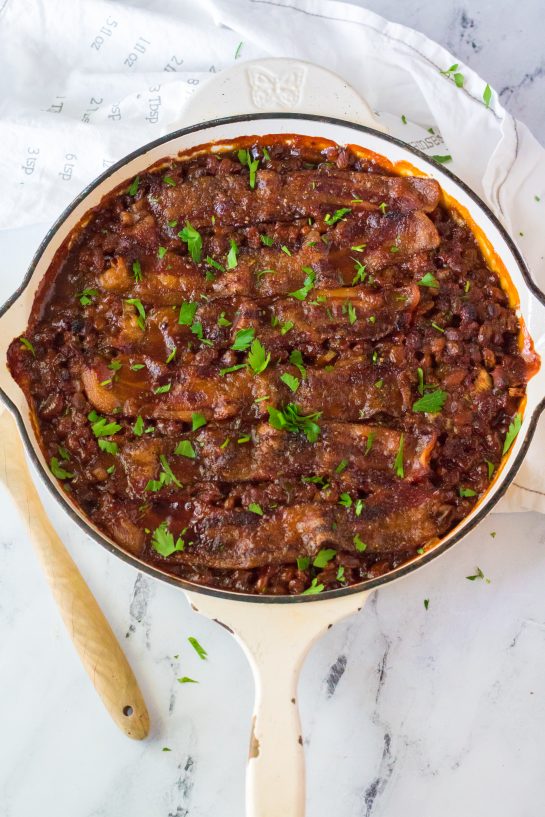 Tips:
This recipe uses the shortcut of two cans of baked beans and jazzes them up so they have real homemade flavor.
The beans are perfectly cooked each time. No wondering if the beans are going to turn out too hard.
The bacon will not continue to get crispy once it is stirred into the canned beans, so be sure to get it as crispy as you like it while it's in the oven.
They take only 10-15 minutes of hands-on time. The "hard" part is over and then you pop them in the oven and go about your business
If desired, these beefy baked beans can be made in a slow cooker/cock pot, although they won't be quite as thick and rich.
They are perfect and popular for your next potluck, summer picnics, or BBQ's all year long.
All those flavors just meld perfectly together in this recipe. You're worth the doctored up canned baked beans. I promise.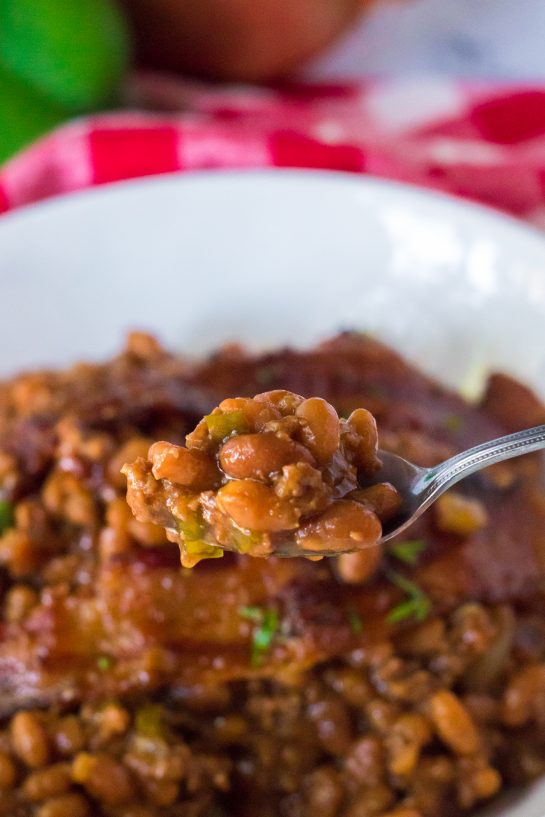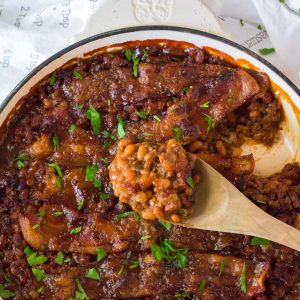 Beefy Baked Beans
Beefy Baked Beans are my favorite side dish recipe! Beans get mixed with ground beef, onion and bell pepper, brown sugar, ketchup, mustard and Worcestershire before getting topped with a peppered brown sugar bacon.
Ingredients
● 4

28 ounce cans pork & beans

● 1 pound ground beef

cooked and drained of the grease

● Half of a yellow or white onion

diced

● Half of a green or red bell pepper

diced

● 1 1/2 cups brown sugar

divided

● 3/4 cup ketchup

● 2 tablespoon yellow mustard

● 1 tablespoon Worcestershire sauce

● 6-8 slices bacon

● 1/2 teaspoon black pepper

● Salt and pepper

to taste

● Parsley or green onion for garnish

optional
Instructions
Preheat oven to 350 degrees.

In a large mixing bowl, mix together your cooked and drained ground beef, all 4 cans of beans, diced onion, diced bell pepper, 1 cup of brown sugar, ketchup, mustard, Worcestershire sauce, and salt and pepper to taste. Set aside for later.

Spread out your bacon on a parchment lined sheet pan.

Mix ½ cup of brown sugar with ½ teaspoon of pepper and sprinkle evenly over the bacon.

Bake the bacon until it is cooked and just starting to get crispy.

Remove the bacon from the oven.

Transfer the baked bean mixture into a large oven proof skillet or 9x13 baking dish.

Top the baked beans with the cooked bacon slices.

Bake for up to 2 hours. The length of baking time depends on how you like your beans. If you like a thicker, stickier bean leave it in 2 or more hours. If you like thinner beans with more liquid then 1 ½ hours might be more to your preference.

Remove from oven and serve hot!

For your slow cooker just pour the combined mixture into your slow cooker and cook on low 3-4 hours or high 2-3 hours. Enjoy!
Notes
Tips and Tricks:
You can use BBQ sauce instead of ketchup if you wish.
You can add a little spice by adding diced jalapenos or chipotle to these delicious beans.
You can also use a red bell pepper instead of the green if you like.
Canned green chiles would also be great in this!
You can also add in a little minced garlic.