Bacon, Onion and Cheese Stuffed Burger
Bacon, Onion and Cheese Stuffed Burger are a fun way to stuff burgers and perfect for summer grilling or barbeques!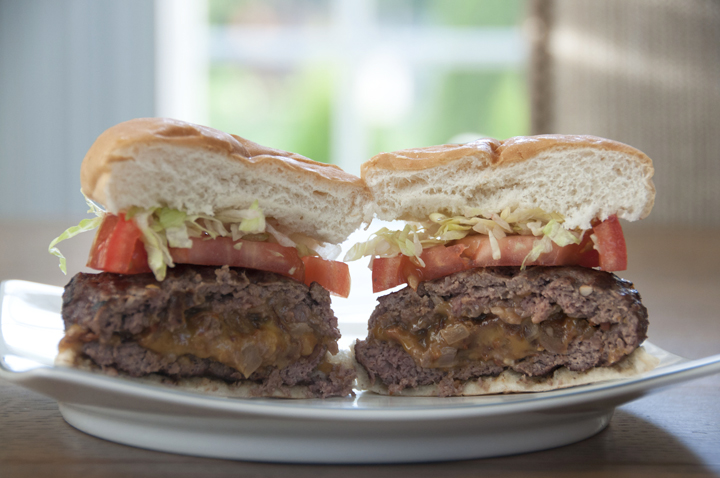 Labor Day Weekend traditionally marks the end of summer – school starts, pools begin to close and the 4th of July feels light-years away.  I'm SO not ready to say goodbye to summer!  This holiday weekend there will be a lot of grilling happening and with burgers being an American favorite I thought it would be a good time to give you another burgers-on-the-grill recipe.
This is another very simple recipe with very little prep time.  These burgers turned out SO juicy and flavorful!  They are guaranteed to be a real crowd-pleaser at your parties this weekend.  The filling is genius, and it's absolutely one of the best burgers I've ever had.  I saw this recipe on the
Food Network
and thought with the amount of filling used that the burgers had to be massive, but by the time they cooked down they were the perfect hamburger bun size.  I loved the way the inside tastes with the sauteed onions, bacon and cheese and I wouldn't change a single thing with this recipe.  I also don't think I'll ever go back to the cheese being on top of the burger.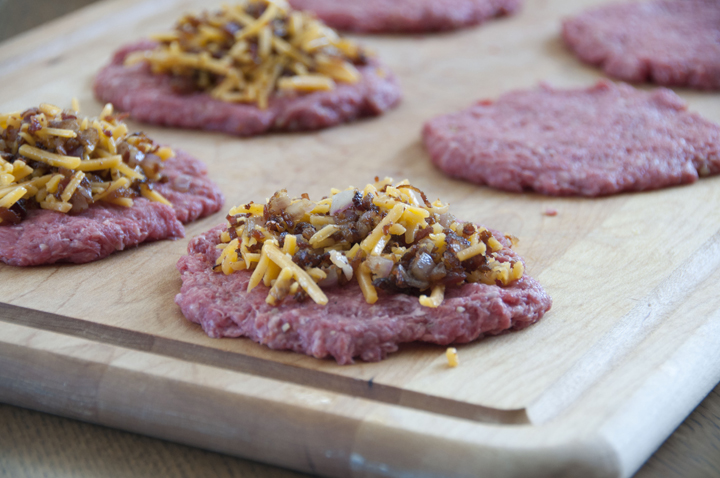 Whenever I want to impress someone with my burger skills in the future, I am without a doubt reaching for this recipe.  It is a really good Labor day idea if you want to try something a little bit different.
Tip: I highly recommend making CERTAIN that the two patties are securely pinched together all around the sides so that the filling (especially the cheese) does not leak out.  Enjoy!
Oh, and if you like stuffed burgers, you might also like these Mozzarella Stuffed Chicken Burgers!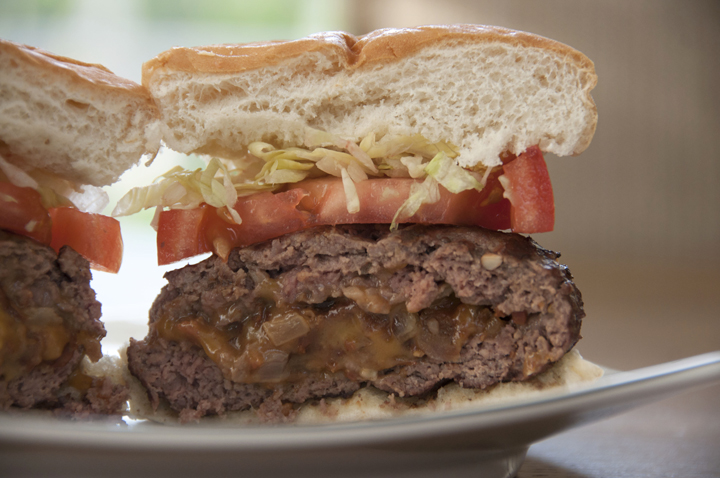 Bacon, Onion and Cheese Stuffed Burger
Prep time:
Cook time:
Total time:
Ingredients
1½ pounds ground beef
1 clove garlic, minced
1 teaspoon hot sauce (I used Frank's Red Hot)
Salt and freshly ground black pepper
4 strips bacon, diced
½ onion, chopped
1 cup sharp Cheddar cheese, grated
4 burger buns
Lettuce, tomato, pickles, etc., for garnish
Instructions
Preheat grill to medium. In a bowl combine beef, garlic, hot sauce, salt and pepper, to taste, being careful not to over mix. Warm a skillet over medium heat and fry bacon until crispy. Remove to a paper towel-lined plate to drain. Keep heat on skillet and fry a pinch of the beef in the bacon fat to test seasoning. Adjust seasoning, if needed, then form 8 even thin patties, about ½-inch thick and set aside. Saute onions in bacon fat in skillet until tender, about 5 minutes.
Place onions and bacon in a bowl with cheese. Form a spoonful of bacon/onion/cheese mixture into a ball, then place in the center of 4 patties (or just spoon it on top like I did). Top each with another patty and seal the edges WELL. Grill burgers over medium-high heat, flipping once until desired doneness is reached, approximately 4 minutes each side for medium. Serve on hamburger buns with garnishes of your choice.
Alternative: In a medium skillet or grill pan over medium-high heat, sear the burgers 4 minutes on each side.