Loaded Deviled Egg Salad+ VIDEO!
Loaded Deviled Egg Salad is a fun twist on the traditional egg salad recipe! It's packed with flavor, great for Easter or any holiday, and makes a great lunch.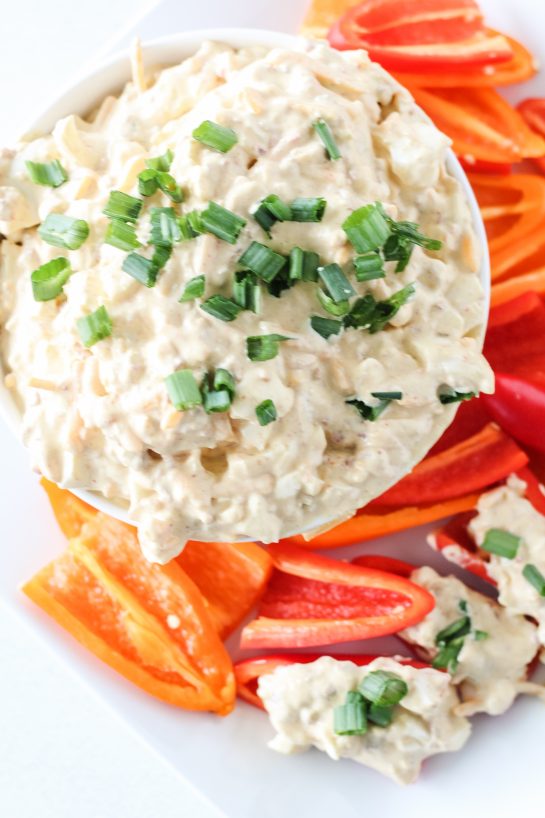 This Loaded Deviled Egg Salad recipe tastes just like deviled eggs, super creamy and loaded with celery, olives, pickles and red onion. Quick, delicious and ready in a half hour, believe it or not! It is just perfect for using up any leftover eggs. I love egg salad recipes.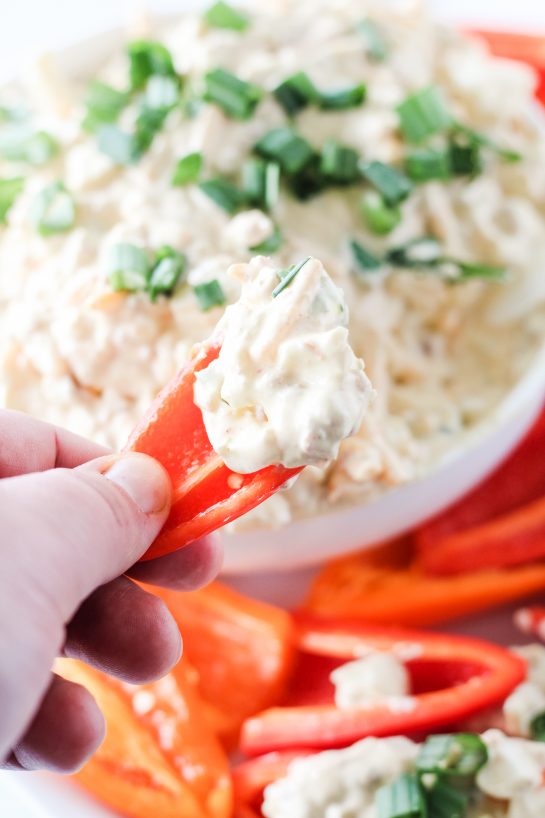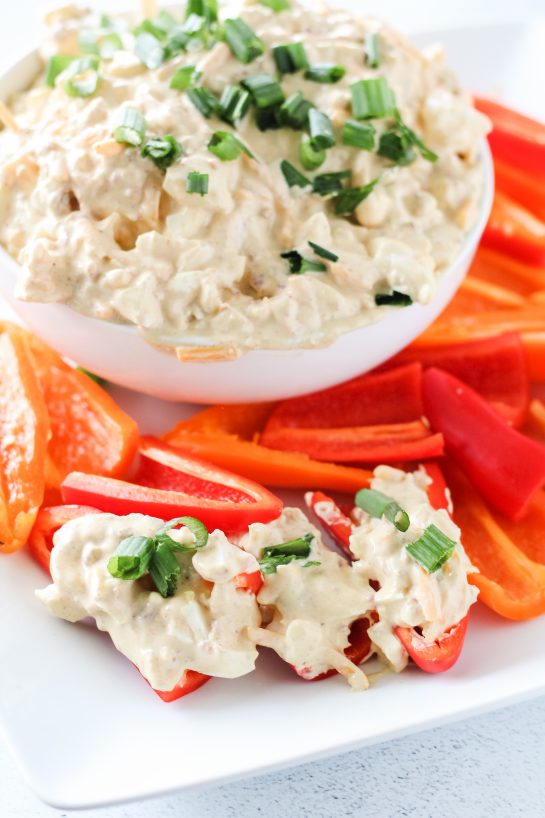 This Loaded Deviled Egg Salad is so amazing that you will be dreaming about it for weeks to come. Eggs are really the perfect food, aren't they? They are inexpensive and you can do so many different things with them when cooking and baking. I love making my Old-Fashioned Egg Salad with them.
I like it made with exactly the ingredients in this recipe that I have listed. If you like it EXTRA loaded, you can feel free to add things like pickles, red onion, celery and black olives. The pickles and olives give it a little extra saltiness which can be delicious. Some people don't like celery in their macaroni salads (I do), but you really can get creative with this deviled egg salad. The add-ins really go great with the creaminess of this salad. My Dad's potato salad has a lot of similar flavors to this one.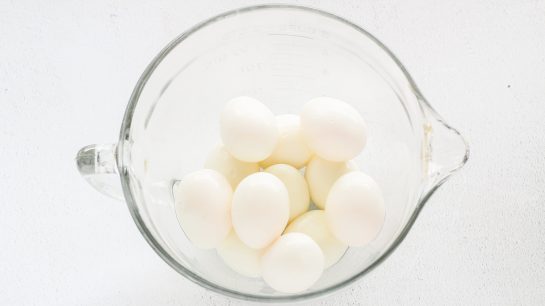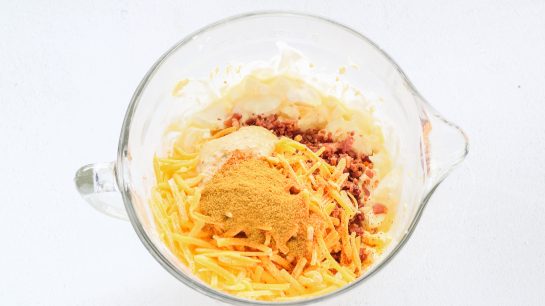 This pasta salad is an egg lover's match made in heaven! It essentially has the delicious, creamy flavor of deviled eggs combined with a macaroni salad, while completely loaded with goodies, like bacon. Cooked and crumbled bacon can be substituted with store bought bacon bits or bacon pieces. If do you end up omitting the bacon, I recommend adding salt to taste to make up for the saltiness of the bacon you'll be missing.
Instead of making deviled eggs with your leftover hard-boiled eggs this year, opt for this Deviled Egg Salad instead. It's creamy, perfectly seasoned, and topped with a sprinkle of paprika for a pretty finish, that's also quite tasty. You can used smoked paprika if you like the taste!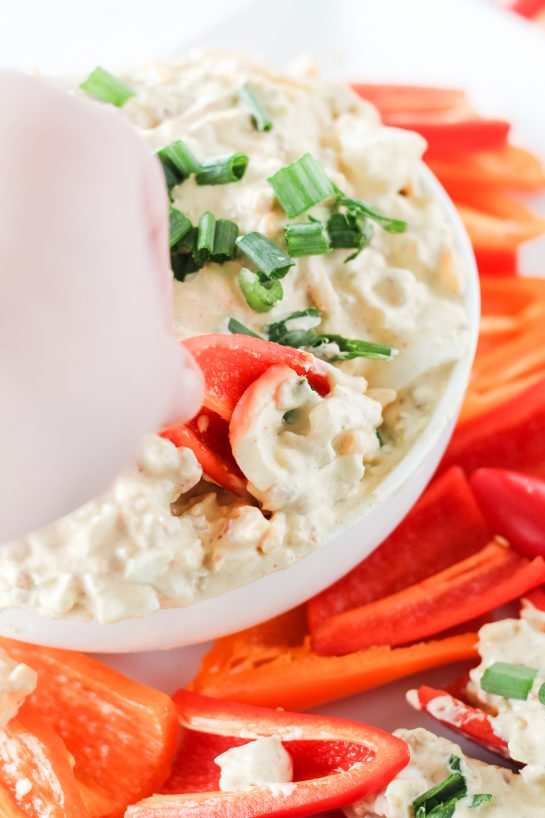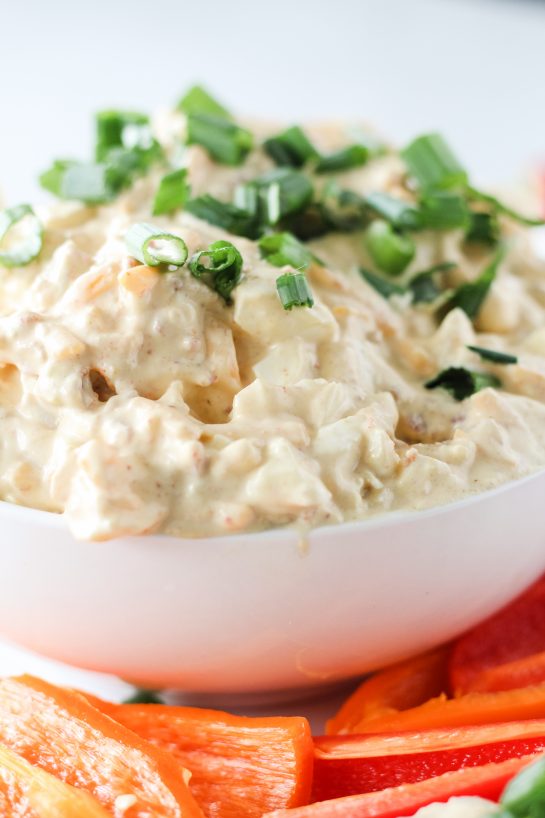 This deviled egg salad is one of our spring summer favorites. It's really easy, and tastes so good! Egg salad is an easy recipe to keep on hand for a variety of occasions. Make deviled egg salad for a quick lunch on the go or you can serve tiny egg salad sandwiches as finger food for Easter, your next bridal shower, baby shower, or spring picnic.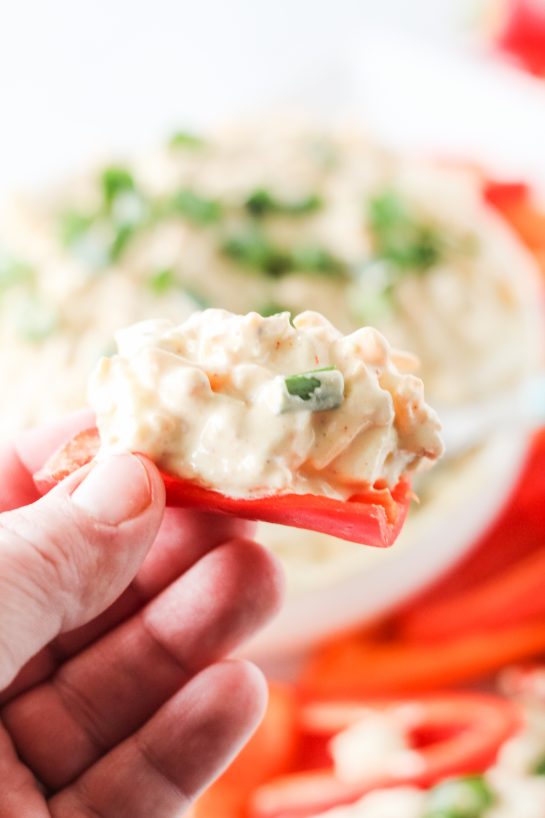 I promise that if you make this you are going to be the hit of every picnic barbecue you go to this spring and summer! You have to give this a try, especially if you have lots of hard-boiled eggs leftover. This recipe really is the perfect side dish. It is even better a day or two later when the flavors have had a chance to marry!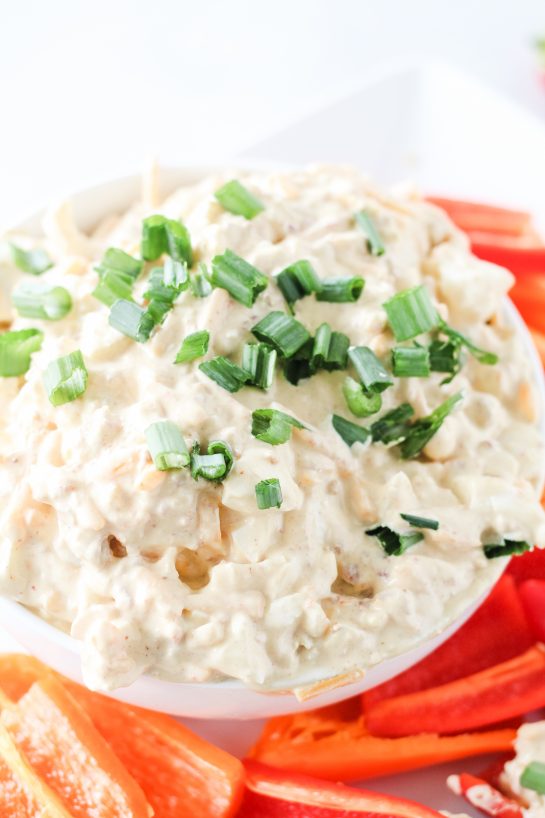 Check out my how-to video in this post of me making the recipe for this Robin Egg Easter Bark!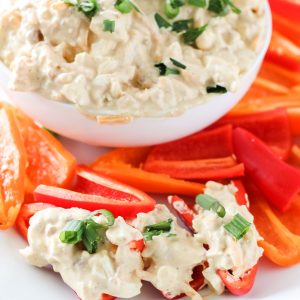 Loaded Deviled Egg Salad
Loaded Deviled Egg Salad is a fun twist on the traditional egg salad recipe! It's packed with flavor, great for Easter or any holiday, and makes a great lunch. 
Ingredients
● 12 Hard Boiled Eggs

Peeled

● ½ a cup of Mayo

good quality

● ½ a cup of Sour Cream

● 1 cup of Bacon Bits

● 1 cup of Shredded Cheddar Cheese

● 2 tablespoons of Dijon Mustard

● 1 teaspoon of Tajin Seasoning

● 1 teaspoon of Paprika Seasoning

● Green Onion

chopped/for topping

● Sliced Bell Peppers

for dipping
Instructions
Start by placing your eggs, mayo, and sour cream in a large mixing bowl.

Using a hamburger masher, smash your eggs and mix everything together nicely.

Add in your bacon bits, cheese, mustard, and spices.

Stir until well combined and place in a serving dish.

Top with green unions.

Serve with peppers and enjoy!