Bacon Alfredo Pasta Bake
Bacon Alfredo Pasta Bake recipe is a creamy Italian pasta dish loaded with cheese and smothered in creamy Alfredo sauce.  Delicious comfort food that the whole family will go crazy for!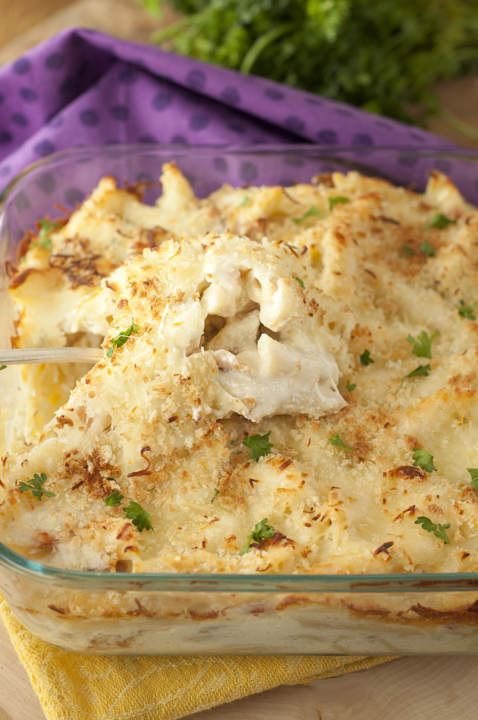 Welcome to a dish that just never gets old and never fails to comfort me on a cold November day. Can you believe it's November already?  My goal of experimenting more with dinners in effort to keep things new and fresh is going well.  I like to call this Bacon Alfredo Pasta Bake sort of a "grown-up" macaroni and cheese.
I had a rich pasta dish similar to this at a restaurant a while back and I knew I had to go home and recreate it.  I absolutely love pasta bakes because they're so easy to put together and result in awesome left overs (well, depending on the size of your family)!
This pasta bake made with Ragu Alfredo Sauce was no exception as it turned out incredible.  It is a crowd-pleasing, picky-eater-friendly dish.  Cheesy goodness with bacon added to the mix always gets rave reviews, right?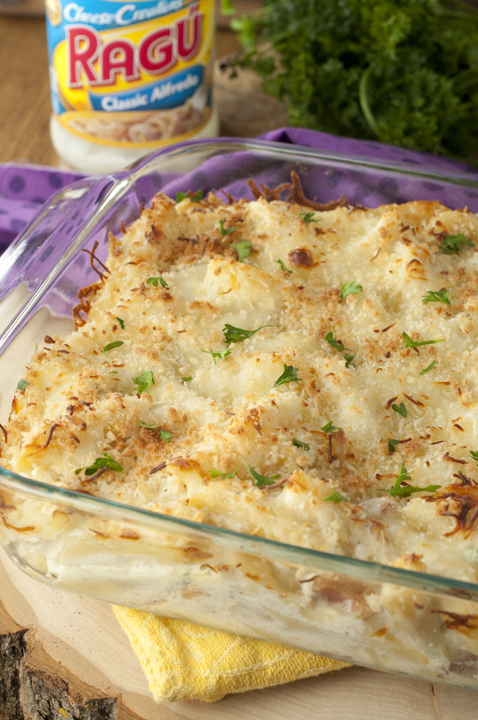 Ragu makes it easy for you because the Alfredo sauce in this Bacon Alfredo Pasta Bake is already made and seasoned to perfection….so you can skip over that step!  Just a few simple steps along with adding Ragu Alfredo sauce and this dish is oven-ready in no time at all.
I grew up eating Ragu sauce on a regular basis because it made for quick and easy weeknight meals.  My mom worked a lot but she made it a point to always get dinner on the table so we could eat together as a family.
I don't know about you, but I'm definitely not above using a can of this or a jar of that once in a while if it means enjoying a hot, home-cooked meal around my table.  I love Ragu because it is an authentic, fresh Italian sauce with a rich taste, aroma and texture because they are made the traditional way and with the same standards set by Assunta in 1937.  Ragu uses no artificial flavors, colors or high-fructose corn syrup and is made with a secret family recipe that involves the slow-simmering of vine-ripened tomatoes, garlic, and fragrant herbs.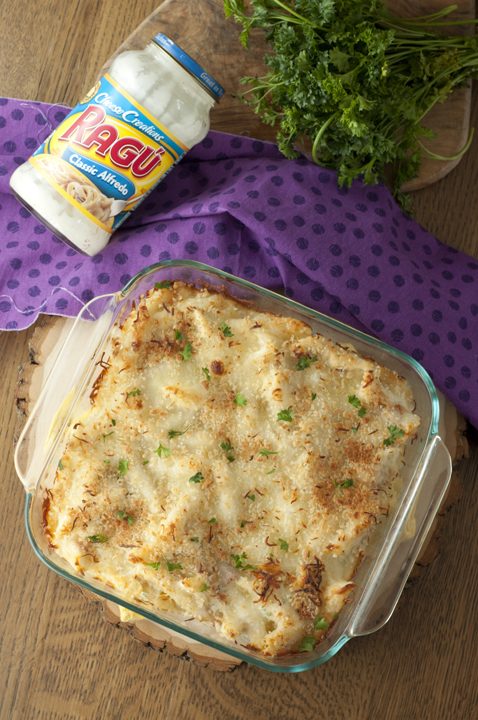 Nowadays, there is a lot more variety of fresh tasting Ragu products to try out so I like to keep a couple jars of their sauces around as a pantry staple for when I'm in a dinner rut and need a quick and easy meal to put together.  I know everyone out there is crazy busy with hectic schedules but a meal at home is so much more rewarding than having take-out or eating out.
Bake this melty masterpiece right away or you can make this into two casserole dishes and freeze one for later!  It makes for a great freezer-friendly meal but should be used within 3-6 months for best results.
This would also be a good meal to bring to someone who has just had a baby, surgery, or just needs a little extra love.  Serve this Bacon Alfredo Pasta Bake with a salad and bread or a steamed green veggie and you can call it a day.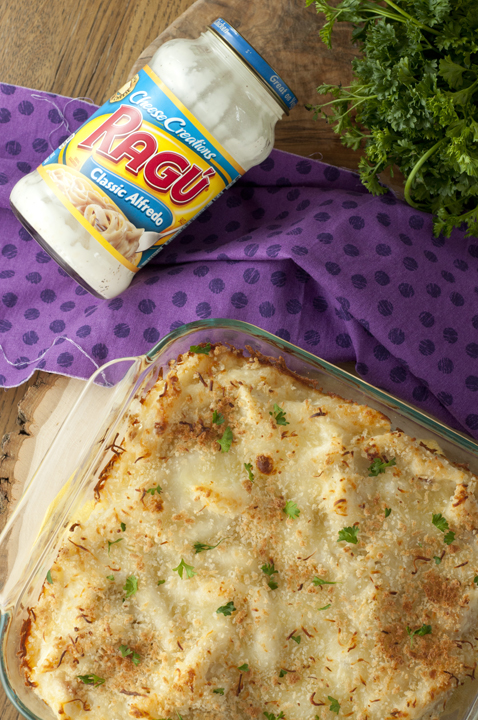 I wanted to share a little bit of information with you about the contest Ragu has going on.  It's a contest called "Ready.Set.Cook!" which challenges home cooks to create new and unique recipes featuring one of Ragu's large range of products plus additional ingredients from a set list.
It will really get your wheels of creativity turning and I had so much fun with it!  I think you will, also.
Entries will be accepted for four whole weeks (11/2/15 through 11/30/15).  All you have to do is go to  Food.com within that date range to enter! The prizes are amazing:
Grand prize $3,000
Runner-up $1,250
People's Choice: $750
    Good luck, cook up something original for your family with one of Ragu's amazing sauces, and have fun with it!


Bacon Alfredo Pasta Bake
Prep time:
Cook time:
Total time:
Bacon Alfredo Pasta Bake recipe is a creamy pasta dish loaded with cheese and smothered in creamy Alfredo sauce. Delicious comfort food that the whole family will go crazy for!
Ingredients
1 lb. pasta (short cut, i.e. Penne)
2 cups Ragu Alfredo sauce
8 oz. sour cream (or Greek yogurt)
8 slices bacon, crisply cooked, crumbled
15 oz. ricotta cheese
2 teaspoons garlic, minced
2 eggs, beaten
¼ cup Parmesan cheese, shredded
1 tablespoon parsley, chopped
Salt and pepper, to taste
2 cups good-quality mozzarella cheese, shredded
½ cup Panko bread crumbs
Instructions
Cook the pasta until just al dente, according to box instructions.
Drain and rinse pasta under cold water. This will stop the cooking process.
Mix pasta with the Ragu Alfredo sauce, sour cream/Greek yogurt and crumbled bacon.
Mix together the ricotta, garlic, eggs, Parmesan and parsley in a bowl until combined.
Sprinkle the pasta/sauce mix with salt and pepper, to your liking.
Add the ricotta mixture to the pasta mixture and stir to combine all ingredients.
Pour pasta into a 9x13 baking/casserole dish.
Top evenly with the mozzarella cheese.
Sprinkle bread crumbs evenly over everything.
Bake at 350 degrees F for 30 minutes or until set and edges are bubbly (might take a little longer depending on how hot your oven cooks).
For a crispy top, broil at 450 degrees F for 2-3 minutes or until the cheese starts to brown and breadcrumbs turn a golden brown. I like to do this. Keep a good eye on it during the broiling to be sure the cheese doesn't burn. Serve warm. Enjoy!