Artisan Rye Bread
  A recipe for easy, round Artisan Rye Bread – perfect for your morning toast or your favorite sandwich.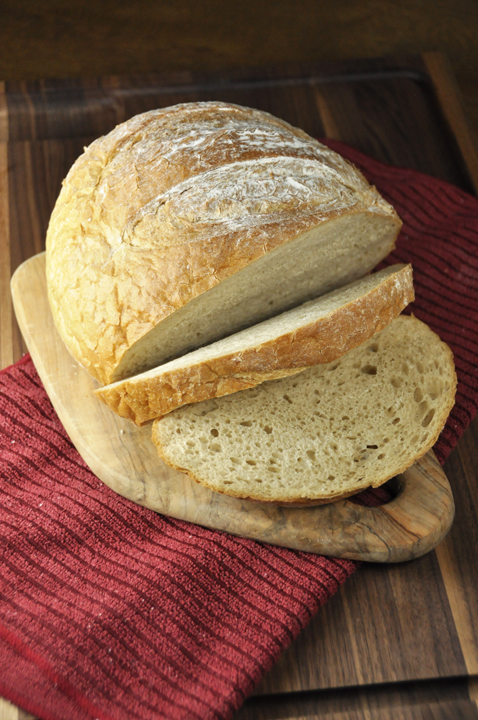 I know that for some people, Rye bread is an acquired taste.  Personally, it has always been my bread of choice since I was a young child.  This is why I'm extra excited to have finally conquered rye bread in my own kitchen!  I really get a sense of accomplishment when I make homemade bread than I do when I cook or bake anything else…am I the only one who feels this way? Homemade bread is one of the best things in the world. You can even check out all of my homemade bread recipes.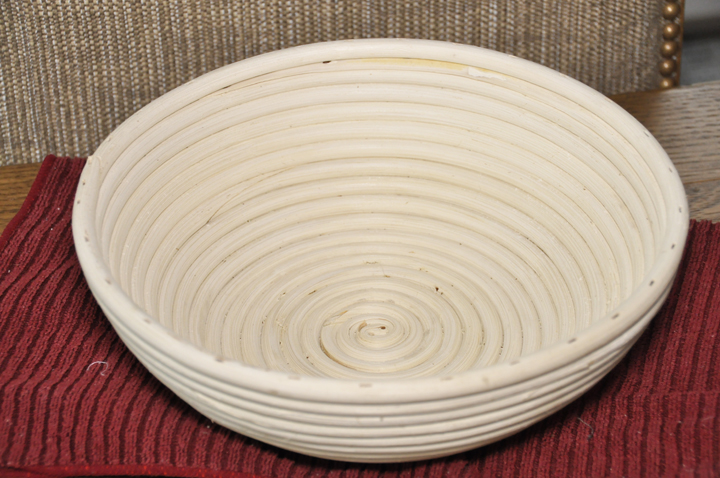 I couldn't have done it without my awesome new Frieling Brotform 10″ Round Bread Rising Basket.  If you have never heard of them before, the Brotform is a bread rising basket that helps to create a crunchy crust, moist middle, great texture, and overall perfect looking/visually appealing loaves every time.  It definitely helped me reach a new level of bread-baking success.  It's simple to use -you just place your dough to rise in the Brotform (flour the Brotform well first) to create a beautifully shaped bread then put it on a baking sheet and bake away!  This also works for those of you with fancy shmancy bread machines – just let the machine knead the dough, then rise in the Brotform.  Everyone will be impressed and think you bought your bread at a local bakery and it will look great presented at your holiday table this year.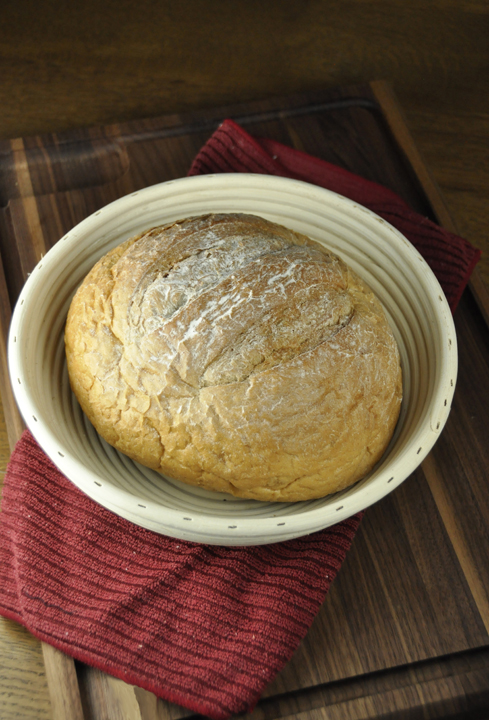 The coolest thing about this basket?  It coils are made of natural cane and hand woven!  It looks so nice and therefore doubles as a serving basket.  Once you learn how to bake bread, you can experiment with a wide variety of homemade bread recipes ranging from nut-filled quick breads to crusty sourdough breads – whatever floats your boat.
The Frieling Brotform baskets are more on the expensive side, but if you want to kick your bread making up a notch, then they are the ticket.  Lucky for you, I am giving one away today (it is worth $40)!  Scroll on down to find out how easy it is to enter.  It would make a great Christmas gift to yourself or someone else!
You may also love my Honey Buttermilk Bread – it's one of the most popular bread recipes on my site! I also have these 30 minute homemade dinner rolls that are out of this world. You may also love this English Muffin Bread from my friend Rebecca! Enjoy.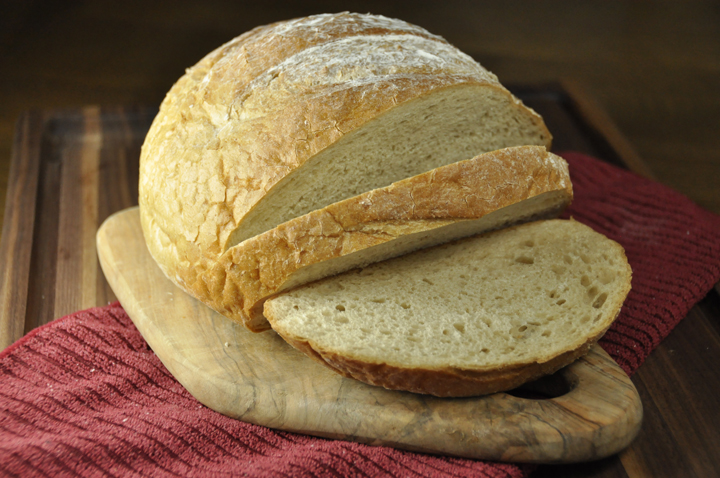 Artisan Rye Bread
Prep time:
Cook time:
Total time:
A recipe for easy, round Artisan Rye Bread - perfect for your morning toast or your favorite sandwich.
Ingredients
2 packages (1/4 ounce each) active dry yeast
2 cups warm water
1 cup dry milk powder
⅓ cup dark molasses
2 Tbsp vegetable oil
2 tsp salt
3 - 3 and ½ cups bread flour
3 cups rye flour
1 egg white
1 tablespoon water
Instructions
Dissolve the yeast in the warm water in a large bowl. Add the milk powder and molasses. Let the mixture stand until it foams.
Add in the oil and salt to the yeast mixture. Begin adding 2 cups of the bread flour either by hand or by electric mixer set at medium speed for 5 minutes. Mix until the dough looks smooth. Add in the rye flour and about 1 cup more of the remaining bread flour. The dough should begin to pull away from the sides of the bowl and form a ball. Leave the dough in the bowl and cover with a dry towel, let it rest for 10 minutes.
Turn the dough out onto a lightly floured surface. Knead the dough for about 8-10 minutes until smooth and springs back when pressing with two fingers. Add more bread flour as necessary. Lightly oil a large bowl, add the dough and turn to coat the entire ball of dough with the oil. Cover with a towel and let rise in a warm place until doubled in size, about 45 minutes to 1 hour.
After the dough has risen, punch it down once more. Form into 2 round loaves. Add the dough, one ball at a time - can freeze other for a later time, and place it in the Brotform basket that has been generously sprinkled with flour. Cover the dough and let rise again in a warm place until doubled.
Carefully unmold the dough from the Brotform and place on a baking sheet that has been coated with cooking spray. Brush top of bread with egg wash (mixture of egg white and water).
Preheat the oven to 350 degrees. Using a sharp knife make a few diagonal slashes on top of the loaf. Bake for 35-40 minutes or until the dough is cooked through. The center is the last part of a quick bread to cook. Insert a wooden toothpick near the center; if it comes out clean, your loaf is done. Take a quick look at your loaf 10-15 minutes before the minimum baking time. If it is browning too quickly, cover it loosely with foil. Remove from the baking sheet and cool on a wire rack.
Deadline: Thursday, December 11th at 11:59 (EST). I'll announce the winner on Friday 12/12. Good luck, everyone!
Winner:  Must be a U.S. resident to enter.  The winner will be chosen at random using Random.org and announced in this post. I will email the winner and if he/she does not respond within 48 hours, another winner will be selected.
Disclaimer: This giveaway product is being provided by Frieling Brotform®. All opinions are 100% my own.