Cheddar Bay Biscuits
Who loves or used to love the biscuits at Red Lobster?  This recipe is for a homemade version of those beloved and popular Cheddar Bay Biscuits served at Red Lobster restaurants.
I have to say that I have always thought they are the planet's tastiest garlic cheese biscuits.  I was never too crazy about the food at Red Lobster but these biscuits kept me coming back for more.  These babies are laced with garlic, butter and cheddar cheese with fluffy insides, golden brown bottoms and garlicky, crunchy tops.  They are perfection in a biscuit and at their best when they are served warm so make sure you serve them right out of the oven.
If you're having people over, you may want to double the recipe because these will be sure to get snatched up like hotcakes.  Or, you know, like… cheesy garlic biscuits.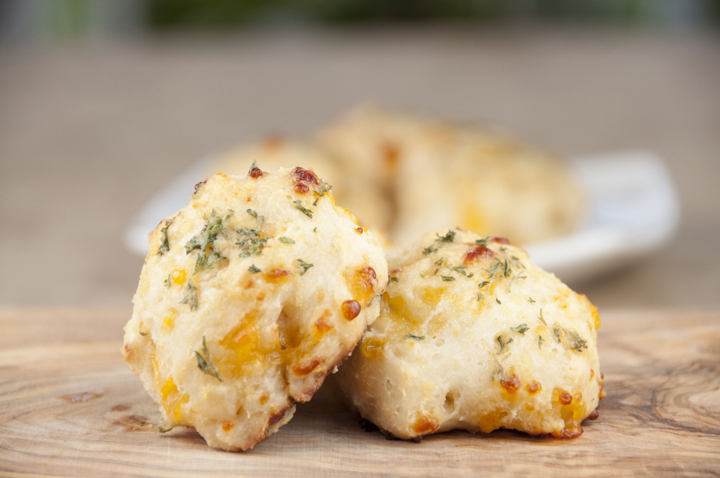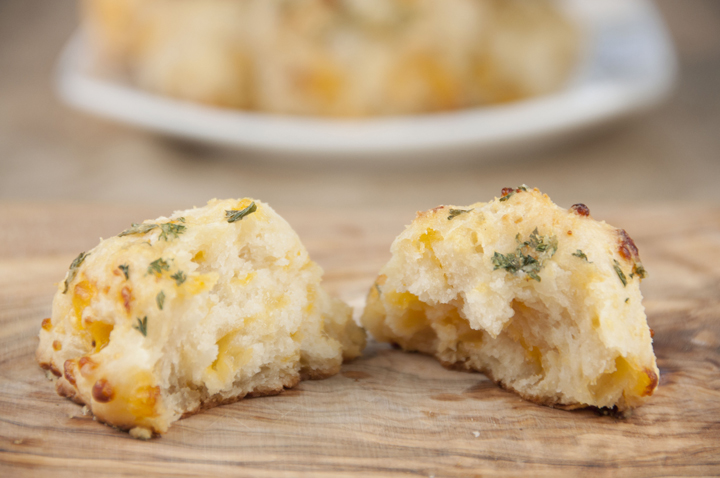 INGREDIENTS:
*makes about 10 biscuits*
2 cups all-purpose flour
2 teaspoons baking powder
½ teaspoon baking soda
1 teaspoon granulated sugar
¾ teaspoon salt
½ teaspoon garlic powder
¼ teaspoon cayenne pepper
4 ounces sharp cheddar cheese, shredded (about 1 cup shredded)
1 cup buttermilk, cold
½ cup unsalted butter, melted and cooled for 5 minutes
For the Topping:
2 tablespoons unsalted butter, melted, divided
½ teaspoon garlic powder
1 teaspoon minced fresh parsley (or ¼ teaspoon dried)
DIRECTIONS:
Preheat oven to 475 degrees F. Line a baking sheet with parchment paper or a non-stick baking mat; set aside.
In a large bowl, whisk together the flour, baking powder, baking soda, sugar, salt, garlic powder and cayenne. Stir in the cheddar cheese; set aside.
In a medium bowl, stir together the buttermilk and melted butter until the butter forms small clumps.
Add the buttermilk mixture to the flour mixture and mix gently with a rubber spatula just until a dough forms and no dry ingredients remain. Use a greased ¼-cup measuring cup to scoop out portions of dough. Place on the prepared baking sheet, leaving a little more than an inch between biscuits.
Bake until the biscuits are golden brown, about 12 minutes. While the biscuits are in the oven, stir together the 2 tablespoons melted butter, garlic powder and parsley. Remove the biscuits from the oven and immediately brush with the topping mixture. Allow to cool for at least 5 minutes before serving. Leftovers can be stored in an airtight container or zip-top back at room temperature for up to 3 days.
Recipe source:  browneyedbaker.com