Gooey Chocolate Peanut Butter Bars
These chocolate peanut butter bars are a classic blend of peanut butter and chocolate. Easy to make with only 5 ingredients and perfect for your holiday baking!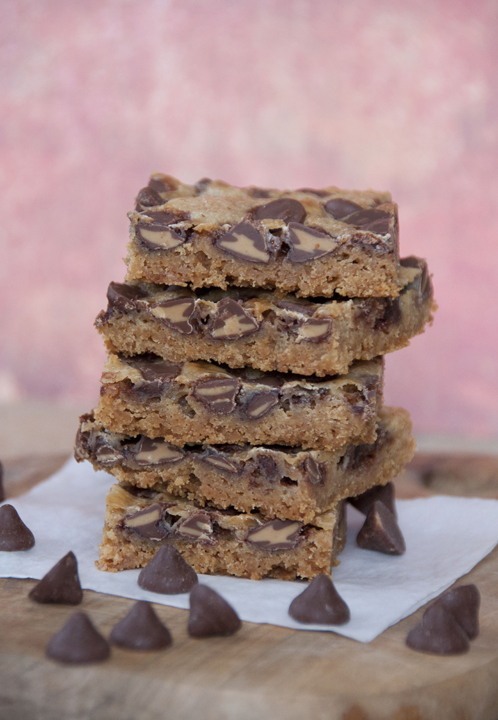 This is my favorite time of year for so many reasons. The weeks and days leading up to Christmas are so exciting. Decorating the house, trimming the tree,…and my all-time favorite: holiday baking! Of all things, baking for the holidays really puts me in the Christmas spirit. I like to get creative every year by coming up with something different and exciting to add to my dessert trays that nobody has ever seen before. I enjoy switching things up and keeping my family and friends guessing. This is one of those recipes that I am adding to my holiday baking list this year….and so should you!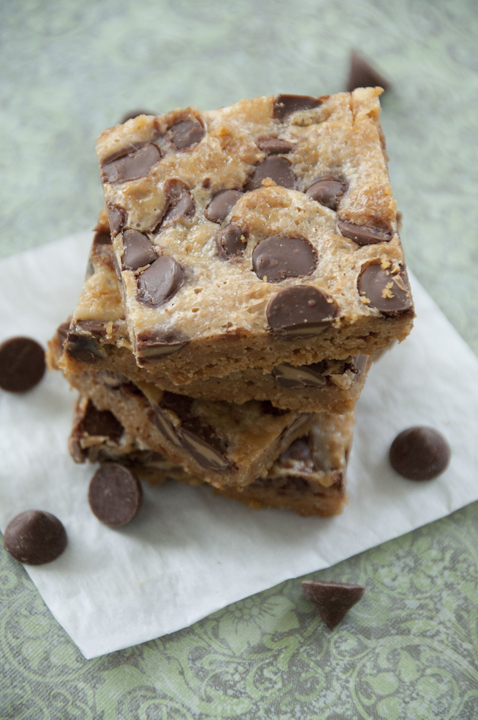 What makes these bars so special is the addition of this new and super fun product – Nestlé® Toll House DelightFulls™ Peanut Butter Filled Morsels. These baking morsels could not be any more perfect because you don't have to choose between chocolate and peanut butter. They have the best of both worlds: milk chocolate morsels filled with peanut butter! The only thing keeping my hand out of the bag and eating these by the handful was the fact that I didn't have time to run back out to the store and grab more of these. Otherwise, they would not stand a chance. The peanut butter was my favorite, but they also come in dark chocolate with mint filling, dark chocolate with cherry, and milk chocolate with caramel. They are all so delicious! I can already come up with so many different ways to use them and create truly unique desserts to give them that something "extra". I use Nestle products quite often (especially their Libby's pumpkin around this time of the year) and their regular baking morsels, but these Nestlé Toll House DelightFulls are my new favorite to bake with.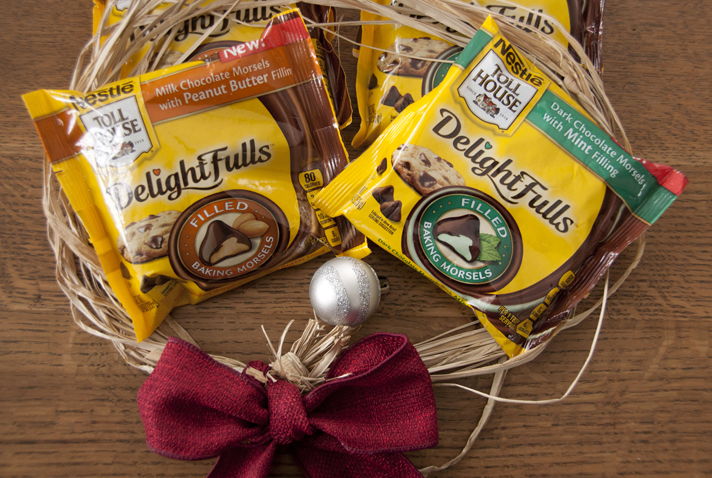 You will love these bars for the holidays or ANY time of the year. Peanut butter and chocolate are my favorite combination all year 'round (if you feel the same, you might like these Chocolate Peanut Butter Parfaits or these No-Bake Buckeye Bars). These bars have a gooey, toffee-like texture (especially around the edges) so don't expect them to be fluffy and cake-like as in blondie bars, etc. They are dense, super rich, sweet, and chewy. Perfect in every way.
If you buy the DelightFulls and need some recipe inspiration besides these absolutely delicious chocolate peanut butter bars, Nestle has an abundance of dessert recipes for you to check out on their website! Happy baking, my friends.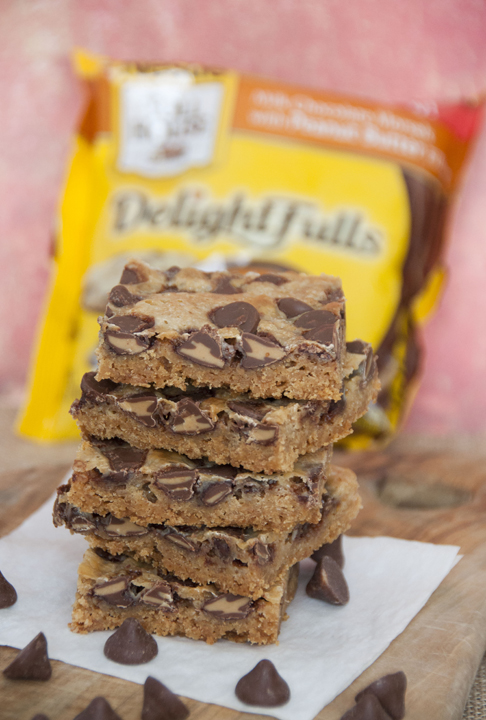 Gooey Chocolate Peanut Butter Bars
Prep time:
Cook time:
Total time:
These chocolate peanut butter bars are a classic blend of peanut butter and chocolate. Easy to make with only 5 ingredients and perfect for holiday baking!
Ingredients
½ cup unsalted butter
1½ cups graham cracker crumbs
2 Tablespoons granulated sugar
1 and ½ cups Nestlé Toll House DelightFulls Peanut Butter Filled Morsels*
1 (14 ounce) can sweetened condensed milk
*(if you don't have these on hand, use 2 cups regular milk or semi-sweet chocolate chips and 1 cup peanut butter chips. The DelightFulls are larger than regular morsels.)
Instructions
Preheat oven to 350 degrees F.
Melt butter over low heat. Remove from heat.
Mix graham cracker crumbs into melted butter.
Pour butter and graham cracker crumbs mixture into a greased 13 x 9 inch pan (grease sides, as well).
Pour sweetened condensed milk over butter/crumbs mixture. Sprinkle peanut butter filled chocolate chips over top and press down slightly into the mixture.
Bake 25 minutes. Let cool completely before cutting them. Enjoy!
The same NESTLÉ® TOLL HOUSE® chocolate you know and love now filled with rich caramel, peanut butter, mint, and cherry flavored filling. Add these new filled baking morsels to your favorite recipes for a special twist on the classic, or try experimenting with them in a recipe you've never tried before!
This is a sponsored conversation written by me on behalf of NESTLÉ® TOLL HOUSE®. The opinions and text are all mine.