Italian Anisette "S" Cookies
Old recipe for Italian Anisette Cookies, or "S" cookies,  just like my husband's grandma used to make.  These have icing and sprinkles on them and will be a great addition to your holiday cookie trays.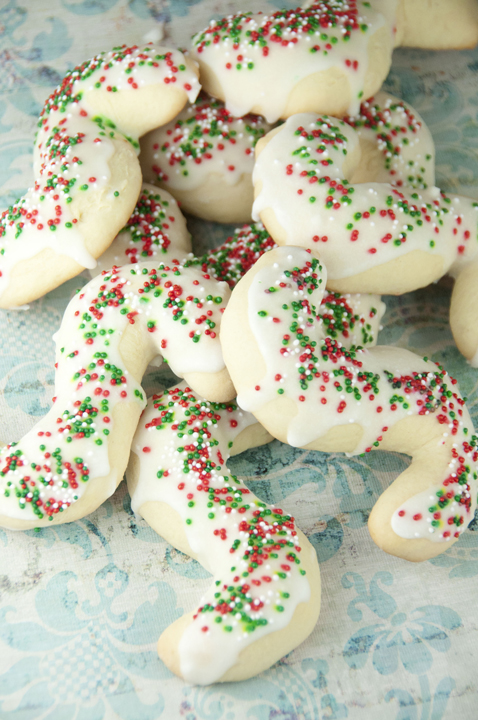 My husband's grandmother, who was the sweetest lady ever, passed away a couple of years ago.  She was always known for her cooking and baking and she really was the best at it.  She was especially famous for her Italian cookies (like her Almond Macaroons) and her lasagna.
We would traditionally always have her lasagna on holidays before the main meat course and we still carry on that tradition to this day.  I am half Italian, but as of a couple of years ago I had never really made any Italian cookies or lasagna as I never had an Italian grandmother in my life to teach me until I met my husband.  I had perfected my sauce and meatballs, but that was as far as it went.
A couple of nights before my husband's grandmother died, she requested that I make her lasagna recipe for the family and bring it over to her apartment.  I panicked a little (a LOT) because those were big shoes to fill and I tried to politely get out of it.
Long story short, I ended up sucking it up making the lasagna just to please her and she loved it.  I think it made her happy to know that her famous lasagna would live on and continue to be enjoyed by the family.
These are hard core Italian
These are hard core Italian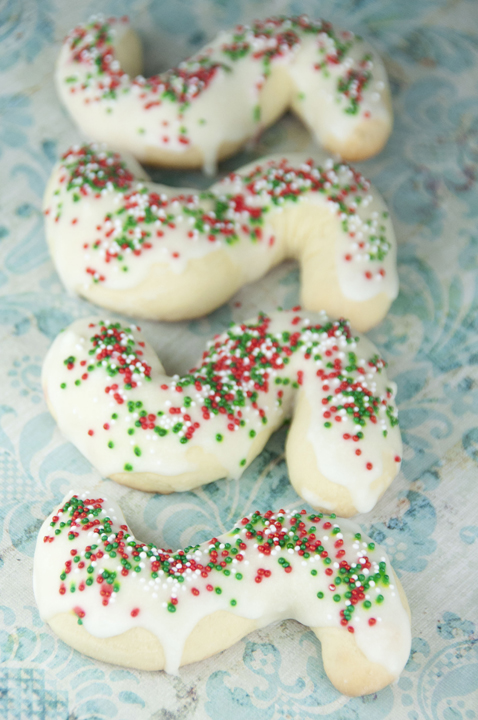 Last Christmas, I decided to make one of Grandma's famous Italian cookies:  her Italian Ricotta Cookies  I was so proud of myself because they did taste just like hers.  I love carrying on traditions!
This year I decided to tackle her Italian Anisette Cookies, also known as "S" cookies.  Sometimes she frosted them and sometimes she left them plain, but I decided I definitely wanted to go the frosting and sprinkles route.
I love to jazz up my cookies a little and make them as pretty looking as possible.  We eat with our eyes, right?! The cookie dough itself is not overly sweet so the icing really is not overkill.  These turned out perfect.  These were moist, delicious and authentic Italian cookies with a nice anisette flavor.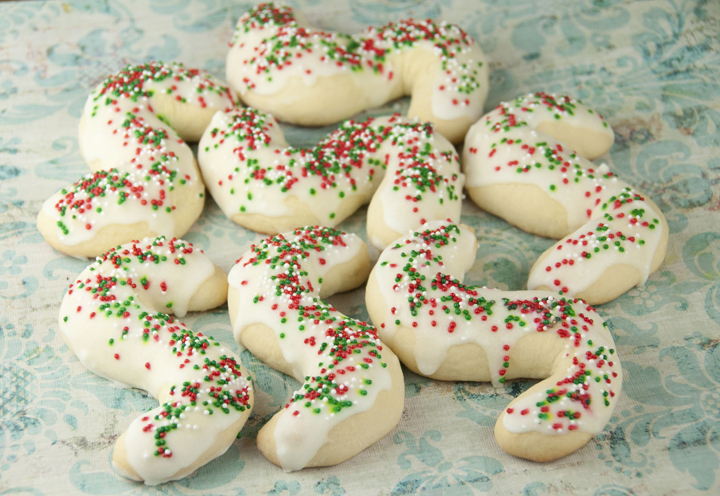 These are hard core Italian, people.  This cookie gets it's flavoring from the anise extract.  If you are not familiar with anise – the closest thing to compare its taste to is black licorice.  It's not a super strong black licorice flavor, but if you have an aversion to it you can use almond, vanilla, or lemon extract…all varieties will taste great.
I hope that these Italian Anisette Cookies brought back great childhood memories for my husband.  These will be a great addition to your cookie trays this holiday and I will be making them every year from now on.  Christmas just wouldn't be Christmas without this recipe or my Italian Lemon Drop Cookies!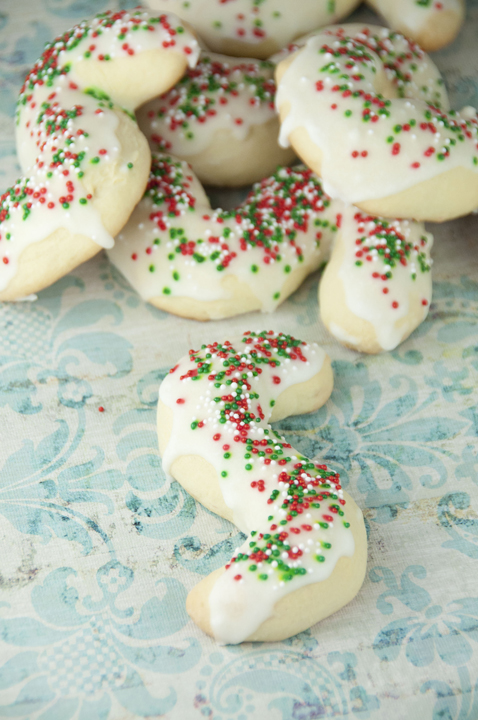 Italian Anisette Cookies
Recipe type:
cookie, dessert
Prep time:
Cook time:
Total time:
Old recipe for Italian Anisette Cookies, or "S" cookies, like my husband's grandma used to make. These will be a great addition to your holiday cookie tray.
Ingredients
1½ sticks of unsalted butter
1¼ cups granulated sugar
6 large eggs, room temp
½ cup milk, room temp
5 cups unbleached all purpose flour
6 generous teaspoons baking powder
½ teaspoon salt
2 teaspoons anise extract (can use lemon or almond extract)
Frosting:
1 tablespoon of unsalted butter
½ pound of confectioners' sugar
6 tablespoons milk
Instructions
Preheat oven to 400 degrees. In a large bowl sift together the flour, baking powder and salt, set aside. In a large mixing bowl, cream together the butter and sugar.
Add the eggs, one at a time, mixing well. Mix in the anise. Add in the milk and flour, alternating portions of each until all combined.
Turn dough onto a floured board and knead until dough is firm and not sticky, adding more flour if necessary.
Break off a handful of dough at a time and roll into long pencil, cut into 5 or 6 inch pieces. Shape into 'S' shape on ungreased cookie sheet. These cookies will puff up. Bake approximately 8-10 minutes. Remove to cool on rack, then frost. Makes about 5 dozen depending on size of cookie.
Frosting: In a large bowl, melt 1 tablespoon of butter. Add in ½ pound of confectioners' sugar. Stir in milk, stirring to incorporate well, to a desired consistency for frosting the cookies. Brush on cookies or use a spoon, apply sprinkles right away and return to rack to set.
Let cool completely and store in airtight containers.
 Recipe source:  adapted from savoringeverybite.com