Artisan Rye Bread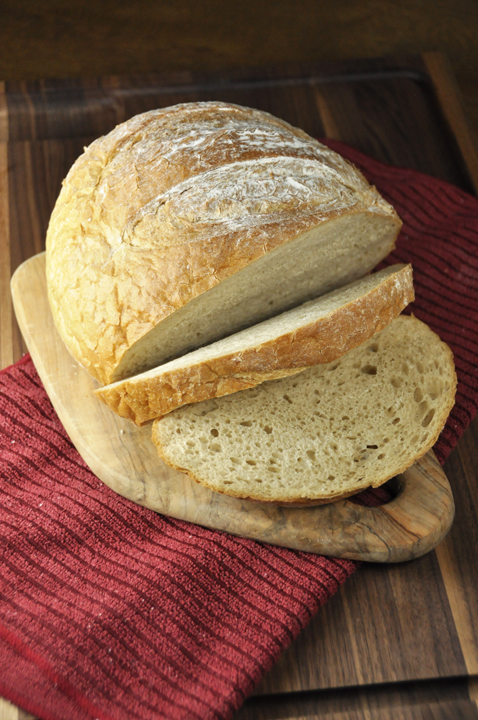 2 packages (1/4 ounce each) active dry yeast
2 cups warm water
1 cup dry milk powder
⅓ cup dark molasses
2 Tbsp vegetable oil
2 tsp salt
3 - 3 and ½ cups bread flour
3 cups rye flour
1 egg white
1 tablespoon water
Dissolve the yeast in the warm water in a large bowl. Add the milk powder and molasses. Let the mixture stand until it foams.
Add in the oil and salt to the yeast mixture. Begin adding 2 cups of the bread flour either by hand or by electric mixer set at medium speed for 5 minutes. Mix until the dough looks smooth. Add in the rye flour and about 1 cup more of the remaining bread flour. The dough should begin to pull away from the sides of the bowl and form a ball. Leave the dough in the bowl and cover with a dry towel, let it rest for 10 minutes.
Turn the dough out onto a lightly floured surface. Knead the dough for about 8-10 minutes until smooth and springs back when pressing with two fingers. Add more bread flour as necessary. Lightly oil a large bowl, add the dough and turn to coat the entire ball of dough with the oil. Cover with a towel and let rise in a warm place until doubled in size, about 45 minutes to 1 hour.
After the dough has risen, punch it down once more. Form into 2 round loaves. Add the dough, one ball at a time - can freeze other for a later time, and place it in the Brotform basket that has been generously sprinkled with flour. Cover the dough and let rise again in a warm place until doubled.
Carefully unmold the dough from the Brotform and place on a baking sheet that has been coated with cooking spray. Brush top of bread with egg wash (mixture of egg white and water).
Preheat the oven to 350 degrees. Using a sharp knife make a few diagonal slashes on top of the loaf. Bake for 35-40 minutes or until the dough is cooked through. The center is the last part of a quick bread to cook. Insert a wooden toothpick near the center; if it comes out clean, your loaf is done. Take a quick look at your loaf 10-15 minutes before the minimum baking time. If it is browning too quickly, cover it loosely with foil. Remove from the baking sheet and cool on a wire rack.