30 Minute Homemade Dinner Rolls
Fast and easy 30 Minute Homemade Dinner Rolls recipe perfect for a weeknight dinner or holiday meal! One smell of these amazing rolls, and you'll be counting down the minutes until you can take them out of the oven!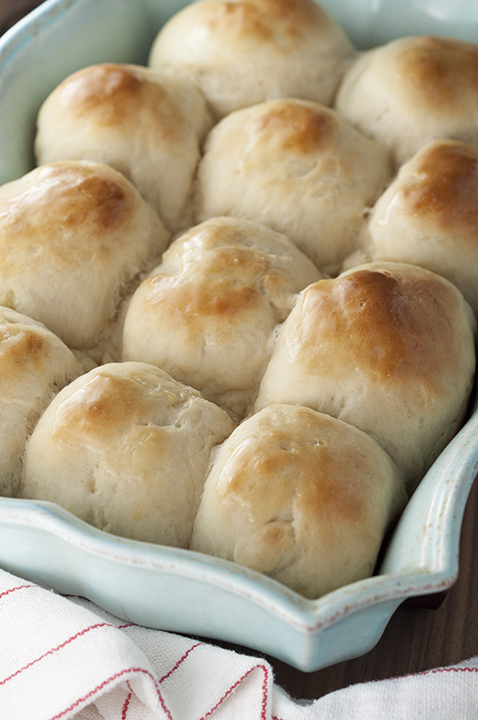 Who cares about the turkey, the stuffing, the mashed potatoes…just pass me a big basket of warm rolls and butter.  Spoken like a true fatty, right?  In reality, I do love all of the other holiday fixings on Thanksgiving and Christmas (this Sourdough Cornbread Sausage Stuffing, Crock Pot Turkey Breast), but delicious rolls are a MUST.  The holiday meal is not complete without these 30 Minute Homemade Dinner Rolls.
Skip the store-bought rolls this year – these are complete in just 30 minutes (including prep and bake time)!  I was a total critic about this recipe for  30 Minute Homemade Dinner Rolls until I tried it for myself.  I now make these all the time.  You can't argue that homemade bread is so much better! This recipe is so easy and perfect for beginners.  All of your guests will be so impressed that you made these completely from scratch (you don't even have to tell them how amazingly simple they were to make).  The yeast does all of the work for you!
I'm so glad you're here! Follow along on

Pinterest

for more inspiration!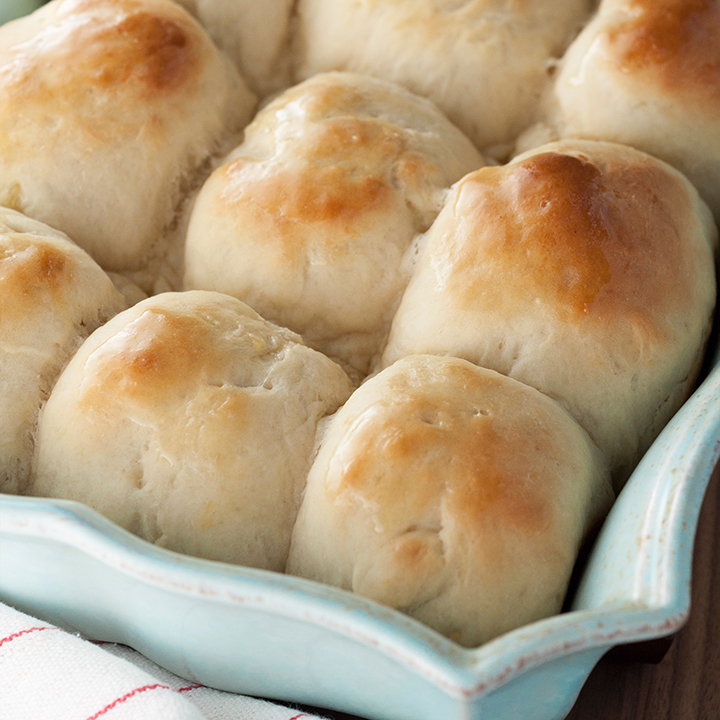 Just judging by my husband's reaction to these rolls, I knew they were a hit. He may or not have eaten 4 of them just at dinner.  Sorry, Mr. Wishes…I had to.  Try these warm, buttery rolls for the upcoming holidays or just any night you want to add an extra special touch to your family dinner.  If you want to make a whole loaf of homemade bread you might like my Artisan Rye Bread or Honey Buttermilk Bread (a personal fave) recipe. You can't go wrong with homemade bread! If you need a gluten-free homemade roll recipe, try my friend Michelle's Pull-Apart Dinner Rolls!

MY LATEST VIDEOS
Enjoy these rolls fresh and warm right from the oven!
Here is my "how to" video with step-by-step instructions on how to make these 30 Minute Homemade Dinner Rolls!
30 Minute Homemade Dinner Rolls
Prep time:
Cook time:
Total time:
30 Minute Homemade Dinner Rolls recipe are perfect for a weeknight dinner or holiday! One smell and you'll be counting down the minutes until they are done!
Ingredients
1 cup plus 2 Tbsp warm water
⅓ cup vegetable oil
2 Tbsp active dry yeast
¼ cup sugar
1½ tsp salt
1 egg
3½ cup bread flour (can use all purpose in a pinch)
1-2 tbsp melted butter, for brushing over tops when done baking
Instructions
Heat oven to 400 degrees.
In the bowl of a stand mixer (or use hand mixer) combine the water, oil, yeast and sugar and allow the mixture to rest for 15 minutes.
Using your dough hook attachment, mix in the salt, egg and bread flour.
Knead with dough hook until will incorporated and dough is soft and smooth. This takes 2-3 minutes.
Form dough into 12 equal size balls and then place in a greased 9 x 13 pan and allow to rest for 10 minutes before baking.
Bake for 11-13 minutes at 400 degrees (some ovens may need a couple more minutes) or until golden brown (mine took closer to 13 - you don't want them too doughy in the inside. Check one in the middle to be sure they are done).
Brush the tops with melted butter and serve warm!
Recipe source: slightly adapted from  yourhomebasedmom.com