I don't think I know a single person who doesn't love puppy chow (AKA Muddy Buddies or "trash", whatever you might call it).  And if you happen to be one of those people who doesn't like it, don't even tell me.  I don't want to know that I live in a world with people who don't like this stuff.
Halloween is coming up in a few weeks and I love that it somehow makes it acceptable for me to make treats and sweets all month long.  For instance, this pumpkin spice puppy chow…and pumpkin chocolate chip cookies….and pumpkin cinnamon rolls…..and homemade donuts….yeah, I'm definitely gonna get fat if I keep this up.
This is the first year I've heard of the Pumpkin Spice Hershey's kisses, but apparently they have been around for a few years.  I found mine at my local grocery store but have done my research and see that there are Walmarts that sell them, as well as Target.  They are only seasonal and they are my new favorite Hershey's kisses.  You must try them!
This is great just the way it is, but would even make for a perfect mix with some peanuts, pretzels, candy corn and/or M&Ms with it.  You can really get creative with this.  If you're serving it at a party or the likes and making it ahead of time, I recommend keeping it at room temperature so the sugar doesn't get all "funny".  I made it for a baby shower and everyone loved it!
Now I just have to be careful not to eat this all in one sitting the next time I make it.  These little devils are addicting!  Have a wonderful weekend…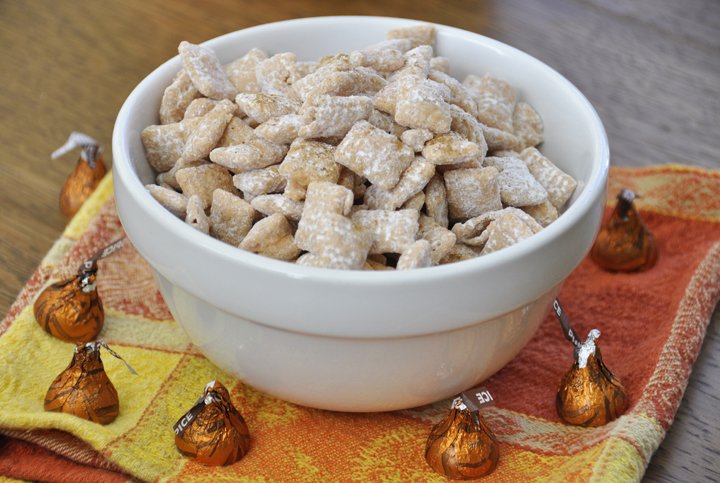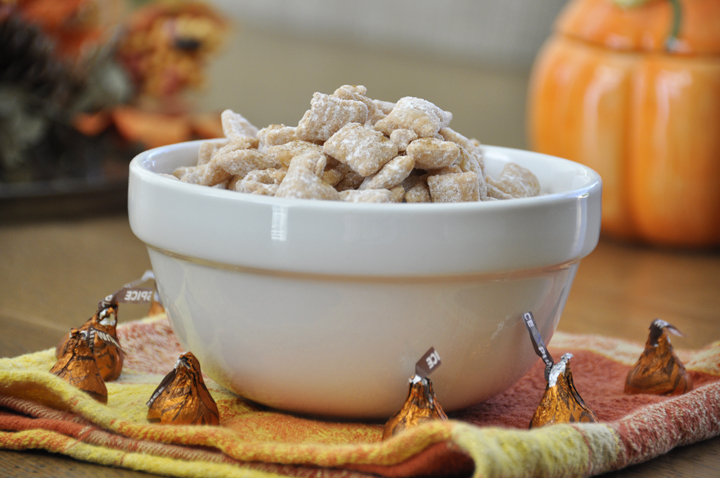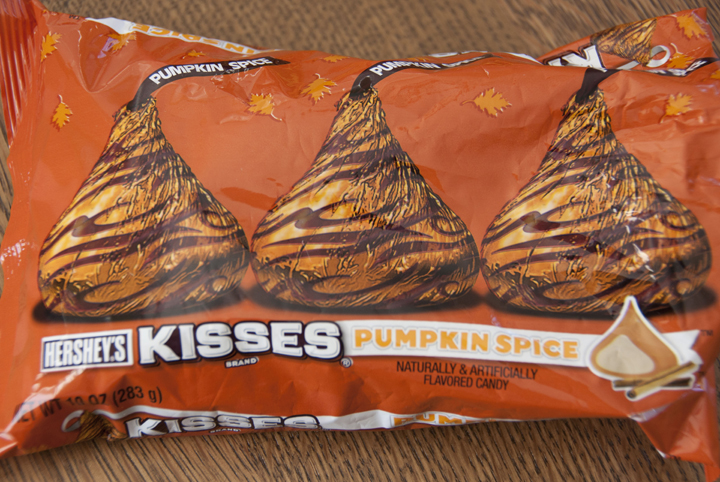 INGREDIENTS:
1 10 oz bag pumpkin spice Hershey's kisses
1 Tbsp shortening
8 cups Rice Chex cereal
1 1/2 cups powdered sugar
1 Tbsp pumpkin pie spice, plus more for sprinkling
DIRECTIONS:
In a gallon size freezer bag, combine the powdered sugar and 1 Tbsp pumpkin pie spice. Set aside. Pour the chex into a large bowl.
In a double boiler, melt the pumpkin spice kisses until smooth and creamy. If the mixture seems too thick, you can add the shortening to thin it out a little (I did this). Pour the melted kisses over the chex cereal and stir until evenly coated. Add the cereal to the bag with the powdered sugar and shake until all of the rice chex are coated. Sprinkle with a little extra pumpkin pie spice before serving.
Recipe source:  adapted from whatmegansmaking.com
- Craving more?
Sign up for the Wishes & Dishes Newsletter
for a fresh serving of content delivered every week to your inbox! And stay in touch on
Facebook
,
Twitter
,
Pinterest
and
Instagram
for all of the latest updates!