Pumpkin Spice Oreo Truffles
Rich and sweet, these cute cream cheese and crushed Pumpkin Spice Oreo truffles or cookie balls covered in white chocolate are the perfect dessert "treat" for Halloween.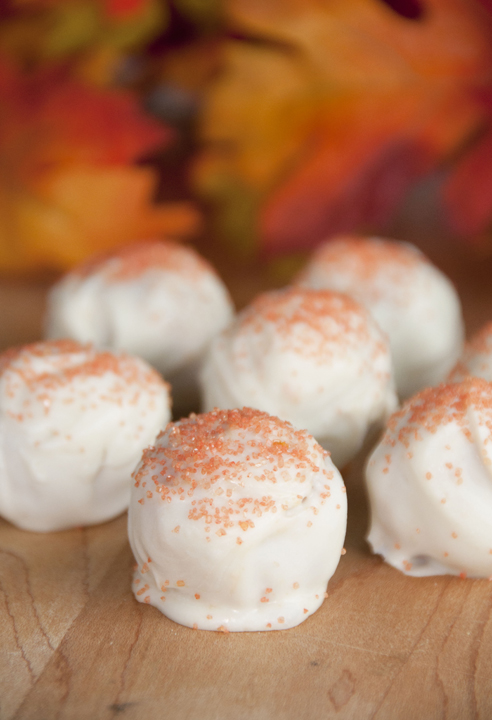 So it is apparent on my blog lately that my mission is to do everything I can to stuff as much pumpkin into my diet as humanly possible.  Then later this week I get to stuff myself full of beef on my trip to Cleveland, Ohio! For now, I'm eating my weight in these pumpkin spice Oreo Truffles.
I got invited to a "Tis the Season" holiday event hosted by Certified Angus Beef company where I will be working with their chefs (one whom used to be the chef to the king and queen of Jordan!) in their Education and Culinary Center creating beef-inspired holiday recipes.  I can't wait!
There's so much I need to learn about cooking beef so this is perfect.  I am really not good at it and hope to come home with a wealth of knowledge on the subject.  It also helps that beef is my favorite meat!  I'm a red meat kinda girl all the way.
Have you tried the official Pumpkin Spice Oreos yet?  I wasn't too sure how I would feel about them, but then again, I never met an Oreo I didn't like.  So, I gave it a shot with these pumpkin spice Oreo Truffles and was pleasantly surprised.  They are amazing!  What better thing to do with Oreos than to turn them into Oreo truffles?
As you can tell, I'm really into making truffles lately (Halloween Mummy Oreo Truffles, Andes Mint Cookie Dough Truffles, Nutter Butter Truffles).  There's really no reason not to be. They are super easy to make and everyone always loves them. These pumpkin spice Oreo Truffles are my favorite dessert and they look pretty, too!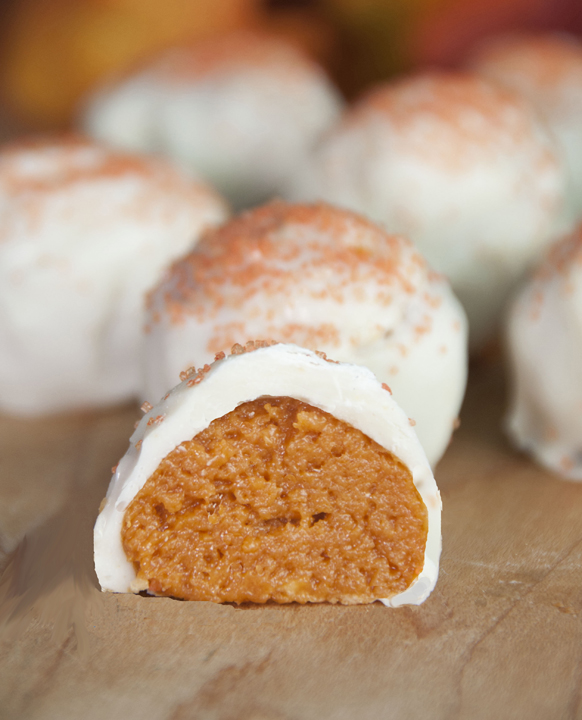 So, try this fun little twist on a on the classic holiday Oreo ball dessert at your fall gatherings – they're sure to be a hit! You will also love my Candy Corn White Chocolate Bark.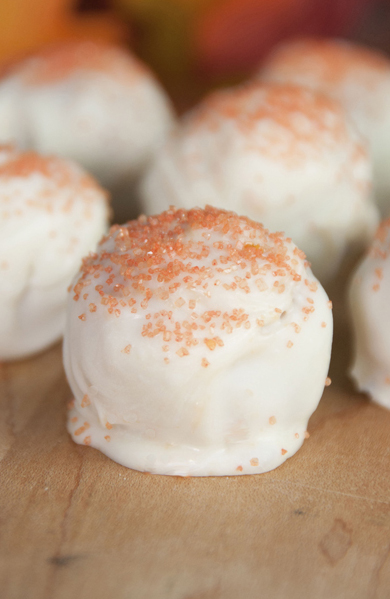 Pumpkin Spice Oreo Truffles
Serves:
around 25 or 30, depending on size
Rich and sweet, these cute cream cheese and crushed Pumpkin Spice Oreo cookie balls are the perfect "treat" for Halloween.
Instructions
Crush the Oreos until finely ground using a food processor or rolling pin. Add softened cream cheese, broken up into chunks; process/mix until well blended.
Chill the dough in the fridge for at least 45 minutes to firm it up and make it easier to roll into balls.
Roll the chilled dough into 1or 1 and ½" balls and set them on wax paper a cookie sheet. Freeze the truffles for another 30 minutes.
Melt white chocolate in the microwave or double broiler (only do 15-30 seconds at a time if using the microwave so as not to scorch it, stirring each time you take the bowl out).
Dip balls in melted white chocolate using a spoon or two forks to coat thoroughly; place on wax paper-covered baking sheet. Sprinkle the sprinkles on top before chocolate hardens, optional.
Refrigerate until firm, about 1 hour.
Store leftover truffles, covered, in refrigerator.