Easy Halloween Mummy Oreo truffles using only three ingredients and mini chocolate chips for eyes!  These are such a simple dessert that kids can help make them.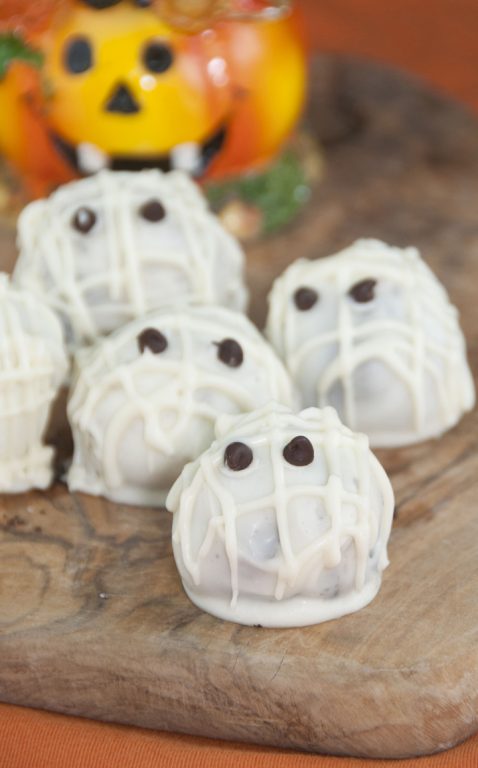 Well, it's week THREE of the Freaky Friday series I'm doing.  I told you two weeks ago to watch out for spooky (not really), scary (again, not really), and scrumptious (yes, really) Halloween Treats here on Wishes and Dishes and that's just what I'm doing with these mummified Oreo balls.  Here are the other two recipes in case you missed them:  Halloween Chex Mix and this Candy Corn White Chocolate Bark.  Both are worth the visit!
The weeks are just flying by and Halloween will be here in no time at all. Now that it's officially October, it seems more logical to post Halloween recipes…September is kind of that in between month where you're not quite sure if it's still summer or if fall has started. Are you ready for Halloween? Well, these truffles will have you more ready in no time.
These are so cute, adorable, fun Oreo truffles and would be perfect for a kids party – whether it be an October birthday or Halloween party!  These are simple enough that kids can even help make them.  No fondant required – just some melted white chocolate!  They would also be perfect and fitting to bring to a Halloween pot-luck at work.  Everyone will love them!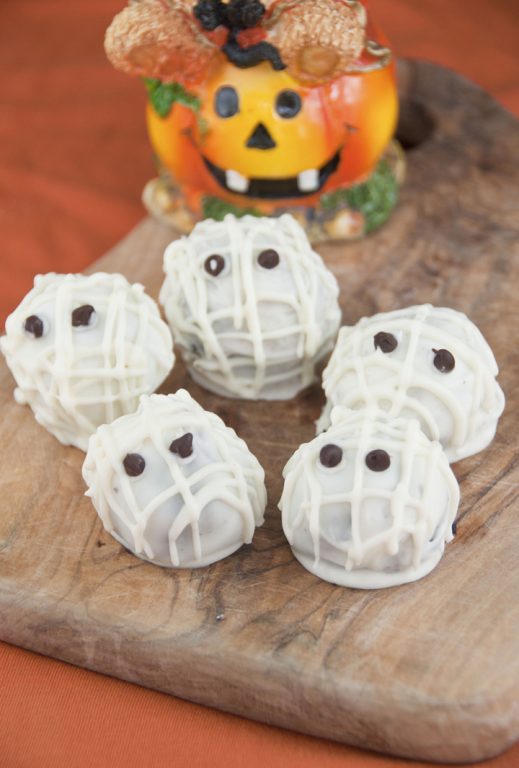 For something as simple as Oreo truffles, and I don't make them that often, I am always blown away by how good they taste.  I think I can honestly say they are one of my favorite desserts of all time.  My mother-in-law, who so conveniently seems to stop by whenever I have tons of dessert blog projects going on in my kitchen ( ha ha), gave these a big thumbs up.  Although, she thought they were ghosts at first 🙁
If you don't celebrate Halloween (I never did growing up) then it would be easy to make these and just leave off the "eyes" and mummy "wraps" 😉  They just need candy eyeballs and the extra chocolate drizzle to make them the holiday version.
Trick-Or-Treat!
Halloween Mummy Oreo Truffles
Serves:
about 3 and a half dozen
Easy Halloween Mummy Oreo truffles using only three ingredients and mini chocolate chips for eyes! These are such a simple dessert that kids can help make them.
Ingredients
1 (16 ounce) package OREO Chocolate Sandwich Cookies
1 (8 ounce) package Cream Cheese, softened (not low fat)
16 ounces of white chocolate candy melts (or vanilla almond bark)
mini chocolate chips, for the eyes
Instructions
Crush Oreos in a food processor (or use a rolling pin).
Add softened cream cheese; process/mix until well blended.
Roll cookie mixture into about 42 balls, about 1-inch in diameter.
Refrigerate balls for about one hour to firm them.
Melt white chocolate in the microwave or double broiler (only do 15-30 seconds at a time if using the microwave so as not to scorch it, stirring each time you take the bowl out).
Dip balls in melted white chocolate using a spoon or two forks to coat thoroughly; place on wax paper-covered baking sheet. Drizzle extra white chocolate to get the "mummy" wrap look (can use a piping bag for this or just a fork or spoon) and place mini chocolate chips for the eyes while the chocolate is still wet so that they stick.
Refrigerate until firm, about 1 hour.
Store leftover truffles, covered, in refrigerator.
- Craving more? Sign up for the Wishes & Dishes Newsletter for a fresh serving of content delivered every week to your inbox! And stay in touch on Facebook , Twitter , Pinterest and Instagram for all of the latest updates!