Candy Corn White Chocolate Bark
Candy Corn White Chocolate Bark that can be made with pretzels, chocolate chips, and candy pressed into melted white chocolate: fun dessert for Halloween!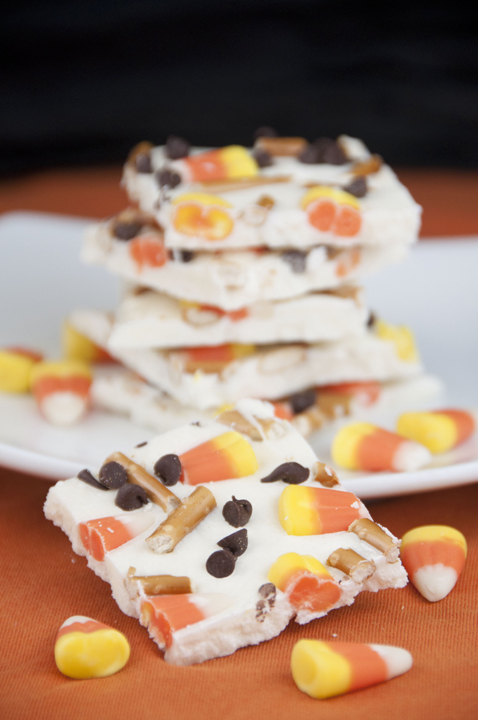 Hello there, white chocolate bark!  It's exactly 6 weeks from today until Halloween and I spontaneously decided to do something a little bit different here on Wishes and Dishes from now until Halloween.
Starting today, I'm going to be doing a series of Halloween recipes where every Friday I will post a festive recipe.  I'm calling it "Freaky Friday"!
The recipes won't necessarily be "freaky" or creepy recipes (like those realistic looking jello worms made in straws – yuck). Alternatively, they will just be something that's Halloween-appropriate and fun projects to make with your kids.
I have no tolerance for even looking at something that slightly resembles worms, spiders, or having to do with anything even remotely scary,so this holiday really isn't my cup of tea.  That being said,  I like to have fun with food and any excuse to do so.  Therefore, let #freakyfriday commence!
This white chocolate bark is easy to make treat and would be great to give out to kids as Halloween gifts in little cellophane bags. These Pumpkin Spice Oreo Truffles are also the cutest idea for your Halloween party dessert table. If you need something to make for a childrens' party, this is also the recipe for you. My Halloween Mummy Oreo Truffles would be a cute addition to your festive party snacks, as well!
I have no kids in my house, but I'm still having fun eating it because I'm a kid at heart.  Candy Corn White Chocolate Bark is appropriate for all ages!  Says me.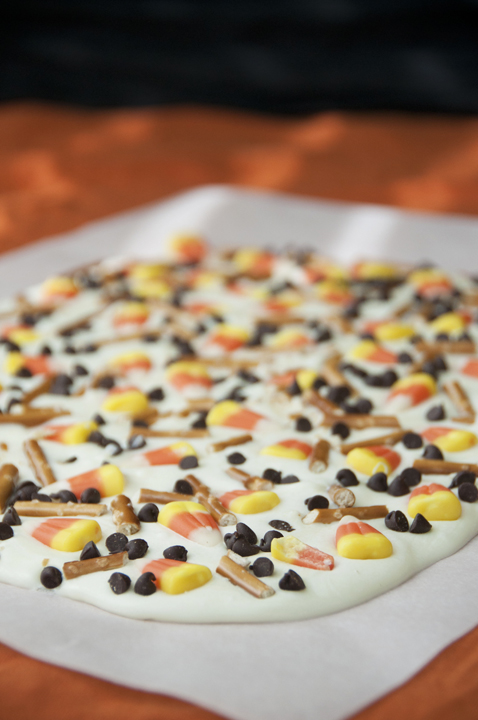 I know that Candy corn is one of those things where you either love it or you hate.  Mr. Wishes tends to dislike it, but I have caught him with his hand in the bark jar more than once (I don't really have a bark jar but thought I would try to be funny).  
Please Note:  I swear that if the process of  melting white chocolate did not exist, then my annual Kitchen Disasters post would be obsolete.  I can't stress enough – do not microwave it longer than 30 seconds at a time!  It will scorch, clump, be virtually unusable  and make you want to cry.  I speak from experience.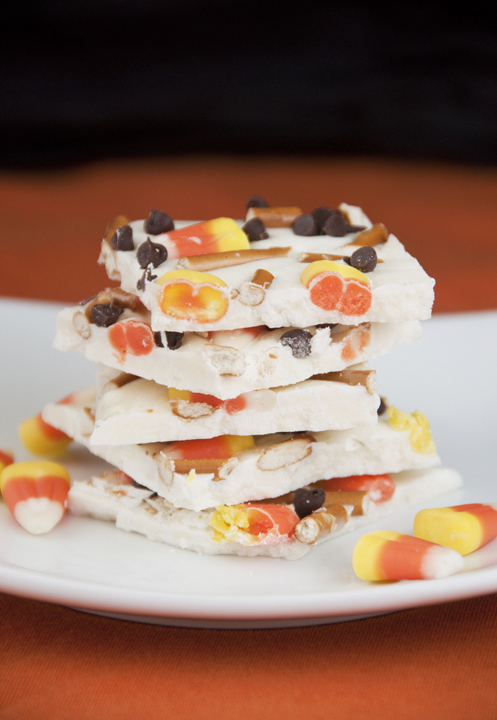 Candy Corn White Chocolate Bark
Serves:
16 pieces or 8-10 servings
Candy Corn White Chocolate Bark that can be made with pretzels, chocolate chips, and any chopped up candy pressed into melted white chocolate: super fun dessert for Halloween!
Ingredients
16 oz white chocolate chips
½ cup candy corn
¼ pretzel sticks, broken up
⅛ cup chocolate chip
Instructions
Melt the chocolate using double boiler or the microwave; melt until completely smooth.
Pour the melted chocolate onto the a non-stick surface (such as a Silpat mat) and use a spatula to spread into a square shape in an even layer (9 to 10-inch square, approximately).
Drop the pretzels, candy corn and mini chocolate chips evenly onto the chocolate and press down gently after all are sprinkled on.
Let sit until set, about a half hour or 45 minutes for chocolate to harden. You can speed this up by sticking it in the fridge or freezer for 15 minutes or so.
Using a sharp knife, cut or break the bark into pieces (even squares or asymmetrically). The bark can be stored in an airtight container in the refrigerator for up to 2 weeks.