Strawberry Lime Margarita Cupcakes
Strawberry Lime Margarita Cupcakes full of lime, a bit of tequila and strawberry icing!  They are the perfect dessert recipe to celebrate Cinco de Mayo or any day of the week.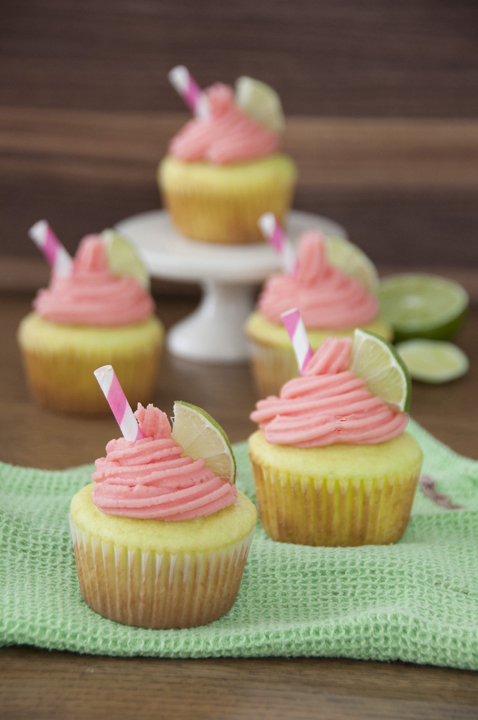 You might be confused in thinking that it's Cinco de Mayo when you saw the title of this post is Strawberry Lime Margarita Cupcakes.  We aren't quite there yet.  I very much wish we were because that would mean no more snow and much warmer weather.
Anyhow, it's actually National Margarita Day!  I teamed up with a group of 14 fabulous bloggers to all post an array of margarita recipes to celebrate and create some margarita madness on the internet.  How fun is that?!
I'm so glad you're here! Follow along on Pinterest for more inspiration! 
You have have seen the sneak peak that I posted on my Instagram page a few days ago.  I created these Strawberry Lime Margarita Cupcakes from scratch when I was trying to come up with a way to use up the lonely limes I had sitting on my counter.
They were just begging to be used in something fun.  The cupcakes themselves are not overly sweet and are very light in flavor with just the right amount of tartness.
I used just a couple of drops of green food coloring to give it that tropical lime tint, and topped them with strawberry icing.  I was excited to find another great use for my Strawberry Buttercream Frosting and I doubled the recipe this time.  I wanted a nice size mound of frosting on each cupcake.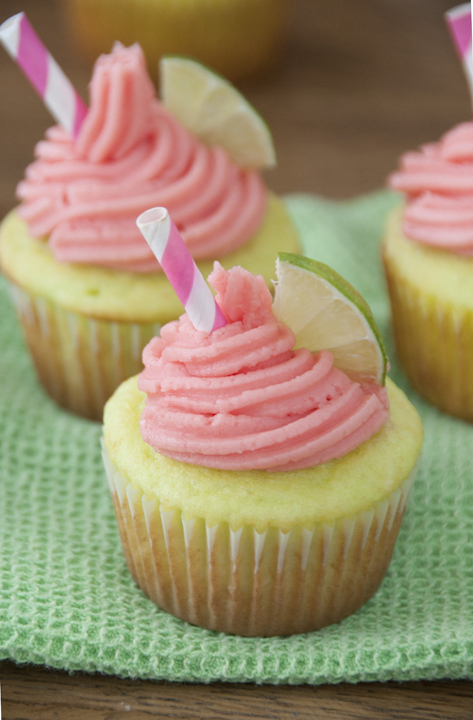 These Strawberry Lime Margarita Cupcakes are perfect to treat a crowd for parties, Cinco de Mayo, spring or summer get-togethers, or any random day.  They tasted like a bit of the tropics in the midst of a very cold, long winter! My Watermelon Cupcakes are another great option.
I know that some people dislike using extra unnecessary food coloring in their baking so you definitely have the option of not using it at all.  The cupcakes don't need to be green to still have that amazing lime flavor.
You can also omit the tequila used in the frosting – it will still taste great.  I tried it both ways.
Make sure you check out all of my Cinco de Mayo recipes. You will be sure to love my pink lemonade margarita! Now please excuse me while I go stuff my face with one of these cupcakes and pretend I'm on a tropical beach somewhere.
Enjoy the Strawberry Lime Margarita Cupcakes and happy Margarita day!

Make sure you watch my "how to" video below for step-by-step instructions on making these cupcakes!
Strawberry Lime Margarita Cupcakes
Prep time:
Cook time:
Total time:
Serves:
about 22-24 cupcakes
Strawberry Lime Margarita Cupcakes full of lime, tequila and strawberry icing. They are the perfect dessert to celebrate any day of the week.
Ingredients
Cupcakes:
3 cups all-purpose flour
1 tablespoon baking powder
½ teaspoon salt
2 sticks (1/2 pound) unsalted butter
2 cups granulated sugar
6 eggs
2 tablespoons lime zest
½ cup milk
green food coloring, a few drops to get a nice lime green color
lime wedges and a cut up paper straw, for garnish
Frosting:
1 cup butter, softened
6 Tablespoons strawberry syrup
1 teaspoon vanilla extract
3.5 cups powdered sugar
2 tablespoons tequila (if you don't do alcohol, use any clear extract or leave it out)
Instructions
Cupcakes:
Preheat the oven to 300 degrees F. Line cupcake pans with cupcake liners. Sift the flour, baking powder and salt together in a bowl and set aside.
In the bowl of electric stand mixer with a paddle attachment, cream the butter and granulated sugar together for about 2 minutes. Then scrape down the bowl and add the eggs one at a time.
After adding all the eggs, scrape down bowl and add the milk, dry ingredients and the lime zest. Mix on low until well incorporated. Scrape down the bowl again and turn up from low speed to medium speed for about 20 seconds, and then scrape down the bowl for the last time. Mix in green food coloring until you reach a nice lime-green color (darker or lighter, to your preference).
Fill the cupcake liners about three-quarters full with batter.
Bake for 20 to 22 minutes, rotating the cupcakes after 12 minutes, and bake until the cupcakes are baked through and a toothpick inserted into the center comes out clean.
Cool the cupcakes completely on a wire rack before frosting.
Frost cupcakes using a piping bag and tip (I used Wilton 1M tip) and garnish, if desired, with lime wedge and/or cut up paper straws.
Frosting:
Place softened butter, strawberry syrup, tequila (if you don't do alcohol, use any clear extract) and vanilla in a large bowl.
Using a mixer, beat on high speed until the mixture is light and fluffy and lumps have disappeared.
Add the powdered sugar and mix on low speed to blend.
Once the sugar has begun to incorporate into the butter, mix on high speed for 1 – 2 minutes until the buttercream is completely smooth. Taste the buttercream to test the strawberry flavor, adding another Tablespoon of strawberry syrup if necessary, for a stronger taste. If the frosting appears a bit too soft, add some additional sugar, one spoonful at a time until desired consistency is reached.
A Wishes and Dishes original recipe