Cruising on the Oasis of the Seas
Cruising on the Oasis of the Seas 
We recently got back from a cruise on the beautiful Royal Caribbean ship, Oasis of the Seas.  What a trip!  Right smack dab in the middle of the harshest and coldest winter that Rochester, New York has seen in many, many years, I had the chance to escape to warmer pastures with tropical temperatures, sunny skies, and white sandy beaches.
This was our fourth voyage on this ship, believe it or not, but this time we brought two good friends of ours who had never been on a cruise before.  This actually made for a whole new fun, different and exciting experience for us as our friends were just as awed as we were our first time we sailed on this ship.  It was thrilling to give them the official tour of the ship and this being our first official cruise as diamond members made it extra special for us.
I have reviewed the Oasis of the Seas in the past here on my blog and you can read all of the basics about this beauty of a ship there, but it's a little bit of a different ship now that it's back from dry dock.  A cruise ship will periodically go to dry dock just as you would service your car regularly to ensure everything is running properly.  During this time, they will get makeovers and refits.  The Oasis of the Seas is now even better than ever.
We were so "wowed" on our first few times on the Oasis that we are never afraid that our experience will be even the least bit disappointing and know we can always set our expectations high.  The ship is truly beautiful – it is a floating city with anything we could ever want right at our disposal. We had an ocean-front balcony cabin on deck 12 and it was spacious, impeccably clean and our cabin steward was kind, friendly and completely focused on making sure we had anything we needed at all times.  You will be treated like royalty by the crew on any of Royal Caribbean's ships – I promise.  The ship has 25 different dining options, 17 decks, five swimming pools, a rock climbing wall, an ice skating rink, a zip-line, a mini-golf course, amazing entertainment and so much more!
The Oasis is a huge ship but still very manageable.  My favorite part of a cruise is the food – it is excellent. Service is always superior in the main dining room and at all of the specialty restaurants.  One of the new features on the Oasis of the Seas is a specialty restaurant called Sabor Taqueria & Tequila Bar, which is located on the Boardwalk and described as a contemporary twist on traditional Mexican food.  Sabor first debuted on the Navigator of the Seas in February 2014.  We knew we had to try it and we were not disappointed.  It is amazing food.  The guacamole (I am a guacamole fanatic) is made right at your table and it was some of the best I have ever had.  Combined with the chips that are very freshly made – I could see the oil on them from the creation process – it really is very tasty.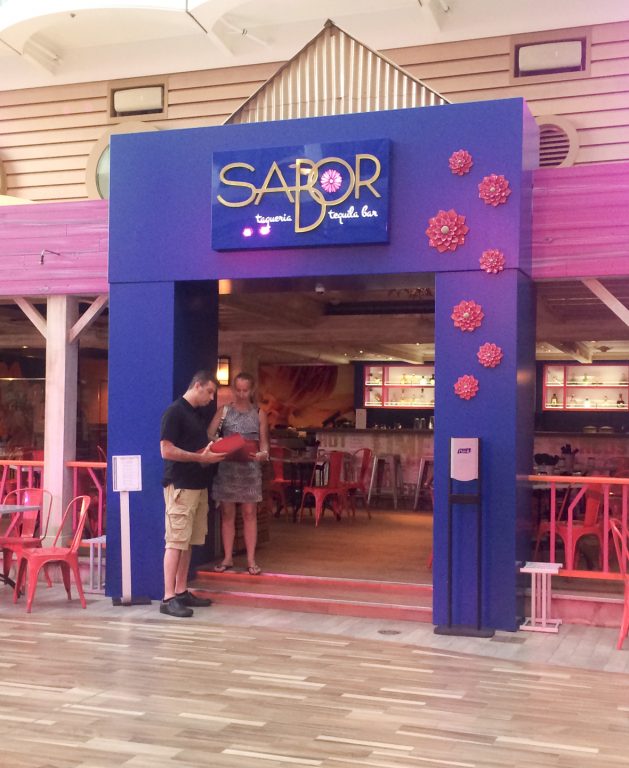 The object of Sabor is to make sure everything you order is made fresh.  There's a large emphasis placed on how fresh the food is and any foodie like myself will tell you that fresh food always tastes the best.  You can really tell the difference in their food.  Sabor also features a number of tequilas and unique signature margaritas that are a must try.
By the time you get to your entrees, there is a good chance you will already be full.  We had to force ourselves to stop eating the guacamole to save room for our main courses.  It is a LOT of food!  Our waiter recommended the chicken and roasted corn empanadas and they were to die for.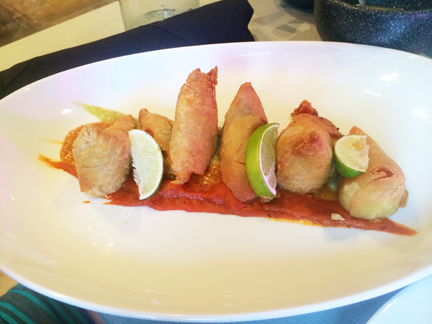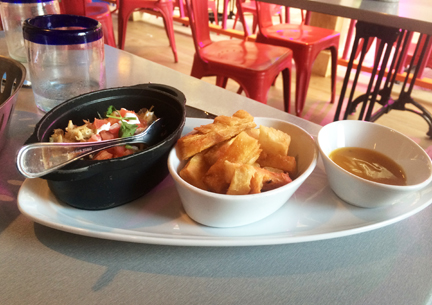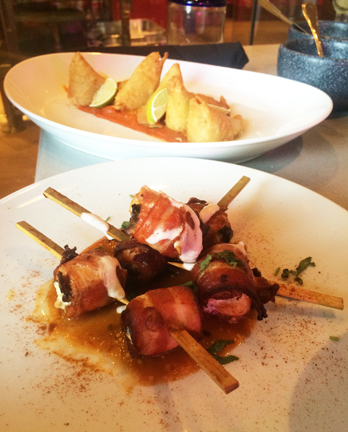 Did I mention dessert? If you manage to save room, each table gets an assortment of desserts to share and each one was better than the last.   I loved the shared dessert idea and the chocolate banana empanadas really stood out to me.  Sabor was honestly the best meal I have ever had on a Royal Caribbean cruise.
Coastal Kitchen is another new restaurant on the Oasis which is only available to suite guests and Pinnacle members. It is a glass-enclosed lounge with high ceilings and a great view of the whole ship and the surrounding waters.  One of these days I will have to try it if we ever splurge for a suite on the ship!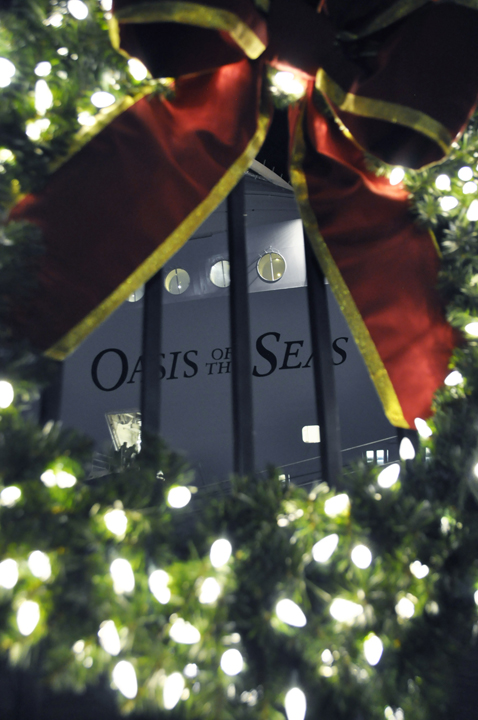 The other major change on the ship was their main show: Andrew Lloyd Weber's Broadway musical "CATS".  CATS replaced Hairspray on the ship. CATS was one of the longest running productions on Broadway and is the winner of numerous awards including seven Tony awards, two Oliviers and a Grammy.  The performance of the actors was excellent.  The singing was incredible and the set was impressive.  I wasn't totally crazy about this particular show in general, but they did a great job with it. We saw "Hairspray" on our last sailing which was light and funny and more my cup of tea.  CATS is neither of these, but I'm sure many people enjoy it even though it's not really my taste. The rest of the shows on the ship were also phenomenal and they set the bar really high for other cruise ships with their top quality entertainment.
Being VIP on the ship, I had the opportunity to go "behind the scenes" and tour the kitchen.  The Oasis of the Seas features the largest dining room at sea, and one of the largest in the entire world, capable of seating over 3,000 guests at one time. This gorgeous Opus Dining Room spans decks 3-5 with a large opening in the middle.  I only saw one floor of the kitchen and could not believe how huge it is!  It was so cool to see everyone in action and all of the chefs were very friendly and willing to answer questions.  I felt very fortunate to get this exclusive tour!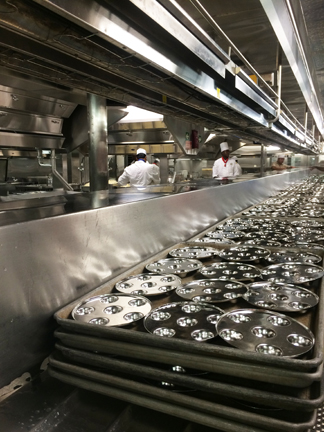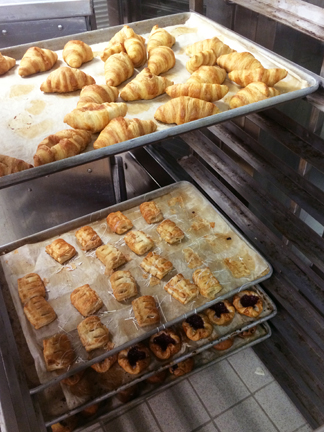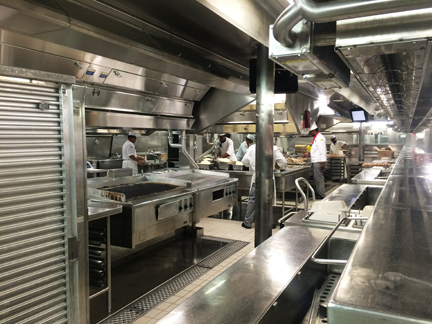 I highly recommend cruising on this ship and I believe a true cruiser should at least try the Oasis of the Seas or the Allure of the Seas (the sister ship of the Oasis) one time.  You will be hooked!