Strawberry Lime Margarita Cupcakes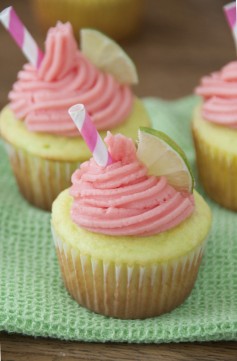 Serves:
about 22-24 cupcakes
Cupcakes:
3 cups all-purpose flour
1 tablespoon baking powder
½ teaspoon salt
2 sticks (1/2 pound) unsalted butter
2 cups granulated sugar
6 eggs
2 tablespoons lime zest
½ cup milk
green food coloring, a few drops to get a nice lime green color
lime wedges and a cut up paper straw, for garnish
Frosting:
1 cup butter, softened
6 Tablespoons strawberry syrup
1 teaspoon vanilla extract
3.5 cups powdered sugar
2 tablespoons tequila (if you don't do alcohol, use any clear extract or leave it out)
Cupcakes:
Preheat the oven to 300 degrees F. Line cupcake pans with cupcake liners. Sift the flour, baking powder and salt together in a bowl and set aside.
In the bowl of electric stand mixer with a paddle attachment, cream the butter and granulated sugar together for about 2 minutes. Then scrape down the bowl and add the eggs one at a time.
After adding all the eggs, scrape down bowl and add the milk, dry ingredients and the lime zest. Mix on low until well incorporated. Scrape down the bowl again and turn up from low speed to medium speed for about 20 seconds, and then scrape down the bowl for the last time. Mix in green food coloring until you reach a nice lime-green color (darker or lighter, to your preference).
Fill the cupcake liners about three-quarters full with batter.
Bake for 20 to 22 minutes, rotating the cupcakes after 12 minutes, and bake until the cupcakes are baked through and a toothpick inserted into the center comes out clean.
Cool the cupcakes completely on a wire rack before frosting.
Frost cupcakes using a piping bag and tip (I used Wilton 1M tip) and garnish, if desired, with lime wedge and/or cut up paper straws.
Frosting:
Place softened butter, strawberry syrup, tequila (if you don't do alcohol, use any clear extract) and vanilla in a large bowl.
Using a mixer, beat on high speed until the mixture is light and fluffy and lumps have disappeared.
Add the powdered sugar and mix on low speed to blend.
Once the sugar has begun to incorporate into the butter, mix on high speed for 1 – 2 minutes until the buttercream is completely smooth. Taste the buttercream to test the strawberry flavor, adding another Tablespoon of strawberry syrup if necessary, for a stronger taste. If the frosting appears a bit too soft, add some additional sugar, one spoonful at a time until desired consistency is reached.
Recipe by
Wishes and Dishes
at https://wishesndishes.com/strawberry-lime-margarita-cupcakes/