Vanilla Cupcakes with Fruity Pebbles Buttercream Frosting
A simple vanilla cupcake recipe topped with Fruity Pebbles Buttercream Frosting perfect for St. Patrick's Day dessert.  These are not overly sweet and kids would love them!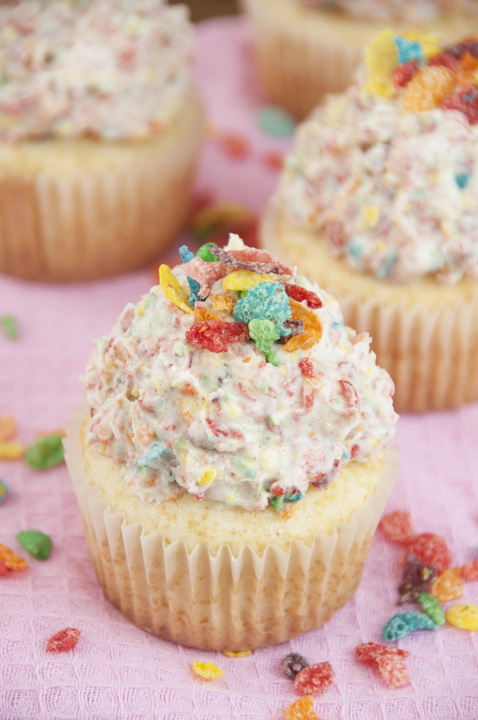 Cupcakes are all the rage these days, don't you agree?  These strawberry lime margarita cupcakes were a huge hit a few weeks ago so I'm delivering again, but this time with a St. Patrick's day dessert idea!  Just looking at thee photos of these Vanilla Cupcakes with Fruity Pebbles Buttercream Frosting makes me happy because of all the colors.
I know I'm a dork, but it's true.  Bright colors make me think of spring and thinking of spring makes me super excited.  The only thing that would make me more excited right now would be if I still had one of these cupcakes around to devour right now.
These beauties would be perfect at a kid's birthday party or your St. Patrick's day party.  Everyone goes green on that day, but rainbow is also very encouraged.  Bonus: these are great fun to make!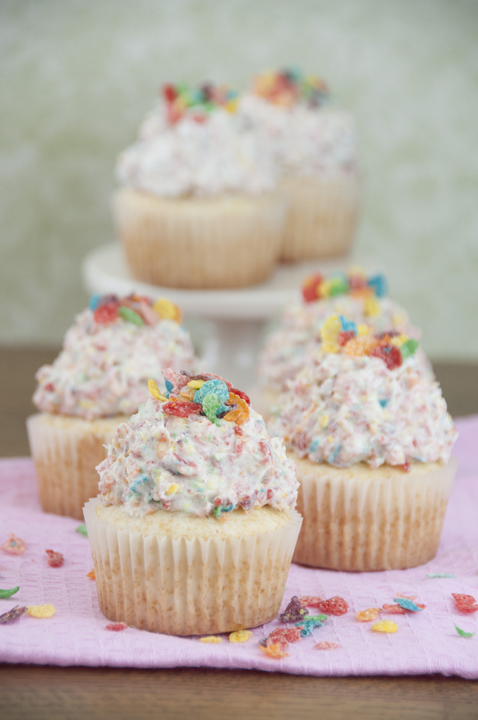 I loved this buttercream frosting. It works great for spreading on cakes, cupcakes, and/or for decorating.  You can pipe this frosting creatively onto the cupcakes, but I actually found it easier to just use a cookie scoop to "plop" it on. 
I had originally planned to pipe the frosting on, but found the tiny pieces of Fruity Pebbles kept clogging up the piping tip.  Lesson learned! #foodbloggerproblems

  Some frosting recipes will call for shortening and this one does just that.  I find it helps to stabilize the frosting a little bit, but feel free to use all butter if that is what you prefer. The taste of this buttercream frosting is worth every calorie!
Dive back into your childhood and bring back the wonderful memories of eating Fruity Pebbles…but this time on cupcakes!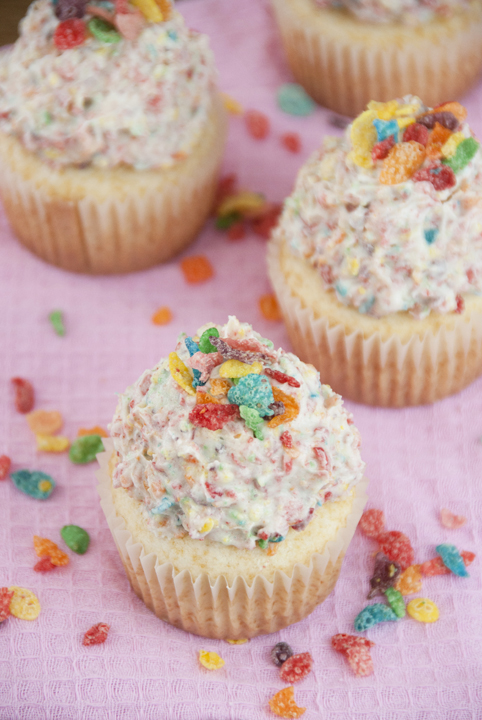 Vanilla Cupcakes with Fruity Pebbles Buttercream Frosting
Prep time:
Cook time:
Total time:
A simple vanilla cupcake recipe topped with Fruity Pebbles Buttercream Frosting perfect for St. Patrick's Day dessert. Kids will love these!
Ingredients
Cupcakes:
1½ cups all-purpose flour
1 cup granulated sugar
1½ teaspoons baking powder
½ teaspoon fine grain salt
8 tablespoons unsalted butter (1 stick), room temperature
½ cup sour cream
1 large egg , room temperature
2 large egg yolks , room temperature
1½ teaspoons vanilla extract
Frosting:
1 cup finely crushed/powdered Fruity Pebbles (measured after crushing)
¾ cup butter, room temperature
¼ cup vegetable shortening
2 cups powdered sugar
2 Tablespoons heavy cream
1 teaspoon vanilla
Instructions
Cupcakes:
Adjust oven rack to middle position; heat oven to 350 degrees F. Line standard muffin/cupcake tin with paper or foil liners.
Whisk together flour, sugar, baking powder, and salt in bowl of mixer fitted with paddle attachment. Add butter, sour cream, egg and egg yolks, and vanilla; beat at medium speed until smooth and satiny, about 30 seconds. Scrape down sides of bowl with rubber spatula and mix by hand until smooth and no flour pockets remain.
Divide batter evenly (about ½ to ¾ full) among cups of prepared tin. Bake until cupcake tops are pale gold and toothpick or skewer inserted into center comes out clean, 20 to 24 minutes. Remove the cupcakes from tin and transfer to wire rack; cool cupcakes to room temperature before frosting.
Frosting:
With your mixer, cream your butter and shortening together until smooth.
On low speed slowly add in your powdered sugar, when incorporated, add your heavy cream and vanilla and turn speed up to medium and beat until smooth and fluffy. This takes a couple of minutes.
Turn back to low speed and add in your crushed Fruity Pebbles cereal and mix until incorporated.
Use a cookie scoop or ice cream scoop and scoop onto completely cooled cupcakes. You can also pipe on the frosting, but this could be hard to do because of the cereal pieces in the frosting. Top with some extra whole Fruity Pebbles pieces, if desired.
*If not using frosting immediately store in an airtight container at room temperature for up to 4 hours or refrigerate for up to a week. Bring to room temperature before using.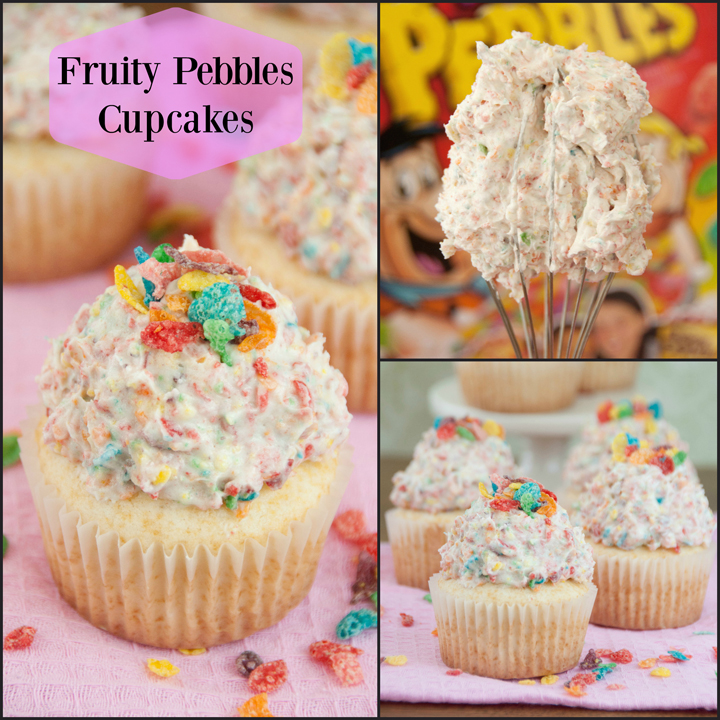 Recipe source:  cupcakes adapted from Cook's Illustrated, frosting was my original idea but after some research, saw a similar frosting had been done on Cookies and Cups website to frost macarons.