Pumpkin Ice Cream Pie with Gingersnap Crust
Pumpkin Ice Cream Pie with Gingersnap Crust will be a hit at your holiday dessert table this year for something unique and different!
As you all know, I live in western New York and of course, like everyone who lives here, I mourn the end of summer because I know what's to come – months of very, very cold weather and a thousand feet of snow.  We all dislike it but we have to face the facts year after year when our precious summer months come to an end.  On the bright side, fall desserts and ice cream flavors are something to get excited about this time of year and can maybe make you miss summer just a teeny tiny ounce less….maybe?
One of those recently discovered ice cream flavors is Perry's pumpkin pie ice cream which was sent to my house straight from Perry's on dry ice!  Ice cream… delivered straight to my door – a dream came true for me that day 🙂  How on earth did I get so lucky, you ask?  Well, I will have to share with you my exciting news:  Perry's recently sent me an invitation to join their Inside Scooper's program.  This entitles me to early access of their brand new flavors and so much more!  Perry's is one of the largest ice cream producers in New York State and has always been a favorite of mine since I was a little girl.  If you live or have ever lived in Western New York… or even if you currently live anywhere near a Wegmans store, you definitely are no stranger to Perry's flavors.  It is also served at a lot of my favorite local ice cream stores.  Perry's is very popular around these parts, as you can see.
I tried to come up with something fun to make with the ice cream I received and I made this Pumpkin Ice Cream Pie.  I decided to make an ice cream cake but in a pie shape.  For the crust, I thought what goes better with pumpkin flavor than a gingersnap crust?  I also topped the pie with homemade caramel sauce.  I would highly recommend adding this on top and not leaving it out!  It adds so much flavor.  You can buy store-bought caramel sauce instead of making it to save yourself time.  Pumpkin ice cream + gingersnap crust + caramel topping = a perfect fall dessert.

MY LATEST VIDEOS
Keep an eye out for pumpkin pie ice cream next time you go grocery shopping and make this Pumpkin Ice Cream Pie with Gingersnap Crust !  It includes swirls of whipped cream throughout and chunks of delicious pie crust pieces.  To die for!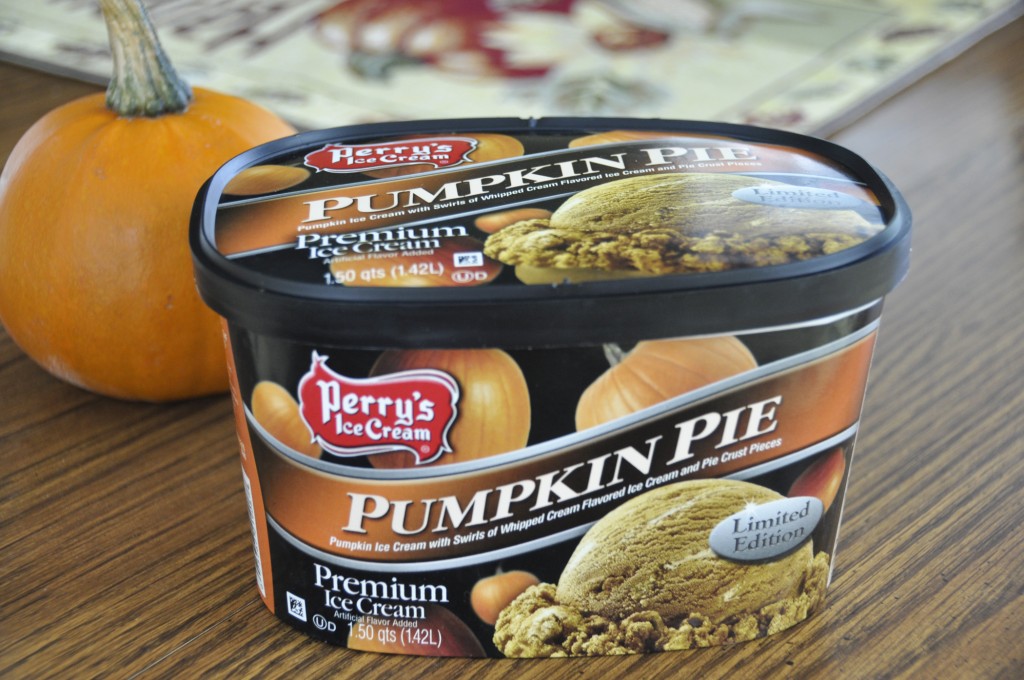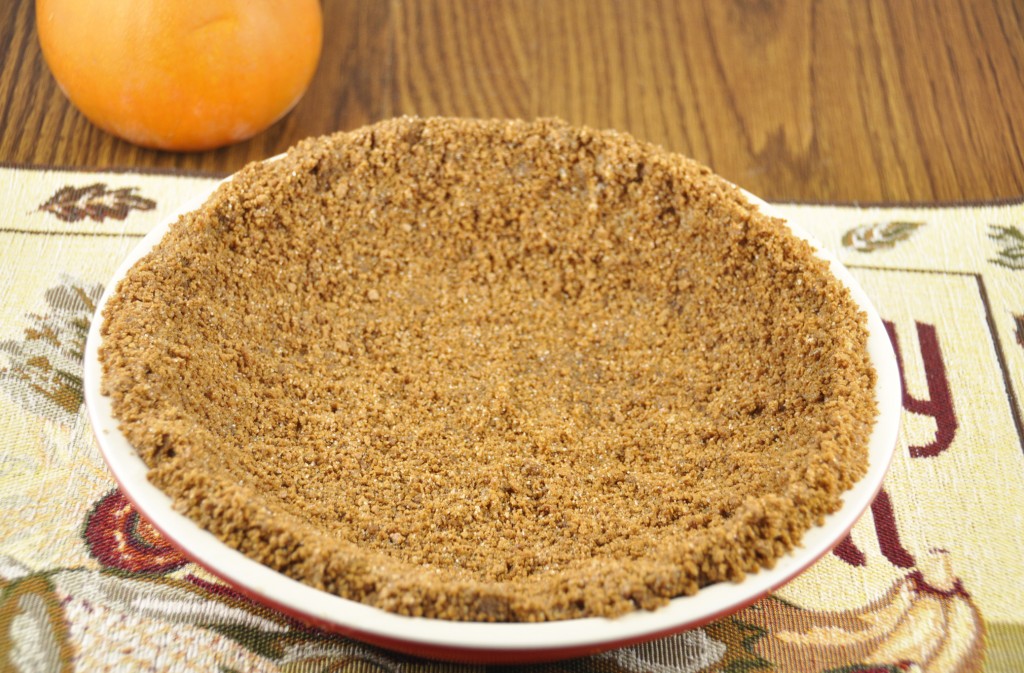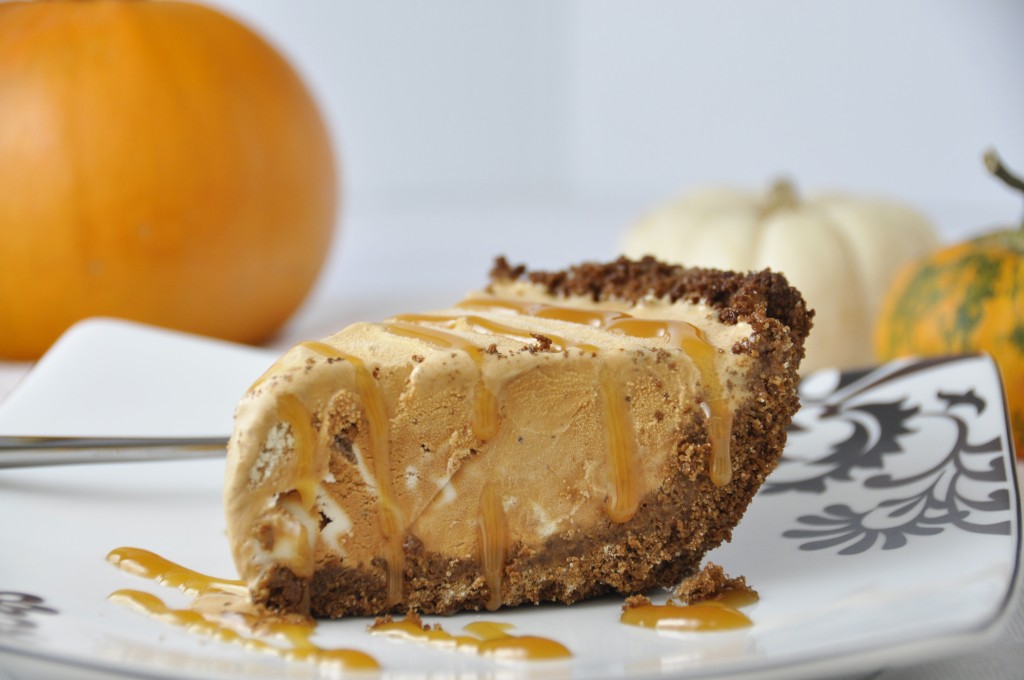 Happy ice cream eating!
Pumpkin Ice Cream Pie with Gingersnap Crust
Pumpkin Ice Cream Pie with Gingersnap Crust will be a hit at your holiday dessert table this year for something unique and different!
Ingredients
Perry's Pumpkin Pie Premium Ice Cream, 1.5 qt
(if you can't get Perry's brand where you live, use any pumpkin-flavored ice cream you can find!)
Pie Crust:
2 cups gingersnap cookie crumbs (I crushed Gingersnap cookies in a food processor)
⅓ cup sugar
¼ teaspoon ground ginger
6 tablespoons butter, melted
Caramel Sauce:
4 Tablespoons Butter
1 cup Brown Sugar, Packed
½ cup Half-and-half
Pinch Of Salt
1 Tablespoon Vanilla
Instructions
Pie Crust:
Mix the gingersnap crumbs, sugar, ginger and butter in a bowl. Press the mixture into the bottom of a pie plate. Bake in a preheated 350F oven until lightly golden brown, about 8-15 minutes.
Let ice cream soften on the counter and scoop into the pie shell. Smooth the top with a spatula and freeze.
Caramel Sauce:
Mix butter, brown sugar, half & half, and salt in a saucepan over medium low heat. Cook while whisking gently for 5 to 7 minutes, until thicker. Add vanilla and cook another minute to thicken further. Turn off heat and pour sauce into a jar. Refrigerate until cold.
Pour caramel sauce in a zig-zag pattern over individual slices of pie when you serve them!