Ice Cream Oreo Truffles
Ice cream….it's what's for winter.
Let's take a moment to defy the notion that ice cream is a treat best served on those long, hot summer days and enjoy it now in the snow and ice-cold temperatures (but eat it indoors, of course).  Perry's ice cream is gearing up for the upcoming holiday with two new Christmas-themed flavors:  White Christmas and Peppermint Stick.  White Christmas is a combination of mint and white chocolate ice cream with red and green mint flakes throughout.  Peppermint stick is pretty pink peppermint ice cream with red and green peppermint candies.  It basically tastes like a big bowl of candy cane goodness!  As I mentioned in earlier posts, I'm one of Perry's "Inside Scoopers" and had these new premium flavors specially delivered right to my doorstep last week.  Lucky me!
Last weekend I had my mom and some out-of-town guests over for lunch.  Two of those guests were my brother and sister-in-law who came in from Syracuse and are no strangers to Perry's ice cream.   My aunt Dawn was here all the way from Oregon and came by for lunch and to get the grand tour of our new house.  She also if from Rochester and is very familiar with Perry's.  I decided to make the dessert portion of our lunch date into a little Winter Ice Cream Extravaganza and give everyone a bowl with scoops of each flavor ice cream to sample and then have them pick their favorite.  Everyone was in agreement that they preferred the Peppermint Stick.  I was actually surprised by this!  It must have been the pretty pink color 🙂  I was the only one who preferred the White Christmas flavor.   It's OK, I am used to being the oddball of the group.   Also, my aunt Dawn made a good point in saying that these ice creams would definitely appeal a lot to children because of the colors and candy bits.  It's true that kids (and me) seem to love bright colors and candy chunks mixed into their ice cream.   I'm not usually a minty kind of girl, but if you are one (or a minty kind of boy if you're a guy hahaha) you will love both of these flavors!  I definitely enjoyed them both.
So beyond the taste test I had with my family members, I decided to do something creative with the remainder of the ice cream.  I know that Oreo truffles are big around the holidays, so I decided to make ice cream truffles rolled in Oreo crumbs and Gingersnap crumbs.  They were so easy and a fun way to enjoy the Christmas flavors!
Give these flavors a try and let me know what you think.  They'd make a great conversation piece for Christmas parties and gatherings, too…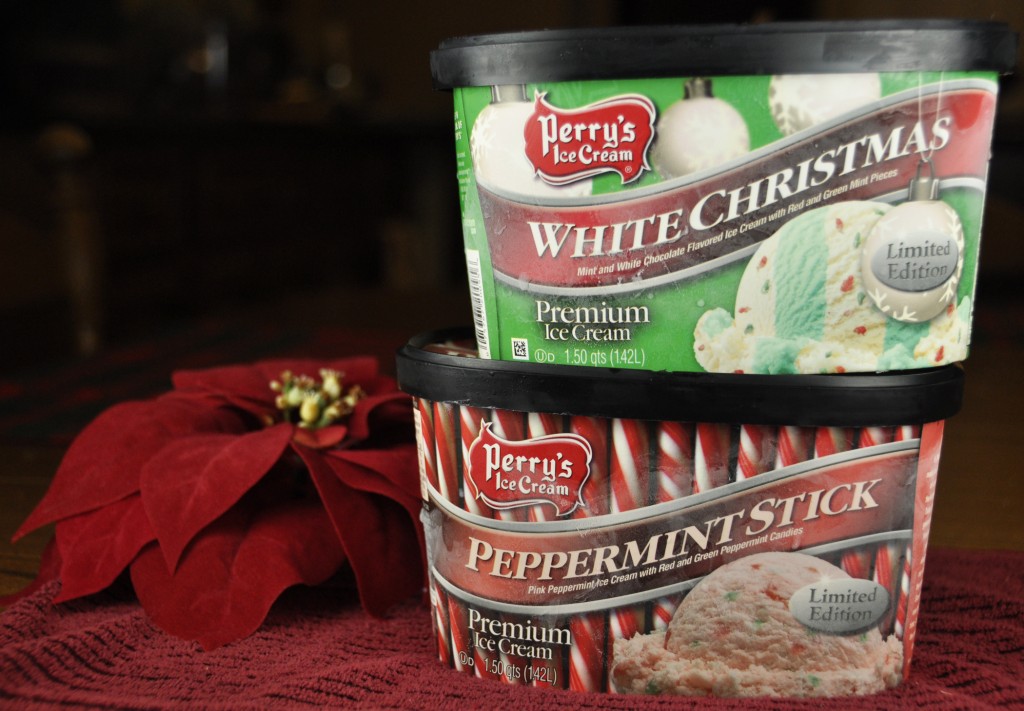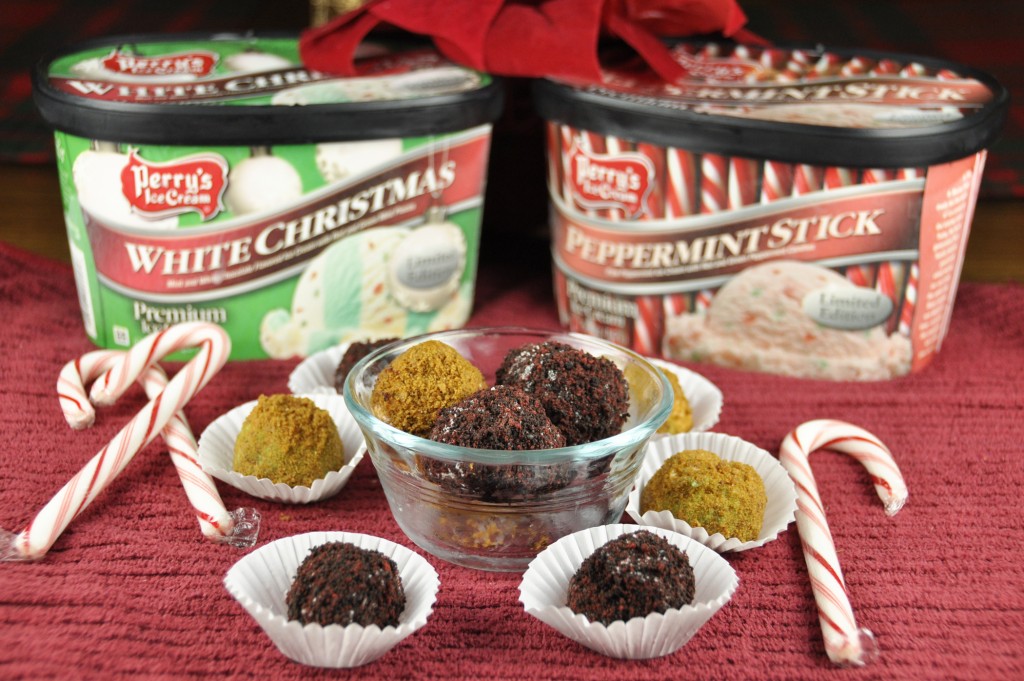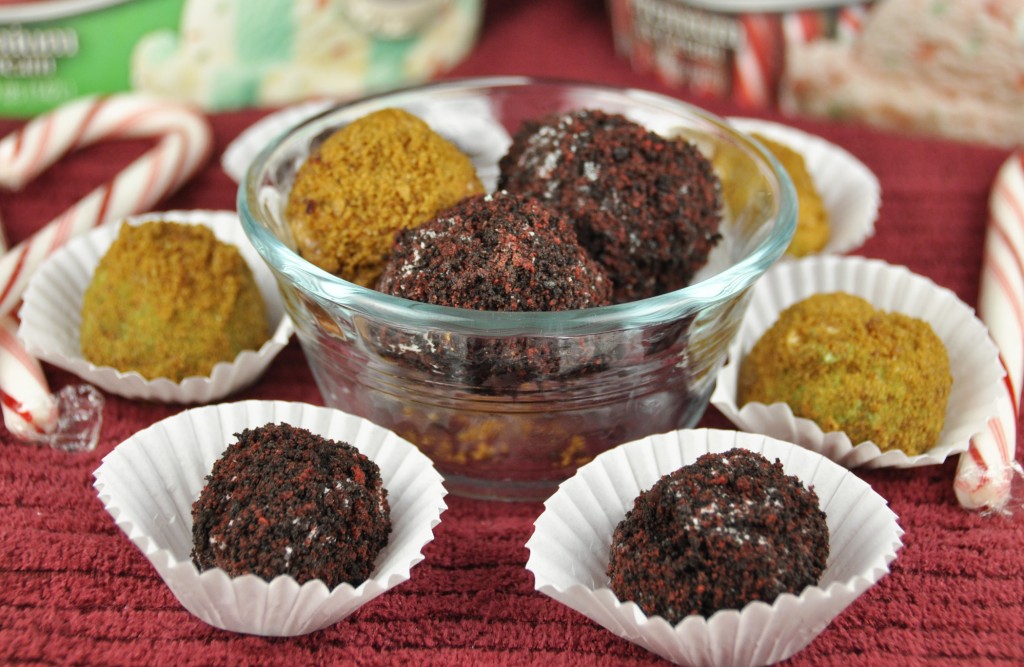 INGREDIENTS:
Perry's White Christmas or Peppermint Stick ice cream (or any flavor will do)
I box of Oreos, crushed (I used the Winter Oreos to get the nice red color from the frosting)
Gingersnap cookies, crushed (optional)
DIRECTIONS:
Line 2 small baking sheets with parchment paper or foil. Freeze for 10 minutes. Remove 1 sheet.
Crush the Oreos in food processor.  If also using Gingersnaps, crush them in food processor, separately from the Oreos.
Making sure the ice cream is nice and frozen, take out of the freezer, and use a small cookie scoop or melon ball scoop to form ice cream into one inch balls and place on a foil-lined baking sheet.  Freeze balls again for at least 20 minutes once scooped.
Roll in Oreo crumbs and/or Gingersnap crumbs.  You may have to use your hands a little to press the crumbs onto the ice cream balls.
Freeze again and then enjoy!