Breville Sous Chef Food Processor (Review)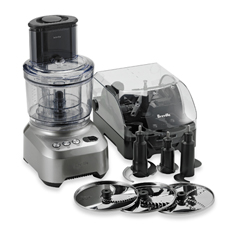 Last year, I won a Breville Sous Chef food processor in a contest on Brown Eyed Baker's website.  I was SUPER excited since I had been pining for a food processor for the longest time.  There are just certain kitchen tasks that really require having one.  It really makes my life so much easier.  This particular food processor is top-rated with Consumer Reports and Cooks Illustrated!
This is a beautiful machine, being a sleek silver and black color.  It goes perfectly in my kitchen as I have stainless steel appliances and black granite countertops. The Breville Sous Chef is a powerful food processor with a huge 16-cup bowl.  It has a 1200 watt motor, a size found in many restaurant food processors (for this reason, it is a very heavy machine).  It is very easy to use and extremely easy to clean, as well (no tiny crevices).  It processes food in seconds and it is so quiet you don't even realize it is working. It is fast, efficient and a lot of fun to use. I will take advantage of any excuse to use it because I love it so much!
It comes with a lot of accessories: three blades (micro-serrated S blade, dough blade and mini processing blade), 5 discs (adjustable slicing disc, shredding and grating disc, julienne disc, emulsifying disc and french fry and vegetable stick disc), a mini bowl for smaller jobs, a disc spindle, small brush and spatula, instruction booklet (with a few recipes in it) and a very high quality storage container.  You will love this storage container…I know I was very impressed! This container keeps the blades and discs together and organized in a safe place.
Breville has included several safety features in their machine.  It will not turn on if the bowl, lid, and large shoot pusher are not in place.  They also  have a finger hole on the plug to help you remove it safely from the outlet.  The cord is also retractable for storage. The instructions frequently remind you to be careful with the blades and slicing discs and recommend washing ALL the parts by hand and not leaving them in water to soak.  A brush and spatula are included to help scrape down the sides or get food out safely.
The unit has three button controls; Power Off, Start/Pause and Pulse. It also has an LCD display with a count up or count down timer.  This very handy LCD timer allows you to set how long you want the blade to process.  That means you can multitask while the machine is running and this prevents the blade from pulverizing the food because you had walked away to do something else. Pretty cool!
This machine allows you to chop, grate, and slice much faster which saves you precious time that otherwise would have been spent chopping and grating.  You can slice mushrooms, chop nuts, shred fruits or vegetables, and grate/shred cheese.  Some things I've made so far with my food processor are:  Peanut Butter Banana Milkshake, Maple Almond Butter, Carrot Cake (shredded the carrots), Shamrock Shake and Gingersnap Pie Crust, – just to name a few!
The only complaint I've read from people on different websites is that it is difficult to make dough with this machine, although I personally have never tried.  Supposedly, it overworks the dough…….but who can complain about too much power when it comes to a food processor?  I think it would be great if this machine came with a dough hook to alleviate this one issue that some others have reported.  For me, it makes no difference since I use my Kitchenaid mixer with the dough hook whenever I work with dough.
This is a very nice, beautiful, sturdy machine that is made very well.  It also is a lot easier to use than I expected.  It is not inexpensive, but if you are leaving it out on the counter and using it often for slicing, shredding, and chopping, I highly recommend investing in this unit.  I definitely think it is well worth the price.  I am continuing to discover new ways to prepare different foods and really enjoy using my new kitchen friend 🙂  A few places I know of where you can purchase the same model or other Breville products are Breville's website, Bed, Bath and Beyond, and Amazon.
My hubby and I are looking into also buying a juicer.  Since Breville seems to have such a good reputation and good products, we are looking into maybe buying one of their juicers.  If anyone has any recommendations for a great juicer, let me know!
For those interested in the dimensions of the machine, here are my measurements:
Height with bowls, no lid = 12.5″
Height with bowls and lid = 17.5″
Front to back: 11″
Side to side: 8″
Weight" 19 lbs (this is a beast!)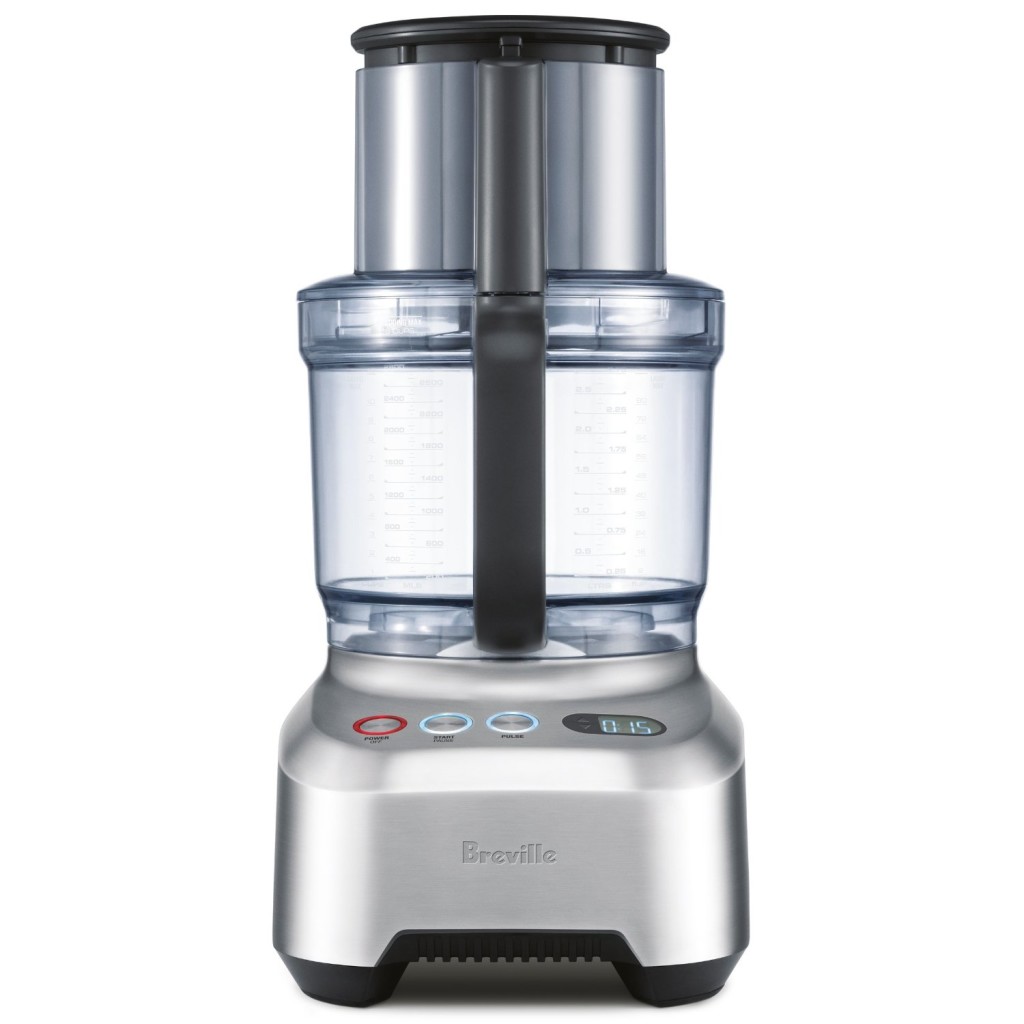 Disclaimer: This is my own personal opinion that I am sharing for others and I have not been compensated in any way to write a review about this product.