Hot Corn and Cheese Dip
Hot Corn and Cheese Dip is so easy to make and everyone will ask you for the recipe when you take it to parties or potlucks! Great for a game day snack!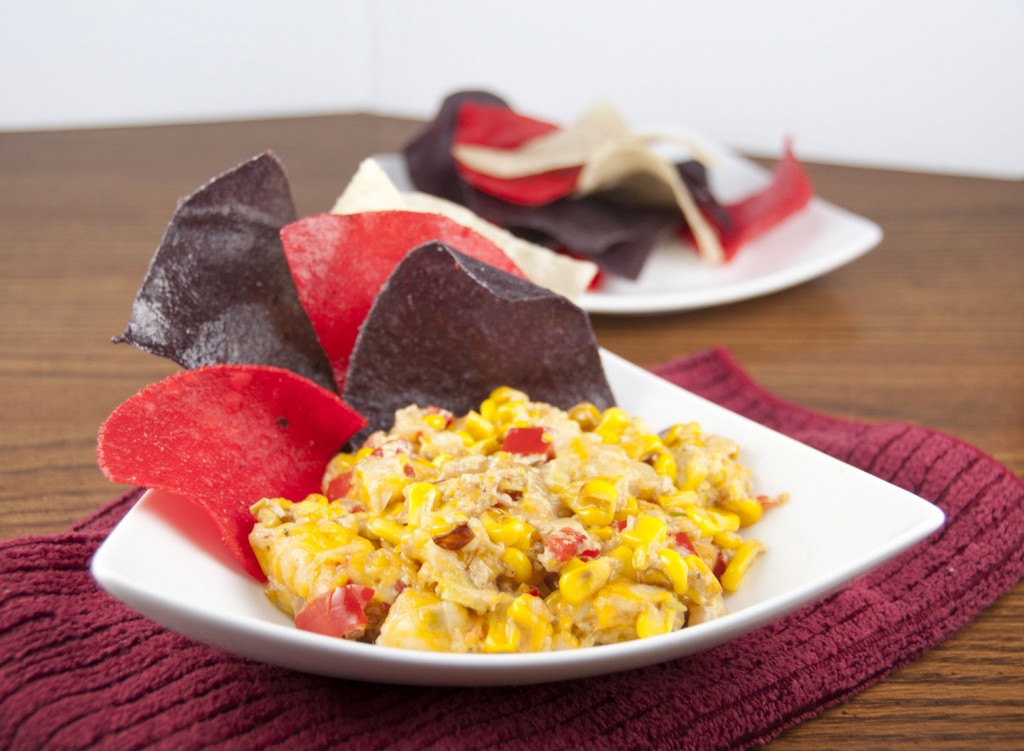 I'm borderline obsessed with chips and dip and I have a love for this Hot Corn and Cheese Dip.  I love hot dips especially, each and every one, and I have been known to make meals out of chips and dip on occasion.  I have a thing for "game day" snack foods even though I don't watch any games.  Go figure. Well, baseball is the exception….but pig-out sessions are usually associated more with football games.  Instead of football, I have been known to throw "Revenge" parties on Sundays.  Yes, Revenge parties….you did hear me right.  If you don't know what Revenge is please get with the program.  Just teasing, but really – it's the best show on TV right now.  Fact.  These particular parties are parties of two but that's OK.  Mr. Wishes and I count down the days to the one hour a week that our show comes on and we are not ashamed.
Definitely give this Hot Corn and Cheese Dip a try – it's a little bit of work (not just a dump and mix kind of dip) but it's well worth every minute of "slaving".  If you think about it, it can even be deemed as healthy because there's nothing really bad in it for you.  Well, let's pretend cheese is all healthy for you.  I'd like to think all the veggies in this dip cancel out the fattening cheese.  I even substituted the mayonnaise with Greek yogurt which is healthy for you and super high in protein.  There ya have it!  A healthy game day (or Revenge day) dip to pig out on free of guilt.  Mr. Hard-To-Please Wishes has been requesting I make this again ever since he first experienced it. If you love corn, you should also try my Old-Fashioned Creamed Corn Casserole!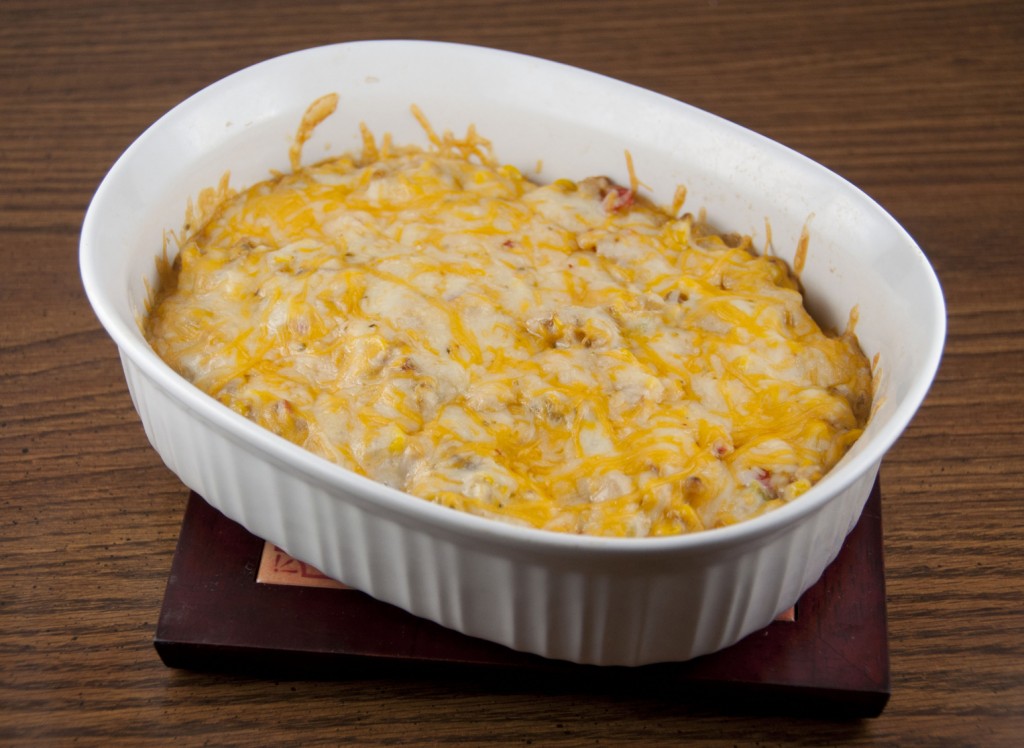 Hot Corn and Cheese Dip
Ingredients
2 tablespoons unsalted butter, divided
3½ cups corn kernels (from about 4 ears of fresh corn, or 16 ounces frozen corn, thawed, drained and patted dry)
½ teaspoon salt
Pinch ground black pepper
1 cup finely chopped yellow onion (about 1 small to medium onion)
½ cup finely chopped red bell pepper (about ½ a pepper)
¼ cup finely chopped green onions (about 1 bunch)
1 jalapeño, seeded and minced
2 cloves garlic, minced
½ cup mayonnaise (I substituted Greek yogurt)
Pinch cayenne pepper
4 ounces sharp cheddar cheese, divided
4 ounces Monterey Jack cheese, divided
Tortilla chips, for dipping
Instructions
Preheat the oven to 400 degrees F.
Melt 1 tablespoon of the butter in a large heavy skillet over medium-high heat. Add the corn, salt, and pepper. Cook, stirring occasionally, until the kernels turn deep golden brown, about 5 minutes. Transfer to a bowl.
Melt the remaining tablespoon of butter in the skillet. Add the onions and bell peppers and cook, stirring often, until the onions are wilted, about 2 minutes. Add the green onions, jalapeno, and garlic and cook, stirring, for 2 minutes, or until the vegetables are softened. Transfer to the bowl with the corn.
Add the mayonnaise (or Greek yogurt), half of the cheddar cheese, half of the Monterey Jack cheese, and the cayenne and mix well to combine. Pour into an 8-inch square or other 1 to 2-quart size baking dish and sprinkle the remaining cheese on top. Bake until bubbly and golden brown, about 20 minutes. Serve hot with tortilla chips.
Recipe source: adapted from foodnetwork.com