Pumpkin Ice Cream Pie with Gingersnap Crust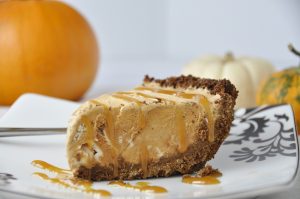 Perry's Pumpkin Pie Premium Ice Cream, 1.5 qt
(if you can't get Perry's brand where you live, use any pumpkin-flavored ice cream you can find!)
Pie Crust:
2 cups gingersnap cookie crumbs (I crushed Gingersnap cookies in a food processor)
⅓ cup sugar
¼ teaspoon ground ginger
6 tablespoons butter, melted
Caramel Sauce:
4 Tablespoons Butter
1 cup Brown Sugar, Packed
½ cup Half-and-half
Pinch Of Salt
1 Tablespoon Vanilla
Pie Crust:
Mix the gingersnap crumbs, sugar, ginger and butter in a bowl. Press the mixture into the bottom of a pie plate. Bake in a preheated 350F oven until lightly golden brown, about 8-15 minutes.
Let ice cream soften on the counter and scoop into the pie shell. Smooth the top with a spatula and freeze.
Caramel Sauce:
Mix butter, brown sugar, half & half, and salt in a saucepan over medium low heat. Cook while whisking gently for 5 to 7 minutes, until thicker. Add vanilla and cook another minute to thicken further. Turn off heat and pour sauce into a jar. Refrigerate until cold.
Pour caramel sauce in a zig-zag pattern over individual slices of pie when you serve them!
Recipe by
Wishes and Dishes
at https://wishesndishes.com/pumpkin-ice-cream-pie-with-gingersnap-crust/