Old-Fashioned Creamed Corn Casserole
This easy Old-Fashioned Creamed Corn Casserole recipe is just like Grandma used to make it! If you need an excellent side dish idea for the holidays, look no further!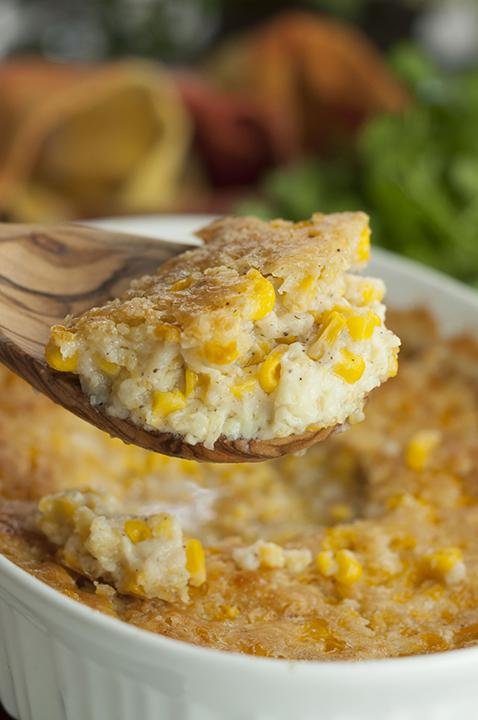 I recently spent some time with a group of my favorite food bloggers and Iowa Corn in Des Moines, Iowa for their #IACornQuest trip. I couldn't help but be inspired by ALL THINGS CORN after returning from the 3 day trip and to make this Old-Fashioned Creamed Corn Casserole and share it with you!
Throughout my time in Iowa, I learned the ins and outs of corn production and had plenty of adventures. I met so many amazing people including farmers, distillers, chefs, a registered dietician, and air quality experts from the American Lung Association. I can't even begin to tell you how thankful I am to have the privilege to gain experiences like this one! This was my second time in Iowa (Pass the Pork tour was my very first visit) and I fall more in love with it each time I go.  I left Des Moines with a wealth of knowledge about corn and was eager to learn even more.
Corn has always been a favorite vegetable/grain of mine and my favorite way to eat it is in a casserole or straight off the cob! I love how versatile it is because it can be added into a wide variety of dishes: sweet or savory. My love for corn never dies.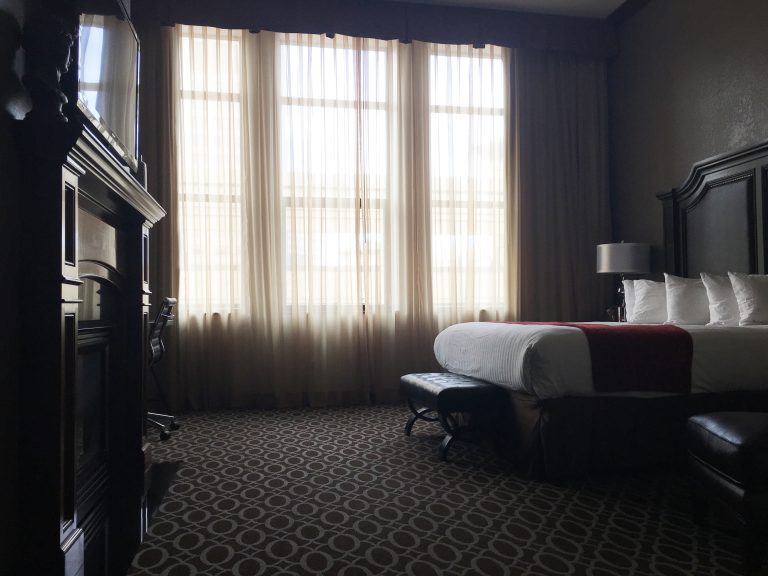 We stayed at the beautiful Des Lux Hotel right in Des Moines. I loved everything about this hotel: from the theme and décor to the staff that went above and beyond for our group. I had an enormous room with a fireplace all to myself!
That first night after arriving we had the pleasure of visiting the beautiful Iowa Distilling Company located in Cumming, Iowa. Cumming is a small town of only 350 people located in the center of corn country! We enjoyed a scrumptious, fancy dinner full of a variety of corn dishes. I loved the creativity they used with incorporating corn into all of the dishes – even the dessert! We learned all about the process in how they make their local spirits from the corn and I even got to taste their delicious, homemade Bourbon! I never realized how much time, thought, and hard work went into making their Iowa spirits.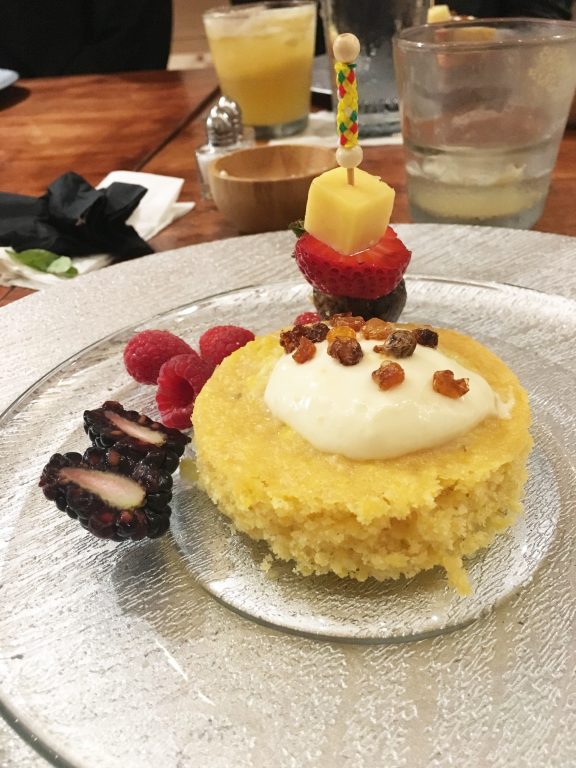 We spent the first morning touring the Meredith Corporation Headquarters, home to the infamous Better Homes and Gardens. How exciting, right?! We got to learn how they put magazines together: the planning process, creation, photographer, and styling. There's so much that goes into it! It reminded me, on a much larger scale, of what I do when I plan, create, photograph, and write the recipes for my blog. I wish I had their immense collection of props, that's all I have to say!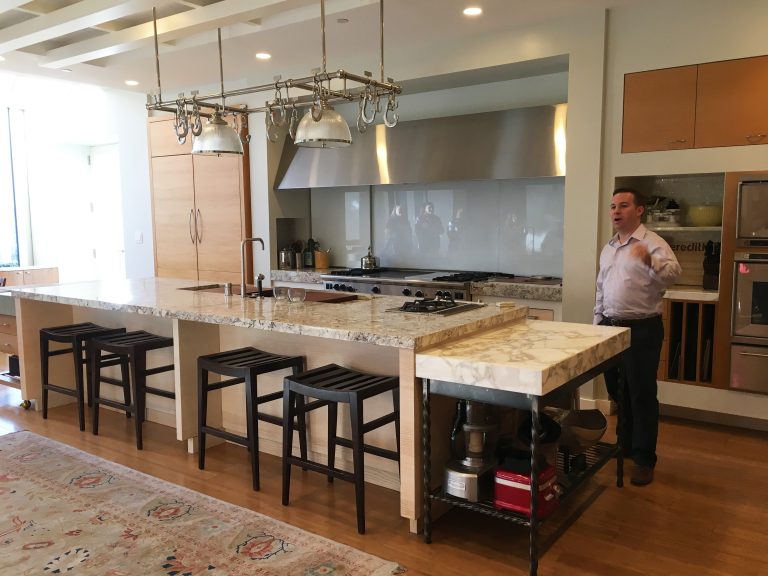 After leaving Meredith Headquarters, we headed out for a visit and lunch at Blair Farm in Dayton, Iowa for a morning on the farm. My biggest takeaway from this visit was learning the difference between sweet corn, field corn, and other varieties of corn. I never really put too much thought into what each variety of corn is used for until that day! Sweet corn is the kind we eat, field corn is used for fuel and for animal feed, and white corn and popcorn are used for cornmeal. They even showed us what each variety of corn looks like in comparison to the others (for the visual learners, like myself).  We also had a beautiful 75 degree late September day to enjoy a delicious lunch right on the farm!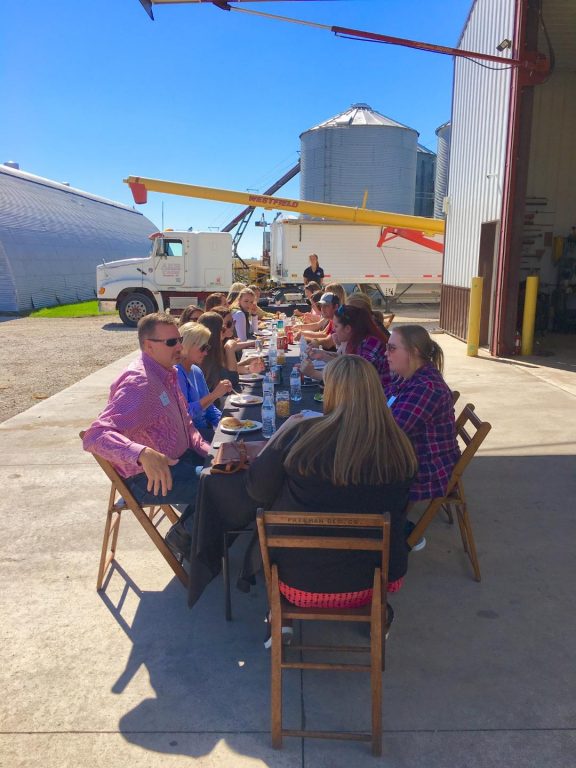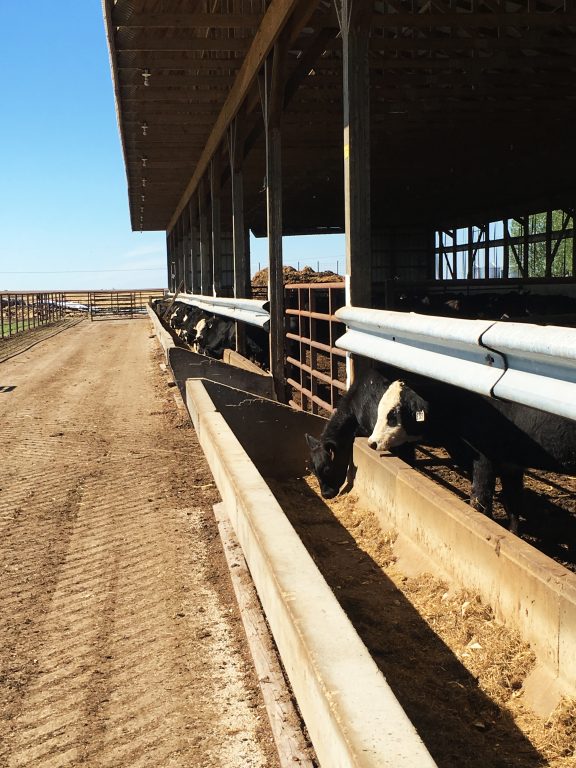 From there, we headed to our second farm visit at Kenney Farm in Nevada, Iowa. The Kenney family are 5th generation farmers in their county! Fun fact: would you believe that 95% of the farms in America are actually family-owned? We learned a lot of GMOs that we never knew before. The Kenney's made sure we knew that no question was off limits and I loved that about them!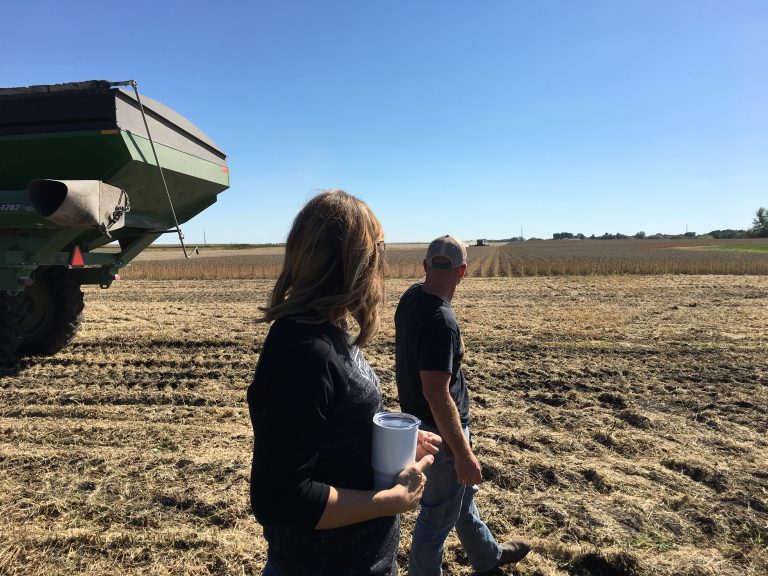 GMO refers to a crop that has been changed to improve it's ability to survive. In the United States, the FDA, EPA, and USDA all regulate genetically engineered crops. Each has it's own role in the regulatory process, and they work together in a coordinated framework. GMO corn (and other plants, as well) contain natural defenses against disease and pests. The genes for these defenses can be transferred into crops like corn or soybeans, allowing them to have internal defenses against pests. This significantly reduces the amount of pesticides used on crops because the plant can fend off bugs! I'm really glad I learned more about what GMO's have to do with corn production and happy to pass the information onto you today.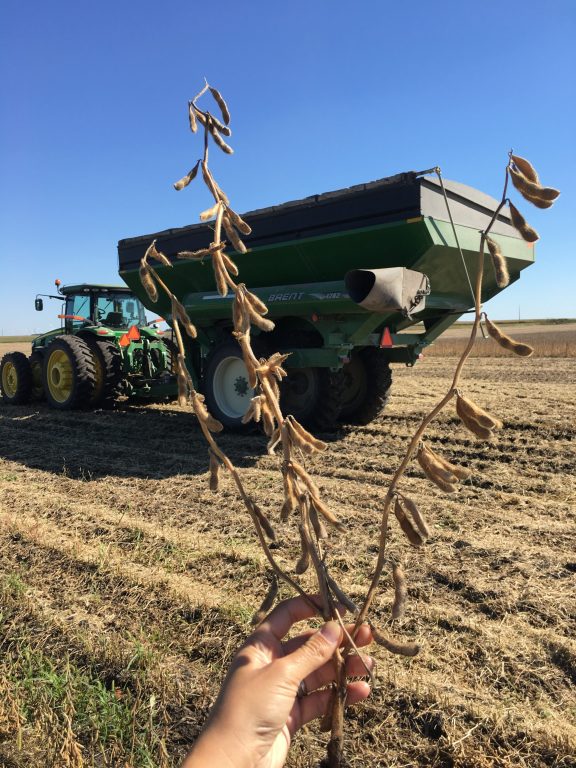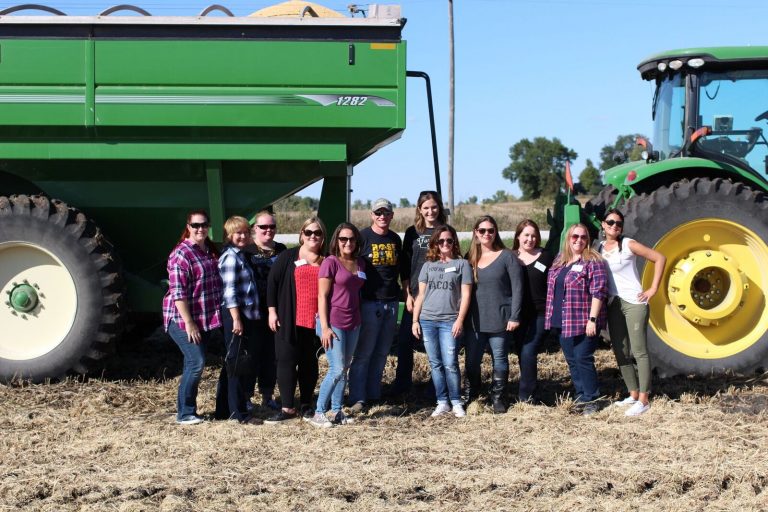 One of my favorite parts of the trip was our last night spent at the Iowa Speedway having dinner and getting to ride in a real race car. It is the fastest short track on the planet and the only 7/8 mile track in the world! Racing a few laps around that track was exhilarating and a once-in-a-lifetime experience! I may or may not have been a little bit nervous in this photo below, but once I got going, I really loved it and enjoyed burning some rubber. I also made some of my NASCAR-loving friends and family very jealous for getting to experience that.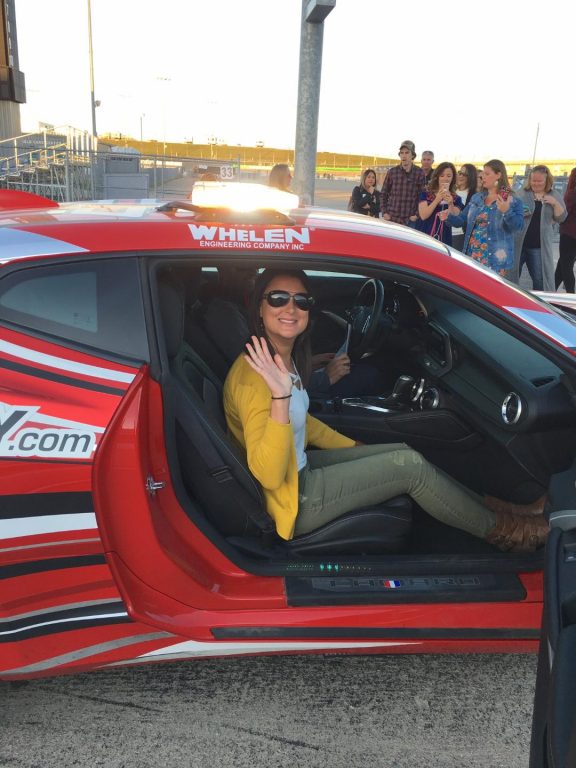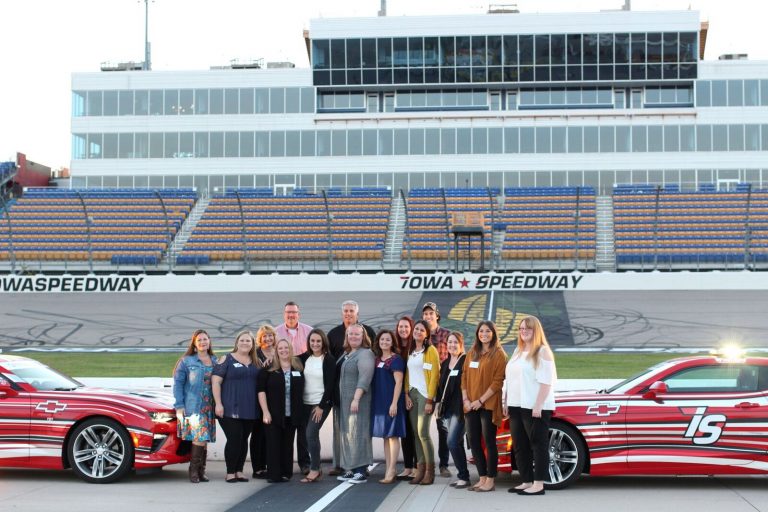 On the last morning together, we had breakfast with nutritionist Dr. Ruth McDonald who is a Professor at Iowa State University. She answered all of our questions on the misconceptions about GMO's and high fructose corn syrup, and reiterated that a healthy diet is based on balanced nutrition. She cleared up a lot of confusion for me and you can look up more information for yourself here!
Before heading to the airport to go our separate ways, we ended the trip with a bang: a "Chopped" style cooking competition at the Des Moines Social Club. We broke off into three teams and cooked the morning away. Our team made liver tacos with an avocado-mango salsa wrapped up in homemade tortillas. The competition was followed by a food styling presentation and a delicious Mexican lunch.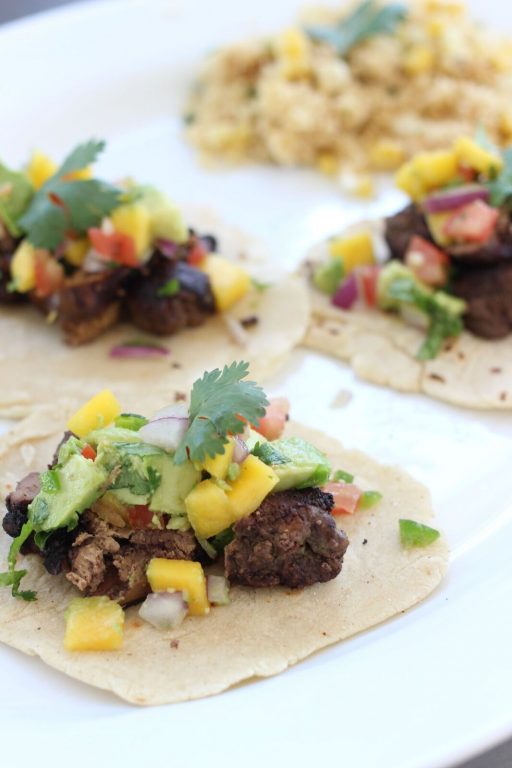 My biggest takeaway from this trip to Iowa was how passionate and dedicated these farmers are. They do it simply because they love what they do and that just warms your heart. I will never look at corn as just an ingredient to have during mealtime; it's so much more than that. I've learned to really think about and appreciate where my food comes from. Corn is used to make corn syrups, food for pigs and cattle, and even fuel for cars. I learned from the American Lung Association about the processing of corn into ethanol, a clean-burning renewable fuel, and of it's co-products. Ethanol is much less toxic than gasoline and it's biodegradable and corn actually helps the environment! It's fascinating how our everyday lives are built around corn-based products. Who knew?!
I look forward to keeping in touch with the new friends I made and am grateful to have been invited on this trip to Iowa! If you want to learn more, be sure to check out the Iowa Corn Website to learn about ethanol production, Iowa corn products and their latest research.
Now, it's time to share this Old-Fashioned Creamed Corn Casserole recipe with you! This isn't a recipe we enjoyed while we were on the Iowa Corn Quest, but it's absolutely delicious, versatile, and perfect for the upcoming holidays (yikes!) I used canned corn, which I always have on hand, to keep things even more simple. The rest of the ingredients in this dish are very practical and things you may already have on hand! I love how the top of the casserole caramelizes and gives the perfect taste.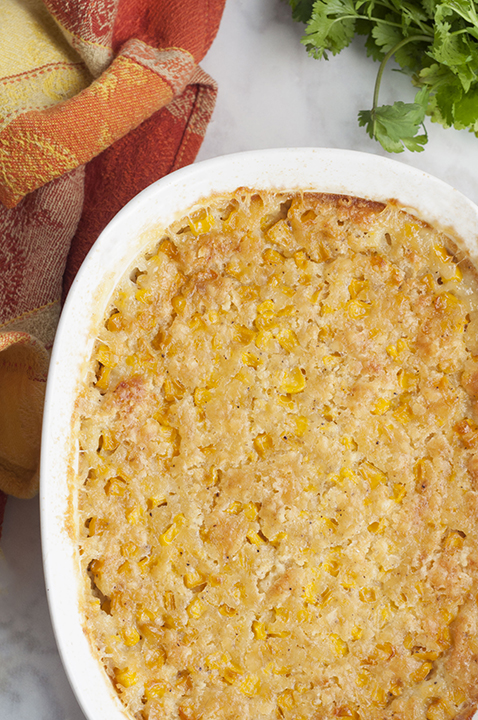 This Old-Fashioned Creamed Corn Casserole would be a quick and easy side dish for Thanksgiving and Christmas. You can also just make it on a random weeknight for a fast throw-together side to have with any protein. It smells like buttered popcorn while it cooks and it's heavenly! Try it out and report back! I'm sure your whole family will go crazy for it. I know mine did.
If you're looking for more corn dishes or just a great holiday side dish, check these out:
Sourdough Cornbread and Sausage Stuffing this is my go-to stuffing recipe for Thanksgiving!
Hot Corn and Cheese Dip – I love this dip for game day, but it can also be a fabulous side dish idea!
Classic Corn Pudding – this is from my friend Becky and looks to die for (it contains bacon)!
Creamy Corn and Bacon Cheese Dip – this is from my friend Lisa who was on the Iowa Corn trip with me. I was so glad to finally meet her! I love the addition of bacon in this dip…and ALL THAT CHEESE!
Check out my how-to video of me making this Old-Fashioned Creamed Corn Casserole recipe!
Old-Fashioned Creamed Corn Casserole
Prep time:
Cook time:
Total time:
This easy Old-Fashioned Cream Corn Casserole recipe is just like Grandma used to make it! If you need an excellent side dish idea for the holidays, look no further!
Ingredients
½ cup butter, melted and cooled to room temperature
¼ cup all-purpose flour
¼ cup white sugar
2 large eggs, well beaten
¾ cup milk
1 (14.75-oz.) can whole kernel sweet corn, drained
1 (14.75-oz.) can cream style sweet corn (not drained)
½ teaspoon salt
¼ teaspoon pepper
Instructions
Preheat oven to 350 degrees F.
Whisk the flour into the melted/cooled butter in a mixing bowl until mixed thoroughly.
Whisk in the sugar, eggs and milk.
Stir the creamed corn and drained whole kernel corn into the butter mixture. Season with salt and pepper (more or less, to taste).
Pour into an 8x8 baking dish.
Bake uncovered at 350 degrees for approximately 1 hour and 15 minutes, until the center is set and the corn casserole is brown and caramelized on top. Serve warm. Enjoy!

Disclaimer:  Thank you to Iowa Corn for sponsoring this conversation and covering all of my trip-related expenses. All opinions remain 100% my own, as always.
Recipe source: Old-Fashioned Creamed Corn Casserole is adapted from unsophisticook.com.