Cinnamon Coconut Cashew Butter
Well, we finally made it to Friday, folks!  I hope everyone had a great week and has fun plans for the weekend.  We are having some friends over for a cookout at some point this weekend to break in our new grill (and repay them for all the times they had us over and we didn't have a house to host!)  This is our first summer in our new house and we are really realizing how nice it is to have a house and a yard now that the warmer weather has arrived.
Mr. Wishes out of no where requested that I make homemade cashew butter out of the huge container of raw cashews we've had in the pantry for a while now.  I obliged (because I'm such a good wife, haha) and whipped this up yesterday while he was at work.  It's delicious!  I love the subtle, not overpowering, taste of coconut with the cashews and the cinnamon was just the right amount.  I wanted it to just be a very delicate cinnamon flavor and that's what it turned out to be.
So far I'm 2 for 2 with my Maple Almond Butter also being a hit.  I see more homemade nut butters in Wishes and Dishes' future!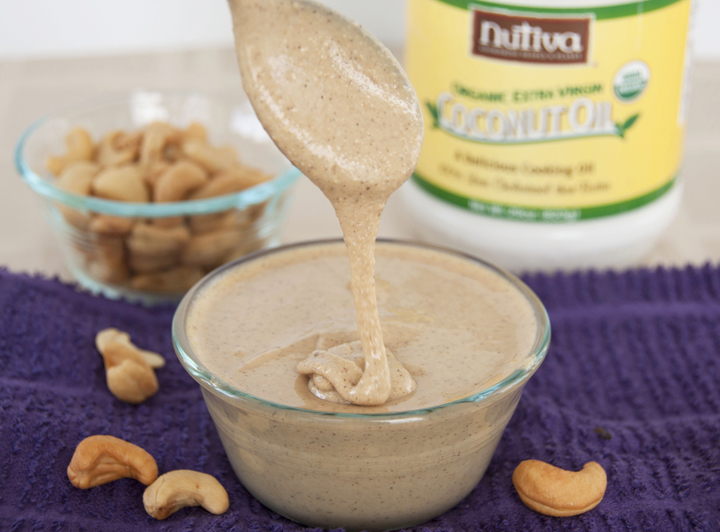 INGREDIENTS:
2 1/2 cups raw cashews
3 1/2 tablespoons liquefied coconut oil
1 teaspoon cinnamon
DIRECTIONS:
Combine all ingredients in a high-powered food processor or powerful blender and allow to run for approximately 6-8 minutes.  Stop the food processor and scrape down the sides with a spatula every few minutes.  Process for additional time until you achieve the creaminess that you want. Store in the refrigerator (I've read that natural/raw nut butters can grow mold more easily if kept at room temperature.)
Notes:
If you use a low-powered food processor, the cashew butter will probably lack the smooth, creamy consistency of nut butter so it's best to use a high-powered one.
*If you do not like coconut, you can use another oil in it's place. If you omit the oil altogether, you will need to process the nut butter for a few additional minutes.