Sourdough Cornbread and Sausage Stuffing
Whether you call it "dressing" or "stuffing", this will be the best you have ever had.  Cornbread stuffing with delicious seasonings is a Southern favorite and nice change from more traditional white-bread stuffing for Thanksgiving.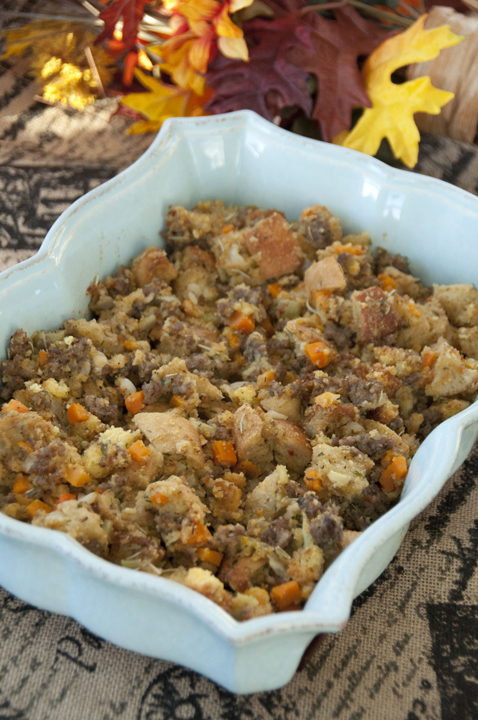 Happy Friday!  If you don't already have your Thanksgiving menu planned out I'm here to help.  Shout-out to the procrastinators! I have already given you a great turkey recipe made right in the crock pot this week, the perfect no-fail gravy, a to-die-for Holiday Steak Bruschetta appetizer, and a non-traditional Thanksgiving dessert: Caramel Peanut Fudge.  If you like a more traditional dessert, I highly recommend this Apple Crisp.  I'm more unconventional when it comes to holiday desserts, but that's just me 🙂  Now I'm officially in the mood for Thanksgiving!
This recipe I'm sharing with you today will turn even the non-stuffing-fan into a lover of stuffing.  How can anyone not love this?  It's loaded with sage sausage, perfect seasonings, and sweet cornbread.  Also, it has enough flavor and moistness that you won't miss cooking it inside the turkey.  As I was eating this, I keep wondering why we only really eat stuffing once a year.  That needs to change!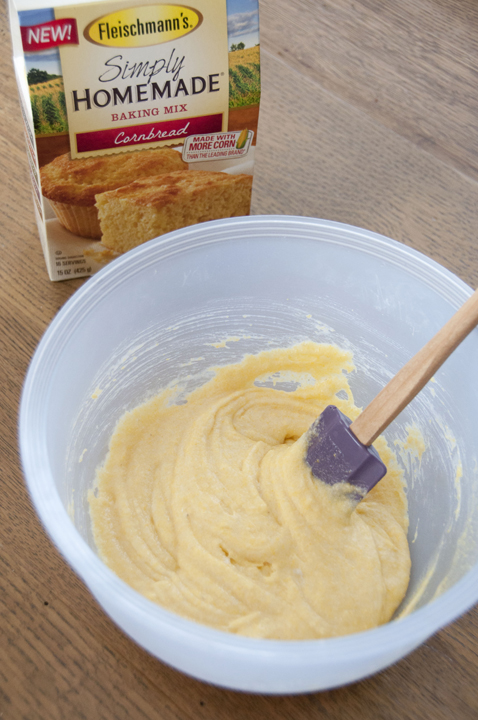 I made this stuffing a heck of a lot easier by using Fleischmann's Simply Homemade Corn Bread mix.  I honestly love this cornbread – it was the best I have ever tasted using a mix and had that homemade quality about it.  It came out very moist and provided the perfect amount of sweetness to a savory stuffing.  This mix is made with more corn than the leading brand, and this is something I could actually see for myself in the finished product–little pieces of corn throughout. This stuffing recipe is very easy to make but it does have several steps.  Using this cornbread mix just made my life so much easier in allowing me to throw this cornbread together in a flash – one less thing to worry about!  You can even make it the day before and have it all ready to cut up and throw in the stuffing when you're ready.  I love to cut out any extra work  for myself when entertaining for the holidays as I'm sure you do, as well.

Besides the cornbread mix, Fleischmann's Simply Homemade has other homemade quality mixes (such as no-knead bread mixes and a pretzel baking mix) that can alleviate some stress and extra effort for your big holiday meals! You can get creative with them by incorporating a variety of mix-ins and toppings to make your dishes tasty and unique.  Definitely give them a try!  Have a great weekend.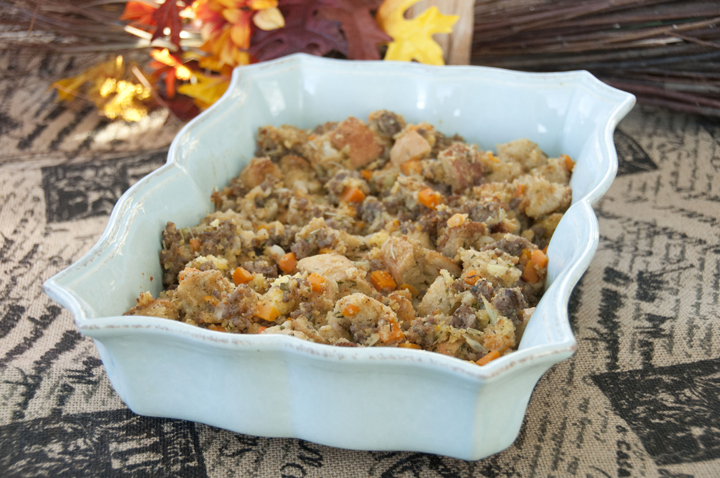 Sourdough Cornbread and Sausage Stuffing
Prep time:
Cook time:
Total time:
Whether you call it "dressing" or "stuffing", this will be the best you have ever had. Cornbread stuffing with delicious seasonings is a Southern favorite and nice change from more traditional white-bread stuffing.
Ingredients
1 lb Sourdough Loaf, cubed*
15 oz baked cornbread, cubed (I used Fleischmann's)
14 Tablespoons butter (1 and ¾ sticks)
1 large onion, diced (about 1½ Cups)
1 bunch of celery, chopped (about 3 Cups)
3 large carrots, chopped (about 2 Cups)
2 Tablespoons minced garlic
2½ Cups chicken or turkey stock
½ Cup fresh chopped parsley
2 Tablespoons fresh rosemary
1 Tablespoon fresh sage
1 teaspoon ground thyme (or 2 Tablespoons fresh)
½ teaspoon kosher salt
½ teaspoon fresh cracked black pepper
1 lb Jimmy Dean Sage Sausage
*The smaller you cut the cubes, the softer they will get when they bake. Try to cut them small.
Instructions
Preheat oven to 350 degrees F. Place cubed sourdough and cornbread onto a large jellyroll baking sheet. Bake for 25 minutes, until lightly toasted. Remove from oven.
Melt butter into a large dutch oven or large rimmed skillet over medium heat. Saute onions, celery, carrots and mushrooms for about 10 minutes or until veggies turn tender. Stir in garlic and cook for another minute then pour in chicken broth, parsley, rosemary, sage, thyme, salt and pepper. Stir and reduce heat to low to simmer.
Brown sausage in skillet, drain if necessary then add to vegetable mixture. Place bread cubes into a large bowl and slowly pour mixture over cubes gently stirring throughout to ensure all pieces get coated. Taste a couple pieces and season with additional salt and pepper according to taste. I added a few more pinches of kosher salt and pepper at this point.
Divide stuffing into a 9×13 inch baking dish and a 11×7 inch baking dish (can freeze one for later if all is not needed). Bake for 25 minutes, until just golden brown on top. Should still be nice and moist. Remove from oven and serve!
Recipe source:  adapted from picky-palate.com
Disclaimer:  I received complimentary bread mixes and the kitchen tools to create my recipe from Fleischmann's, but was NOT paid to write this review and all opinions are 100% my own, as always.