M&M Nutella Cookie Cups
Easy, colorful and delicious M&M Nutella cookie cups are sugar cookie cups filled with Nutella and topped with dark chocolate M&M's. This is a great idea for Easter dessert or spring dessert to take to a party!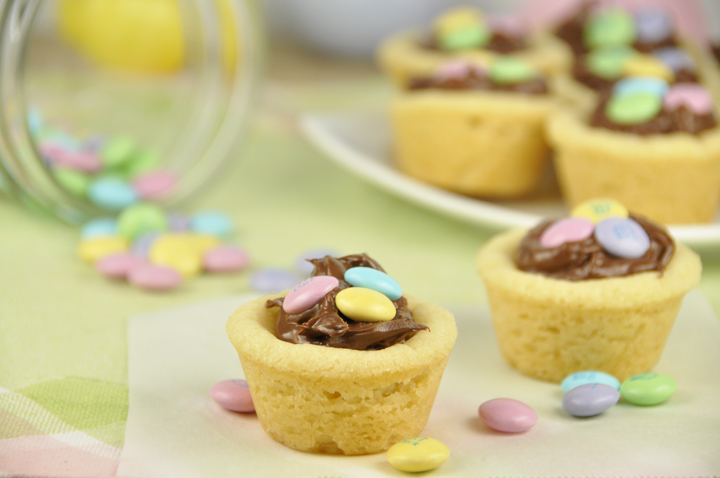 Happy almost Easter! You will love these M&M Nutella Cookie Cups. How was everyone's weekend?  I had a very enjoyable and action-packed weekend.  I got invited to Perry's ice cream factory in Akron, NY on Friday afternoon.  I got to have a grand tour of their plant and be a taste-tester for a day!  Mr. Wishes came as my special guest and we tried their new 2013 flavors and got to review them and give our opinions. There were other people from various businesses and fellow bloggers there that I got to meet.  I will share all about my experience in a separate post once I get all my photos together.  It was a very exciting and great time, but it would be pretty hard to go wrong with a tour of an ice-cream factory!
Saturday night my whole family got together to celebrate my mom's 60th birthday.  Happy birthday, Mom! (Since this is her official birthday today and I know she'll be reading this).  It was so fun celebrating and having everyone together.  We went out to dinner at a nice Italian restaurant and continued the festivities at my aunt Sheryl's house where we had a delicious Wegman's red velvet cake, Perry's chocolate chip ice cream (very fitting!), and showered my mom with gifts for this milestone birthday.  It was a great night of being together with family!
To make these fun Easter little snacks, all you need is are a few basic ingredients, Nutella and a package of spring M&M's (really, any M&M's will do).  If you're celebrating Easter with a little get together, sending treats for your kids at school…whatever the reason may be…the Easter-colored M&M's really make M&M Nutella cookie cups extra cute.  If you don't have Nutella, chocolate frosting will work as a nice substitute!  If you're more of a mint person, check out the recipe for these Melty Mint Sugar Cookie Cups I make for Easter every year.
The cookie part tastes just like a sugar cookie.  I decided to make the sugar cookie dough into cups and filled them with Nutella (because who doesn't like Nutella?) and used dark chocolate M&M's.  I loved the flavors of the cookie, Nutella and dark chocolate together.  They made a delicious combination.  Can you tell I love my cookie cups lately?  Like these Peanut Butter Cup Brownie Bites and Peanut Butter Cup Cookies. Cookie cups are just so fun! You will also love these Cadbury Cream Cookie Cups from my friend Katrina. Enjoy!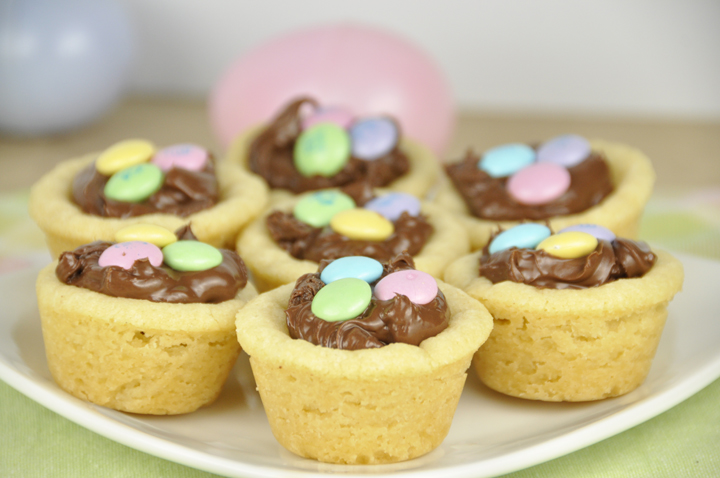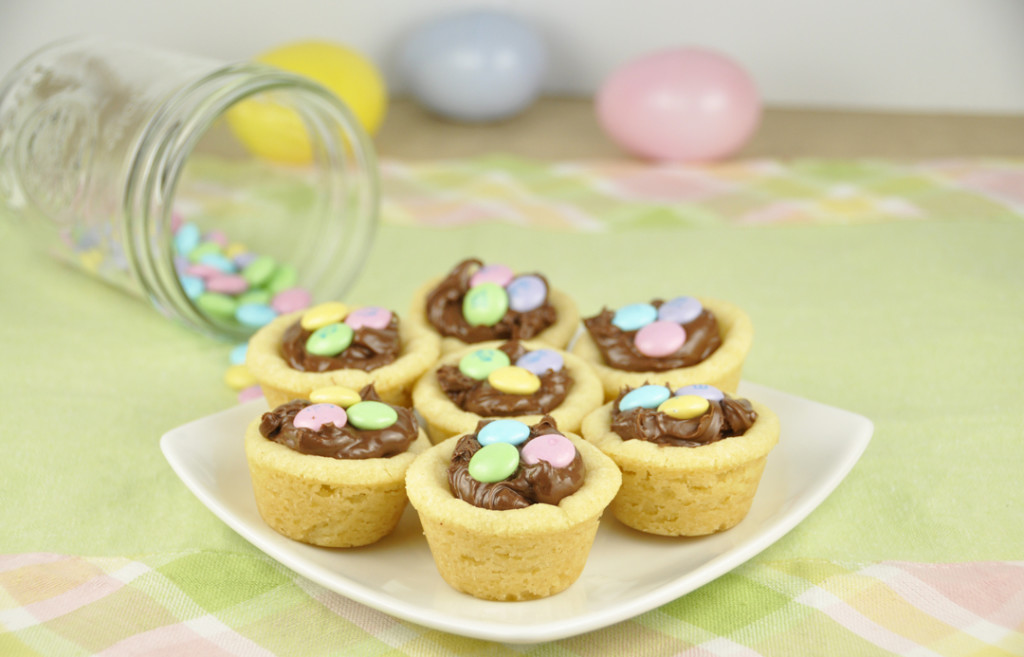 Enjoy!
Recipe originally published on 3/25/13. Edited and republished on 3/30/18.

M&M Nutella Cookie Cups
Prep time:
Cook time:
Total time:
Easy, colorful and delicious M&M Nutella cookie cups with a sugar cookie base and dark chocolate M&M's. Perfect for Easter dessert or spring.
Ingredients
1 cup unsalted butter, softened
¾ cup sugar
1 tsp. salt
2 tsp. vanilla
2 cups all purpose flour
Nutella (for filling cups, chocolate frosting will also work)
M&M's (I used dark chocolate)
Instructions
Preheat oven to 300 degrees. Grease a mini muffin pan and set aside.
Cream the butter and sugar in a stand mixer or hand mixer. Gradually add the salt, vanilla and flour and beat well. Form a ball of cookie dough in your hand, a little bigger than a ping pong ball, and place into greased mini muffin pan.
Push the middle down with your thumb to make a well/depression in the center.
Bake for 20 minutes or until cookie cups are set.
When the cookies cups are done, place pan on wire rack let cool completely. Fill the wells with Nutella and top with M&Ms. They should pop right out of the tin with a knife or just use your fingers to grab them out.