Chocolate-Covered Almond Biscotti
Chocolate Almond Biscotti are twice-baked Italian cookies paired with orange zest, toasted almonds and melted, smooth chocolate. Absolutely delicious for the holidays or any occasion.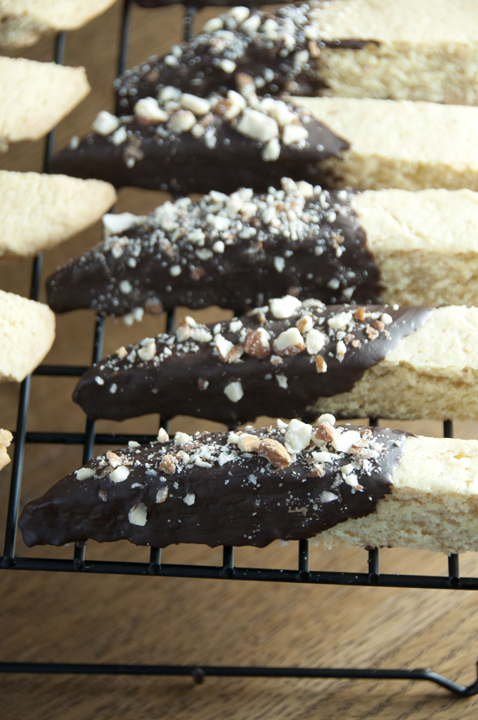 I feel like my kitchen is turned into a cookie workshop every December.  Not that I'm complaining (and Mr. Wishes is definitely not complaining either)!  I am embracing my Italian roots more this year and whipping out some delicious and traditional holiday Italian cookies, because in my opinion, they really are the best.  Nothing says "Christmas" like the Italian cookies, right?  I have made biscotti many times before but I have always used the same recipe (this Chocolate Chip version) because I figure why mess with a good thing, but I decided I really need to change it up once in a while and maybe I will find something I like even better.  Change is hard for me – I like to stick with what I know!  But if that were always the case, you would have five total recipes on this website to peruse.  I loved the combination of the orange, chocolate, and almond together.  These almond biscotti are a wonderfully crunchy cookie and perfect for dipping in your hot tea or coffee.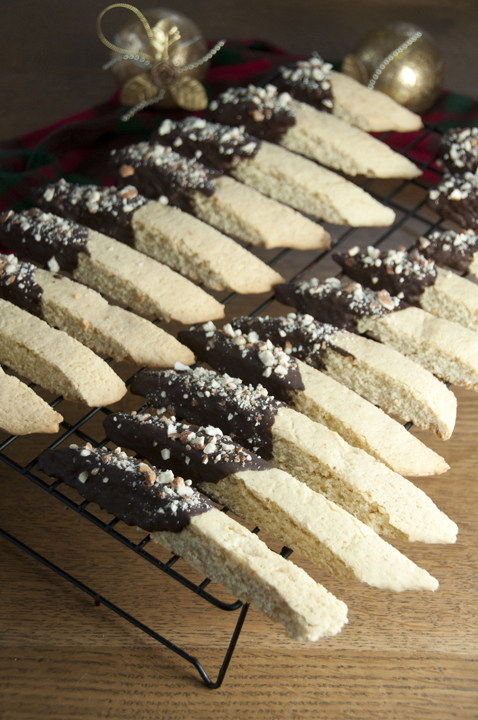 I almost didn't add the chocolate or I decided that I was just going to drizzle them with chocolate in the end.  I'm glad I went for the straight dunk and the chocolate is a nice addition.  I really don't think they would stand out as much without it.  And how pretty do they look with the crushed almonds?
I baked the biscotti dough on Silpat baking sheets and had no problems with sticking but if you don't own these mats make sure you grease and flour your baking sheets well.  This is a really easy and great recipe if you give away baked goods as gifts to friends and family for the holidays.  Not just because of the taste, but they actually keep really well as biscotti are more of a crunchy/dry cookie and stay fresh when stored.  You would also be everyone's favorite person if you bring these to a cookie exchange.  Just saying…
I promise you it will be hard to eat store bought biscotti after trying this one.  If you like Italian cookies for the holidays, you might also want to check out my Almond Macaroons or my Anisette cookies.  Enjoy!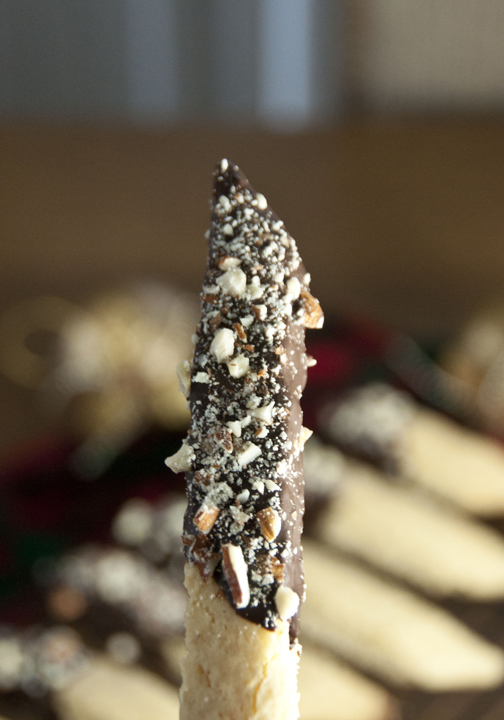 Chocolate-Covered Almond Biscotti
Recipe type:
cookie, dessert
Prep time:
Cook time:
Total time:
Chocolate Almond Biscotti are twice-baked Italian cookies paired with orange zest, toasted almonds and melted, smooth chocolate. Absolutely delicious for the holidays or any occasion.
Ingredients
⅓ cup butter
¾ cup white sugar
2 eggs
1 teaspoon vanilla extract
½ teaspoon almond extract
2 teaspoons orange zest
2¼ cups all-purpose flour
1½ teaspoons baking powder
⅛ teaspoon ground nutmeg
¼ teaspoon salt
1 cup semisweet chocolate discs (for melting)
¾ cup toasted almonds, crushed (measured after crushing)
Instructions
Preheat the oven to 325 degrees F (165 degrees C). Grease and flour a large baking sheet.
In a large bowl, cream butter and sugar until light and fluffy. Beat in eggs, vanilla, almond extract, and zest. Combine flour, baking powder, nutmeg, and salt. Stir into the creamed mixture until just blended. Mix in almonds. Divide dough into two pieces. Form into long flat loaves about ½ inch tall and 12 inches long. Place the loaves 2 inches apart on the prepared baking sheet.
Bake in preheated oven for 25 minutes, or until a light golden brown. Cool on a wire rack for 5 minutes.
With a serrated knife, cut diagonally into slices about ½ inch thick. Lay the slices flat on the baking sheet. Bake for 12 additional minutes, turning over once halfway through. Transfer to a wire rack to cool.
Place chocolate into a small, microwave-safe bowl. Melt chocolate in the microwave, stirring every 20 to 30 seconds until smooth or just follow directions on bag.
Dip or use a spatula to spread chocolate onto one side of each cookie. I found it easier to use spatula to get it nice and even.
Sprinkle immediately with almond pieces - before the chocolate hardens.
Let stand at room temperature until set. Store biscotti at room temperature in an airtight container.
 Recipe source:  adapted from allrecipes.com