Melty Mint Sugar Cookie Cups
Bite-size Melty Mint Sugar Cookie Cups recipe are chewy, buttery cookie cups with a melty mint in the middle that are great for spring!  This would be the perfect dessert for baby showers, Easter, and more.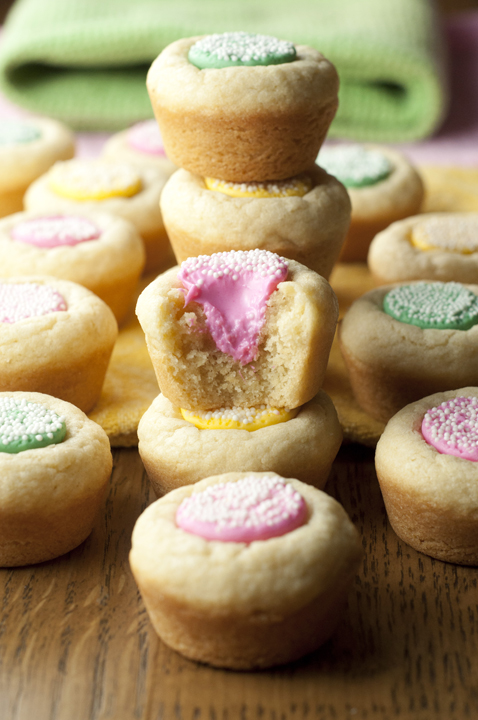 You know how they say we eat with our eyes?  Besides the wonderful taste of these sugar cookie cups, I think the reason these always go so fast wherever I bring them is because of their happy, colorful appearance.  These babies are absolutely perfect for any spring event and would be perfect on your Easter dessert table!

I made these cookie cups for Easter AND for Mother's day last year and it was one of the first desserts gone at each holiday.  Being mini size, they are portion control-friendly, unless of course, you pop a few in your mouth one right after another.  I may have done that.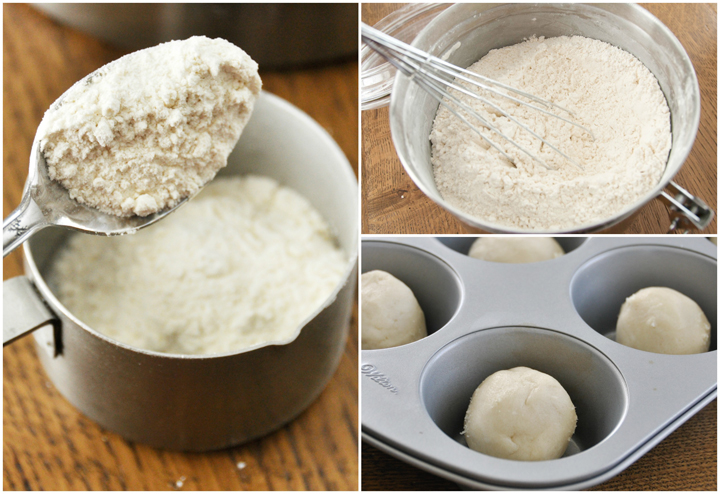 I used Bob's Red Mill all-purpose organic flour for these Melty Mint Sugar Cookie Cups because I like my Easter baked goods to turn out as best as they possibly can.  I've said time and time again on my blog that I am a HUGE fan of Bob's Red Mill products!  You should see my collection in the pantry – it's a little bit out of control!   I just can't help myself because they have such versatile products that fit into each and every holiday recipe I make.  I am normally the one who brings dessert to our family Easter brunch and I cannot disappoint!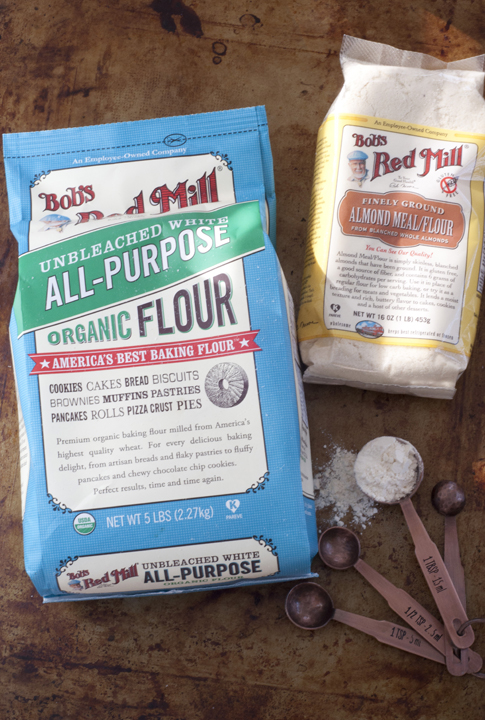 The Bob's Red Mill Organic Unbleached White Flour that I used in this recipe has no additives and is freshly milled from Organic hard red wheat. Professional bakers use this high protein flour so that tells you how good it is right there!  When you want the best quality in your baking, you have to use the good stuff.  Their Organic Almond Meal/Flour is also one of my favorites as it is is ground from whole, blanched sweet almonds.  The almonds give a healthy boost of protein and makes this flour perfect for all of you gluten free bakers out there!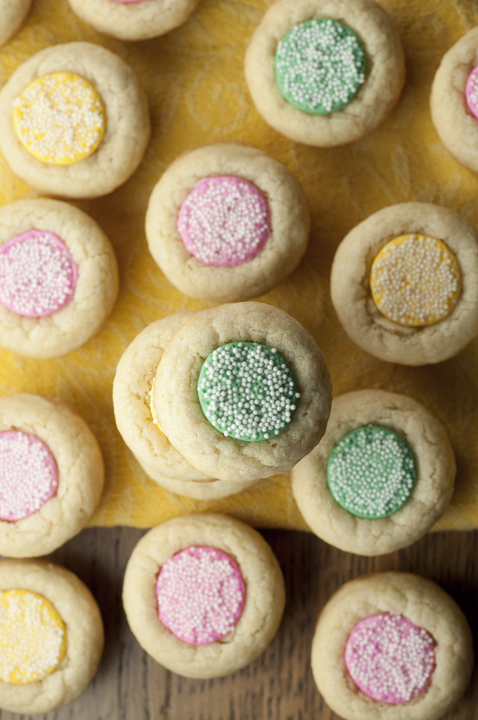 Most of you are very familiar with them and no doubt have enjoyed them a thousand times in your life, but if you are new to Melty mints, they are those creamy mint-flavored pastel candies that are shaped like Hershey kisses.  They have those little white sprinkles/beads on the bottom and you can find them either in bags or in the bulk candy section at your grocery store.  I love the colors they come in!  I have even seen them in red and green around Christmas time.  That savory mint flavor in the middle of the sweet cookie cups will just melt in your mouth and leave you with a delicious taste.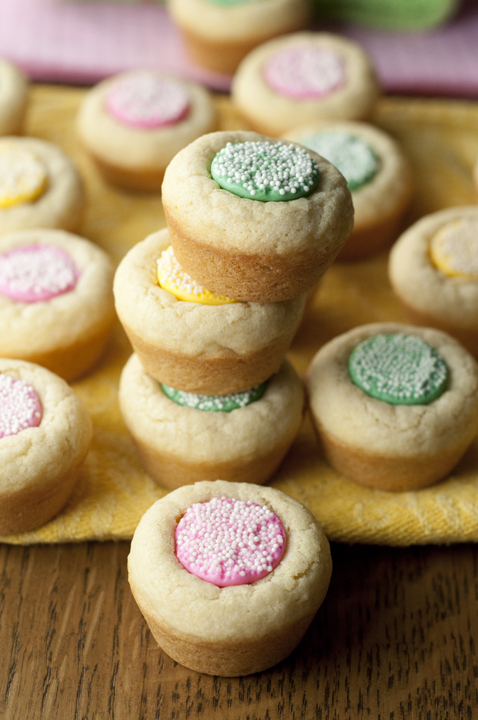 I hope you try these Melty Mint Sugar Cookie Cups this season and impress your family and friends.  They are truly best eaten while a little bit warm, but just as good cooled off!  You can find a great coupon for Bob's Red Mill products here.  Enjoy and happy spring!
Melty Mint Sugar Cookie Cups
Prep time:
Cook time:
Total time:
Serves:
4 dozen mini cookie cups
Ingredients
1 cup (2 sticks) unsalted butter, softened to room temperature
1½ cups granulated sugar
2 large eggs
1 tablespoon vanilla extract
2½ teaspoons baking powder
¼ teaspoon salt
2½ cups Bob's Red Mill all-purpose flour
Melty Mint candies (not the petite size)
Instructions
Preheat the oven to 350 degrees F.
In a large mixing bowl, beat the butter and sugar in the bowl of an electric mixer on high speed until fluffy.
Add the eggs, one at a time, and beat until mixed. Add vanilla and beat until mixed.
In the same bowl, add the baking powder and salt and beat until mixed.
Add the flour, a small amount at a time, and beat on medium speed until mixed well.
Roll the dough into about 1-inch balls, then place each ball into an ungreased mini muffin tin/pan.
Bake 10-12 minutes or until edges are light golden brown.
Immediately press a melty mint candy into the center of each cup. Allow the cookie cups to cool 10 minutes in the pan and then remove from pan to a wire rack to cool completely.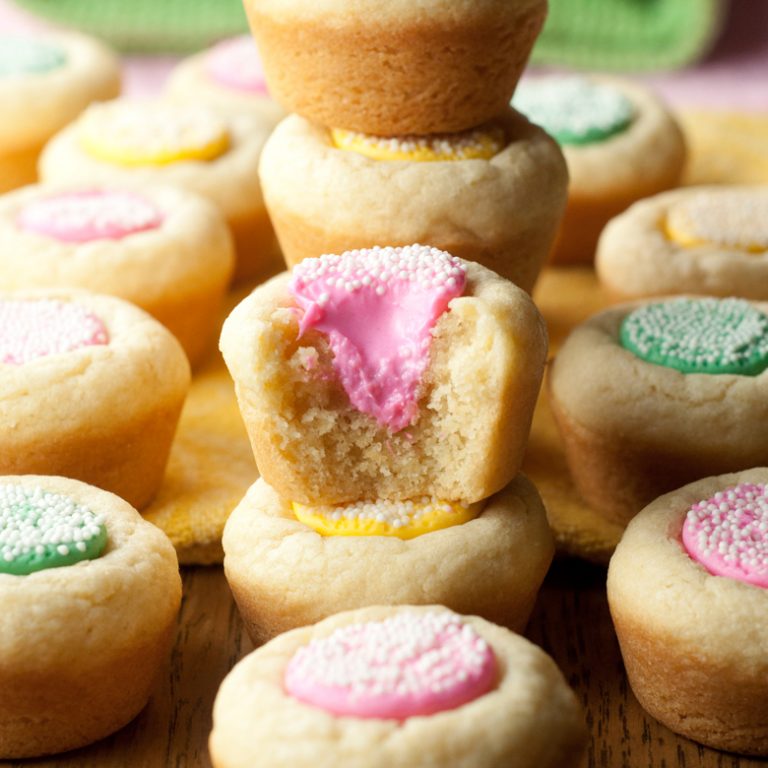 I was selected for this opportunity as a member of Clever Girls and the content and opinions expressed here are all my own.