M&M Nutella Cookie Cups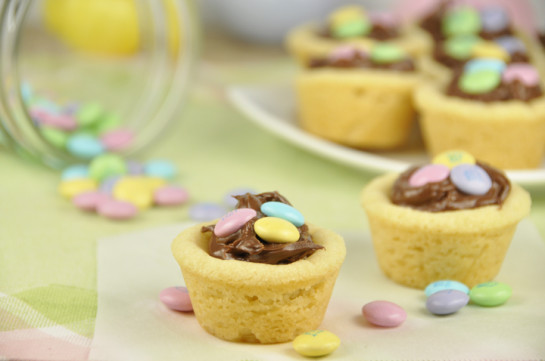 1 cup unsalted butter, softened
¾ cup sugar
1 tsp. salt
2 tsp. vanilla
2 cups all purpose flour
Nutella (for filling cups, chocolate frosting will also work)
M&M's (I used dark chocolate)
Preheat oven to 300 degrees. Grease a mini muffin pan and set aside.
Cream the butter and sugar in a stand mixer or hand mixer. Gradually add the salt, vanilla and flour and beat well. Form a ball of cookie dough in your hand, a little bigger than a ping pong ball, and place into greased mini muffin pan.
Push the middle down with your thumb to make a well/depression in the center.
Bake for 20 minutes or until cookie cups are set.
When the cookies cups are done, place pan on wire rack let cool completely. Fill the wells with Nutella and top with M&Ms. They should pop right out of the tin with a knife or just use your fingers to grab them out.